How to go from Okayama to Matsue?

The path of Japanese history and culture
Japan has always boasted a very rich historical background, and the itinerary from Okayama to Matsue is especially representative of that. From elegant parks to sacred shrines and impressive castle towns, the region is ripe with cultural sites of all kind. And the best part is that the journey by train will take you through most of them!
Travel from Okayama to Matsue and cross Japan by train
The Limited Express Yakumo will take you directly from Okayama to Matsue through wonderful countryside landscapes. In about 2 hours and a half, you'll arrive at your destination well-rested and relaxed. Trains run about once per hour.
Alternatively, you can take the Habuki Line: from Okayama, ride the Local Seto train to Niimi station, then transfer for the Local Nimii to Yonago station. From there, the San-In Line will take you to Matsue. Though it's half the price, the trip is also much longer: allow 4 hours and a half to 5 hours total. Additionally, these trains depart only once a day, at 5:25AM from Okayama, and at 7AM from Matsue.
Both itineraries are covered by your Japan Rail Pass.
---
0 KM - Okayama Station 
In Okayama, don't miss the spacious Korakuen Garden. Designed in a "scenic promenade" style, its pathways provide the visitor with new views at every turn. Thematically designed after the Confucius saying that a wise ruler must attend to his subjects' needs first and foremost, it was accordingly named "garden of pleasure after."
Its place among the "Three Great Gardens of Japan" is well-deserved.
16 KM - 0H11- Kurashiki Station
The Bikan Chiku Historical Quarter is a 10-minute-walk from the station.
Along the historical streets of Hon-machi and Higashi-machi, you'll find attractive traditional and colorful buildings. These buildings have long been related to the livelihoods of the local people and include old storehouses that have remodeled into cafes, inns and bars.
26.5 KM - 0H20 - Soja Station
If you don't mind some exercise, stop here for the Kibiji Cycling Route. This trail runs through many sacred places, such as the Kibitsu Shrine, a national treasure.
159 KM - 2H12 - Yonago Station
Yonago was a castle town during the Edo Period. Many remnants of its long history can be found throughout the city. At the Kaike-Onsen hot spring, located 15 minutes from Yonago Station, you can soak in the soothing waters from the sea.

168 KM - 2H20 - Yasugi Station
Stop here and take a shuttle bus to reach the Adachi Museum of Art, a unique museum that looks to combine art and garden design in one harmonious whole.
The garden consists of six themed areas: the moss garden, the dry landscape garden, the white gravel and pine garden, the pond garden, the Kikaku waterfall, and the garden of Juryu-an. Each is designed to be admired from the large windows of the museum. Most of the works in the museum are paintings from the early twentieth century. You'll also find a collection of traditional Japanese ceramics.
188 KM - 2H35 - Matsue Station
Matsue, the capital of the Shimane Prefecture, is particular in many ways. Sandwiched between Lake Shinji, Lake Nakaumi and the Sea of Japan, it is known as the "City of Water." There's plenty of sightseeing and cultural visiting to be done here - in particular, Matsue Castle is one of only twelve surviving feudal castles in Japan. Last but not least, the city welcomes international tourists with significant discounts!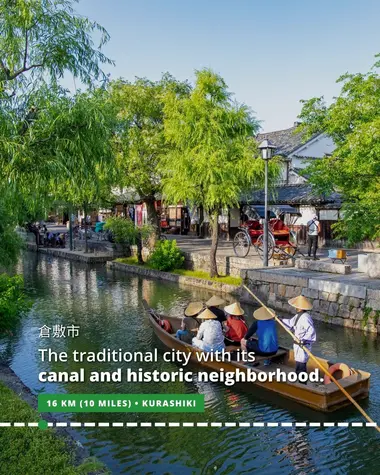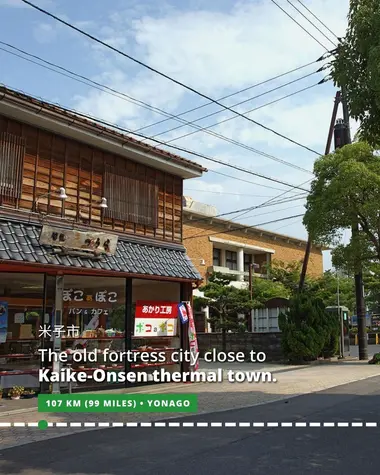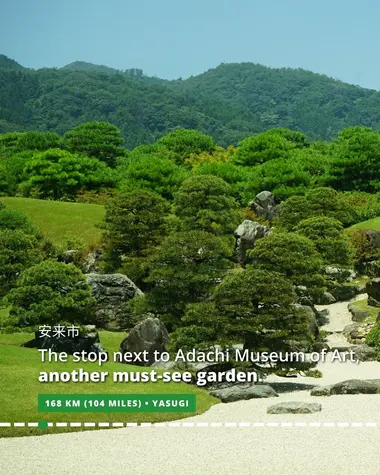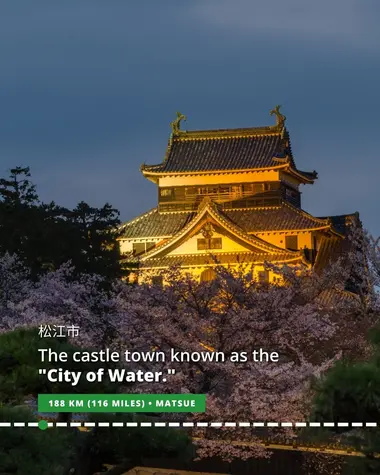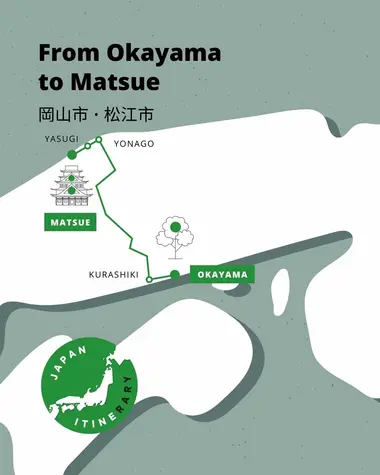 ---
Discover Matsue
What to see? 
Matsue Castle
The original castle was completed in 1611, then partly reconstructed in 1642 and in the 1950s. The top floor offers impressive views of Matsue and Lake Shinji.
Hours: Open daily, 8:30AM to 5PM (Oct-Mar) or 6.30PM (Apr-Sep)
Price: ¥560, 50% off for overseas visitors
Lafcadio Hearn Memorial Museum
A good collection of the author's manuscripts and objects from his stay in Japan.The museum is next to Lafcadio Hearn's Former Residence.
Hours: Open daily, 8:30AM to 5PM (Oct-Mar) or 6:30 PM (Apr-Sep)
Price: ¥300, 50% off for overseas visitors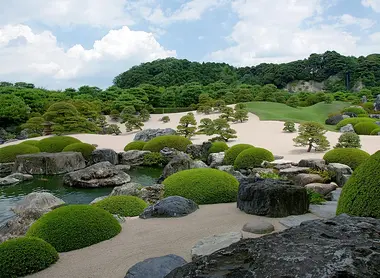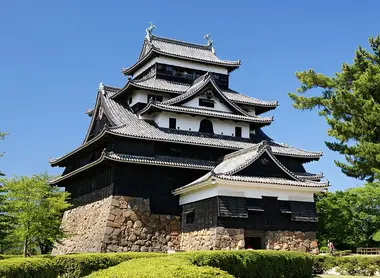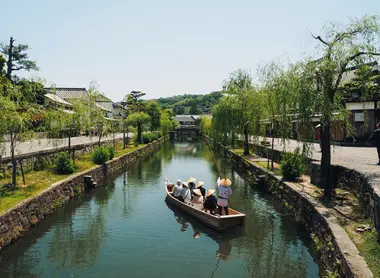 Where to Stay?
Matsue New Urban Hotel 松江ニューアーバンホテル
The New Urban Hotel can be reached with a 10-minute taxi ride from JR Matsue Station. With a great view of Lake Shinji, you can enjoy your hot spring bath overlooking the lake. Located within walking distance of Matsue Castle and samurai houses.
Minamikan 皆美観
One of the most historical and traditional Japanese inns in Matsue. Enjoy a beautiful view of Lake Shinji and the Japanese garden. From JR Matsue Station, take a bus for Matsue Shinjiko Onsen bus stop. From there it is a 2-minute walk. A taxi will take about 10-15 minutes.
Address: 14 Suetsugu-Honmachi, Matsue City, Shimane Prefecture, 690-0843
Phone: 0852-21-5131
Where to eat?
Akishima 明島
At this local izakaya, you can sample the freshseafood from the north coast of Japan prepared in a variety ofways. Extremely close to Matsue Station. From the north exit ofthe station, continue straight on, past the main road and take thenext left. Continue over the intersection and it will be on the left.
Address: 500-8 Isemiya-cho, Matsue City, Shimane Prefecture, 690-0006
Hours: Open from 11.30AM to 13.30PM from Tuesday to Friday, 5.30PM to 11PM on Saturday and Sunday, closed Mondays.
Phone: 0852-28-2239
Website: matsue.mypl.net/shop/00000032252 (Japanese only!)
Buy your Japan Rail Pass for unlimited access to JR West lines!
All the themes of the city