Takamatsu Station
高松駅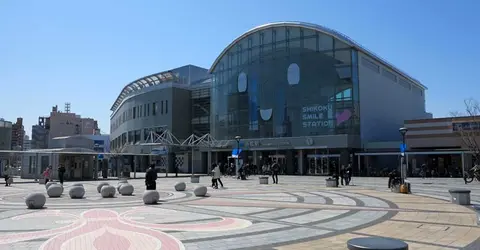 Takamatsu Station in Kagawa Prefecture in Shikoku is a major railway station with rail connections to Okayama, Matsuyama, Kochi and Tokushima.
Takamatsu Station Connections
Takamatsu Station is a busy, major rail intersection and a major route between Shikoku and Okayama Station on Honshu.
Takamatsu Station is on both the JR Yosan Line to Marugame, Tadotsu, Matsuyama and Uwajima and the Kotoku Line to Tokushima via Yashima, Ikenotani and Sako.
The Yosan Line runs west from Takamatsu Station to Matsuyama Station (2 hours, 30 minutes) in Ehime Prefecture and then south west to Uwajima. The Kotoku Line connects Tokushima Station with Takamatsu Station in about 70 minutes by limited express train.
JR Marine Liner trains from Okayama Station run south to Takamatsu over the across the Seto Ohashi Bridge in 55 minutes, Tokushima (with a change in Takamatsu to the Uzushio Express) in around 2 hours, Matsuyama in Ehime Prefecture on the Shiokaze Limited Express in 2 hours, 40 minutes and Kochi on the Nanpu Limited Express in 2 hours, 40 minutes.
Connection times from Takamatsu Station are 2 hours, 30 minutes to Matsuyama Station and 2 hours, 33 minutes to Kochi Station.
A short walk from Takamatsu Station is Takamatsuchikko the terminus for the Kotoden Kotohira Line for Kotoden-Kotohira Station. From Takamatsuchikko there are also trains to Yashima via Kawaramachi Station (two stops from Takamatsuchikko Station) to Kotoden Yashima Station on the Shido Line. There are three trains an hour from Kawaramachi Station to Kotoden Yashima Station.
There are less frequent trains direct from JR Takamatsu Station to JR Yashima Station, a little to the south of Kotoden Yashima Station. A shuttle bus from JR Takamatsu Station via Kotoden Yashima Station runs up the hill to Yashima.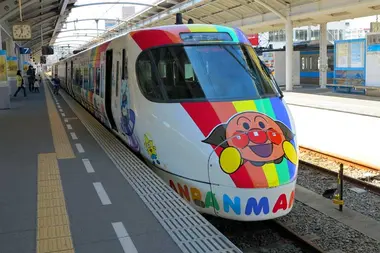 Buses from Takamatsu Station
Takamatsu Station is a highway bus terminus for buses to various destinations in Shikoku and beyond. There are highway bus services to Shinjuku Bus Station (Busta Shinjuku) in Tokyo (9 hours, 30 mins), Nagoya (7 hours, 45 mins) and Yokohama (9 hours). In addition there are highway buses to Fukuoka (9 hours), Namba and JR Osaka Station (3 hours, 15 minutes), Hiroshima Bus Station (3 hours, 30 minutes), Kochi (2 hours, 10 minutes) and Matsuyama (2 hours, 40 minutes).
Buses to Takamatsu Airport go from close to the Clement Hotel.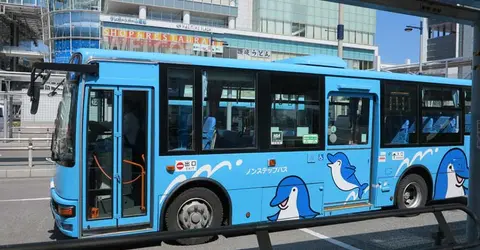 Takamatsu Station Shopping
The area around Takamatsu Station is a major shopping and entertainment district. The station building has a convenience store, a souvenir store selling local products, a bakery and udon restaurant as well as coin lockers and tourist information.
Just to the north of Takamatsu Station toward the sea is the Maritime Plaza Shopping Mall and the Sun Port Takamatsu Symbol Tower. The 30-storey Symbol Tower, the highest building on Shikoku, has an observation deck with excellent views of the Inland Sea and Takamatsu city below, plus extensive shopping and restaurant options.
There are also a number of business hotels, restaurants and car rental outlets close to Takamatsu Station.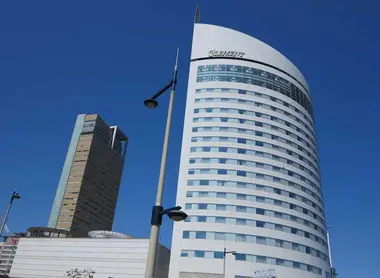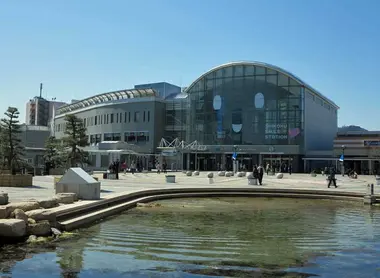 Takamatsu Station Hotels
Several hotels are clustered around Takamatsu Station: places to stay include the 4-star Rihga Hotel Zest Takamatsu, the JR Hotel Clement Takamatsu, the 3-star Takamatsu Terminal Hotel and the Hotel Areaone Takamatsu.
All the themes of the city