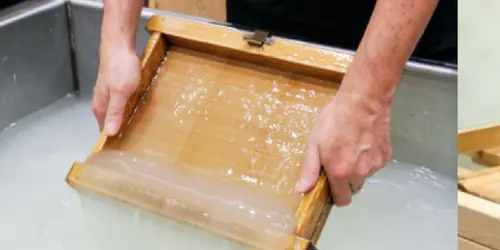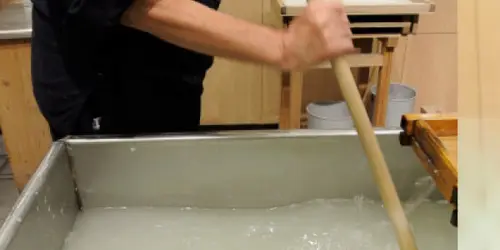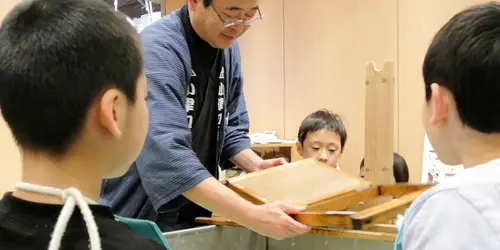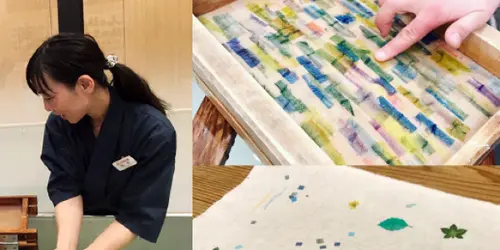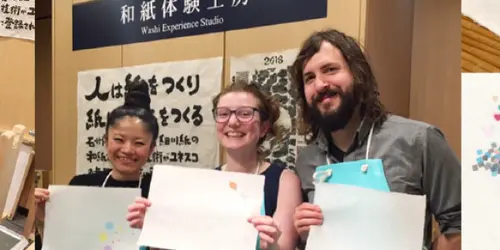 Making Washi, the Japanese paper - patterned Washi
Try your hand at making washi, the natural Japanese paper used in all aspects of daily life in Japan
The tradition of washi paper
Handcrafted in Japan since the 7th century when Buddhist monks used it to write sutras, washi, literally "Japanese paper", is paper made from the fibres of the paper mulberry tree (kozo). The fibres are long, flexible and strong. After a long process during which the tree fibres are exposed to steam, separated from the bark, boiled and hand-beaten, the liquid solution is ready for the craftsman to turn into paper.
Washi in Japan was made mainly in winter when other agricultural activities were not going on because of the cold and snow. This tradition continued until the Meiji era, when Japan became westernised and began to make paper in the European way.
A paper known for centuries for its smooth and strong properties
 Thanks to these particular physical and chemical characteristics, washi in Japan has been used and loved by all: from artists, to restorers of monuments, to soldiers who have made incendiary kites out of it. It's used for wrapping, as a kite, as a lantern, to make the translucent panels of sliding doors (shoji), possibly covered with lacquer to make bowls or with perilla to make umbrellas. In artistic circles too, of course, this paper is all the rage. Rembrandt, for example, used it for his etchings for its smooth texture.
In 2014, UNESCO listed washi as part of the Intangible Cultural Heritage of Humanity.
Making washi paper with an expert in a well-known establishment in Tokyo
 For about an hour, you will learn how to make washi paper by hand, using traditional materials and utensils, in the Ozu Washi house. You will try the nagashi-zuki method, which consists of drawing the paper pulp into its solution, in quick succession, until it spreads evenly over the sieve, forming what will be your sheet of paper, in the company of an expert who will guide you through the process.
Ozu Washi has been Tokyo's home of washi since 1653. After your workshop, you can visit the gallery or buy washi paper in all its forms in their big shop.
A workshop for all tastes
 You can choose from two types of washi:
- patterned washi, on which you can add flowers, dried leaves or other types of decoration to the paper
In any case, you will be able to take your "work" home with you.
For families, or for those who wish to really concentrate and enjoy the sensei's explanations, we recommend the private workshop.
Non-cancellable.
Location
---
Making Washi, the Japanese paper - patterned Washi
$19 per person