Cherry blossoms in Japan - Forecast 2022
桜開花予想2022
When to see the cherry blossoms in Japan in 2022
The blooming of cherry blossoms, called sakura in japanese, announces the arriving of Spring. Incarnating ephemerality, they unveil their beauty for only two weeks. Their blossoming is therefore eagerly awaited and officially forecasted by Japan Meteorological Corporation. To help you plan your Hanami, here is the forecast for the year 2022.
Sakura blossoming forecast 2022
福岡 - FUKUOKA: March 26 - April 3
東京 - TOKYO: March 28 - April 5
大阪 - OSAKA: March 28/29 - April 5/6
京都 - KYOTO: March 28/29 - April 5/6
広島 - HIROSHIMA: March 29 - April 6
金沢 - KANAZAWA: April 4 - April 12
仙台 - SENDAI: April 7 - April 15
札幌 - SAPPORO: April 28 - May 5 
The first date is the blooming of sakura, called kaika or "flowers opening", and the second is the full bloom, mankai.
You will be able to admire the first bloom of 2022 in the Kyushu region in Fukuoka whereas if you are a bit late, the last region where the sakura are blooming every year is in Hokkaido. 
However, keep in mind that the forecast changes everyday. You can check the Official website of Japan Meteorological Corporation.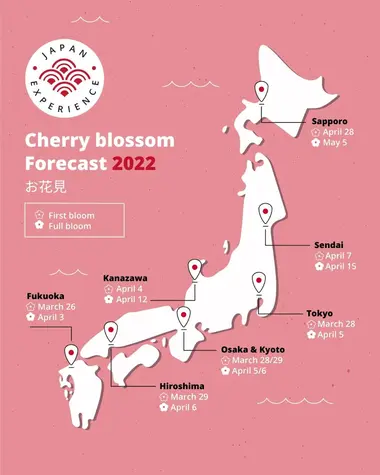 Top 5 places to see cherry blossoms in Japan
In Nakameguro river, you will appreciate the beauty of the cherry blossoms even prettier by night with the pink lanterns lights reflecting in the water. 
Walk down the geisha district of Gion in Kyoto and admire the beautiful spring scenery.
The Kokura Castle in Fukuoka reveals the beauty of cherry blossoms in a Edo traditional setting.
Enjoy your Hanami in Yoyogi Park under the cherry trees.
While visiting the Hirosaki Castle in Aomori prefecture, walk on the red bridge and wander at the sakura.