Japan Children's Books
Japan Children's Books: Read reviews of Japanese books for children translated into English. Titles reviewed include Finding Little Sister by Yoriko Tsutsui and Kamishibai Man by Allen Say.
Japanese Children's Books
Japan children's books: Read reviews of Japanese books for children translated into English.
Please note if you purchase something through a link displayed on the website we may earn commission.
Tokyo Pop-Up Book: A Comic Adventure with Neko the Cat - A Manga Tour of Tokyo's most Famous Sights - from Asakusa to Mt. Fuji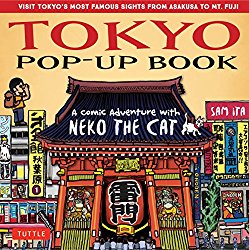 by Sam Ita
ISBN: 4805314346
14 pp, Hardcover, 2018
Sam Ita's latest pop-up book tells the story of 13-year-old Chico (short for Chiyonosuke), a half-American, half-Japanese boy who arrives in Tokyo with his cat, appropriately named Neko, on his way to visit his aunt.
Stopping off in Asakusa, Chico gets separated from Neko. Chico then goes through some of Tokyo's most famous areas such as Akihabara and Harajuku, and sees some of Tokyo's most iconic sites such as Tokyo Skytree and a sumo tournament, all the while looking for his cat.
Don't worry, all ends well as Chico is reunited with his cat after a climb up the outside of Skytree. Chico and his cat finally make it to his aunt's home. The book closes with all of them enjoying an onsen near Mt. Fuji.
Of course, the story line isn't the most important part of pop-up books.
The detail on the art work on this 14-page book in truly impressive. A few of the pages are five layers deep. People well acquainted with Tokyo will have little problem knowing where Chico is as soon as they turn each page.
While there is no doubt that the book is well-written and well-illustrated, the question of who exactly the book is written for is a little less clear.
Since it is written in English, most Japanese children cannot read the book - they can only enjoy the great artwork. Young English-speaking children will enjoy the artwork, but the references to things like Takeshita Dori and Kaminari Mon will be lost on them unless they live in Japan.
Perhaps the book is written for foreigners as a souvenir of their trip to Tokyo, or for people to explain to their children some Tokyo basics (The publishers recommend it for the 5-10 age group).
In any case, it is a fun, entertaining book that is artistically top-notch and will impress your friends.
Marshall Hughes
Once Upon a Time in Japan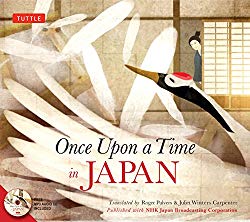 compiled by Mayumi Kawauchi
Kodansha English Library
ISBN: 4805313595
128 pp, Paperback
Composed of 10 of Japan's most-loved children's stories, Once Upon a Time in Japan is great for expats curious about what Japanese children are taught when in the listening-to-children's-stories age.
These 10 stories are known by most all Japanese and by some long-time foreign residents. Stories that foreign residents might know include Momotaro, the Peach Boy and Issui Boshi (sometimes known as One-Inch Boshi).
It is interesting to note that while most of the stories (i.e. The Magic Bandanna and The Tanuki Band of Shojoji) have good morals, the moral of the stories in a few others seems to be little more than "you'll be happy when you kill your enemies." Momotaro would appear to fit into that category.
It is also interesting to note who the heroes and heroines are in the book. For example, in "The Monkey and the Crabs" one of the protagonists is…a cow pie. Try finding that in Western children's tales.
If the stories are to be believed, the reader will learn a lot about the Japan of days gone by. If the tales are to be taken literally, Japan has a lot of old, childless couples living in mountains, that the mountain men spent a lot of time gathering firewood, and that flying animal friends are good for surveilling enemies.
One big bonus for the Japanese English language learners is that there are 13 pages of notes in the back explaining difficult English words and phrases. For example, the phrase "drumming his fingers" is explained in Japanese. Another way of looking at it is that Japanese English language learners can learn how Japanese expressions are translated into English.
Although the book is small and thin enough to carry around in your pocket, there are still cute drawings large enough to aid in the understanding of the stories.
You can enjoy the stories for what they are, but readers can also better understand what values Japanese want to teach and have taught their children for many years.
Marshall Hughes
Once Upon a Time in Japan 2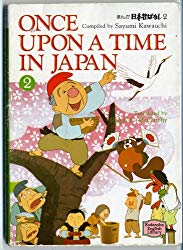 compiled by Mayumi Kawauchi
Translated by Ralph F. McCarthy
Kodansha English Library
ISBN: 4061860259
127 pp, Paperback
Continuing on from Once Upon a Time in Japan (see review above), this book is composed of 10 additional well-known Japanese children's stories.
While the stories in this book are arguably not as famous as the stories in the first book, most of them are still recognized by most Japanese. Even foreigners will probably recognize the story of Tanabata, since it is listed on many Japanese calendars.
Seen through the prism of modern sensitivities, some will unsurprisingly find a few of the stories far from politically correct. Among the lessons to be learned from the stories are 1. Step mothers are bad, 2. Ugly women are mean and 3. Pretty women are kind and good.
Like the first book, some of the stories teach good morals such as don't break promises, treat the less fortunate well and don't be greedy.  A few of the stories seem to only say, "Revenge is good." For example, Grandfather Cherry Blossom ends with, "So the grouch was tied up and carted off to jail. And it served him right, don't you think?"
The stories are good for the young and the very young, although in the aforementioned Grandfather Cherry Blossom the antagonist, alternately called "the greedy old man" and "the grouchy old man," picks up a hoe and kills the protagonist of a story, a happy-go-lucky dog named Shiro.
Readers can sometimes tell just how long ago some of the stories were written. In Baby Grandma, the grandfather looks into a water barrel to see his reflection. There are no mirrors yet, I guess.
Like the first book, there is a good glossary in the back to help English learners with difficult phrases, although it certainly can be used by learners of Japanese, too. One example is the explanation of "he wrinkled his nose."
Also like the first book, this volume is small and thin enough to put in your pocket and have room left over for a couple of cell phones.
Marshall Hughes
One Thousand Paper Cranes: The Story Of Sadako And The Children's Peace Statue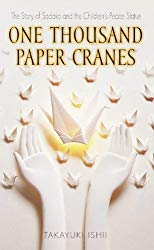 by Takayuki Ishii
ISBN: 978-0-440-22843-1
97 pp, Paperback, 2001
Parents looking for an uplifting book for their children broaching the subject of the destruction of the Hiroshima bombing should consider Takayuki Ishii's One Thousand Paper Cranes, the well-known story of Sadako Sasaki.
Initially, two-year-old Sadako survived the 1945 bombing, but years later, as a sixth grader, she came down with radiation sickness, was hospitalized and died within a fairly short period of time.
Her story has become famous for her continued belief that if she just folded one thousand paper cranes (cranes being a symbol of good luck in Japan), that her wish to become healthy again would come through. She finished the thousand cranes and started on a second thousand, but her wish never came true.
The author, who visited with a number of Sadako's relatives, writes of the young girl's life from birth to death, and focuses on Sadako, her family and her friends at school.
The book is clearly not intended as an in-depth study of World War II, focusing pretty much only on the story of Sadako. In fact, on the first page the author states that he wrote the book for "the children of America and other English-speaking children of the world."
However, it could be easily argued that a few pages of the book describing the destruction of Hiroshima are not child friendly. From page 15, "Every man, woman and child for miles around was either killed or seriously injured or burned." Other passages are not for the young, either.
The reader will definitely come away from the book with a sense of how much Sadako loved her family, and how much she was loved by her family and schoolmates.
One obvious criticism of the book is the surprisingly poor quality of the pictures. It appears that the low quality of the paper is to blame.
Also, about half dozen of the pages have illustrations, some of them full-page illustrations, that have no captions, so the reader is left to wonder who drew the art and what the background of it might be. Also, strangely, the point size on the captions that do exist are larger than the point size of the regular print. Strange.
At the end of the book there is a one-page explanation of how to fold an origami crane. There are also two pages of the words and music to the song Genbaku-wo-yurusamaji, a song mentioned several times as having been sung by the survivors.
Some readers might find it interesting that the author is likely coming from a different point of view than many others who have written about World War ll. Author Ishii was born and raised in Japan, but became a Christian and went to theology school in America. He and his wife are both Methodist ministers.
Marshall Hughes
Japanese Children's Favorite Stories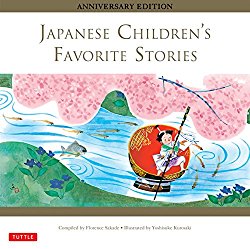 by Florence Sakade
ISBN: 4805314346
109 pp, Hardcover (Tuttle), 2014
One can learn a lot about a culture, for example what values are prized and taught to youngsters, by reading the children's books produced in that culture.
Florence Sakade has compiled 20 of Japan's best children's stories. First assembled in 1953, these stories have been redone with updated drawings. There is also a More Japanese Children's Favorite Stories available from Tuttle Publishing.
Some of Japan's most famous stories such as Peach Boy (Momotaro), Little One Inch (Issun Boshi), and The Crab and the Monkey are joined by slightly less well-known stories. The story of Little One Inch, by the way, goes back around 500 years.
If the stories are to be believed, they explain to non-Japanese the reason why men and women dance like they do, why kumo means both spider and cloud, and why jellyfish have no bones. Quite educational!
If all you knew about Japan came from this book, you would think that there are lots of pots filled with gold buried in the ground, that there are lots of gullible people and animals, and that good pretty much always triumphs over evil.
As you would expect, most of the stories have morals (ie don't be jealous, be clean, don't hurt others etc), but some do not. They just kind of end. In The Badger and the Magic Fan, for example, evil is punished but those hurt by evil do not recover.
Overall, this is a cute book which is great for children, yet also good for non-Japanese adults to get a peek into the lessons that a young child is taught in Japan.
Marshall Hughes
Origami Activities For Kids: Discover the Magic of Japanese Paper Folding, Learn to Fold Your Own Origami Models (Includes 8 Folding Papers)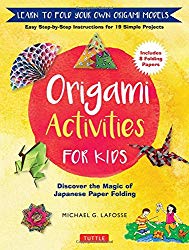 by Michael LaFosse
ISBN: 0804849439
48 pp, Hardcover (Tuttle), 2018
Origami, the traditional art of making objects out of folded paper, dates back to at least the year 1680 in Japan, and maybe before.
Over the years origami has become most often associated in the Western mind with the story of Sadako, the Japanese elementary school-aged girl who, suffering from the effects of radiation due to the atomic bombing of Hiroshima, believed that by folding one thousand origami cranes that she could be healed of her disease.
Further books on Sadako include Sadako and the Thousand Paper Cranes and The Complete Story of Sadako Sasaki.
Cranes are a traditional sign of long life and happiness in Japan, and it is said that one crane represents one thousand years of happiness.
This book starts with a short introduction of origami (literally "folded paper"), then talks about the paper used in origami. There are then short sections on how to read the diagrams in the book, the importance of folding the paper neatly, and learning how to do inside-reverse folds.
After that it is straight to how to make the book's 19 creations which range from the simple chopsticks wrapper to more complex things like a blooming cactus. Readers/folders can make boats, pinwheels, good luck bats, lotus flowers, various kinds of boxes and lids, frogs, fans, carp and, of course, cranes.
Inside the back cover you will find eight colorful pieces of origami paper to start you on your way to brilliance (or frustration if you don't have the origami genes).
On the back cover the book touts itself as "perfect for both beginners and slightly experienced folders alike." The more advanced designs are not for simpletons, even though the book says it is designed for "readers ages 7-12."
The book is fewer than 50 pages, which is about the right length for what it is trying to accomplish.
Author Michael LaFosse has been an "origami artist" for over 40 years and produces origami for numerous international clients.
Marshall Hughes
Write Your Own Haiku For Kids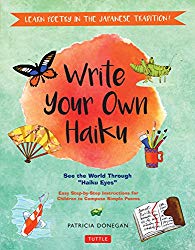 by Patricia Donegan
ISBN: 0804849293
48 pp, Hardcover (Tuttle), 2018
Haiku is the most famous form of Japanese poetry, dating back to the 17th century. When it comes to haiku, Westerners are most likely to have heard of Basho (1644-1694) and his most famous haiku:
old pond
frog jumps in
sound of the water
Patricia Donegan has written a 48-page, easy-for-kids (ages 8-12) explanation of haiku and how to get started composing them. Early on, she quotes Basho has having said that, "To write haiku you need to have the eyes and heart of a child."
Readers already familiar with haiku will find it interesting that the author implies that the heretofore strict 5-7-5 syllable pattern is not really necessary. Traditionalists might disagree.
Other noteworthy points include:
Haiku should show, not explain feelings.
Similes (like and as) should not be used.
Haiku should definitely be from one's own experiences.
Haiku should express  an "openheartedness toward nature."
Contrasts between two objects are often used.
A season word, called "kigo" in Japanese, should be included. A list of suggested kigo words is available for each season.
While the book claims to be written for kids, and it does have easy, step-by-step instructions for writing your first haiku, the later part of the book gets into haibun (haiku with a short story), Haiga (haiku with drawing) and renga (haiku that is written in collaboration with other people), all of which require a bit more advanced thinking.
Basho himself was technically a renga poet rather than a haiku poet, as in his day people usually did not write individual haiku but wrote renga together as a group. His most famous haiku are opening lines to longer renga that had a number of collaborators.
Splashed throughout the book are examples of famous and not-so-famous haiku which the author admires. The author also incorporates some of her own work.
At the end of the book, after the glossary, is a half-page resource guide which lists eight haiku-related websites, haiku societies in America, haiku magazines, haiku contests and a few other helpful things for those interested in furthering their haiku education.
Overall, this book is a useful introduction for children to the world of haiku.
Let's see what I learned:           
brush, paper and ink
learning haiku with my mom
kotatsu warms us
Marshall Hughes
Finding Little Sister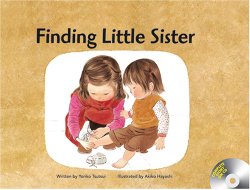 by Yoriko Tsutsui
ISBN: 1741260396
32 pp
Yoriko Tsutsui is the author of several beloved Japanese picture books, including Miki's First Errand and Gifts from a Mailbox. The illustrations are sweet and appealing, but modern foreign mothers might find the realism a bit frightening. Little Naomi, who looks about five, is playing outside on the curb when her mother takes off to go to the bank, leaving her alone with her younger sister, Ellie. The mother promises to be back before Ellie wakes up, but she isn't. Naomi tries to amuse her little sister by playing with her in the street. The smaller child wanders away. There are big trucks, a strange, scolding man and other untold dangers. Naomi finally finds her little sister, and the mother appears at the end with a worried look on her face. While this story, first published in Japanese in 1979 - and Miki's First Errand, in which a little girl goes to the corner store by herself for the first time - are meant to show children gaining responsibility, this reader can't help but feel they are inappropriate for twenty-first century children.
Suzanne Kamata
Kamishibai Man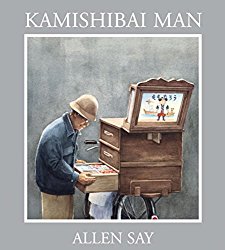 Written and Illustrated by Allen Say
ISBN: 0618479546
32 pp
Caldecott Award-winning Say's latest offering tells the story of a former kamishibai man who decides to give it one last go. Jiichan hops on his bicycle with his stage, storycards and sweets made by Baachan, and rides through the countryside and into the city. There, he is moved to find that even in this high-tech age, an audience remains for his old stories. Although kamishibai - stories presented with large cards - are still popular at libraries and kindergartens across Japan, parents and children new to Japan may be surprised to learn about the traveling storytellers of the past.
For ages 4-8.
Suzanne Kamata
The Falling Flowers
Written by Jennifer B. Reed Illustrated by Dick Cole
ISBN: 1-885008-28-7
32 pp
Mayumie, a young Japanese girl and her grandmother set out on an expedition to Tokyo. But where are they going? To the zoo? To a museum? No, they're going to have a look at the cherry blossoms. This gentle story pays tribute to the typically strong relationship between Japanese children and their grandparents, as well as to the time-honored tradition of flower-viewing.
Reed does a good job of introducing the sights and sounds of the city - the crowded trains, the ding of bicycle bells, the neon signs.
Cole's watercolors enhance the text nicely. He provides just enough detail to give viewers a feel for the hubbub of one of the world's largest metropolises without losing focus on Mayumie and her grandmother.
This book would serve as a good introduction to Japanese culture, or a nice preface to an afternoon of cherry-blossom viewing.
For ages 4-7.
Suzanne Kamata
Hachiko: The True Story of a Loyal Dog
by Pamela S. Turner
ISBN: 0618140948
364 pp
The story of Hachiko is a familiar one to those who live in Japan. The dog went to greet his master, Dr. Ueno, every day at Shibuya station when he got off the train. After the doctor's death in 1925, Hachiko continued to go to the station to wait - for ten years.
His loyalty was commemorated with a bronze statue which now serves as a popular meeting place. Japanese children read about the faithful canine in their textbooks, but Turner has given the story a twist to introduce English readers to Hachiko. She tells the tale, in simple yet elegant prose, from the point of view of a fictional boy named Kentaro.
Nascimbene's watercolor illustrations, evocative of traditional woodblock prints, give a good feel for the period.
Turner follows up with "The Story Behind the Story" so readers can get their facts straight.
This award-winning book should appeal to kids around seven and up.
Suzanne Kamata
Sumo Boy
by Hirotaka Nakagawa illustrated by Yoshifumi Hasegawa
ISBN: 0-7868-3635-0
32 pp
Sumo Boy is a jolly romp through the day of an unlikely superhero. The eponymous protagonist flies through the air in his red loincloth and topknot, ever on the alert to those in distress. He zooms down to rescue a little girl who is being bullied by a pro-wrestler look-alike. Our hero tosses a handful of salt and takes down his adversary with an overarm throw.
When the bout is over, Sumo Boy and the little girl head back to the dojo for some chanko nabe. The simple text and bright, childlike illustrations make this a fun choice for early readers. There's an illustrated glossary of sumo moves at the back for further study.
This book may also help to dispel the Western notion that sumo wrestlers are a bunch of lazy fat guys bouncing bellies against each other in the ring.
For kids around four to seven.
Suzanne Kamata
Guri and Gura
by Rieko Nakagawa illustrated by Yuriko Yamawaki
ISBN: 0804833524
32 pp
Guri and Gura have been charming Japanese children since 1963. Now the pair cross the Pacific in an English-language version. Guri and Gura are two field mice. In this, the first book, they discover a massive egg in a forest.
They then decide to bake an equally massive sponge cake. Problem: the egg is too large to move. Solution: bring Moses to the party. They drag a pan, batter, etc. out to the forest and cook there.
And eat and eat and eat.
For kids around four to eight.
C. Ogawa
Cherry Blossoms in Twilight: Memories of a Japanese Girl
by Yaeko Sugama Weldon illustrated by Linda E. Austin
ISBN: 0-9772323-0-1
84 pp
In this brief memoir, mother and daughter duo Weldon and Austin tell of Weldon's upbringing in Japan and her early years in the United States as wife of a former U.S. soldier. Weldon, daughter of a Japanese shoemaker, was born in 1925 and grew up in Saitama, with a view of Mt. Fuji.
In the first half of this book, she tells of her childhood, a time of tea-picking and trickster foxes. She also gives an overview in simple, direct prose of Japanese holidays and traditions, many of which are still observed today. The chapters concerning Weldon's early days are charmingly illustrated by her own drawings.
In the second half of the book, Weldon recounts the war years, during which she saw a friend gunned down during an air raid and was trained in self-defense with a pointed bamboo pole.
After the war, she was employed at the American Officer's Club at Johnson Air Force Base, and then later, became the seamstress for the deformed daughter of an American Army Captain. Weldon's lack of animosity toward the Occupying forces is remarkable.
However, she points out that many young Japanese men were killed in the war, leaving only American servicemen for companionship. Nevertheless, when she decides to marry an American, her mother is not pleased.
The final chapter tells of her beginnings in the United States and of her marriage and the birth or her children.
The authors do not provide much of a narrative arc to draw the reader through the story and I found myself wishing that they had spent more time fleshing out the scenes and characters in this book.
Even the most dramatic events, such as the death by machine gun fire of Weldon's co-worker, get only a paragraph or two, with little reflection. This book does, however, offer a record of the sometimes extraordinary experiences of an ordinary woman in 19th century Japan.
Suzanne Kamata
The Inch-High Samurai
translated by Ralph McCarthy illustrated by Shiro Kasamatsu
Kodansha International
ISBN: 4770021011
48 pp
This is the classic Japanese tale of a plucky little boy who sailed to Kyoto in a teacup. There he has many great adventures, including but not limited to a fight with a demon. The one-inch samurai prevails with a needle and thereby wins the love of an aristocratic Lady.
Shiro Kasamatsu's beautiful illustrations, painted more than 50 years ago, boldly depict the tiny samurai's adventures--and the surprising ending. Ralph F. McCarthy has done a marvelous job in rendering the tale into English. It is witty and modern, while retaining the feel of the period. Excellent. A perfect gift for a child. Or if you are learning Japanese.
The story is bilingual, written in both English and Japanese.
C. Ogawa
Kintaro, The Nature Boy
translated by Ralph McCarthy illustrated by Suiho Yonai
Kodansha International
ISBN: 477002102X
48 pp
This ancient tale of Kintaro is one of Japan's most enduring and popular stories. The legend of Kintaro begins with him beign raised in a mountain forest by his beautiful young mother.
His gentle nature and extraordinary physical strength win him the love and respect of all the forest creatures. Eventually, he is recruited by a famous samurai lord, and Kintaro goes on to earn fame and fortune after conquering a band of evil demons.
Suiho Yonai's rich, dramatic drawings have been used for more than 50 years to illustrate this story. Writer and translator Ralph F. McCarthy's playful verse brings this wonderful tale to life for English-speaking children everywhere.
The story is bilingual, written in both English and Japanese.
C. Ogawa
Singing Shijimi Clams
by Naomi Kojima
Kane Miller Book Publishers
ISBN: 193360512X
32 pp
In the latest English translation of her work, veteran illustrator/author Kojima (The Chef's Hat, The Flying Grandmother) delivers a whimsical tale of a bad witch gone good.
Just as the witch prepares to toss fresh clams into her miso soup, they start to move. To her cat Toraji's disgust, she can't bring herself to boil them, and ultimately decides to set them free.
Both parents and kids should get a laugh out of the absurd lengths the witch and cat go to in the interest of saving the clams. Kojima's black and white drawings are delightfully detailed, from the green onions sticking out of the witch's shopping basket to the bobbles on her bedroom slippers.
Look for Tokyo Tower in the cityscape.
Ages 4 - 8.
Suzanne Kamata
Japanese Nursery Rhymes
by Danielle Wright; illustrated by Helen Acraman
Tuttle
ISBN: 193360512X
34 pp
Danielle Wright has collected fifteen Japanese nursery rhymes. Each nursey rhyme is written in the original Japanese, in Roman letters, and comes with an English translation.
Where necessary, there is explanation about the background of the story.
Moreover, each Japanese nursery rhyme is paired with a fabulous illustration by Helen Acraman.
The collection includes "And the Water is Clear," "I Wonder of my Old Friends Are Well," and others.
For young children - and anyone who is learning Japanese - Japanese Nursery Rhymes is a wonderful book.
The text of Japanese Nursery Rhymes comes with an audio CD.
Louise Kramer
Note To Authors & Publishers
If you wish to have your title reviewed by JapanVisitor's team of Japan-specialist reviewers please contact us to arrange for a review copy to be sent to the editors.
JapanVisitor provides a thorough and professional review.
JapanVisitor works in cooperation with the following publishing houses: Kodansha International, Rough Guides, Lonely Planet, Penguin, Alexandra Press, Oxford University Press, Vertical, APA Publications, Columbia University Press, University of Hawaii Press, Dark Alley, ME Sharpe Inc., Tokyopop, Trafalgar Square Books, Houghton Mifflin Company, Grove/Atlantic Press, Tuttle Publishing, Yale University Press, Pantheon Books, Pan Macmillan, Bantam Press, Faber & Faber, University of California Press, Harvard University Press.
All the themes of the city