Tokyo Books
Books on Tokyo
JapanVisitor has the largest collection of independent reviews of Japan-related books on the Internet: travel guides, Japanese fiction and fiction with a Japan setting, books on Japanese history, Japanese politics and society, Japanese food and cuisine, books on learning the Japanese language, books on Japanese art, design and photography, the nature and environment of Japan as well as books covering manga, anime and music. If you wish to have a title reviewed on JapanVisitor.com please see the contact details at the bottom of this page.
Cool Tokyo Guide: Adventures in the City of Kawaii Fashion, Train Sushi and Godzilla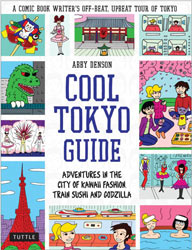 by Abby Denson
Tuttle
Paperback; 128 pp
4-8053-1441-9
Let's face it: product manuals, while incredibly useful, are not compelling reading, no matter how invested we are in the product itself. And let's also face it, no matter how much you've invested in your trip to Tokyo, the guide book you also invested in might not be as get-into-able as you'd like it to be.
American manga cartoon artist, Abby Denson, proffers a fun solution: Cool Tokyo Guide: Adventures in the City of Kawaii Fashion, Train Sushi and Godzilla. There! Irresistible already - not to mention the cute, colorful cartoons on the semi-gloss cover.
From the New Words prefacing every chapter, your guide, the mauve colored Kitty Sweet Tooth, takes you through your upcoming trip to Tokyo, starting with things to prepare for: a JR Rail Pass, tickets to the Ghibli Museum, specific festivals to check out depending on when you'll be there, and useful websites (but JapanVisitor.com, the website with hands-down the most in-depth Tokyo tourist information of any other Tokyo guide site out there, is not listed. Horrors!)
This guide is about how information is presented as much as what information is presented. It's information you'll find in any guidebook worth its salt, but it's the eminent accessibility of the information here that makes Cool Tokyo Guide worth having. After the above-mentioned pre-departure tips come chapters - an average of 8 to 10 pages of simple, jazzy quarter- or half-page cartoon frames - covering getting around (trains, taxis, rendezvous spots, etc.), survival skills (toilets, shopping, police, pharmacies, etc.), food, entertainment, shopping, sightseeing spots, kids, "culture shock funnies", and hotel-related advice.
Dozens, scores, if not hundreds, of snippets of info and advice - from the titillating to the essential - are included in these engagingly drawn and handwritten illustrations. They are observations and tips that the author conveys from experience. You can tell. They're compelling. But, to take up the product manual analogy again, Cool Tokyo Guide is a product overview, not step-by-step instructions, which, considering the vastness of the product: Tokyo, is the best anyone can manage in just under 130 pages (which even include, however, a final chapter on nearby Yokohama and other extra-metropolitan daytrips).
Cool Tokyo Guide is a guidebook chocolate box, to be picked from at random and nibbled on, and shared with travel companions, in bits and bites, ideally on the plane coming over. There are numerous specific recommendations for restaurants and sightseeing spots, but, lacking area guides, it won't be of much use when you're actually stomping the sidewalks of Tokyo. (The "offbeat, upbeat tour of Tokyo" emblazoned at the top of the cover is a little misleading. Spots covered on the same page are often in completely different areas of the metropolis.) However, as an imaginative, amusing and highly digestible appetizer it will introduce you to the flavors of Tokyo you're most interested in trying, and ease you into the heavier and less colorful, but more savory, Tokyo guidebook you'll need once off the plane.
Lonely Planet's Best of Tokyo 2018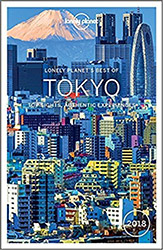 by Lonely Planet
Paperback; 258 pp
1-7870-1115-1
The (pretty quickly) dogeared, muddy-thumbed blue tome that's been a denizen of backpacks since the '70s now shares its stable with a new generation. Lonely Planet's Best of Tokyo 2018 looks more at home on the coffee table, with its retro matte postcard-style cover and 258-page slimness. It is stylish, easy on the eye, featuring great clarity and contrast of layout on every page, with an optimum balance between easily scannable text and beautifully reproduced camera-pro photos.
But looks are definitely not where it stops - this arty-looking offering couldn't be more practical. The information is organized very intuitively, with the first 30 or so pages covering special Tokyo happenings throughout 2018, "Need to Know" facts that can make all the difference, to the nitty-gritty of Japan trip-planning. The next, and biggest, section, called "Top Experiences" proposes things to see and do and places to go in Tokyo. The remaining, and still substantial sections, take the same area-by-area approach to dining, then shopping, then evening drinking, then entertainment, plus a page or two for sports fans, and some accommodation pointers. The very last section, "Tokyo Today" covers arts, pop culture, architecture, and other facets of Tokyo that contribute to the uniqueness of the metropolis. There are color area maps at the end with clear indicators of what's where.
What this city-slicker of a guidebook does share with its more artisanal older blue brother is the Lonely Planet family's economical but colorful way with words. That together with the color-coded ease of text navigation, great indexing, good maps, and overall design professionalism gives Lonely Planet's Best of Tokyo 2018 almost as much the feel of a travel catalog aimed at potential Tokyo tourists as a guidebook for those with a ticket already in hand. Dare to even casually thumbflick through it without being drawn to come and see for yourself the gorgeous, sophisticated, multi-layered, activity-packed Tokyo portrayed here.
Tokyo City Atlas: A Bilingual Guide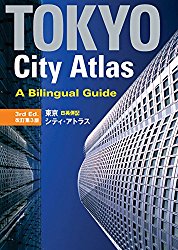 Kodansha International
ISBN: 4-7700-2503-3
128 pp
The foolhardy traveller who decides to venture beyond the usual tourist spots in Tokyo must first brave the tangled serpents of the subway system, and then solve the riddle of the Signless Streets and Anonymous Alleyways.
Addresses in Japan are based on ever-smaller nested squares of land, like a Russian doll set, rather than something as intelligible as street numbers. Thus when you' re on foot it can be nigh-on impossible to find a building just from the address. However, the latest edition of the Tokyo City Atlas almost miraculously solves the problem. Despite its handy B5 size, it manages to squeeze in all the Cho and Banchi block numbers on its fully bilingual maps, making finding a building almost a breeze.
The full-colour maps come in three scales - handy large-scale overviews of central and metropolitan Tokyo at either end of the book; medium-scale plans of central Tokyo; and detailed maps of the main tourist areas, showing names of most hotels, shopping centres, parks and other amenities. Not every building is labelled, but the major ones are, and this combined with the block numbers will orientate you in a flash, no matter how many jackhammers are at your back or schools of sailor suits are streaming around you.
As an added bonus, there are 7 additional maps of the Yokohama and Kawasaki city centres and U.S. military bases, and extremely useful indexes that will enable you to look up hotels, embassies, and thousands of other places of interest. And the rail and subway maps conveniently located inside the front cover will have you taming those Tokyo serpents in no time.
Richard Donovan
Lonely Planet Tokyo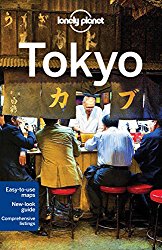 by Andrew Bender
Previous editions by Chris Rowthorn, John Ashburne, Kara Knafelc
Lonely Planet
ISBN: 1-740-59059-7
274 pp
Lonely Planet's main Japan guide runs to nearly 800 pages so if your visit is confined to the capital and its environs Lonely Planet Tokyo makes for a lighter alternative for the rucksack. The maps (including color versions) and the photographs are a marked upgrade from previous editions and the Japanese place-names and language section are a boon for linguistically-challenged visitors and residents alike.
As well as the now familiar LP sections on Accommodation, Things to See & Do and Getting There and Away - the guide includes useful Food and Drink, Entertainment and Shopping listings, in this updated edition.
Best of Tokyo
by Wendy Yanagihara
Lonely Planet
ISBN: 1741041767
128 pp, 31 maps
Tokyo is an intense city. It is Los Angeles in scale, New York in population density. It is a sprawling, messy city that also happens to be a total blast. If you know where to go, what to do, how to get around. Tokyo is still the hippest city in Asia, despite competition from Beijing, Shanghai and Bangkok, a techno-consumer paradise of music, manga, fashion and food.
Tokyo is also a city blessed with massive parks, great museums, a zillion dining and drinking options, very little crime, and some of the best shopping in the world.
Without language skills or local knowledge, what to do? Lonely Planet's latest edition of Best of Tokyo is a pocket sized guide that will get you around the city and into the best restaurants, bars, clubs, galleries and cultural venues. A great buy.
C. Ogawa
Tokyo, the City at a Glance (Wallpaper City Guide Tokyo)
by Wallpaper Magazine
Phaidon
ISBN: 0714846996
103 pp, 20 pp for notes
The Wallpaper City Guide Tokyo at a Glance may offer a glance, but what a tantalizing one! The easy-access thumbtabbing of this almost pocket-sized 103-page guide makes for instant delving into the finer, and finer aspects, of Tokyo's landmarks, hotels, 24-hour facilities, urban life, architecture, shopping, sports, and escapes (i.e. within an hour or so of Tokyo, including Naoshima Island). It maintains a balance of concise text and tasteful, professional photography, letting the pictures speak at least as loudly and eloquently as the words.
Describing Tokyo as one of "the world's most intoxicating cities," the Wallpaper guide to Tokyo proffers just enough of Tokyo's 'intoxicants' to get the urban connoisseur more than just started. As a kaleidoscope of Tokyo's attractions from the perfect massage to the most avant-garde building design, to the chic-est bars, and much more, this slightly left-of-center booklet is as essential a guide to Tokyo for the resident of this vast metropolis as for the visitor. The perfect antidote to staying at home or in the hotel room.
Includes a summary of general tourist information at the front, color coding on the pages of "the city's hot "hoods," a list at the end of addresses and websites of all the institutions listed, about 20 blank and lined pages of "Notes" at the end for "sketches and memos," and a fold-out back cover outline map of Tokyo.
Subway Guide to Tokyo
by Boye Lafayette De Menthe
Tuttle
ISBN: 0804836841
159 pp
The prolific author of various handbooks for East Asia, Boye Lafayette De Menthe, has produced another, the Subway Guide to Tokyo. The subtitle modestly states: 'Take the right line, get off at the right station, and find the best exit!'. However, there is a lot more to this attractively designed, 160-page resource than that.
All the basic information is covered in very easy to follow and meticulously researched full-color graphic-interface detail, complete with a few passages of introductory information and advice for the Tokyo subway user. Particularly useful is information such as which cars are the closest to platform exits at connecting stations.
The next section devotes a page each to 12 of the most important stations and their environs (very considerately treating Shinjuku East exit and Shinjuku West exit in separate entries). A brief overview is given of the character of the area, places to eat, drink, and sightsee, how to get there and, if applicable, when.
Part 4, Destinations Listings' is, although included in the nature of an appendix, in many ways the handbook's most valuable section. From Acupuncture Clinics, to Embassies, to Ice Skating, to Restaurants (organized by genre), to the Zoo, there are 97 pages of places to go that will make life in Tokyo that much more livable and enjoyable.
If the book has a minus, it would be its somewhat limited scope for the Tokyo commuter who often uses a combination of both subway and JR. As a subway guide it includes information on only a few 'relevant' JR stations. Also, since publication the Passnet card mentioned in it has been replaced by the Pasmo and the Suica. However, for the price, this is a handbook that neither visitor, newbie, or even old hand, should be without.
Tokyo Encounter
by Wendy Yanagihara, photography by Anthony Plummer
Lonely Planet
ISBN: 1-74059558-0
216 pp
Lonely Planet has just published a Tokyo guide that isn't for the backpacker. Tokyo Encounter, gives the young tourist with time and money to spend a concise, intelligent, colorful, and easily searchable bird's eye view of the city in a glossy, pocket-sized 200 pages.
The first section of Tokyo Encounter has 16 "Highlights" - not-to-be-missed shopping and drinking spots, temples, parks and the like - followed by a very brief calendar of once-a-year things to be seen and done. The main body of the book, "Neighborhoods," features ten Tokyo neighborhoods, handily color-coded, with a short overview, a map, and "See," "Shop," "Eat," "Drink," and "Play" listings, each with a fifty-or-so word description: stylishly and thoughtfully written. Few pages are without an artful photograph, or an extra-info box.
Following "Neighborhoods" are "Snapshots": 16 little overviews of accommodation, anime and manga, architecture, food, galleries, gay and lesbian, kids, live music, markets, and more.
Next is "Background": some "textbook" stuff about Tokyo; and, finally, "Transport" and "Practicalities" (climate, discounts, emergencies, health, holidays, language, etc.) In the inside back cover is a pull-out map of Tokyo and the subway system.
Tokyo Encounter is a user-friendly, up-to-date and attractive-looking guide that, if you are visiting Tokyo, is guaranteed to steer you where you want to go with a minimal amount of homework.
Tokyo Realtime: Akihabara
by Patrick W. Galbraith, Max Hodges
White Rabbit Press
ISBN-10: 097486949X, ISBN-13: 978-0974869490
CD + notes
Akihabara is renowned as an area of Tokyo representing the apex of Japanese electronics technology and the nadir of the nation's social adjustedness. It is equally chockablock with stores selling computer parts and appliances/equipment for the home as it is with stores catering to quirky - and usually solitary, i.e. otaku - tastes in reading manga, videogaming, costumed entertainment, and more. Such is its scale and depth that "you could write a book about it," or, better still for the tourist, an audio guide.
Patrick W. Galbraith is an author on and researcher of otaku culture, based at Tokyo University, and has made Tokyo Realtime: Akihabara, an audio guide to be listened to as you follow a map and verbal directions through Akihabara.
This reviewer had been through Akihabara numerous times before trying this guide, but was surprised to find a new dimension to the area thanks to it. By "simply" directing you up certain stairs and down certain streets, and informing you by way of various types of narratives about the venues, you are made quickly and memorably aware not only of the existence but the cultural and historical significance of the dozen or so places you visit and, of course, Akihabara in general.
Thanks to Tokyo Realtime: Akihabara, I now know why Akihabara is nearly all male nerds, and in which part of Tokyo the female nerds hang out. I now also know where I can buy vintage PacMan, dolls that cost half a million yen, and have a Cinderella lookalike blow on my hot coffee and coo in my ear - or twist it.
The soundtrack features Galbraith, sounding much more connected and boy-next-door than the rough-trade nutcase photo of him would have you imagine, and with multiple sub-narrators, including researchers on and denizens of Akihabara adding their enlightening perspectives while you browse, or walk between, venues. The tour takes an hour.
Tokyo Realtime: Akihabara is very professionally and glossily produced and packaged, complete with full-color booklet with photos of tour spots. However, it lacks instructions about how to import the audio to your device (not iTunes-friendly - has to be manually dragged).
All up, an eye-opening, informative and titillating tour guide to enjoy exploring to, and keep as a stylish memento of your Akihabara experience.
David Stormer
Tokyo Pub Crawler
by Dan Riney & Gia Payne
Alexandra Press
ISBN: 4990079116
110 pp
Where to begin? Within the Tokyo metro area, there are at least 10 major nightlife areas. Within each of these, 100s - in Shinjuku, perhaps 1000s - of bars await the overwhelmed but expectant tippler. In traditional media outlets, one is assaulted with ads. In Tokyo Pub Crawler, one gets the real deal from a female and male perspective.
The guide begins with basic bar Japanese, last train times for the major lines (pumpkin time in Tokyo usually around 12:30), and then is broken into 10 night spots plus Yokohama. Within each of these is a map and then the bar reviews. Dan ranks his with beer mugs, Gia with kisses. And they hold no punches. Dan on one mega-bar-complex in Omotesando: "I know some revere it, but I think this complex is, at least for nightlife, a soon-to-be-extinct giant dinosaur." Ouch. And can Gia rave: "Moo and call me Bessie, this place is the cat' s meow." That lucky bar got four big smooches.
Never to shirk on research, the two go at all hours, describe the bar in detail, its atmosphere, the crowd, prices, and more. Whether you live in Tokyo or in the provinces and only get up to the Big City once or twice a year, this is a great guide.
Peter Rodd
Tokyo Underworld
by Robert Whiting
ISBN: 0-375-72489-3
378 pp
In Tokyo Underworld (the Fast Times and Hard Life of an American Gangster in Japan), the author of You Gotta Have Wa follows the life of criminal mastermind Nick Zappetti, and in the process shows a postwar Japan struggling to rebuild and redefine itself.
As a street smart East Harlem native with a sharp eye for an easy buck, Zappetti finds plenty of opportunity in occupied Japan - from selling U.S. inventory on the black market to taking dives as a "professional" wrestler and opening Japan's first pizza joint.
The "king of Roppongi and mafia boss of Tokyo" is by no means an admirable character, but his exploits serve as a sensational vehicle for Whiting's well-researched investigation of the deep-seeded and all pervasive nature of Japan's criminal syndicate, from small time racketeers to international industrial espionage.
Proving that real life is stranger than fiction, and just as exciting, Tokyo Underworld reads like a James Bond thriller and reveals the seamy underbelly of Japan that has long been kept behind the shoji.
Matthew Walsh
Tokyo Rising - The City since the Great Earthquake
by Edward Seidensticker
ISBN: 4-8053-052-4
348 pp
Translator and Japan scholar Edward Seidensticker's Tokyo Rising continues the series begun with Tokyo: Low City, High City. Beginning with the Great Kanto Earthquake of 1923, Seidensticker documents the relative freedom of the Taisho Period, the onset of imperialism in the 1930s, the disasters of World War II with the war in China and the Pacific, the US Occupation, the extraordinary economic growth of the 1950s and 1960s, up until the late 1980s and the "Bubble Economy", and what these periods meant to and for Tokyo.
Seidensticker's work was published in the 1990, and the final section in particular makes for interesting reading with its emphasis on Japan's (and by extension Tokyo's) seeming invincibility and the decline of the West.
Though now somewhat dated in the light of Japan's and Tokyo's subsequent economic stagnation this is still an excellent and learned introduction to the history of Tokyo and its central importance to Japan's economy and culture.
Edo, The City That Became Tokyo: An Illustrated History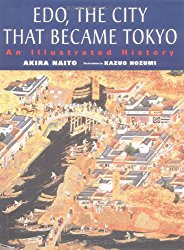 by Akira Naito, Illustrated by Kazuo Hozumi
Translated by H. Mack Horto
Kodansha International
ISBN: 4-7700-2757-5
211 pp
Originally published in Japanese in 1982, Naito's book attempts to outline the early rise of Edo, from 1603-1867, the period when the city served as the capital of the Shogun. These were the military leaders who in theory served the Emperor in Kyoto, but who in practice ran the country. This period gave birth to much of what is now considered to be the core of Japanese culture: kabuki, ukiyoe, geisha, sumo, and the haiku poets. When Japan was finally forced to open to the outside world by Admiral Perry and his Black ships, at the very end of the book, Tokyo was the largest city in the world.
Naito has organized his text chronologically, with much commentary on the construction of the Imperial Palace and land reclamation projections on and around Tokyo Bay. He also provides simple primers on the class system in effect - warriors, farmers, artisans, and merchants - and the slow rise of the commoners.
Perhaps inevitably, the text has a Greatest Hits feel to it. 250 years of history of one of the world's great cities cannot possible be conveyed with much depth in 200-odd pages. Also, the omission of some of the more unsavory aspects of Tokyo's history - organized crime, the untouchable class, etc. - leaves the reader with a rather sanitized version of the city. However, the book has something for everyone: the opening sections on urban design, kabuki, riots, storms, artisans, festivals, gangs, etc. - and all packaged in short, delectable bite-size bits.
Note To Authors & Publishers
If you wish to have your title reviewed by JapanVisitor's team of Japan-specialist reviewers please contact us to arrange for a review copy to be sent to the editors.
JapanVisitor provides a thorough and professional review.
JapanVisitor works in cooperation with the following publishing houses: Kodansha International, Rough Guides, Lonely Planet, Penguin, Alexandra Press, Oxford University Press, Vertical, APA Publications, Columbia University Press, University of Hawaii Press, Dark Alley, ME Sharpe Inc., Tokyopop, Trafalgar Square Books, Houghton Mifflin Company, Grove/Atlantic Press, Tuttle Publishing, Yale University Press, Intercultural Press, Pantheon Books, Pan Macmillan, Bantam Press, Faber & Faber, University of California Press, Harvard University Press.
Tokyo Books: find books on Tokyo, travel guides, history of Tokyo (Edo) and Tokyo city atlases.
All the themes of the city