Hayao Miyazaki
Hayao Miyazaki 宮崎 駿
Hayao Miyazaki (b.1941 - )
Born January 5, 1941, in downtown Tokyo, Japan
The world's leading animated film director
Creator of "My Neighbor Totoro," "Castle in the Sky," "Princess Momonoke," and "Spirited Away"
Hayao Miyazaki has been rightly feted as the world's leading director and creator of animated films. He co-founded Studio Ghibli, and has created magical works such as My Neighbor Totoro, Kiki's Delivery Service, and Castle in the Sky. Perhaps his two best-known works are Princess Momonoke, and Spirited Away.
The last film is the highest-grossing film of all time in Japan.
His works tend to dwell on nature versus technology, and the main character of many of his films is often a young girl.
Miyazaki was born in downtown Tokyo during the War. His father was a director at an airplane manufacturer, which made parts for the Zero fighter planes. In his films, planes are a common motif (e.g., Porco Rosso).
As well as the theme of flight, Miyazaki's films are also characterized by having morally complex characters, not always absolutely identifiable as goodies or baddies.
Following university, he was hired by Toei Animation where he worked until 1971. He left at that point to work for A Pro. During this period, he was co-director of several of the Lupin III series.
His next major work, Nausicaa of the Valley of the Wind was completed in 1984. It was based on a manga series of the same name, and featured many of his signature themes: the environment, aviation, and characters that are a very human mix of both good and bad.
After this he founded (the now world-famous) Studio Ghibli with Isao Takahata in 1985. He entered a phase of great artistic and commercial success following this.
Castle in the Sky (1986), My Neighbor Totoro (1988), and Kiki's Delivery Service (1989) followed in short order.
The 1990s saw that success continue with Porco Rosso (1992) and Princess Mononoke (1997). The latter won Miyazaki the Best Picture at the Japanese Academy Awards. After that Miyazaki said that he would retire from directing.
However, he returned and with a vengeance. His 2001 Spirited Away won the Golden Bear (First Prize) at the 2002 Berlin Film Festival and Academy Award for Best Animated Feature. It is the story of a young girl who works in a bizarre sento (bathhouse) for spirits. This all comes about because her parents were turned into pigs by the witch who owns the bathhouse.
His next work, Howl's Moving Castle, won the Golden Osella award for animation technology at the Venice Film Festival.It was followed by Ponyo (2008) which won Animation of the Year at the 32nd Japan Academy Prize, and The Wind Rises (2013) which, among numerous other awards, won Best Foreign Language Film at the 2014 Golden Globe Awards.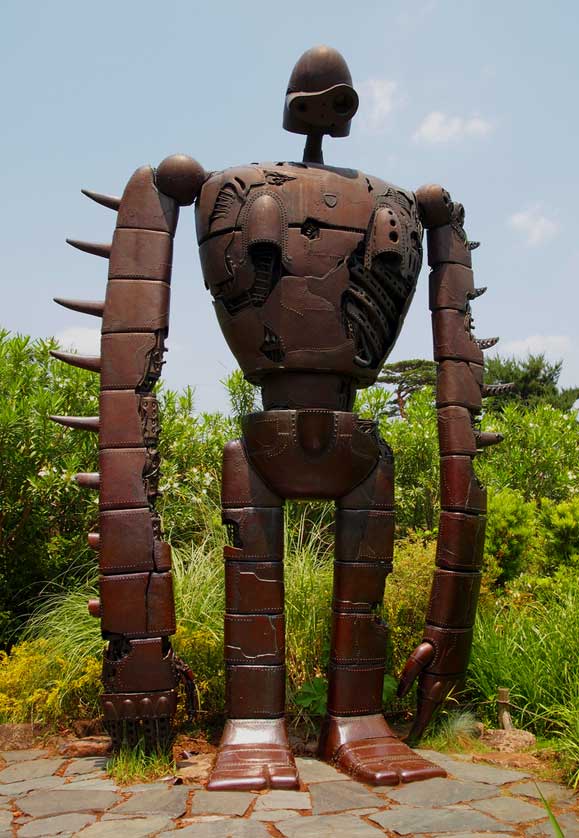 Robot Soldier on the Ghibli Museum Rooftop, Mitaka, Tokyo
Visiting Studio Ghibli
The Ghibli Museum in western Tokyo is dedicated to the art and animation of Miyazaki Hayao's Studio Ghibli, Japan's most famous animation studio.
Hayao Miyazaki Movie Reviews
Castle in the Sky
The Castle of Cagliostro
Grave of the Fireflies
My Neighbor Totoro
Nausicaa of the Valley of the Wind
Porco Rosso
Tales From Earthsea
Other famous Japanese actors and directors
Hayao Miyazaki: read a short biography of Hayao Miyazaki, the Japanese animated film director who has been feted as the greatest director in this genre.
All the themes of the city