Fukui Prefecture
Fukui Prefecture: read a guide to Fukui Prefecture located on the Japan Sea coast in the Chubu region of central Japan.
Japan's Regions: Fukui Prefecture 福井県
Fukui Prefecture is located on the Japan Sea coast in the Chubu (central) region of Japan. Fukui Prefecture borders Ishikawa Prefecture, Shiga Prefecture, Gifu and Kyoto.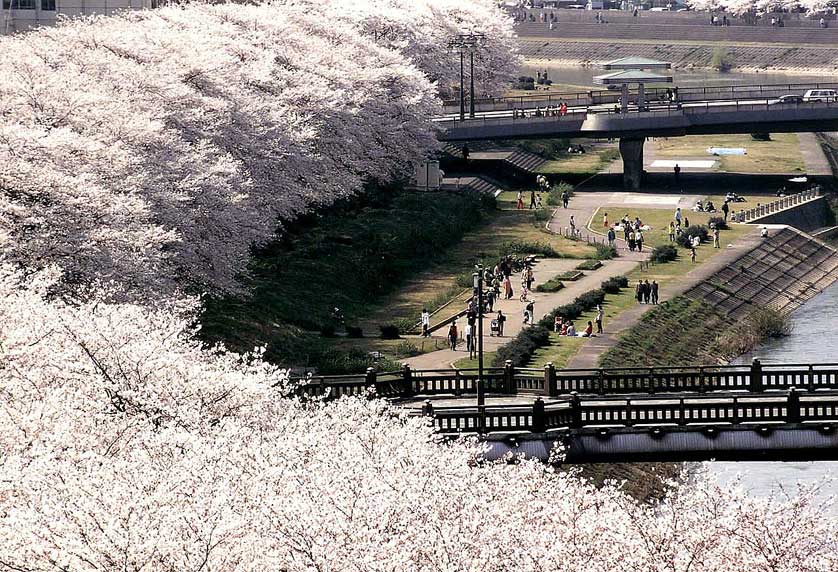 Cherry trees on the Asuwagawa River, Fukui, Fukui Prefecture.
Fukui is a mainly rural prefecture with the Echizen coastline famous for its beaches in summer and its rugged coastline throughout the year. Fukui is home, however, to more nuclear reactors than any other prefecture in Japan, many congregated near the town of Tsuruga. Fukui Prefecture has a population of around 795,000 making it the 43rd smallest prefecture out of 47.
Historically, modern-day Fukui was divided into two domains, Wakasa to the west and Echizen in the east containing the present prefectural capital, Fukui city.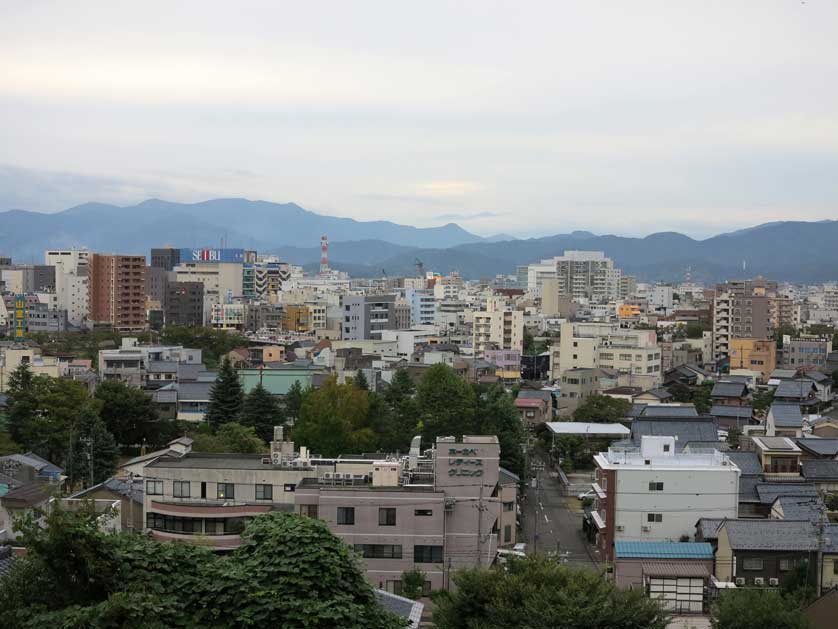 View over Fukui from Asuwayama, Fukui, Fukui Prefecture.
Around 15% of the total area of Fukui Prefecture is protected land including the Hakusan National Park, Echizen-Kaga Kaigan and Wakasa Wan Quasi-National Park as well as Okuetsu Kogen Prefectural Natural Park.
Fukui Prefecture's main cities and towns include the capital Fukui, with a population of nearly 267,000 inhabitants, Sabae, Tsuruga, an important port, and the smaller towns of Katsuyama, Echizen (which includes Takefu and Imadate), Obama, Ono and Sakai.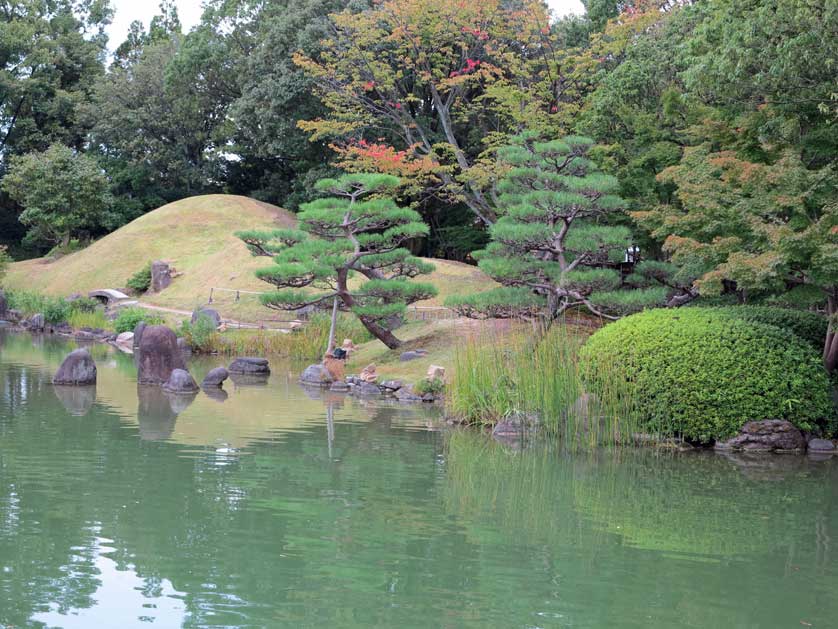 Yokokan Garden, Fukui, Fukui Prefecture.
Fukui has slightly cooler weather in the summers than areas further to the south in Honshu and those towns and cities on the Pacific Coast, though temperatures usually top 30 degrees Centigrade or more in July and August. The coastline of Fukui Prefecture traditionally receives heavy snowfall in winter.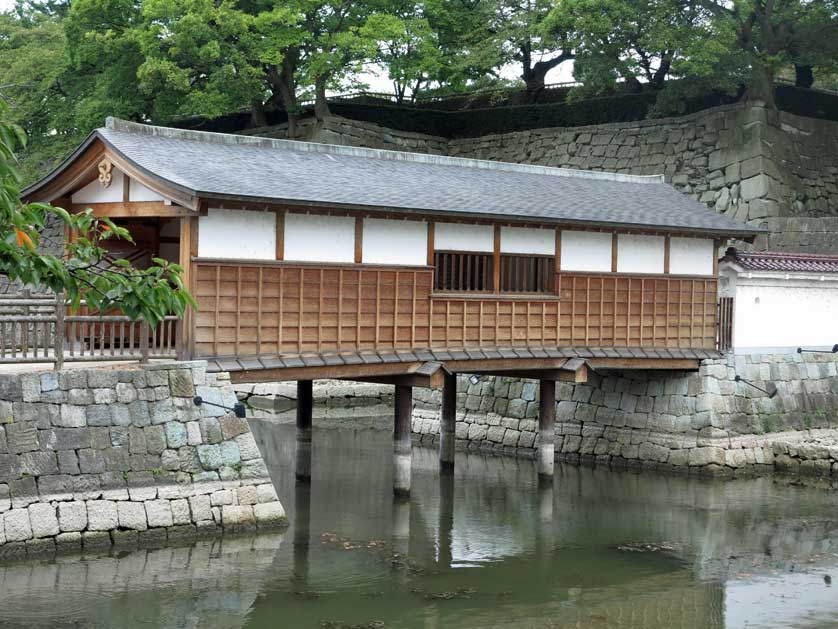 Orokabashi Bridge, Fukui Castle, Fukui, Fukui Prefecture.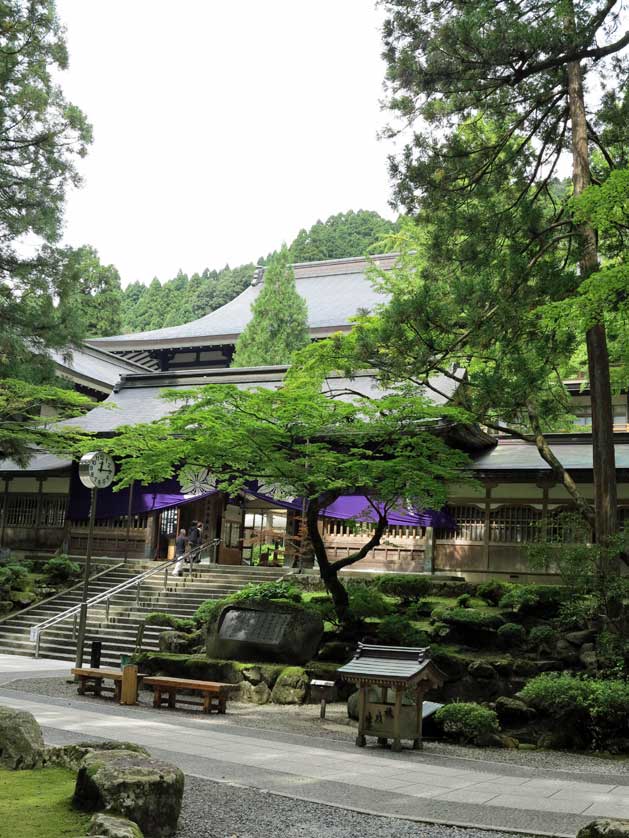 Eiheiji Temple, Fukui
Fukui Attractions
Fukui Prefecture has much to see and do, with many of the attractions an easy day or half-day excursion from Fukui city. These include the world-famous Soto Zen temple, Eiheiji, a training monastery for young priests. The modern Fukui Prefectural Dinosaur Museum is popular with young families and is located in Katsuyama where more dinosaur fossils have been found than in any other part of Japan. Within Fukui city proper attractions include Fukui Castle, Yokokan Garden, the Fukui City History Museum and Kita-no-sho Castle.
The Ichijodani Asakura Family Historic Ruins was a castle town destroyed by Oda Nobunaga in 1573, but have been restored since the 1960's and are reached from Ichijodani Station on the JR Etsumi-Hokusen Line, less than 20 minutes from Fukui Station. Samurai residences, gardens and merchant houses have all been faithfully rebuilt. The ruins of Ichijodani Castle stand on the hill.
Maruoka is an historic castle town containing the original Maruoka Castle, said to have the oldest keep (tenshu) in Japan.
Sabae, just south of Fukui city, is known for producing a very high proportion of Japan's domestically produced eye-glasses - up to 90%.
Obama at the western edge of the prefecture played on its name connections with US President Obama and includes a Food Culture Museum, a Chopstick Museum, the Wakasa Historical Folklore Museum and a hot spring or onsen. Myotsu-ji is Obama's most famous temple and is classified as a National Treasure. The Main Hall (Hondo) dates from the Kamakura Period the three story pagoda in the complex is thought to date back to around the time of the founding of the temple in the 9th century.
The Echizen coastline has some interesting rock formations and places of interest include the Echizen Pottery Village, reachable by bus from Takefu. Other attractions include the Echizen Crab Museum, Daffodil Land, and Echizen Daffodil Village Park.
Farther north, close to Awara, are the famous Tojinbo Cliffs, spectacular rock formations and the nearby Echizen Matsushima Aquarium.
Echizen has a long history of washi paper production and the Washinosato Japanese Paper Village is close to Sabae and Takefu.
Tsuruga is an important port and has Shin Nihonkai ferries to Niigata, Akita and Otaru and Tomakomai in Hokkaido.
Food specialities of Fukui include crabs (Echizengani) and soba noodles. There are several soba dojo (soba-making schools) in Fukui Prefecture.
Bob Marley mural at an open stage in Fukui City
Streetcar, Fukui-shi, Fukui Prefecture, Japan
Fukui History
During the Edo Period, Echizen was ruled by the Matsudaira clan, relatives of the ruling Tokugawa.
The last daimyo Matsudaira Yoshinaga played an important role in smoothing the way for the end of Tokugawa rule and briefly became a politician in the new Meiji government.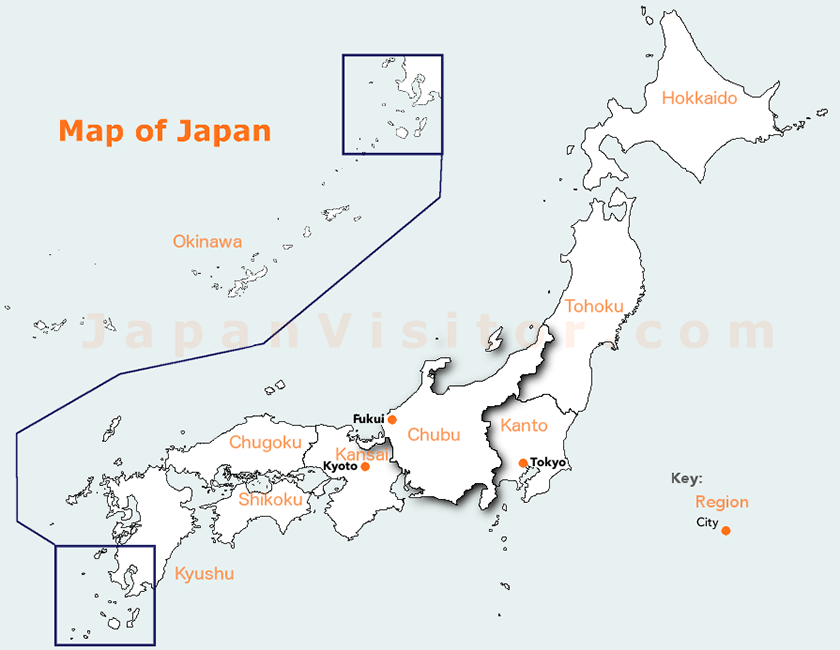 Fukui Map, Fukui Prefecture
Access
Train
Fukui Station is on the JR Hokuriku Line from Maibara Station in Shiga Prefecture to Naoetsu Station in Niigata Prefecture.
From Nagoya take a Hikari shinkansen bullet train to Maibara and change (1 hour, 43 minutes) or a direct Shirasagi Express (2 hours, 10 minutes).
From Kyoto there are Thunderbird Express trains taking about 80 minutes to Fukui.
From Tokyo Station the quickest route is to take a shinkansen to Maibara (the Nozomi does not stop here, only the Hikari and Kodoma) and then the Shirasagi Limited Express. Total journey time is 3 hours, 20 minutes.
The Echizen Railway runs from Eichizen Railway Fukui Station at the east exit of Fukui Station to the last stop at Katsuyama.
Bus
There are eight daily express highway buses from Nagoya Station to Fukui Station taking about 3 hours. There are also three highway buses to Tokyo daily leaving at 7.30 am, 9.50 pm and 10 pm.
Car
The main highway running through Fukui is the Hokuriku Expressway.
Book Hotel Accommodation in Fukui Prefecture
Fukui JR Station, Fukui Prefecture.
Book Hotel Accommodation in Japan
All the themes of the city