Historic Streetscapes Preservation Districts in Japan
Preservation Districts in Japan for Groups of Traditional Buildings (Historic Streetscapes): there are 118 such districts scattered from Okinawa to Hokkaido.
Preservation Districts for Groups of Traditional Buildings (Historic Streetscapes) 伝統的建造物群保存地区
Preservation Districts for Groups of Traditional Buildings, Dentō teki Kenzōbutsu-gun Hozon-chiku  (伝統的建造物群保存地区) in Japanese, is quite a mouthful in either language but a simpler and possibly more apt phrase would be "Historic Streetscapes". It is a category added in 1975 to the 1970 Law for the Protection of Cultural Properties.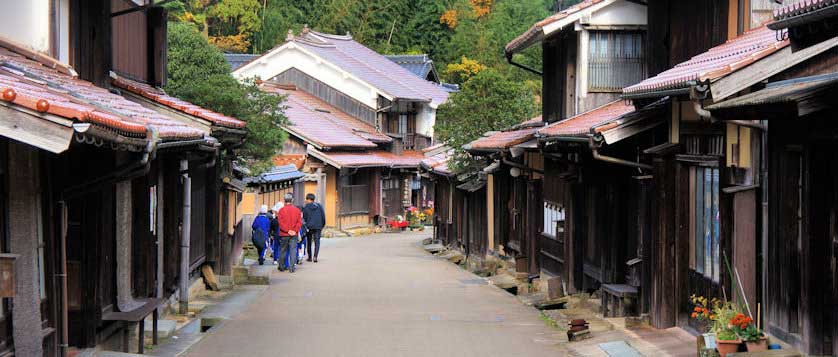 Omori, Shimane Prefecture, Japan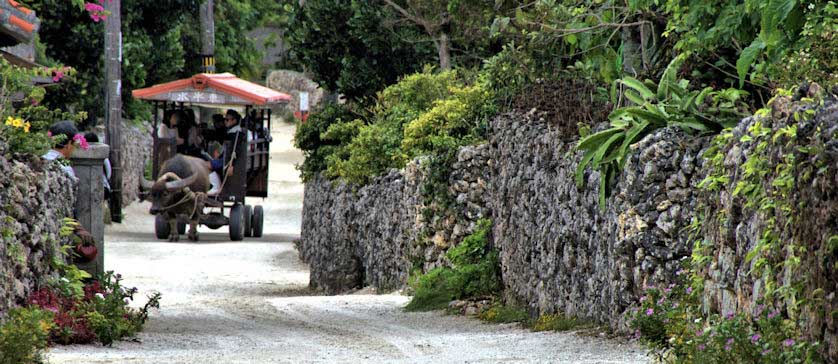 Taketomi, Okinawa, Japan
Currently there are 118 such districts scattered across Japan from Okinawa to Hokkaido, though some prefectures have none at all.
To be registered as such a district, and therefore to receive government funding to aid in their preservation, there are three criteria, at least one of which must be met, though some districts meet all three.
There must be a group of buildings, not just a few, and they must show excellent design as a whole.
The infrastructure and layout, ie roads, walls, canals, etc must reflect the historic usage of the area.
The buildings and surrounding area must display a particular regional characteristics.
There are quite a lot of distinct types of areas in the list, though Merchant Quarters are the most common category. There are also quite a few Samurai Quarters, usually in close proximity to a castle or former castle.
Post Towns that grew up along the main highways of Edo Period Japan such as the Tokaido and Nakasendo are well represented and there are quite a few Ports as well.
There are several whole villages, including farming, mountain, and island locations. Areas devoted to a specific industry or product, like mining, brewing, weaving etc are included, as well as areas that grew up around famous shrines and temples. All in all, quite a wide range of architecture spanning several centuries.
The preservation districts vary in size from whole villages covering hundreds of acres, to very small areas of just a handful of acres that you could pass by and hardly notice, although the bulk are under a hundred acres and so are easily explorable on foot.
Some of the areas are famous, well-visited, and in the main tourist areas. Kyoto for example has multiple sites, but many areas are off the beaten track and quite remote, which is often why they have escaped the development that has erased so much of historic Japan.
Often these areas are less gentrified and offer a more authentic glimpse of how things would have looked in times past, but quite frankly a few of them are so small and probably only worth seeking out for those with a serious interest.
There are no fees to visit a preservation area - people live and work there. Many have a tourist information center in or near the district where you can often pick up a walking map that details what can be seen.
Often there are cafes and gift shops as well as buildings open to the public. Many of these function as local history museums and some are free to enter but others have entry fees. Some offer special activities like dressing up in kimono, and some offer free guides.
This listing of Historic Streetscapes moves from southern Japan to the north.
Taketomi Okinawa
Taketomi Village, Taketomi Island. Farming Village. 96 acres.
Chiran, Kagoshima Samurai Quarter
Chiran Kagoshima Samurai Quarter. 46 acres. Chiran is notable for its collection of traditional gardens that once belong to their samurai owners.
Mimitsu Miyazaki
Mimitsu Miyazaki. Port Town. 18 acres. Mimitsu is located at the mouth of the Mimi River in northern Miyazaki on the east coast of Kyushu. It is now administratively a part of Hyuga City, named after the old name of the province.
Kitsuki Oita
Kitsuki Oita. Two Samurai Quarters. 40 acres. Kitsuki, a small town on the southern edge of the Kunisaki Peninsula in northern Kyushu, is the home of what is often called the smallest castle in Japan. Kitsuki is also the location of a well preserved samurai district with many of the samurai houses open to the public.
Arita
Arita-uchiyama. Porcelain-producing town in Saga Prefecture, Kyushu. 39 acres. Arita, a small town in the mountains of Saga Prefecture in Kyushu is one of the centers for ceramics in Japan, specifically it is known as the birthplace of Japanese porcelain.
Mima Tokushima Merchant Quarter
Mima Tokushima Merchant Quarter. 13 acres. The former castle town of Wakimachi (now part of Mima) in Tokushima Prefecture is home to a picturesque street of historic buildings that evoke the time, centuries ago, when it was a thriving merchant center of the region.
Kiragawa
Zaigo Town, 45 acres. Note: During the Edo Period, zaigo towns (在郷町 zaigo-machi) were areas in the countryside where artisans and merchants lived under the administration of a nearby village's bugyo (Tokugawa official).
Hiyako Samurai District
The Hiyako samurai district (10 acres) in Hagi is the least well-known of the town's Edo Period samurai areas. It is located on the east bank of the Hashimoto River south of the main samurai district. The main feature of the Hiyako samurai district is called kaimagari, and is found in some Japanese castles. The high-walled roads take sharp 90 degree turns creating more easily defensible positions.
Hamasaki Port
Hamasaki Port (25 acres) in Hagi was in use as soon as the Mori clan established their castle here in the early 17th century, and flourished with trade and shipbuilding as well as fisheries.
Yanai Yamaguchi
Yanai Yamaguchi. Merchant Quarter. 5 acres. Yanai is famous for its goldfish lanterns.
Yanai, Yamaguchi Prefecture, Japan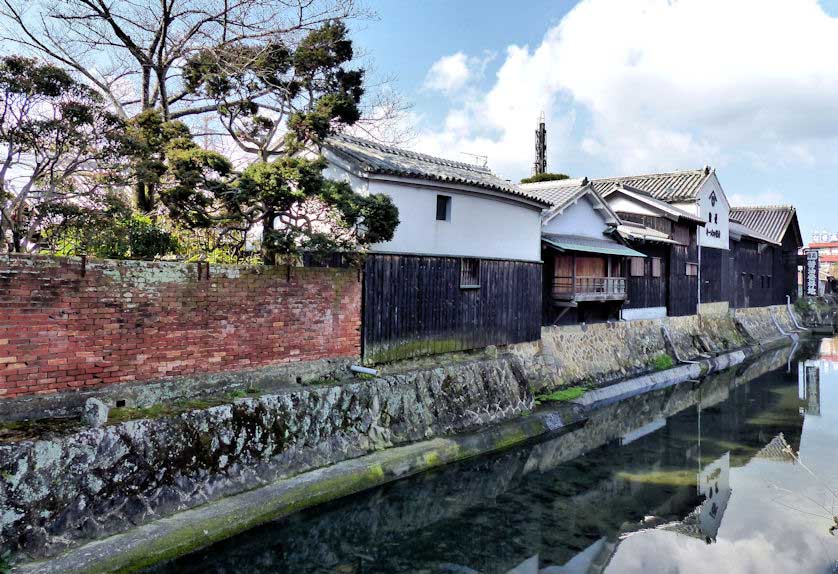 The waterfront behind Kadocho Soy Sauce Brewery in Yuasa in Wakayama Prefecture was once a bustling port that exported soy sauce across Japan
Yunotsu
Yunotsu, Port Quarter, Hot Spring Town, Shimane. 90 acres. Yunotsu is a small, quiet, old-fashioned type of hot spring resort dating back 1,300 years. It is the only hot spring in all of Japan to be registered as a Preservation District for Groups of Traditional Buildings.
Omori Ginzan
Omori, Iwami Ginzan, Shimane. Mining Town. 402 acres. Omori was a town for the samurai administrators of the silver mine and for the merchants who supplied the mine in Iwami Ginzan.
Tonomachi Street Tsuwano
Tonomachi Street, Tsuwano. Samurai Quarter & Merchant Quarter. 27 acres. In the samurai quarter the street is lined with white-plastered walls interspersed with some impressive looking gates that formerly led into the mansions of the elite samurai.
Mitarai Osaki Shimojima Island
Mitarai Osaki Shimojima Island, Hiroshima. Port & Teahouse Quarter. 17 acres. Mitarai's narrow lanes and alleys are still lined with buildings that date back to an earlier age. Consequently it has been designated a Historic Preservation District of Traditional Architecture, and more recently a Japan Heritage Site.
Kurayoshi Tottori Prefecture
Akagawara Shirakabe Dozougun. Kurayoshi. Merchant Quarter. 23 acres. During the Edo Period the town prospered as a merchant center servicing the region and this is what created the towns primary attraction, a well preserved merchant quarter with residences, stores and white-walled storehouses.
Izushi Hyogo Prefecture
Izushi. Castle Town. 57 acres. Izushi is a small, historic, castle town in the countryside of northern Hyogo Prefecture.
Sasayama Hyogo Prefecture
Sasayama Historical Districts in Hyogo Prefecture. Castle Town, 99 acres. Sasayama, a castle town founded by Tokugawa Ieyasu, lies in a rural area in the middle of Hyogo Prefecture. Due to its wealth of historic sites is has been registered as a Japan Heritage town.
Miyama Kyoto Prefecture
Miyama, Kayabuki no Sato, Nantan, Kyoto. Mountain Village. 315 acres. Miyama is a remote, rural, highland area 30 km north west of Kyoto city and best known for its traditional thatched (kayabuki) houses.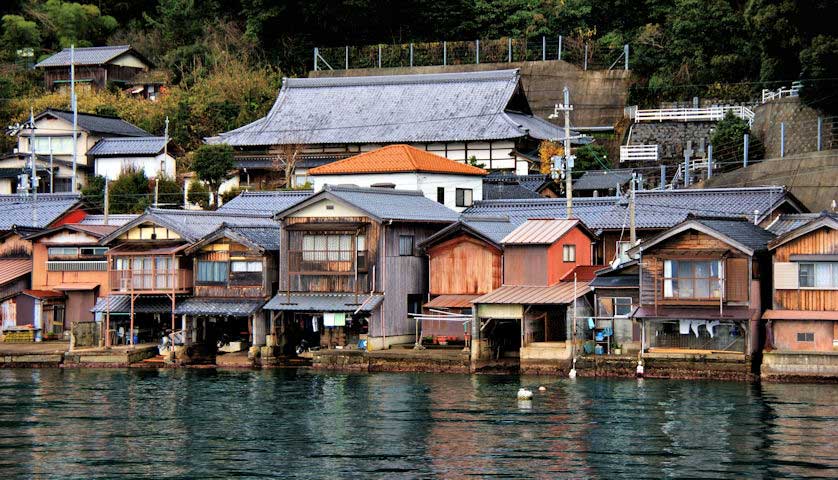 The unique "streetscape" of Ine, a picturesque fishing village on the Japan Sea coast in Kyoto
Ine Kyoto Prefecture
Ine-cho, Ine Fishing Village, Kyoto. 767 acres. More than 200 funaya boathouses, most with living spaces built above them, now line the waters edge of this idyllic inlet in Kyoto Prefecture not far from Amanohashidate. The architecture of this traditional port make this probably the most visually unique of all of the more than 100+ Architectural Preservation Districts in Japan.
Jinaimachi, Tondabayashi, Osaka Prefecture
Tondabayashi Jinaimachi town & Zaigo town. 28 acres. Jinaimachi is a well preserved historic village that dates back to the 16th century that is now completely surrounded by 20th century modern urban sprawl, but which still offers a slice of history and glimpses of a time gone by. Located in Tondabayashi, in southern Osaka, an area of the Kansai region that is largely under the radar for most tourists but was actually an important area in ancient and medieval Japan.
Imai Town, Kashihara, Nara Prefecture
Kashihara-shi Imai-cho, Jinaimachi town & Zaigo town. 43 acres. Imai-cho has more than 500 buildings that date back into the Edo Period. What you have in Imai Town is literally a whole town that has been preserved. Not just a few buildings, nor just a few streets, and unlike many historic districts in Japan there are not hordes of tourists.
Yuasa Wakayama Prefecture
Yuasa. Brewers Quarter. 16 acres. Yuasa, a small port town on the west coast of the Kii Peninsula, a little south of the city of Wakayama, was in former times a resting place for pilgrims traveling the Kumano Kodo. It is known as the birthplace of soy sauce production in Japan.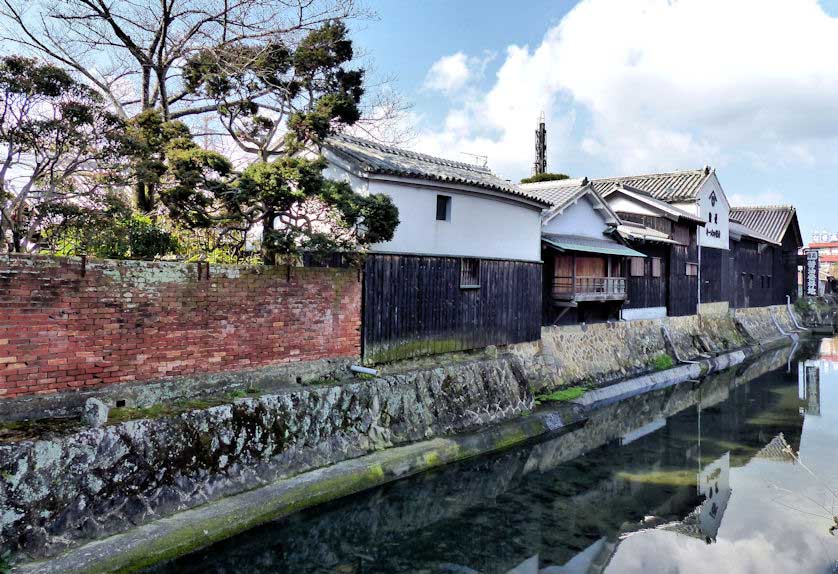 The waterfront behind Kadocho Soy Sauce Brewery in Yuasa was once a bustling port that exported soy sauce across Japan
Ouchi Juku Fukushima Prefecture
Ouchi Juku is a thoroughly restored Edo Period (1603-1868) post town on the historic Aizu Nishi Kaido Road, a major traffic artery at the time connecting the city of Aizuwakamatsu with Nikko and, by extension, Edo (today's Tokyo). Tucked away in the mountains of western Fukushima Prefecture, in Tohoku, about 20 km south of Aizuwakamatsu city, Ouchi Juku with its traditional thatched roof houses has in recent years become a major tourist destination.
All the themes of the city