Toden Arakawa Line
Toden Arakawa: read a guide to the "Tokyo Sakura Tram" (or Toden Arakawa Line) streetcar line in western Tokyo.
Toden Arakawa Line "Tokyo Sakura Tram" 都電荒川線 東京さくらトラム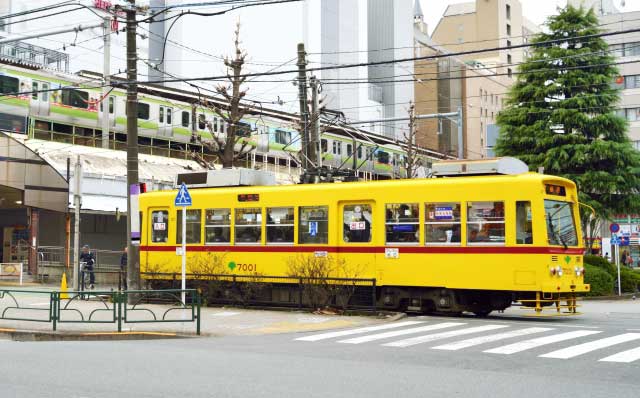 Toden Arakawa Line with the Yamanote Line in the background, Tokyo
The 12km-long Toden Arakawa Line is Tokyo's last remaining streetcar (tram) line, though a claim can also being made for the Tokyu Setagaya Line (東急世田谷線), which runs from Sangen-Jaya to Shimo-Takaido in Setagaya-ku. In 2017, the Toden Arakawa Line came to be known by a new nickname: the Tokyo Sakura Tram.
The earliest parts of the Toden Arakawa Line date from 1913 and the line survived the wholesale destruction of Tokyo's streetcars in the 1960's due to opposition from local residents.
The Toden Arakawa Line runs from Waseda Station north to Minowabashi Station. It takes about 48 minutes to traverse its 29 stations. The Toden Arakawa Line connects with the Yamanote Line, Tokyo subway and the Nippori-Toneri Liner.
The Toden Arakawa Line tram provides access to the Zoshigaya Cemetery, Waseda University, Gakushuin and Koganji Temple.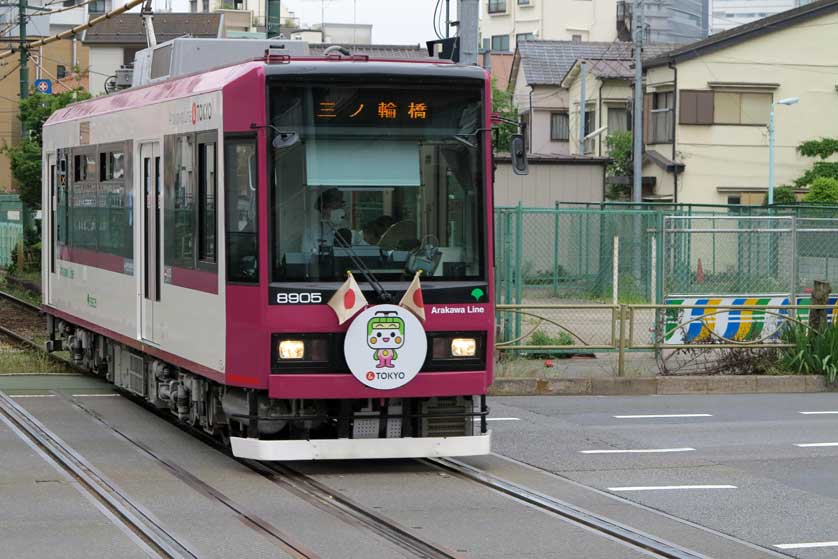 Toden Arakawa Line, Tokyo
Tokyo was once criss-crossed by a number of trams (known as chin chin densha, literally "ting-a-ling trains," for the characteristic sound of their bells). Fares are a flat 170 yen for adults, or 165 yen if you use an IC smartcard such as Suica or Pasmo. The main rolling stock is modern, though a few traditional trams are also in service.
Announcements on the train are in Japanese and in English too. The next station is displayed on electronic boards in the carriages in both Japanese and English.
The full list of stops on the Toden Arakawa Line with intersecting lines are: Minowabashi (Hibiya Line), Arakawa-Itchu-mae, Arakawa-Kuyakusho-mae, Arakawa-Nichome, Arakawa-Nanachome, Machiya-Ekimae (Keisei Main Line, Chiyoda Line), Machiya-Nichome, Higashi-Ogu-Sanchome, Kumanomae (Nippori-Toneri Liner), Miyanomae, Odai, Arakawa-Yuenchi-mae, Arakawa-Shako-mae, Kajiwara, Sakaecho, Oji-Ekimae (Keihin-Tohoku Line, Namboku Line), Asukayama, Takinogawa-Itchome, Nishigahara-Yonchome, Shin-Koshinzuka (Toei Mita Line), Koshinzuka, Sugamo-Shinden, Otsuka-Ekimae (Yamanote Line), Mukohara, Higashi-Ikebukuro-Yonchome (Yurakucho Line), Toden-Zoshigaya, Kishibojinmae, Gakushuin-shita, Omokagebashi and Waseda (Tokyo Metro Tozai Line).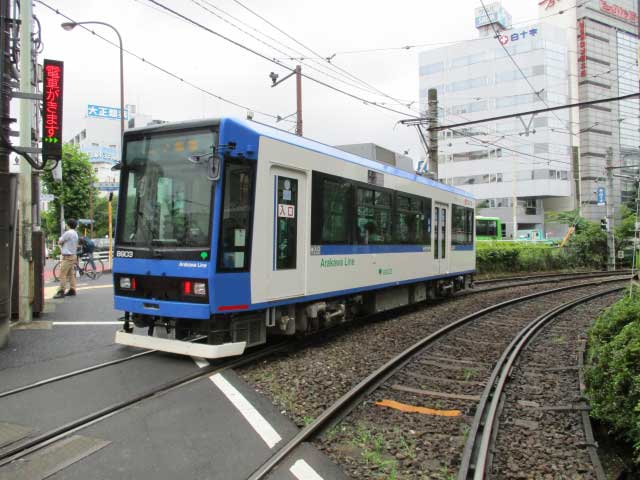 8900 Class Tram, Toden Arakawa Line, Tokyo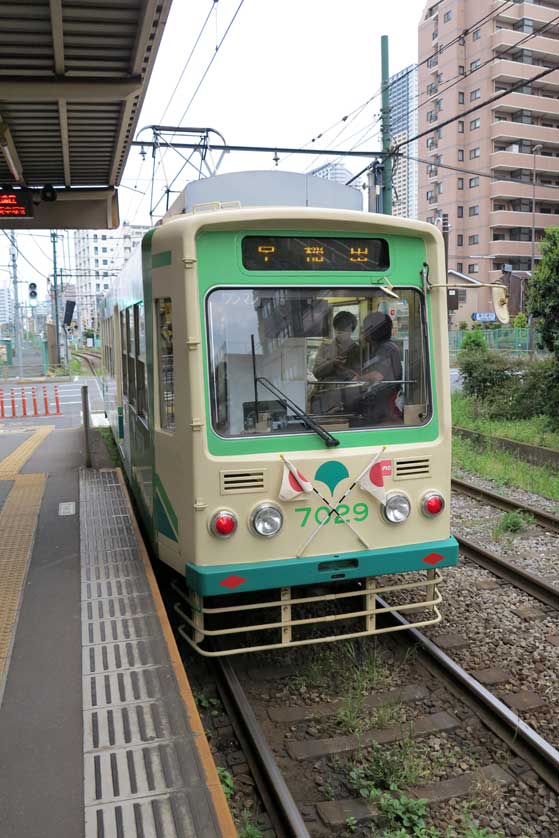 Toden Arakawa Line, Tokyo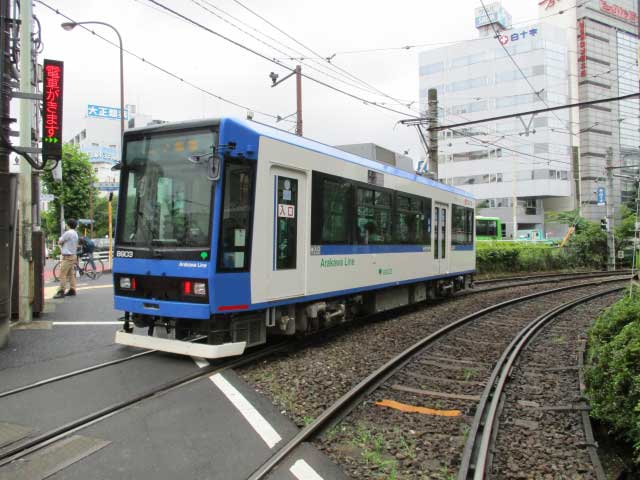 7000 Class Tram, Toden Arakawa Line, Tokyo

Toden Arakawa Video
Stay in Tokyo
All the themes of the city