Buddhist statues
仏像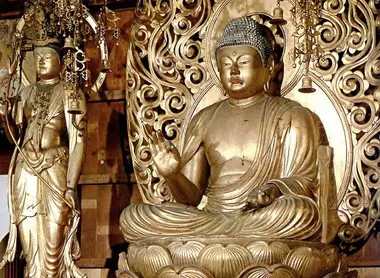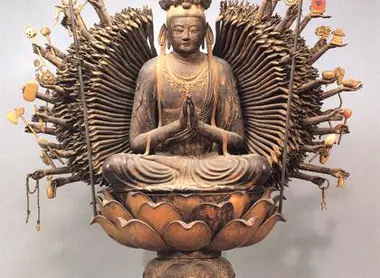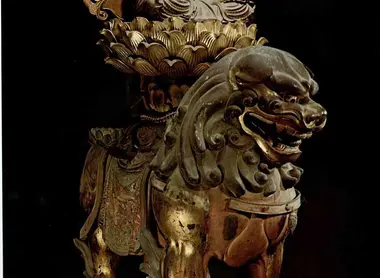 The face of the gods
After hours of work, a craftsman displays his work at the temple: an effigy from the Buddhist pantheon, carved in wood by his hand. A formal religious ceremony takes place, and a monk slips eyes into the empty eye sockets of the sculpture. The statue looks at us... and the divinity comes to life.
Composed of many deities such as buddhas, bodhisattvas, or wisdom kings, the list of Buddhist pantheons never ends. Legend has it that it is infinite... images become necessary to distinguish these beings from each other.
Read: Buddhism in Japan
Sacred Presence
When Buddhism came to Japan in the 6th century, it came with a lot of sculptures as well. Carved in wood or cast in bronze, they have changed little over the centuries. Selected based on a large requirement, the raw materials are often carriers of the sacred and divine efficacy. Buddhist imagery then takes shape under the hands of a master craftsman, carving wood or creating a mold. Once complete, the statue has an "opening of the eyes ceremony" (Kaigen KUYO), allowing the divinity to take possession of its physical receptacle on Earth. The statue then becomes more than a work of art, and rather a manifestation of God on Earth.
A rich pantheon
Supported in reference and meditation, the effigies are the communication interface between the Buddhist gods and men. A prayer request or an offering is made towards a statue, the god incarnate. These incarnates are diverse and divided into several categories.
First we have the Buddhas, the 'Awakened' (nyorai). Usually represented seated (but sometimes standing), their attributes are sombre. Dressed in robes and head shaven, they have a calm and serene expression that inspires confidence. Certain characteristics distinguish them: Dainichi Buddha is the only one to wear a crown, while the Yakushi Buddha always holds an ointment jar in his hand. The seals (mudras) formed by the hands of the gods are also a way to identify them.
Then come the bodhisattvas, the 'Beings of Enlightenment' (bosatsu). Heralds of the Buddhas in this world, they work with men to help them overcome the deadly passions and guide them to Nirvana. Usually depicted standing, they are richly dressed and covered with jewels. More systematically for having an awake presence, their back is supported by a mandorla (oval aura) that signifies their holy nature. Several codes can be identified: the Jizo Bodhisattva carries a walking stick and has a bald head, while Kannon takes many forms, including a female form and a shape with a thousand arms.
Finally, the third main actors of the Buddhist pantheon are the Wisdom kings (fudo). Immediately identifiable by their frustrated faces, they embody the will to overcome hostile forces. With fiery mandorlas, the almost demonic figures are grinning, brows furrowed, and are quite intimidating. Often sitting on an animal, their effigies are easily identifiable.
These were some keys to better understand the representations of Japanese Buddhism. Now you can view these figures with a different perspective, but don't forget: they are watching you, too...
Bibliography: Frank Bernard, The Buddhist pantheon in Japan, collection of Emile Guimet, RMN, 1991.
All the themes of the city