Kyoto Arts & Crafts
Japanese Arts & Crafts 京都芸術工芸品
Kyoto, the center of the Imperial Court from the beginning of the Heian Period to the end of the Edo Period, has been a major production center of traditional Japanese arts and crafts for centuries, with artisans supplying a customer base of the Imperial family, court nobles, samurai, rich abbots, geisha and merchants in the city.
Kyoto remains the perfect place to purchase Japanese crafts, watch them being made or even try your hand at making them!
Two places to get an overview of a variety of Kyoto's arts and crafts are the Kyoto Museum of Traditional Crafts (Fureaikan) inside the Miyako Messe Convention Center in Okazaki and the more commercial Kyoto Handicraft Center, which is nearby.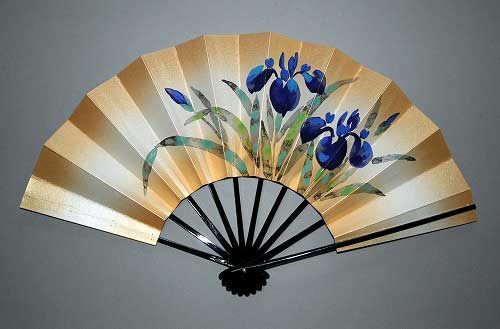 Beautiful hand-painted kyo-sensu (Kyoto folding fan)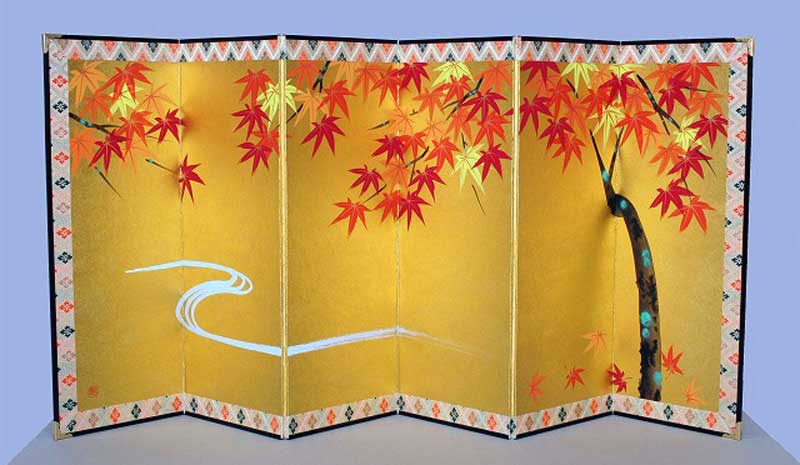 Byobu screens come in a variety of sizes and were made to divide rooms and protect privacy in traditional Japanese interiors as well as a backdrop for other Japanese arts.
Kyoto Arts & Crafts
Kimono and obi manufacture is probably the craft most associated with Kyoto. Two distinct styles of kimono production have emerged. In nishijin-ori (named after the Nishijin area where kimono production was centered in the machiya on both sides of narrow lanes), the silk thread to be used in the fabric is first dyed into a pattern and then weaved. In the yuzen technique the fabric is dyed after it has been made. According to tradition, kimono cloth is produced by a number of people working on the many, different steps involved.
Yukata and happi coats are also manufactured in Kyoto which is known for its fine textiles and fabric dyeing. The Nishijin Textile Museum introduces visitors to this most quintessential of Kyoto arts and is a museum, a factory, a shop and a gallery all in one.
Indigo dyeing (aizome) is more associated with rural Japan than the ancient capital though Aizen Kobo (Tel: 075 441 0355) on Imadegawa Omiya in Nishijin specializes in beautiful hand made samue, dresses and scarves.
Hand-painted byobu folding screens have a long history in Kyoto and are often used as a backdrop for ikebana (flower arranging) and the tea ceremony (chado). Folding fans (sensu) are related to byobu as the skill is in the artist's paint work on the washi paper. Fans were often used in traditional Japanese dance or the larger ones by geisha. Miyawaki Baisen-an is Kyoto's most famous fan shop and dates from 1823. It is located east of Rokkaku-do Temple.
Fine ceramics are another Kyoto specialty, especially those produced around Kiyomizudera Temple (kiyomizu-yaki). The Kawai Kanjiro Museum is a good place to gain an insight into pottery made in this area and lots of pottery shops dot the hill leading up to the temple selling exquisite sake flasks, tea cups, bowls and vases.
Dolls have a long history as toys for the sons and daughters of aristocrats and as decorations for the Hina Matsuri or Doll Festival in March. Kyoto has long been an important producer of Japanese dolls. The Fushimi area of south east Kyoto produces fushimi-ningyo - hand painted clay dolls of characters from Japanese folklore. The historic shop Tanka is the place to come to buy them. Tanka is located just north of Fushimi Inari Shrine.
Bamboo has long been used in Kyoto for making utensils for the tea ceremony and ikebana. Two noted shops in Kyoto are Kagoshin (Tel: 075 771 0209) near Sanjo Bridge and in business since 1862 and Tsujikura (Tel: 075 221 4396) on Shijo Kawaramachi in the main shopping district of Kyoto, which dates from 1690 and sells beautiful Japanese paper (washi) lanterns and umbrellas (wagasa).
Chochin or paper lanterns made from rice paper or washi can be seen at Japanese temples and shrines, festivals and as advertisements on the outside of restaurants. Miura Shomei in Gion on the north side of Shijo near Yasaka Shrine is a specialist lantern and lighting store which stocks a variety of contemporary designs.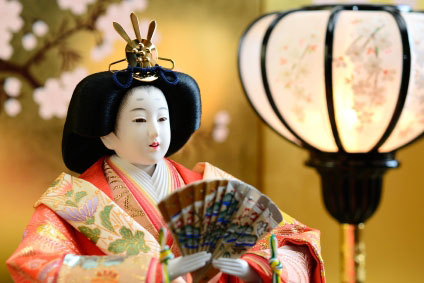 The dainty little dolls depict the hierarchy of the Heian Period (794-1192) court life starting with the Emperor and Empress and going down through the ranks.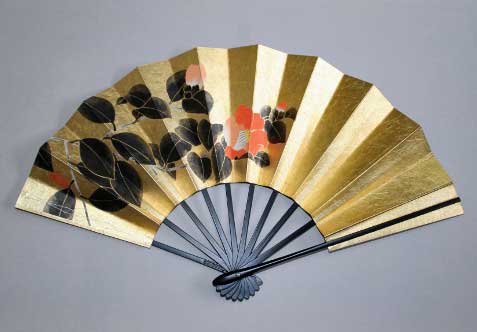 Beautiful hand-painted kyo-sensu (Kyoto folding fan)
Incense is believed to have arrived in Japan with Buddhism and the tea ceremony from China. Due to the demand from Buddhist temples in the city, Kyoto is a center of incense in Japan production in Japan in both stick and pellet form. Kungyoku-do (Tel: 075 371 0162) near Nishi Honganji Temple in Kyoto is an incense shop dating back to Edo times. Lisn (Tel: 075 353 6466) also in Kyoto near Shijo-Karasuma presents contemporary incense styles. Gion is also other area to find quality Japanese incense.
Lacquerware manufacture reaches perfection in Kyoto and beautifully made bowls and trays are associated with the tea ceremony and Japanese cuisine. Zohiko near the Hosomi Museum in Okazaki has been producing lacquer since 1661.
Masks are a feature of Japanese theater and festivals and are made across the country. Antique Japanese masks can fetch high prices and can be found in the antique stores in Kyoto's Gion district on Shinmonzen Dori and Furumonzen Dori and also at the monthly antique fairs at Toji Temple on the 21st of the month and at Kitano Tenmangu Shrine on the 25th.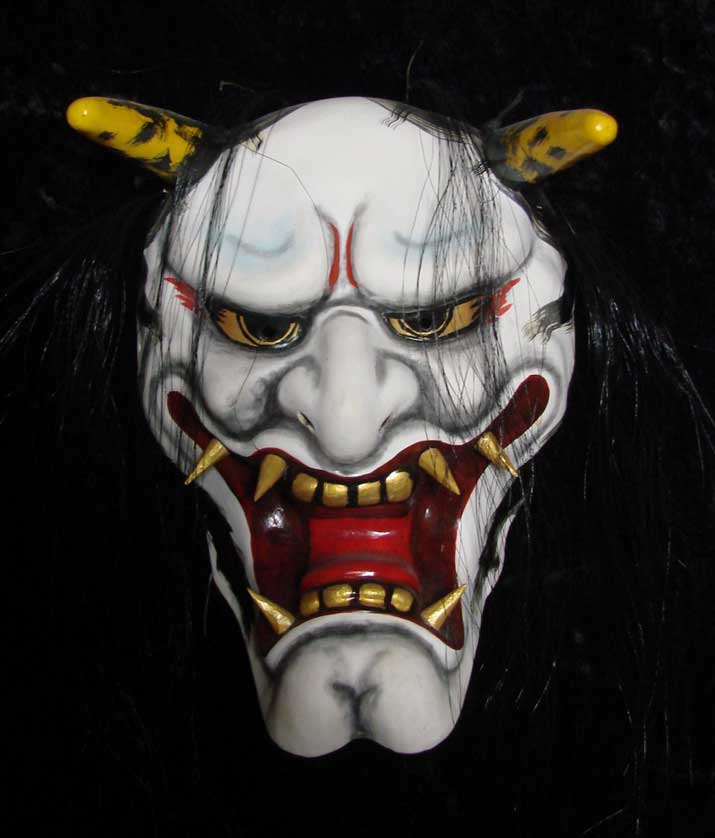 Hanya - Japanese kagura mask.
Ukiyo-e (wood block) prints from the Edo Period can be purchased from specialists shops on Teramachi Street and Shinkyogoku in Kyoto. Daishodo on the latter street has antique wood block prints, cards (karuta) and books from the Edo Period.
Two useful guides to the traditional stores of Kyoto are Diane Durston's Old Kyoto: The Updated Guide to Traditional Shops, Restaurants, and Inns and Kyoto: Seven Paths to the Heart of the City.
Kyoto arts & crafts: read an introduction to Kyoto's arts and crafts including kimono weaving, ceramics, folding fans and paper lanterns.
All the themes of the city