Celebrate Halloween in Tokyo!
東京でハロウィーンを祝う-大人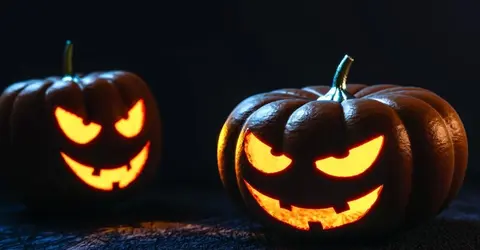 What to do around October 31st in the Japanese capital
Halloween is very popular in Japan. And especially in the capital, where there are special events throughout the month of October. It's a time to dress up for some, while for others it's a reason to see a good horror movie with friends - in Japan, Halloween is seen as an opportunity to meet up and have fun. It's a popular fall celebration with both young and old... but each participate in their own way. Of course, celebrating Halloween as a 10 year old is different to celebrating at age 25! So, what can you do in Tokyo when you're past the age for trick-or-treating? Here are some ideas...
1.The Parades
It might be surprising, but in Japan, Halloween parades aren't just for kids.
Seen primarily as a way to have fun with friends while dressing up in outrageous costumes, a Halloween party or event is a good way for students and young workers to let off some steam and enjoy a little excitement in a society where social norms are usually pretty inflexible. That's why there are a lot of adult parades around Tokyo in late October.
Read : Halloween in Japan
Handmade costumes, matching accessories, and eye-catching makeup, Halloween is also an opportunity for party-goers to express their creative side. A challenge that some people are already working hard on several weeks before the big day, to be sure that their costume will be one of the most noticed.
The Japanese definitely don't lack imagination when it comes to costumes! And even if you're not necessarily a fan of dressing up, Halloween parades are a good way to discover what Japan can offer by way of more original outfits.
Where?
Although the most important parades take place in the larger neighborhoods of Tokyo on the evening of the 31st (or the closest weekend if it falls during the week), several small neighborhoods also organize their own Halloween parades.
Shibuya (Yamanote, Keio-Inokashira, Hozomon, Ginza lines): The Shibuya parade is certainly the most famous Halloween parade in Japan. Attracting more than 100,000 festival-goers each year around Shibuya Crossing, this parade is the Tokyo event of the season, so much so that people come from nearby cities to attend! If you're not afraid of crowds, Shibuya is the place to be on October 31st!
Roppongi (Hibiya, Oedo lines): Although more modest than its counterpart in Shibuya, the Roppongi Halloween Parade also attracts several thousand people each year. In an area known for its many bars and nightclubs, this isn't really a surprise.
Kawasaki (Keintohoku, Tokaido, Nambu lines): If you're not a fan of large crowds, the Kawasaki parade may be more up your alley. Organized every year from 14:20 to 16:00 around Kawasaki station, the parade includes many elaborate costumes, each more colorful than the last.
Kagurazaka (Tozai line): lovers of our feline friends, head to Kagurazaka. Every year around October 15th, the Kagurazaka Bakeneko Festival is held, a cat-themed parade that brings together many people in the streets of the neighborhood between 14:00 and 17:00. Make-up, costumes... everything honors the witches familiar! Unlike other events where participation is free, please note that you must register here before you can join in (no payment required). Registration is open on the same day from 10:00 to 13:50, and the only requirement for participation is to wear at least one cat-related accessory.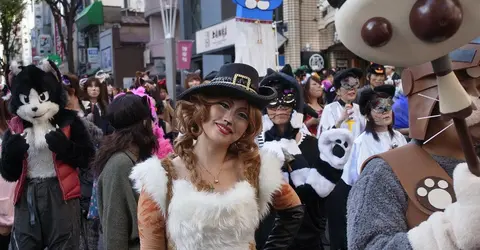 2. Haunted Houses
Whether in person or in virtual reality, haunted houses are hugely successful in Tokyo in October.
Ghosts to escape from, riddles to solve and other mysteries to unravel in these places of anxiety, Japanese haunted houses are very different from their Western counterparts where visitors often stay in a ghost train to traverse the house. Here, the experience is fully immersive and can sometimes be more terrifying than it seems...
Where?
Onryou Zashiki,Korakuen : Literally referring to the vengeful spirits that are said to haunt some homes, ''Onryou Zashiki'' is a haunted house located in the LaQua shopping center of Tokyo Dome City just a stone's throw from Korakuen. The challenge is to try to escape the house, which is haunted by the ghost of Yoko, a young woman murdered by her husband and his mistress. The game is offered in English, Chinese and Korean as well as Japanese.
Useful Information
Address :LaQua,1Chome-1-1 Kasuga,Bunkyo, Tokyo 112-0003Opening hours :10:00 - 21:00Price :1,030 yen ($9)Access :a few meters from Korakuen station (Namboku line)
Daiba Strange School,Odaiba : Daiba Strange School is one of the most famous haunted houses in Tokyo. Taking the appearance of a school that has been empty for 40 years due to the many suicides of its students, Daiba Strange School will surely give you goosebumps when you cross it. It's said that the ghosts of missing students still haunt the place...
Read : Odaiba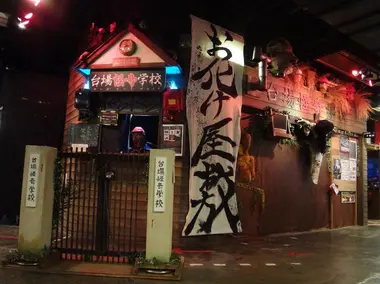 Useful Information
Address :DESKTokyo Beach, 1Chome-6-1 Daiba,Minato, Tokyo 135-0091Opening hours :11:00 - 21:00Price :800 yen ($7)Access :a few meters from Daiba and Tokyoteleport station (Yurikamome line)
Sakura no Onrei(Asakusa) : Sakura no Onrei is located in Tokyo's oldest amusement park, Hanayashiki Park in Asakusa. Very traditional, this haunted house plays on Japanese legends, including the fear of dolls with jet-black hair, to frighten visitors. This is one of the most famous haunted houses in Tokyo and despite its childlike appearance it's very popular with adults, who don't necessarily come for the dolls that are inside. Indeed, it seems that the house is truly haunted!
Useful Information
Address :AsakusaHanashiyaki, 2Chome-28-1 Asakusa, Taito, TokyoOpening hours :10:00 - 18:00Price (park entry fee) : Adult 2,300 yen ($20), child 2,000 yen ($17.50)Access :5minutes on foot from Asakusa station (Tsukuba Express line)
Raku Spa (Kawasaki) :forget all you think you know about haunted houses, Kawasaki's Raku Spa pushes the limits of fear! This ephemeral haunted house offers its visitors a very original experience: being strapped down and attacked in an abandoned hospital bed before undergoing a whole bunch of clinical tests, each stranger than the last...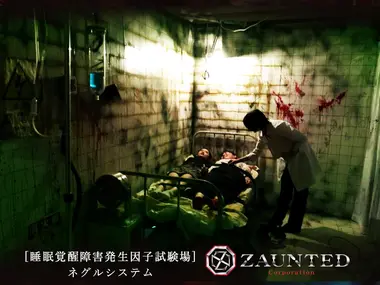 Although the experience isn't real (the actors fortunately do not use not real knives!), the haunted hospital of Raku Spa is too intense for some - but there's a "rescue" button if it's too much and you need to leave the room. Are you up to the challenge?
Useful Information
Address :RakuSpa,2-39Motomiya, Tsurumi Yokohama, Kanagawa YokohamaOpening hours :12:00 - 21:00,until 21st November 2018Price (spa entry fee) : adult 1,480yen ($13), child 450yen ($4)Access :several minutes by shuttle bus from Kawasaki station (Keintohoku, Tokaido,Nambu lines)
3.Special Halloween Menus
Pumpkin-shaped cakes, witch's head curry and bloody cocktails, Halloween is an opportunity for restaurants and cafes to offer limited edition spooky dishes! Many places offer special themed menus just for the Halloween period, so it would be a shame not to enjoy one if you go to Tokyo in October!
Where?
The Vampire Café(Ginza) : the name alone already evokes the world of horror, so naturally The Vampire Café in Ginza decided to go all out to celebrate Halloween. On the menu? Green witch mash, ghosts on toast and mummy cakes...
Useful Information
Address :6-7-6 Ginza, Chuo-ku TokyoOpening hours :17:00-23:30,until 3rd November 2018Access :a few minutes on foot from Ginza station (Ginza,Hibiya, Marunouchi lines)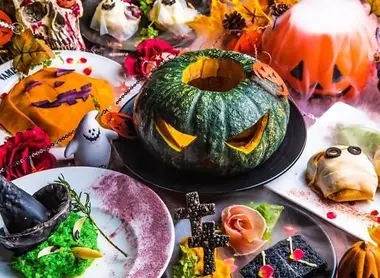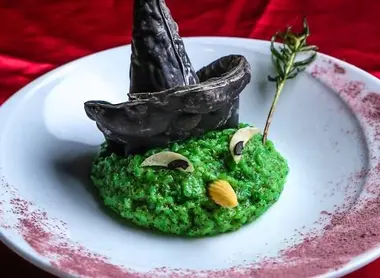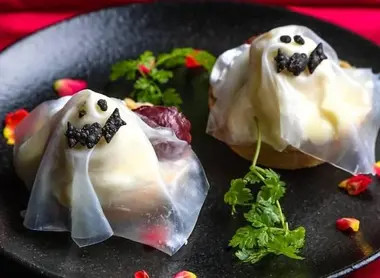 Hotel New Otani (Yotsuya) : Located just minutes from Yotsuya Station, the Otani Hotel's restaurant offers a wonderful Halloween buffet every lunchtime until October 31st. For 5,500 yen ($48.50) per person, you can enjoy an all-you-can-eat buffet alongside the stunning 360° view over Tokyo from the hotel's 17th-floor restaurant. Also note that a DJ evening with cocktails is held on October 26th and 27th in honor of the holiday!
Useful Information
Address :HotelNew Otani, 4-1Kioicho, Chiyoda-ku, TokyoOpening hours : Buffet 11:30 - 14:30, until October 31; evening DJ 17:00 - 21:00 on October 26 and 27, 2018.Prix : Buffet 5,500 yen ($48.50), evening DJ 3,000 yen ($26.50)Access :a few minutes on foot from Yotsuya station (Namboku, Chuo lines)
Oak Spooky Bar (Roppongi) : The OakSpooky Bar at the Grand Hyatt Tokyo takes on a mad laboratory vibe for Halloween! Offering philtres of love with champagne, elixirs of youth in Sangria and other unusual potions, the bar is totally redecorated for the occasion and will surely bewitch the taste buds of more than one of its customers...
Useful Information
Address :GrandHyatt Tokyo, 6-10-3Roppongi, Minato-kuOpening hours :18:30 - 00:30,until October 31Price :cocktails from 1,700yen ($15)Access :a few minutes on foot from Roppongi station (Hibiya, Oedo lines)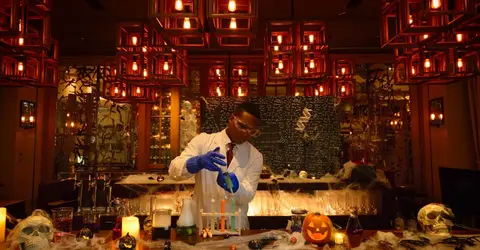 4.Club Nights
Calendar events always make for good themes when it comes to hosting parties, and Halloween is no exception! In Tokyo, most clubs offer horror-themed parties around October 31st. These events are usually costumed and discounts are even granted to people who have dressed for the occasion.
Where?
RubyRoom (Shibuya) : The Ruby Room is known for its intimate atmosphere and live performances by local bands. On October 31st, the club organizes a nonstop live party where you can go out and come back when you want to enjoy the Shibuya Crossing parade. For those who come in costume - there's always a competition for the best outfit of the night. Good luck!
Useful Information
Address :KasumiBldg 4F, 2-25-17 Dogenzaka, Shibuya-ku, TokyoOpening hours :20:00 - 05:00 the next morning Price :entrance (including 2 drinks) is 2,000 yen ($17.70)Access :a few minutes on foot from Shibuya station (Yamanote,Keio-Inokashira, Hozomon, Ginza lines)
Tokyo DecadenceDX Halloween (Nihonbashi) : Every year Tokyo Decadence organizes its Halloween party, a legendary event in Tokyo that attracts fans of the greatest Japanese alternative fashion such as gothic, punks, and lolita. The evening entertainment is led by several well-known DJs, and discounts ranging from 500 yen to 1500 yen ($4.40 to $13.25) are given at the entrance to people who come in the most impressive costumes.
Useful Information
Address :XEXNihonbashi,4FYUITO/Nihonbashi-Muromachi-Nomura Bld., 2-4-3 Nihombashi-Muromachi, Chuo-ku, Tokyo 103-0022Opening hours :22:30 - 06:00 the next morning, October 27 2018Price :entrance 3,500 yen ($31)Access :several minutes on foot from Tokyo station (Yamanote, Chuo,Kehintohoku, Joban, Marunochi lines)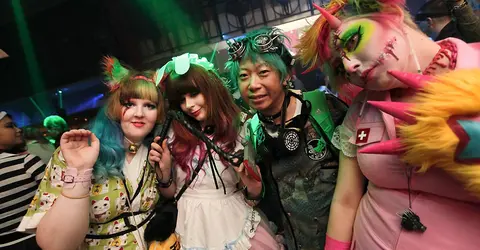 The GrindHouse Halloween Party at Trump Room (Shibuya) :Trump Room Halloween Party is one of Shibuya's most popular nights out. You'll see some of the best costumes in the city here, and its unique atmosphere attracts more than 900 people every year!
Information
Address :1Chome-12-14 Jinnan,Shibuya, Tokyo 150-0041Opening hours :23:00 - 05:00 the next morning, October 27Price :entrance 2,500 yen ($22)Access :several minutes on foot from Shibuya station (Yamanote,Keio-Inokashira, Hozomon, Ginza lines)
Travelling with children? Read our guide to Halloween in Tokyo for kids!
All the themes of the city