Gay Japan
Gay and Lesbian Japan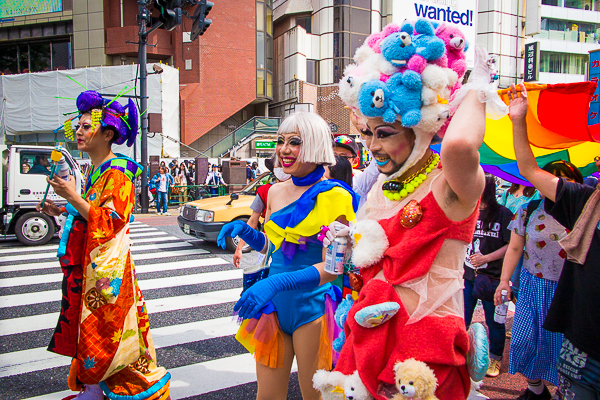 An overview of what it means to be gay in Japan. Vagueness, blurring of lines, ambiguity, possibility: these are some of the clichés that tend to spring to the Western mind when addressing the topic of sexuality in Japan. How much of it is wishful and how much of it is cultivated by Japanese themselves is debatable. It is a fact that samurai were pederasts, that kabuki is a theater of cross dressing, that to Westerners many Japanese boys and men - physically and/or behaviorally - seem to exhibit typically 'feminine' traits: all leading to the common impression of outsiders that Japan must be a basically gay friendly society. Read more about Homosexuality in Japan - the gay & lesbian experience
A guide to partying in Tokyo's gay Shinjuku area. You've just come to Tokyo, you're passing through Tokyo, you've just come out in Tokyo, you're - er - 'curious' in Tokyo. Whatever it is, there's Shinjuku Ni-Chome (knee-choh-may), not even 10 minutes walk from the east side of Shinjuku station, unremarkable from the outside as any Japanese street block - or, for that matter, any 175cm Japanese boy in trainers, flak jacket, T-shirt, denim and sharp hair. But cross to the police box (and the adjacent 'Nobunaga' slot parlor) on the Yasukuni-dori corner of Ni-chome, or veer left across the road just at the big Sekaido art and crafts store on Shinjuku-dori, and - bang - just like with that boy, you're going to be surprised at how much you didn't count on seeing.
Websites, bar and club information, and telephone numbers useful to gay and lesbian people in Japan. Most gay/lesbian related websites in Japan are in Japanese. We list the most useful and/or frequently updated sites in English.
Websites, bar and club information, map of Shinjuku 2-chome, and telephone numbers useful to gay and lesbian people in Tokyo.
Community centers, bars, clubs, shops, with Google map links and telephone numbers useful to gay and lesbian people in Osaka.
Community centers, bars, clubs, shops, with Google map links and telephone numbers useful to gay and lesbian people in Yokohama.
From Takarazuka Revue to Sanrio Puroland and Ice Cream Crepes and Waffles in Harajuku check out the top ten must-see and must-dos for gay visitors to Japan, where the men whip out their umbrella at the merest hint of drizzle, whey they check their reflection in shop windows every five paces, where taxis have lacy white seat covers, and where you stand twice as long in front of the washstand mirror preening yourself than you did at the urinal peeing.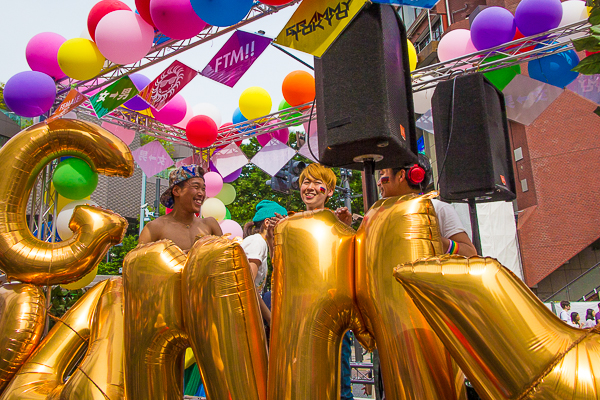 Tokyo's first organized, public celebration of being gay was in 1994. It all began with the Tokyo Lesbian & Gay Parade (TL&GP), organized by the International Lesbian, Gay, Bisexual, Trans and Intersex Association (ILGA) Japan. Since that time the history of what has now come to be called the Tokyo Pride Parade has gone through victories, hiccups, permutations, headaches and changes of costume to be the glorious celebration it is today.
Justin Ellis reviews the people and events surrounding Japan's passing of the Gender Identity Disorder Law in 2003.
In the early years of this decade the transgender community in Japan underwent a media makeover that widened social understanding of what transgender means. Mainstream attitudes, however, still largely follow traditional gender lines and are clearly maintained in recent legislation dealing with "gender identity disorder." However, the message from Japan's transgender community remains "I want to be myself."
The innocuous cover of the DVD 3-Nen B-Gumi Kinpachi Sensei ("Mr Kinpachi of 3rd Year Class B") belies how this long-running television drama destigmatized perceptions of transgender people in Japan. Since 1979, the program has been a catalyst in breaking down prejudices about social issues ranging from teenage pregnancy to homosexuality.
In the show, the 30 junior high school students of class 3B navigate the uncharted waters of adolescence with their empathetic teacher and mentor, Mr. Kinpachi. In 2001, audiences were introduced to Nao Tsurumoto, a new student joining the well-established school and its stable of familiar actors.
Explicitly erotic art has a long history in Japan in the form of shunga, a category of ukiyoe ("floating world") woodblock prints. Shunga, originally from China, became popular in Japan in the Heian era. Shunga (春画) literally means "spring picture," the season of spring being traditionally (and understandably) associated with things plumping, warming, firming, and moistening up.
The best of the ukiyoe artists produced shunga, probably as much for the financial rewards as anything else. Besides being explicit, shunga have always been notable for frequently dealing with the quirkier side, the most famous example being the 19th century Hokusai's Tako to ama "Octopi and Female Diver" (usually mistranslated into English as "The Dream of the Fisherman's Wife.")
While not considered particularly quirky in pre-modern Japan, homosexuality is another theme that is amply dealt with in shunga - mainly male-on-male - as well as "self-assisted."
Against this historical backdrop of explicit, exaggerated, unconventional (to the Western viewer) depictions enters the modern manga, or comic.
Japan's a drag! At least it should be.
Once you've fed the deer in Nara, and toured the various sights of Kyoto, Osaka is next on your list.
However, is the "Running Man," Tsutenkaku Tower, shopping and other famous Osaka attractions all that there is? What's a gay guy or gal to do when the sun goes down and the city lights pierce the darkness?
Osaka is where you can enjoy some big city nightlife as part of your Kansai adventure, and, more specifically, find some queens!
Japan has some of the fiercest queens on the planet and if you leave Japan without seeing them, well - you've missed out on something spectacular! In Japan, drag queens don't just go person to person accepting 100 yen coins as they lip synch to age old tunes; instead they perform and truly rock it out! In what seems more like performance art, these ladies will have you crying, laughing, cringing, and begging for more. Read more about drag in Osaka, by Nathaniel Simmons.
Articles and interviews by gay and lesbian writers and journalists in Japan touching on various contemporary aspects of gay, lesbian, and transgender life in Japan.
A list of useful gay links for both Japan and the rest of the world.
Gay Japan-related guides, commentaries, stories and studies. Read about and buy them here.
Tokyo Gay Pride
Related Gay Links
Gay Beijing
Gay Hong Kong
Gay Portugal
Gay Shanghai
We'd love to hear from you
Are you gay and in Japan? We'd love to hear from you and your experiences. Know a good club or bar, let us know in English, Portuguese or Japanese. Have a gay site and wish to exchange links? Contact us via the "Contact" button at the top of this page.
View Gay and Lesbian Japan: find gay Japan bars, clubs, commentary, books, background, listings, links, useful telephone numbers.
All the themes of the city