Sakura-dori Line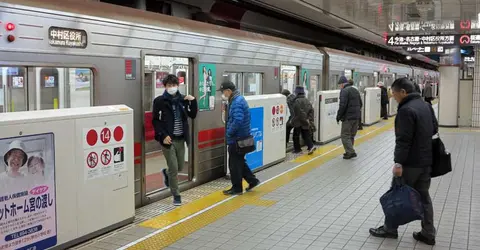 The Sakura-dori Line is a subway line in Nagoya that runs from Nakamura Kuyakusho via Nagoya Station to Tokushige in the south western suburbs.
Sakura-dori Line, Nagoya Subway 桜通線
The Sakura-dori Line in Nagoya is one of the six main subway lines of the Nagoya subway system.
The Sakura-dori Line, which is marked red on subway maps, extends 19 km east to west from Nakamura Kuyakusho (S01) to Tokushige (S17) via Nagoya Station, Hisayaodori, Imaike, Gokiso and Aratama-bashi. The journey time from Nagoya Station to Tokushige Station is 35 minutes.
Parts of the Sakura-dori Line first opened in 1989. The latest expansion was in 2011 when four new stations were constructed to extend the Sakura-dori Line from Nonami to Tokushige.
---
Sakura-dori Line Stations
There are twenty one stations on the Sakura-dori Line Line. From west to east they are: Nakamura Kuyakusho, Nagoya, Kokusai Center (International Center), Marunouchi, Hisaya-odori, Takaoka, Kurumamichi, Imaike, Fukiage, Gokiso, Sakurayama, Mizuho Kuyakusho, Mizuho Undojo Nishi, Aratama-bashi, Sakura-hommachi, Tsurusato, Nonami, Naruko Kita, Aioiyama, Kamisawa, Tokushige.
Nakamura Kuyakusho
Nakamura Kuyakusho is located west of Nagoya Station close to a number of hotels, restaurants and entertainments on this more low-rise side of Meieki.
Nagoya Station
JR Nagoya Station has Tokaido Shinkansen to Osaka (51 minutes), Kyoto (36 minutes) and Tokyo (1 hour, 50 minutes), Yokohama and Shinagawa. JR trains from Nagoya Station run to Okazaki, Gamagori, Toyohashi, Gifu, Maibara, Ogaki and Tajimi. The JR Hida Express runs from Nagoya to Takayama (2 hours, 17 minutes) and Toyama (4 hours) via Gero Onsen (95 minutes). The JR Shinano Express goes to Nagano (2 hours, 55 minutes). The Shirasagi Express service (approx 3 hours) runs to Kanazawa.
The Higashiyamai Line also intersects at Nagoya Station along with the Aonami Line south to Nagoya Messe, Legoland Japan and the SCMaglev & Railway Park at Kinjo-Futo Station.
From Meitetsu Nagoya Station connects Nagoya with Inuyama, Gifu, Mitake, Okazaki, Toyokawa Inari, Gamagori, Toyohashi, the Chita Peninsula and Chubu International Airport via Kanayama Station. The Meitetsu Airport Rapid Limited Express "μ-SKY" runs between Chubu International Airport south of Nagoya and Nagoya Meitetsu Station, Gifu, Shin-Unama and Gifu. The journey takes 28 minutes and costs 850 yen plus 350 yen for the μ-ticket, total 1200 yen. Meitetsu also runs trains to various suburbs of Nagoya including Arimatsu, Chiryu, Tsushima, Hekinan and Toyota city.
From Kintetsu Nagoya Station there are Kintetsu trains to Osaka Namba Station, Tsuruhashi and Uehommachi in the Kansai, Kintetsu Nara Station in Nara (with changes as Yamato-Yagi and Yamato-Saidaiji stations), Tenri and Kyoto as well as Kuwana, Yokkaichi and further south Toba and Kashikojima in the Ise Shima region of Mie Prefecture.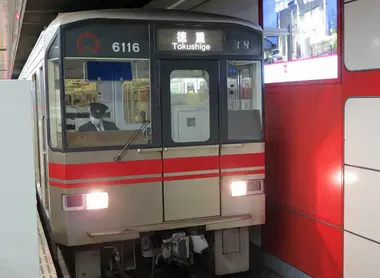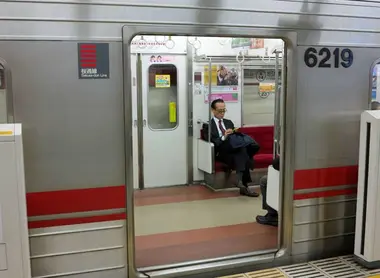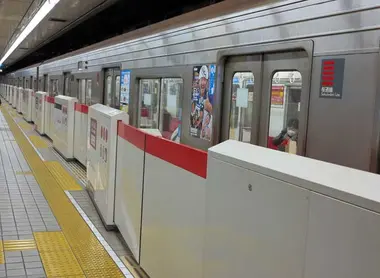 Kokusai Center (International Center) Station
Kokusai Center (International Center) Station is connected to Nagoya Station by the Uni Mall underground shopping arcade. At Exit 2 is the Kokusai Center conference center. Within the building are US Consulate in Nagoya and the Nagoya International Center (NIC) providing free information (on culture, tourism, and living in Japan) and legal consultation services for foreign residents in Nagoya. There is also a library with books and other publications in a variety of languages.
Marunouchi Station
Marunouchi is part of Nagoya's business district in the Meieki district of town close to Nagoya Station. There are numerous hotels in Marunouchi and the Nagoya Convention & Visitors Bureau is located close to the station. Marunouchi Station is an interchange station with the Tsurumai Line.
Hisayaodori Station
Hisayaodori Station is on the northern edge of Nagoya's main shopping and entertainment area of Sakae. Hisayaodori is convenient for the Nagoya TV Tower and Oasis 21. From Meitetsu Sakae-machi Station trains run out to the pottery town of Seto to the east of Nagoya on the Meitetsu Seto Line. Oasis 21 contains the Sakae Bus Terminal with extensive local and highway buses. The Aichi Prefectural Museum is also adjacent. Sakae Station on the Higashiyama and Meijo lines is a few minutes on foot to the south.
Takaoka Station
Takaoka is north of the entertainment/red light area of Shin-Sakae and very close to the Chinese consulate.
Kurumamichi Station
Kurumamichi Station is close to JR Chikusa Station on the JR Chuo Main Line with trains to Kozoji, Jokoji, Tajimi, Ena, Nakatsugawa and Matsumoto and Nagano in Nagano Prefecture as well as Nagoya Station.
Imaike Station
Imaike Station is also on the Higashiyama Line of the Nagoya subway and Imaike is a lively entertainment area.
Fukiage Station
Fukiage Station is convenient for Fukiage Park and the Nagoya Showa Sports Center and pool.
Gokiso Station
Gokiso connects with the Tsurumai Line. Gokiso is a small shopping and dining hub with a few interesting cafes and restaurants.
Sakurayama Station
Sakurayama Station is adjacent to Nagoya City University and the Nagoya City Museum.
Mizuhokuyakusho Station
Mizuhokuyakusho Station is close to Nagoya Women's University.
Mizuho Undojo Nishi Station
Mizuho Undojo Nishi Station is west of the Mizuho Undojo which contains a soccer stadium for Nagoya Grampus, the city's J-League team, a rugby field and baseball stadium.
Aratamabashi Station
Aratamabashi Station is an interchange station with the Meijo Line.
Sakura-hommachi Station
Sakura-hommachi Station is north of Kasadera Kannon.
Tsurusato Station
Tsurusato Station is in the deep south west suburbs of Nagoya.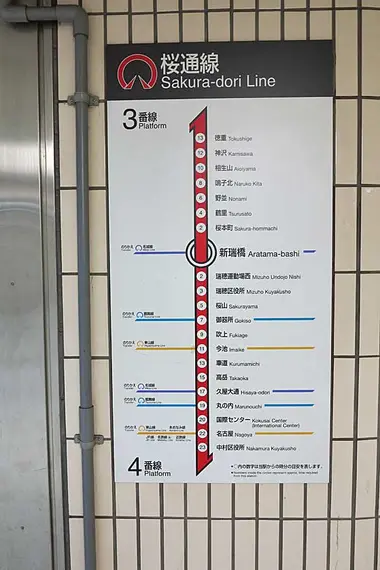 Nonami Station
Nonami Station is also in the heart of the southern suburbs.
Naruko Kita Station
Naruko Kita Station is south of Aioiyama Ryokuchi Park and Aioiyama Shrine.
Aioiyama Station
Aioiyama Station is located in the suburbs near Tokasa Pond.
Kamisawa Station
Kamisawa Station is located in a deeply suburban housing area.
Tokushige Station
Tokushige Station is adjacent to the fairly new Hill's Walk shopping mall with branches of Uniqlo, Gap and Muji. the Tokushige 11 bus connects Tokushige Station with Hirabari Station on the Tsurumai Line.
Assist to a Sumo Tournament in Nagoya
All the themes of the city