Why you should get a JR Pass: 5 benefits of the Japan Rail Pass

Japan's world-famous public transportation system is largely organized and operated by the Japan Railways Group (JR Group), and this same organization issues a special transit ticket called the Japan Rail Pass (JR Pass).
This pass has been a long-time essential travel tool for visitors to Japan for a medley of reasons. Take a look at its key benefits below and see how it can help you have the best time possible for your next trip to Japan!
1. Full National Coverage
As previously mentioned, the Japan Rail Pass is issued by the Japan Railway Group, the most prominent public transportation organization in Japan. A vast majority of the national railway network, buses, and other facilities, are under direction of the JR Group, spanning through all 46 prefectures of the Japanese mainland for 7-days, 14-days, or 21-days.
That means that the JR Group facilities allow for travel to all of these prefectures in a quick and easy manner for an extended amount of time, as all Shinkansen high-speed trains are operated by Japan Railways. 
Via this, theoretically, travelers can buy a Japan Rail Pass and go all the way from the most northern part of Wakkanai on Hokkaido to Kagoshima, the most southern part of Japan's mainland in Kyushu. Be sure to take stops through all the other regions on the way, though! 
For first-time travelers, especially, this coverage is fantastic as it assures access to the key destinations of Japan's "Golden Route" that includes Tokyo, Kyoto, and Hiroshima. And of course, the unlimited access to all other mainland prefectures means that other cities like Kanazawa in Ishikawa or Takayama in Gifu, along with great spots for daytrips like Hakone or Himeji, will be able to be reached easily. 
Coverage isn't just limited to high-speed trains, also! Many local trains (such as the JR Yamanote Line in Tokyo) and bus networks within major cities will be accessible by those who buy the pass. Even the ferry out to Miyajima in Hiroshima is bundled in!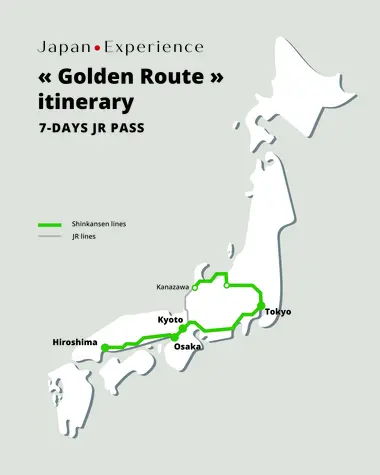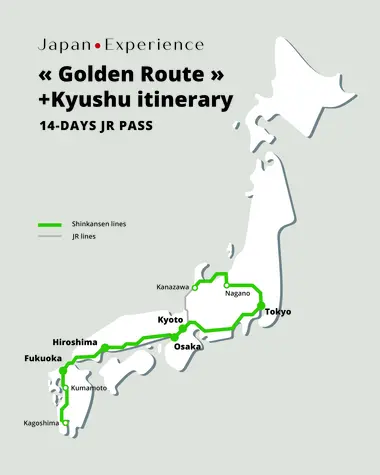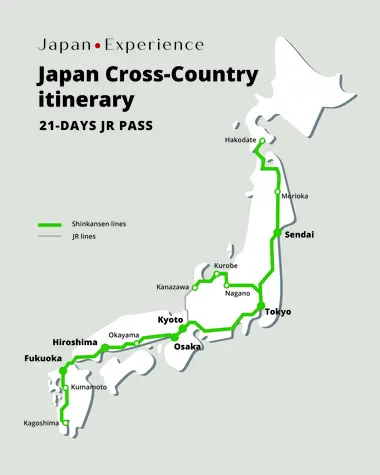 Convenience when commuting
The Japan Rail Pass comes in the form of a single ticket, and the way that it's used is through inserting said ticket into the ticket gates at stations, taking it back before going through the gates all the way, and repeating the same process at the station you are exiting at. Notice how this is practically a two-step process of getting in and getting out? This is one of the key benefits of the Japan Rail Pass that travelers have grown to love.
Compare this process to purchasing individual tickets for every train ride, and you'll see a stark difference in time and convenience. Even if travelers buy all their individual Shinkansen bullet train tickets in bulk, the need to organize each individual ticket can be troublesome with all the hassles already involved with traveling and moving around. Buy one Japan Rail Pass and go about your trip with less to worry about. 
And for those who do want a bit more structure, the pass allows for easy reservations without any additional fees (a luxury unfortunately not available with individual ticket purchases), so you can quickly guarantee a seat with little stress and no penalties. Simply show your pass to the staff at a Japan Railway office inside a station and choose a departure time for a train to your destination.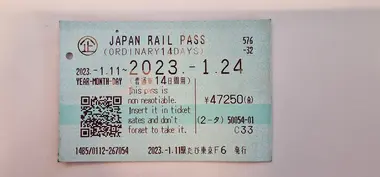 3. Flexibility for your travels
The reservation process just mentioned is undoubtedly convenient and useful for travelers, but the other end of the coin can also be very beneficial. Essentially, while the option to reserve seats for the Shinkansen is perfect for travelers who have a more defined itinerary, those who like to travel with some freedom and like to take the time to explore unhindered can freely board any JR operated train without reservations. 
Want to take the time to explore the city you're in more? No need to worry about making a certain time slot for your train and losing out on that money if you don't make it, as you can take the next train out to your destination. 
You can even freely extend stays at certain destinations or take a day trip on a whim if you so please, as the commute there and back to your host city will be covered, and that includes trips via Shinkansen high-speed train!
Staying in Sendai in Miyagi Prefecture and heard great things about Morioka in Iwate Prefecture? Hop on a Shinkansen high-speed train using your pass, commute for an hour, and explore a whole new city! Explore for the day, and head back to your accommodation in Sendai later that night. No need to book a new hotel or spend more than 12,000 yen for a ticket back and forth between the two cities. These commuting possibilities are limitless with the pass and Japan Railway's network of public transportation!
Additionally, the Japan Rail Pass allows for great flexibility on where you can start your trip, as the pass can be exchanged at a number of different Japan Railway offices throughout the country. You aren't just limited to starting your journey in Tokyo or Osaka, so you have a lot of free-reign on formatting your itinerary as you fit. In fact, your Japan Rail Pass doesn't even need to be activated for use immediately upon exchanging. Perhaps you have an itinerary that has you going to multiple places but you're in Tokyo for a large amount of time for the first leg of the trip. You can exchange them for the pass as soon as you arrive, but then activate the pass for actual usage on the day you depart from Tokyo to use the pass during the most commute-heavy part of your trip.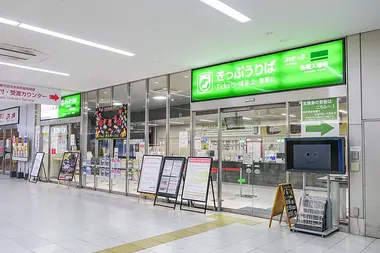 4. Cost Savings
 
Connected to the unlimited travel provided by the Japan Rail Pass, the pass is a fantastic way to travel around Japan without being overly-mindful of travel costs stacking up since the pass needs to be paid for just once.  
While Japan's transportation is efficient and accommodating, it can also become quite expensive, especially since so much of its costs are based on distance. This is especially true for busy itineraries with many destinations and day trips, making the Japan Rail Pass a great deal for very proactive travelers who wish to see as much as possible. 
Travel between Tokyo, Kyoto, Hiroshima on the "Golden Route" and other destinations via the high-speed Shinkansen bullet train within a week alone can become a considerable expense. Then, once you account for the travel included with local transportation at each of these destinations plus the convenience provided, the pass can easily pay for itself with proper planning and the right itinerary. Referring back to the Sendai and Morioka day trip example from earlier, day trips that would initially cost a significant amount for a roundtrip commute go from potentially not being worth the money and effort become much more accessible thanks to the JR Pass. 
Additionally, the Japan Rail Pass also comes with a number of discount coupons for some attractions. This includes discounted access to Himeji Castle in Kansai, discounted rides for the Mount Hakodate Ropeway in Hokkaido, and the Tokyo Bay Ferry. For a full list of discounts and promotions for the Japan Rail Pass, take a look at the official website here.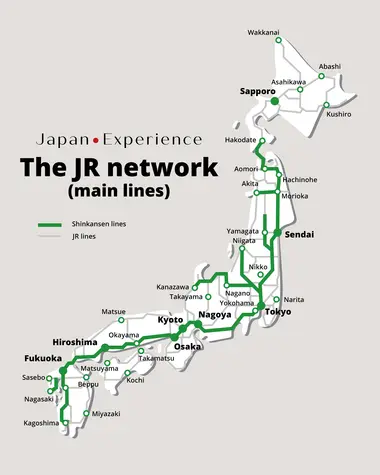 5. Assistance and Support
Being as well-known and often-used as it is, the Japan Rail Pass comes with a number of support systems to aid in your travels. The pass itself is well-understood by Japan Railway employees at the stations throughout the country, so any questions about its usage and the transportation system as a whole can be directed towards them. 
Also, with all the users the pass has had in the past, there are a medley of different articles and online forums on just about any subject regarding the pass. Whatever the inquiry, the same question was probably asked by someone in the past and answered by another person, all archived online for current users to use. Of course, experts in Japan travel, such as Japan Experience, will have their own publications with advice on pass usage, and we also provide a service known as JRP Assistance that allows pass-holders to access our specialized hotline to answer all your questions and provide our own personal insight for whatever situation regarding Japan travel and the JR Pass.
There are also a number of specialized Japan travel smartphone apps that have features specifically for Japan Rail Pass users. Jorudan and Japan Travel are navigation apps that allow you to look for routes that are optimized specifically for use with the Japan Rail Pass, helping to smooth out the whole travel process and guarantee you'll have support every step of the way!
The Japan Rail Pass and your journey through Japan
Taking a trip out to Japan requires considerable preparation and research, and the Japan Rail Pass helps travelers get throughout the country as smoothly as possible so that they can see everything they want to during their trip. Between the ease-of-use benefits, cost-savings, and traveler support, the pass is sure to become an invaluable tool for having the most optimal trip to Japan possible. 
Take a look at our different Japan Rail Pass options, such as the National Green Pass or the National Pass for children that is available at a discounted rate so that the whole family can travel around with ease!
Purchase your National Japan Rail Pass along with Support Services!
Frequently Asked Questions about the JR Pass.
All the themes of the city