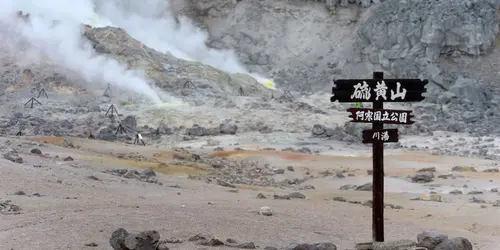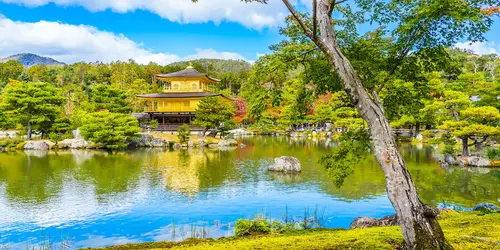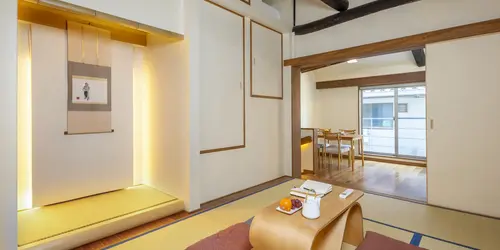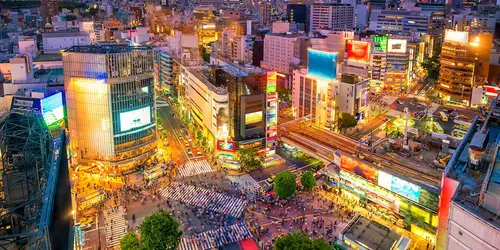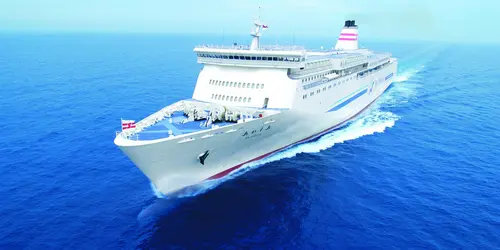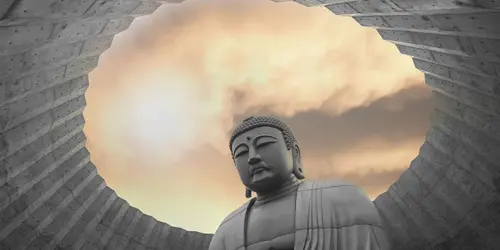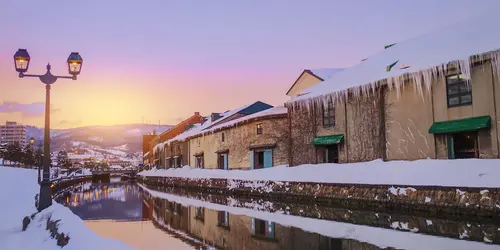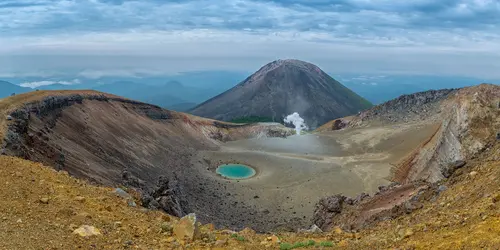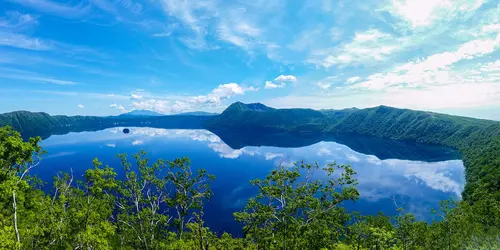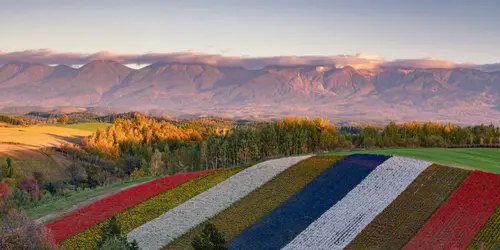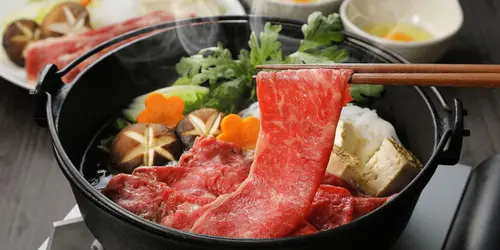 Hokkaido and the northern Japan
Duration :

19 days

Locations :

Osaka, Kyoto, Nara, Tokyo, Sapporo, Sounkyo Onsen, Akan-ko, Furano, Sapporo
This trip to Japan will take you from Kyoto to Tokyo and then up again, by boat, to the island of Hokkaido !
Discover a less touristy Japan, closer to nature. Travel around Hokkaido by car and discover the natural parks of this large island in the north.
A variety of accommodation and transport, a guided tour of Kyoto and pocket Wi-Fi : an organised trip in total freedom ! 
---
3 week itinerary (19 days)
Departure city/airport : Osaka (Kansai international airport : KIX)
Kyoto (4 nights including 1 day in Nara)
Tokyo (3 nights)
Ferry (1 night)
Sapporo (3 nights)
Sounkyo Onsen (1 night)
Akan-ko (3 nights)
Furano (2 nights)
Sapporo (1 night)
End Return airport : Sapporo (New Chitose international airport : CTS)
Please find below the itinerary details.
Tour length : 18 nights / 19 days (+ 1 day at the beginning if you leave from Europe)
Indeed, the tour departure and end dates presented on this page relate to your stay in Japan. On departure, you will have to leave Europe on the day before. The return flight is on the same day due to the time difference.
Example : 
Departure from Europe : January 1st
Arrival Osaka (date to be selected in the tour calendar while booking) : January 2nd
Return flight from New Chitose international airport : January 20th
---
Fancy Northern Japan's nature but also the South's beaches? Our combined tour "Japan from North to South" is perfect for you!
---
Why this trip to Japan ?
Welcomed at the airport by our team, you will be taken to your hotel in Kyoto by shuttle bus
In Kyoto, a travel angel will welcome you to a traditional Japan Experience house
A guided tour of the Gion district will complete your stay in Kyoto
Head for Tokyo by high-speed Shinkansen, for 3 days in the heart of the capital
Enjoy a cruise along the coast to the island of Hokkaido in less than a day!
In Hokkaido, fabulous natural landscapes dotted with majestic volcanoes await you
Included in your tour : car rental to explore the far north of Japan!
End your stay in Sapporo, host city of the 1972 Winter Olympics
Take advantage of your Japan Rail Pass and car rental
Recommendations available in your travel diary
Enjoy unlimited internet access thanks to your pocket Wi-Fi
If necessary, contact our assistance from 8am to 10pm Japanese time, 7 days a week, in English or Japanese.
A number of guided days or other optional activities are available
Benefit from the expertise of Japan Experience, European leading travel agency in Japan.
---
Itinerary
Day 1 : Wake up in Kyoto 京都

Arrival at Kansai International Airport (KIX).
Welcome to Japan! Yokoso 日本へようこそ!

Pocket Wi-Fi collection at the airport.

Reception at the exit from Customs in English by our airport assistant, who will give you all your travel documents.
Unaccompanied transfer from the airport to your traditional Japan Experience house!

Check in before 8:00 p.m. in your accommodation. A Travel Angel will welcome you, show you some unique details and help you to have an unforgettable stay in Kyoto. You will be able to "live the Japanese way" for a few days, with a space much bigger than a hotel room and a kitchen to prepare good Japanese food!

Day 2 : First steps in the old capital

What is there to do in Kyoto in 3 days?

We advise you to start your visit to Kyoto slowly by visiting the city centre and the Gion district:
- The Nijo castle, former shogun's residence
- Nishiki, Kyoto's culinary market
- Kiyomizu-Dera, the great water temple
- The historical streets of Sannen-zaka & Ninnen-zaka
- Kodai-ji, the maple and bamboo temple of Kyoto

Finish off seeing the sunset in Gion.
Meet your guide at 19:00 to start your late stroll around Gion, Kyoto's historic district.
 

At the end of this 1 hour 30 walk, your guide will be able to advise you on the best places to eat out!
Please note that it is strictly forbidden to take photographs in the historic district of Gion.

Day 3 : Gold and Silver Treasures

We recommend the following itinerary for this second day's visit to Kyoto:
- Ryoan-ji Zen Garden
- The Kinkaku-ji (Golden Pavilion)
- Ginkaku-ji (Silver Pavilion)
- The bewitching path of philosophy
- The Nanzen-ji temple

One of our many experienced English-speaking guides can accompany you on a tour of these symbolic sites (optional, from 9:00 to 17:00).

Day 4 : Between temples and deer

For your last day in Kyoto and its surroundings, we recommend taking the 50 minute journey to Nara, which is included in your package.

Visit to Nara, the first permanent capital of Japan in the 8th century.
Discover:
- The Shinto shrine Kasuga Taisha and its thousands of lanterns
- The Todaiji, its great bronze Buddha and the imposing Nan-Daimon gate
- Kofukuji temple and its beautiful pagoda

Return to Kyoto and stop for sunset at Fushimi Inari, the huge 10,000 torii sanctuary in Kyoto. If you wish to be accompanied on this day, one of our English-speaking guides will unveil all the secrets of Japan's first capital (optional, return trip from Kyoto).

Final night in your traditional Kyoto house.

Day 5 : First steps in the capital

From Kyoto Station, get to Tokyo in 2 hours 40 minutes on the Shinkansen high-speed train, included in your package.

Check-in at HotelOMO3 Tokyo Akasaka by Hoshino Resorts or hôtel de même catégorie 3*.

We advise you to slowly start visiting Tokyo from its western districts:
- Harajuku: the avant-garde district
- Meiji Jingû, the imperial shrine
- Takeshita-Dori: the most famous street in Japan
- Omotesando: Tokyo's Champs-Élysées
- Shibuya and its unmistakable "crossroads"

Day 6 : The big loop

For this third day of visiting Tokyo, we recommend the following "loop".

Start from Tokyo Central Station, with its original architecture, then go to visit:
- Ginza, Tokyo's chic district
- Tsukiji, the small outdoor food market
- Hamarikyu, the Japanese garden between Tokyo's buildings
- Asakusa, a traditional district and place of pilgrimage, accessible by a cruise on the Sumida River
- Sensô-ji Buddhist temple, one of the oldest in the city
- Tokyo Sky Tree reaching a height of 643mn and its panoramic view of Tokyo at sunset 

Enjoy a cruise on the Sumida River between Hamarikyu and Asakusa.

Day 7 : Now for some activity...

This is your last full day to visit Tokyo, so make the most of our many optional activities:
- Are you looking more for fun? Ghibli Museum, Disneyland or Hello Kitty Park are waiting for you!
- Do you prefer a themed activity? Book a visit on an architecture tour, gardens, home cooking or Noh's theatre.
- Chasing thrills? Let yourself be tempted by a helicopter ride or a sumo tournament (in season)!

If you wish to continue the visits at your own pace, Kamakura will seduce you. This small coastal town just 45 minutes by train (no reservations required) from Tokyo was once a shogun capital. The great Buddha of Kamakura is the symbol of the city. Our English-speaking guides can help you discover this city full of history.

Day 8 : Back to the future

Travel back in time for this 4th day:
- Yanaka, the old Tokyo
- Ueno, the place of resistance of the last Samurai, and its park full of cherry trees
- Akihabara, the electronic and manga district
- Odaiba, the island of futuristic entertainment in Tokyo Bay

In the afternoon, travel to the port of Niigata on the Sea of Japan (2 hours direct by Shinkansen, departing every 30 minutes until late at night, included in your package). Spend the afternoon and evening in this lively city with its many bars and restaurants. This is a far cry from the tourist circuit, in a Japan off the beaten path. Don't hesitate to try Niigata's rice and sake, the most famous in the country. You'll reach the port of Niigata in the middle of the evening, 3 kilometres from the centre, to board a comfortable cruise ship (see details below). After a night on the waves along the Japanese coast of Tohoku, you will get to Hokkaido in the early morning. After passing through the Tsuruga Strait, a crossing about 20 km wide between the two largest islands of Japan, Honshu and Hokkaido, you will arrive at the port of Tomakomai.

Not tempted by the boat trip? As an option, you can select the Tokyo -> Sapporo day trip by Shinkansen and train (1 change, about 8 hours, included in your Japan Rail Pass).

Day 9 : The North's big city

Possibility of breakfast and/or lunch on board the cruise ship (payment on site).

Arrive in the middle of the afternoon at Tomakomai port. A shuttle bus (about €8, to be paid on the spot) or a taxi will take you to Minami-Chitose station, from which a direct train will take you to the heart of Sapporo in 35 minutes (train every 10 minutes, included in your Japan Rail Pass). Check in to the Unwind Hotel or hôtel de même catégorie 3*.

Spend your first evening strolling through the 4500 restaurants and bars of the lively Susukino district!

Settle into your 3* hotel in the heart of the city.

Day 10 : Hokkaido in a nutshell

For the last valid day of your Japan Rail Pass, we advise you to go to the Sea of Japan with Russia in the distance:
- Otaru, a charming port city (45 min by JR train, included in your offer)
- And 20 minutes further by JR train, Nikka whisky distillery, the oldest in Japan: selected for its climatic similarity with Scotland

You can also head south:
- In Shiraoi, the brand new Ainu National Museum (opening April 2020), 1 hour by JR train.
- Noboribetsu, the village with the most famous onsens in Japan. Most of them are integrated into hotel complexes but are open to non-residents. Not to miss in this village: Hell Valley, whose volcanic fumaroles give off a strong smell of sulphur! 1 hour 15 direct JR train, then 10 minutes by bus (tpsy on site). 

Overnight stay in your hotel in Sapporo.

Day 11 : A young, dynamic city

Huddled under a blanket of snow for most of the year, the city of Sapporo still bears the traces of its colonial past.
Don't miss :
- Ôdôri Park, a huge green border that stretches between the buildings and divides the city in two
- The Sapporo Beer Museum, created in Japan's first brewery (dinner available)
- The Clock Tower, Television Tower and Three-Eight Tower
- Nijo Seafood Market
- The former seat of government and its botanical garden
 

Last night in your hotel in Sapporo.

Day 12 : In the heart of Daisetsuzan National Park

Over the next week, you can only explore the island of Hokkaido by car from Sapporo, as the rail network is not developed enough to reach the various points of interest on the island.
Don't be put off by the idea of driving a car in Japan! If in your country you are used to driving on the right, after a few minutes of apprehension about driving on the other side you will be impressed by the ease of driving on Japan's roads. Indeed, the Japanese/English bilingualism of most of the signs and GPS, very good road conditions, automatic cars, low traffic jams and the courtesy of Japanese people behind the wheel will make this visit of an unusual Japan pleasant!
Remember that petrol in Japan is slightly cheaper than in the UK and many other countries.

Pick up your rental car next to your hotel in the morning. Leave for Hokkaido's most famous national park, and the largest in Japan. You will reach Sounkyo Onsen, a spa in the heart of the national park at an altitude of 670m, in 3 hours by car. 200 kilometres, 3/4 on motorway, 1/4 at the end on national road easily passable through dense forests. No mountain roads.

Arrive at noon and check into your ryokan. In the afternoon, take the cable car up to the top of Kuro-dake Mountain. A magnificent view of the national park awaits you.
At the end of the day, enjoy relaxing in the onsen of your ryokan, or in a different one in the village.

At night at the ryokan, you will be treated to a tasty traditional Japanese dinner before retiring to your tatami room.

Day 13 : A vast wilderness

Traditional Japanese breakfast at the ryokan.

After an essential stop at the 2 most famous waterfalls of Hokkaido, at the exit of Sounkyo village, you will head to Akan lake, sacred land of the Ainu people, the island's indigenous nation. 3 hours 30 of national road, with a bit of sufficiently wide mountain road and no major difficulties. You will gradually leave the Sounkyo Gorge and the thick forests of the park to reach small farm valleys. Restaurants and farmers' shops along the roadside will welcome you with pleasure.

Arrive in the middle of the afternoon at the edge of Lake Akan, in the heart of the eponymous national park, which is even wilder and more volcanic than Daisetsuzan.

Settle into your 3* hotel in the small village of Akanko onsen, on the shores of the lake. Later in the afternoon, you will have the opportunity to discover the lake on a small cruise.

Day 14 : Natural beauty

Breakfast at the hotel.

Here is an overview of a day's exploration of this wilderness area (by car, within a 50 km radius of your hotel):
- Deep caldera lake
- Easy to see volcanic gas
- Ainu village
- Onsen in the middle of nature
- Free onsen inside reputable hotels
 

Day 15 : Tackling the volcano

Breakfast at the hotel.

Drive to an active volcano (about 20 minutes by car) via a picturesque lake with clear waters. A 5-hour hike, topped off with a swim in the volcanic waters when you arrive. 

You can also discover the fabulous Shiretoko National Park, the last natural enclave inhabited by bears, classified as a UNESCO World Heritage Site. The park can be reached in 2 hours by car, and an additional 1 hour by car is necessary to reach the heart of the park. A wild paradise that has to be earned...

Final night in your hotel in Akan-ko.

Day 16 : Crossing Hokkaido

Breakfast at the hotel.

Departure for Furano (225 km, 3 hour 30 drive). Highway and national road. Some mountain road towards the end, not particularly difficult). On the way, passing by the "Church on the Water", the most secret building of the architect Tadao Ando.

Arrival in the Furano Valley, a bucolic winter sports resort famous for ... its Camembert and its red wine!

Settle into your 3* hotel.

Day 17 : Lavender, cheese and a blue pond

Breakfast at the hotel.

Breathe the air of Japanese nature in Furano, a small village famous for its lavender fields in summer and its beautiful ski area in winter.

Our recommendations:
- Admire the lavender fields, and enjoy a sublime panorama of Mount Tokachi to the west and Mount Yubari to the south. Taste the many lavender specialities!
- Taste the local wine in the Furano vineyard, as well as its cheese, which is famous throughout Japan (try the squid ink cheese!).
- Lake Biei, a picturesque lagoon blue lake (a 40 minute drive from your hotel).

Second night in your hotel in Furano.

Day 18 : Return to the island's capital

Breakfast at the hotel.

In the morning, drive to Sapporo (2 hours 15, national road and highway, some mountain road to be expected at the start). Before arriving in Sapporo, we recommend one of the following 2 stops:
- Moerenuma Park, designed by the famous designer Isamu Noguchi.
- With a short, 30-minute diversion, the impressive Takino Cemetery :  where the architect Tadao Ando has installed monumental statues and a 13m high Buddha Hill.

Arrive in Sapporo in the middle of the afternoon (car to be returned before 6pm) and settle in the same hotel as in the middle of your stay in this city.
Final evening in the lively streets of the city

Day 19 : Sayonara, and see you next time!

Transfer to Sapporo International Airport (5th Japanese airport, 20 km to the south) in 40 minutes by train from Sapporo central station, see details below.

Return flight to Europe, North America, Australia with a change in Tokyo, Helsinki or one of the major Asian cities.

Don't hesitate to extend your trip by one or more days, to Hokkaido...We will be able to advise you!

 
Included in your self-guided tour

Accommodation

- 4 nights in a traditional Kyoto house 

- 3 nights in a 3* hotel in the heart of Tokyo, close to public transport

- 1 night on board the ferry to Hokkaido

- 3 nights in a 3* hotel in Sapporo

- 1 night in a 3* ryokan in Sounkyo Onsen, traditional half-board

- 3 nights in a 3* hotel in Akan-ko

- 2 nights in a 3* hotel in Furano

- 1 night in a 3* hotel in Sapporo

The basic rate includes a twin room for two people.

Transport

- Airport transfers 

- Prepaid public transport card

- Japan Rail Pass for 7 days

- Licence translation for 1 person (see details below)

- 7-day rental car, English GPS and basic insurance

Experiences and meals

- Airport welcome

- Traditional dinner and breakfast in the ryokan

- Breakfast except in major cities (Tokyo, Kyoto, Sapporo)

- Welcome to Kyoto by a travel angel

- Guided night tour of Gion (1h30)
Additional services

- Unlimited Wi-Fi access with pocket wifi

- Complete e-travel diary 

- The helpline is available from 8am to 10pm Japanese time, 7 days a week, in English and Japanese. The number will be given to you in your travel pack. It is valid for telephone calls and Whatsapp.

Not included in the price of your trip

- Flights Europe <> Japan

- Optional insurance policies

- Personal expenses including meals (breakfasts optional)

- Public transport when all 3 cards are exhausted (see details)

- Fuel for the car

- Anything not included in the "included in your tour" section

 
Your tour :
The prices displayed on this page may vary according to the exchange rate of the Japanese ¥.
Unfortunately, this tour is not accessible to people with reduced mobility.
Pets are not allowed.
Children and babies accepted. From 3 to 11 years old a child rate is offered. In each accommodation, a standard adult bed will be offered to them, and a standard seat will be allocated to them in transport. From 0 to 2 years old inclusive, a "baby" rate is offered. This price corresponds to the allocation of a cot in the majority of the accommodation of the chosen circuit. However, we cannot guarantee a baby cot in each accommodation.
This programme is subject to change due to circumstances such as weather conditions or any other case of force majeure. Please note that due to the current circumstances, any information mentioned is subject to change or modification.
Your travel documents will be given to you as follows:

Travel diary by email maximum 8 days before departure, and other electronic documents 
Paper documents (airport transfer tickets, transport cards) when you arrive at the airport by our airport assistant.
Your pocket Wi-Fi at the airport.

This tour is not open from 15 November to 15 March. The weather conditions in Hokkaido during this period causes the closure of several roads on this tour.
At least one person participating in the trip must have a valid driving licence in their countr
Note: In very rare cases, mostly in very high season, steps might be reversed. You will be informed in your mini travel-guide. Thanks for your kind understanding.
---
Your accommodation :
Some hotels may ask you to pay a tourist tax on arrival. This depends on the city and even the hotel, as some do not include it in the booking price. Normally, it is 200¥/night/person (about £1.37/1.93$) but can be slightly higher in 4* hotels. It must be paid in cash at the hotel reception. For traditional Japan Experience accommodations, it is included in the initial tour price.
Room size: in Japan, a densely populated country where everything is compact, 3-star luxury hotels are of very good quality but the rooms are often quite narrow (12 to 20m2/129 sq ft to 215 sq ft) depending on the hotel. Please note the size of the single room, between 10 and 16m2 (107sq ft and 172 fq ft). For more comfort, you can choose our luxury 4* accommodation upgrade option. 
Double room: Rooms for two people in western hotels have 2 single beds (twin rooms) by default, which can usually be joined together. As an option, you can select a double room instead of a twin if you prefer a double bed. This option is not valid in the Japan Experience house in Kyoto nor in the ryokans (on individual futons).
Single room: People travelling alone and wishing to book a single room must pay a supplement at the time of booking. The single room supplement is compulsory for orders with an odd number of participants. Please note that if you request more than two people in a single room, the single room supplement will be applied to all accommodation except for the ryokans (3 and 4*). In fact, as this is traditional accommodation, people with the same reservation are grouped together in spacious rooms for up to 5 people.
3-person room: If there are 3, 5 or more of you and you do not select the single supplement, a triple room will be allocated to you.
In the case of a group order (> 5 people), it is possible, depending on hotel availability, that not all members of the group will be accommodated in the same hotel. Nevertheless, we aim to keep you close. 
Names of the hotels : The names given on the site are for information only. In the event of unavailability, an establishment of equivalent standing will be scheduled. Hotels, corresponding to local standards, are given as an indication and may be changed on site for hotels of a similar category.
In the ryokan, the rooms have a private sink and toilet. The single-sex collective Japanese baths ("onsen") then act as shared bathrooms, with showers and thermal baths. They are freely accessible, at the times in force on the site. These baths are often not accessible to people with clearly visible tattoo (s). The latter are invited to contact us to evaluate the possibilities of accommodation with private baths or shared baths that can be reserved. The 4* ryokan (see 4* option) have comfortable futons raised on either western beds in a traditional tatami room. The bathrooms and toilets of the 4* ryokans are private.
Traditional house in Kyoto: each house has been chosen for its location (transport, shops, temples...) and thus to facilitate your stay. Most of them are either located in the historical district of Gion or on the edge of the Path of Philosophy and the Silver Temple. All lodgings have at least one Japanese tatami room and are equipped with a minimum of 3 beds, either in a single western bed (not double) or on a futon. Do not hesitate to specify in your comments that you want to sleep in a western bed.
 Bedroom on the ferry to Hokkaido: standard room with 2 bunk beds, a TV and small bathroom. No porthole. Option for a higher quality room with balcony.
---
Your transport :
Flights are not included in this tour. Do not hesitate to contact us if you would like to include flights in your order: Flights in economy class with stopovers or direct flights, eco-premium or business air upgrades, provincial departures or abroad: we will be able to advise you.
The tour departure and end dates presented on this page relate to your stay in Japan. You will arrive in Japan via  from Kansai airport (KIX, not Itami ITM) and will leave from Sapporo airport (CTS). You will have to leave the day before from Europe and land at the latest at 4pm in order to be at your hotel at 6pm to meet your travel angel in the traditional house in Kyoto.
The return flight is on the same day due to the time difference, with a departure time of 9am at the earliest. Please do not hesitate to consult us for any uncertainty or need for precision in the choice of international flights.
Please note that for the return flight from Sapporo International Airport, you will need to change at Tokyo, Helsinki or one of the major Asian cities. In Tokyo and Seoul, please check that the connecting airports are the same. Sapporo -> Tokyo and Sapporo -> Seoul flights sometimes land at different airports (Tokyo Haneda HND or Seoul Gimpo GMP) from those from which international flights to Europe depart (Tokyo Narita NRT or Seoul Incheon ICN).
If the flights have been purchased by your care without the intervention of Japan Experience, it is necessary to send us by mail 1 month before your departure your flight information (flight number, airport, date and time of arrival) to allow us 'Organize your welcome and airport transfer.
Airport transfers: The shared shuttle bus leaves from the airport and stops in front of your Japan Experience home or very close to it. Our airport assistant in Kansai Airport will drive you to the platform to take the airport transfer. Afterwards, this hotel transfer is unassisted. If you would like to be accompanied from the airport to your hotel reception please choose the option "Accompanied Airport Transfer". 
The return transfer from your hotel to Sapporo International Airport is by public transport from the central station (40 minutes by train) It's a straightforward journey, with the train arriving directly at the airport.  Cost: 1150¥ (about €10, paid with your pre-paid transport card, already loaded with the amount for the transfer). From 5:50am to 9:50pm, with train every 10 to 15 minutes. If you want door-to-door transport, we recommend that you contact your hotel reception to order a taxi. It will cost you approximately €45 for a 45 minute journey.
Included in your tour is a pre-charged transport prepayment card of ¥ 1,500 (around £10.30 / 14.54$) (suica or Pasmo brand); and a 7-day Japan Rail Pass. Upon expiry of the 1,500¥ Transport Prepayment Card, or if the line you are travelling on is not covered by your Japan Rail Pass, any travel will be at your own expense by recharging your pre-paid transport card (at vending machines in all stations and metro stations). 
The Japan Rail Pass is a personal train pass for foreign travellers who wish to visit Japan. This pass allows unlimited travel for 7 consecutive days on all Japan Railways (JR) trains throughout Japan. You will receive a voucher to be exchanged at a JR office when you are welcomed at the airport by our assistant (list of addresses provided in your travel guide). You will be asked to show your passport and fill in a form. During this exchange, you will select the start date of your pass. Once your Pass has been activated, it will be valid for 7 consecutive days from the date chosen. To prevent wasting time when you arrive at the airport, you are requested to exchange your voucher upon arrival in Tokyo City. This is because exchanging it at the airport could delay your airport shuttle. With your Japan Rail Pass in hand, just go to the station, show your pass to the ticket inspector at the entrance gates and board any JR train. Trains in Japan are almost all open seating. If you are worried about not having a seat (on a shinkansen for example), simply go to a ticket office and reserve your seat at no extra charge. The Japan Rail Pass covers all JR and Shinkansen lines in Japan. The following journeys are not covered:

Travel by metro and bus in the cities (payable by pre-paid transport card, included in your package)
Transfers from the train station to the hotels (by foot, bus, metro or taxi)
Travel on private train lines (other than JR)
Travel on Nozomi and Mizuho high-speed trains (shinkansen)
Trips made outside the validity period of the Japan Rail Pass

Japan Rail Pass: It is not necessary to possess a Japan Rail Pass which covers your entire stay. This is only cost-effective if it is used for long journeys between the different stages of your stay (especially in shinkansen) which are very expensive. In large cities like Tokyo, only about ⅓ of public transport is covered by the Japan Rail Pass and getting around is relatively cheap (Tokyo metro tickets: £1.71 / 2.42$; Kyoto daily bus card: £1.71 / 2.42$). Thus, providing you with a Japan Rail Pass for more than 7 days (14 or 21) would not be cost-effective and, on the contrary, would significantly increase the cost of your trip.
If a person taking part in the tour is a Japanese national and a resident of Japan, or a foreigner with tax residence in Japan (including a student), then that person is not eligible for the Japan Rail Pass. Please contact us to get the price of the tour without a Japan Rail Pass. They will have to buy the train tickets for the tour directly in Japan. The Kansai Thru Pass is also subject to the same nationality/residency requirements. This is not the case for the Hakone Free pass. If this person is a Japanese citizen but not a resident of Japan, then he/she can benefit from the Japan Rail Pass under certain conditions (see https://www.japan-experience.com/frequently-asked-questions).
Licence translation for car rental: The translation of the driving licence into Japanese is included in your tour: we take care of all the necessary steps once you have sent us a valid driving licence. Once in Japan, the translation of the driving licence along with the original license allows you to drive legally and easily. This translation is only necessary for driving licences from the following countries France, Germany, Belgium, Switzerland, Monaco and Taiwan. For licences issued from other countries, you must obtain an international licence.
Travel by boat to Hokkaido: the ferry leaves at 10:30 pm from Niigata harbour, located 3 km from the central station. You can travel on foot, by local bus or by taxi at your own expense. There is a large waiting room where you can wait for the ferry. The ferry has a restaurant, theatre and spa, which are available at no extra charge. Unfortunately, people with visible tattoos are not permitted in the spa. When the ferry arrives the next afternoon, a shuttle bus (to be paid for locally) will be waiting to drive you to the JR Minami Chitose Station. If the ferry from Niigata is not available, we will provide a ferry from Oarai, a 1.5 hour ride from Tokyo (included in your package). Same travel time and arrival city.
---
Your activities :
Airport reception is in English. Your airport assistant will be waiting for you at the customs exit holding a sign with the name of the reservation. They will give you your travel documents and take you to your airport transfer. They will not accompany you to Kyoto (this is possible, but optional).
An English and French speaking Travel Angel who is a specialist in Japan will be there to welcome you to your traditional house in Kyoto. They will give you the keys, explain how the house and its facilities work, give you a tour of the area (tourist sites, supermarkets, bike rental...) and answer all your questions. They will be available throughout your stay in case of any problems or questions.
The guided tour of Gion takes place in groups of 12 people maximum, from 6pm to 7:30/8:00pm. In English. More details on the meeting place in your travel journal. Dinner is not planned but your guide will be able to give you their best spots.
---
Your meals :
Traditional Japanese dinner and Japanese breakfast (mostly savoury) are included in your ryokan. Do not hesitate to indicate any dietary requirements you may have, we will pass them on to the ryokan so that they can take them into account when planning the meals. If the ryokan does not take any of these dietary requirements into account, we cannot be held responsible and no compensation will be issued.
Breakfasts which are not included in your package can be added at the reception when you arrive at the hotel. However, you will find many cafés near your hotel serving copious breakfasts, often tastier than those in the hotels, which sometimes have tight schedules and are predominantly savoury. However, if you would like to add breakfast to your offer when you make your reservation, you can select it as an option.
The traditional Japan Experience houses are equipped for cooking and are located close to supermarkets and markets.
Meals on the ferry to Hokkaido are served in the large restaurant. They are optional, in the form of a buffet and must be paid for on the spot.
---
When you buy, Japan Experience offers you 2 types of protection:
Japan Experience Flex : 
Cancellation insurance before departure under conditions.
Japan Experience Protect :
Pre-departure cancellation insurance under conditions and on-site assistance under conditions. 
Frequently asked questions
Our commitments as Japan Experience, Europe No. 1 travel in Japan
The guarantee of the first tour operator specialised exclusively in Japan for 40 years
A wide range of products to let you Experience Japan from the inside
Competitive prices thanks to a single team in UK, Europe, USA and Japan, with no intermediaries
Assistance available in Japan throughout your trip
A specialised team is available 7 days a week by phone or email
The best advice thanks to the 3,500 articles available on our website
Our activities in Kyoto, Nara, Tokyo, Sapporo, Sounkyo, Akan-ko, Furano
Discover all our activities in Kyoto, Nara, Tokyo, Sapporo, Sounkyo, Akan-ko, Furano (69)