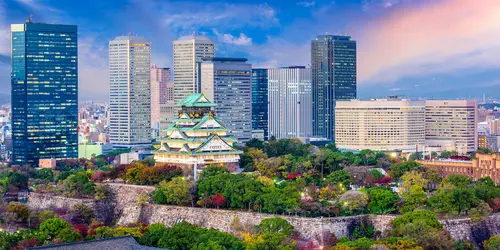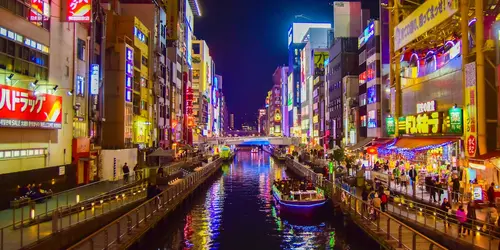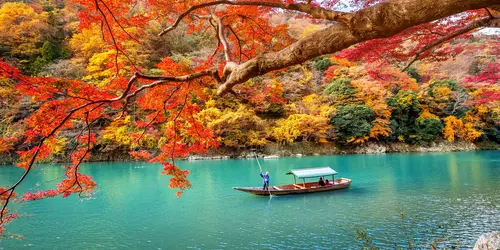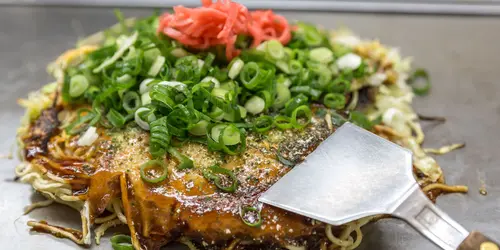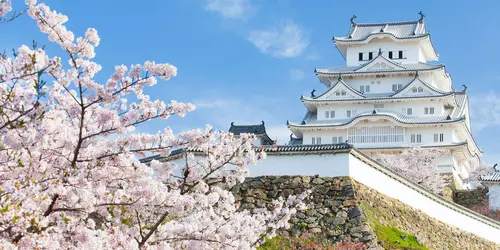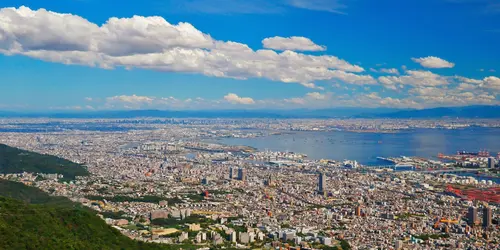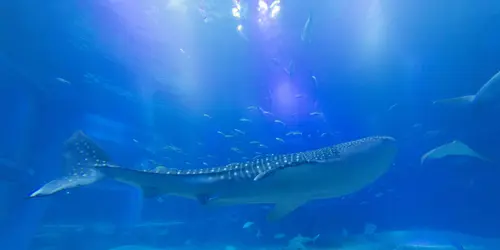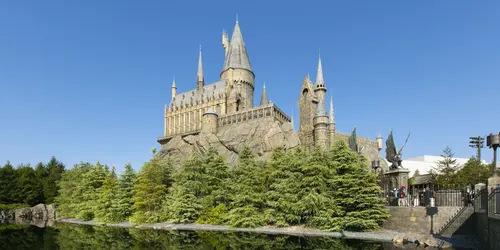 City break - Osaka tour
Japan reopens its borders on September 7:
No longer need for PCR test for triple vaccinated people 
No longer need for a guide throughout the stay
But still :
Need to organize your trip with a travel agency approved by Japan (like Japan Experience)
Go to the embassy/consulate to get your tourist visa
More explanations below in the "frequently asked questions" (to carefully read before booking :-)
---
This city break tour takes you to Osaka, the food capital of the land of the rising sun.
Capital of the Kansai region, it offers quick access to Kyoto, Nara, Hiroshima, Koyasan...
Take advantage of transport passes, an included culinary tour and many optional activities, such as admission to Universal Studios Park or the world-famous aquarium.
---
1 week itinerary in Osaka (8 days) 
Departure city/airport : Osaka (Kansai international airport : KIX)
Osaka (7 nights)
End Return airport : Osaka (Kansai international airport : KIX)
Please find below the itinerary details.
Tour length : 7 nights / 8 days (+ 1 day at the beginning if you leave from Europe)
Indeed, the tour departure and end dates presented on this page relate to your stay in Japan. On departure, you will have to leave Europe on the day before. The return flight is on the same day due to the time difference.
Example : 
Departure from Europe : January 1st
Arrival Osaka (date to be selected in the tour calendar while booking) : January 2nd
Return flight from Osaka : January 9th
---
Why this trip to Japan ?
Welcomed at the airport by our team, you will be taken to your hotel in Osaka by shuttle bus
Settle in the heart of Osaka  in your 3* hotel chosen for its comfort and location
Take advantage of 6 days of transport to visit Osaka
A culinary tour of the lively Dotonbori district will await you at nightfall
Recommendations available in your travel diary
Enjoy unlimited internet access thanks to your pocket Wi-Fi
If necessary, contact our assistance from 8am to 10pm Japanese time, 7 days a week, in English or Japanese.
Numerous discounts offered in tourist sites
Benefit from the expertise of Japan Experience, European leading travel agency in Japan
---
Your trip in detail
Day 1 : Wake up in Osaka 大阪

Arrival at Kansai airport (KIX).
Welcome to Japan! Yokoso 日本へようこそ!

Our airport assistant will welcome you at the exit of the customs and will give you all your travel documents and your Pocket WiFi.
Unaccompanied transfer from the airport to Osaka (see details).

Check-in at Hotel Intergate Osaka Umeda or same category hotel 3* (rooms available from 3:00pm).

Day 2 : First steps in the capital of Kansai

What is there to do in Osaka in 2 days ?

We advise you to start out slowly visiting Osaka from the northern and eastern districts:
- The medieval castle of Osaka, with its park full of plum and cherry trees
- The city centre and its Nakanoshima Island, with its rose park in the middle of the buildings
- Utsubo Park, an oasis of freshness in the business district
- Rendezvous in Umeda, temple of Japanese style shopping
- End up at the Umeda Sky building at dusk for a 360° view of Kansai (including Kyoto on a clear day!)

As an option, you can book a river cruise between the different parts of the day.

Day 3 : Gastronomic introduction

We recommend the following itinerary for this second day's visit to Osaka:
- The Osaka Kaiyûkan aquarium, the largest aquarium in the world in terms of volume
- The Tennoji district and its Shitenno-ji Buddhist temple, one of the oldest in Japan
- Spa World, Japan's largest spa (onsen)
- Shinseikai, with retro charm
- DenDen machi, the technologeek village
- End with Dotonbori, the liveliest district

Go out in the evening and meet our guide in Dotonbori for a small culinary tour that will awaken your taste buds (included in your tour)! You can sample Osaka's specialities: takoyaki, okonomiyaki and many others.

Day 4 : Heading for the old capital

Travel to Kyoto, 40 minutes from Osaka (journey included in your package, details in your travel diary).

Increasingly touristy, Kyoto is still a must!
Do not hesitate to book an English-speaking guide for the day (optional) to visit Kyoto.

In 1 day, visit Kyoto's "classics":
- The Kinkakuji Golden Pavilion, one of the symbols of Kyoto
- The silver pavilion in the famous zen garden
- The bewitching path of philosophy
- Kiyomizu-Dera, the great water temple
- The historical district of Gion and its narrow streets Sannen-zaka & Ninnen-zaka

Finish off seeing the sunset in Gion. As an option, we can arrange a night time guided tour of Gion. You will undoubtedly cross paths with a geisha!

Return to Osaka in the evening. Trains every 10 minutes until 23.30. 45 minute journey.

Day 5 : Treasures and luxury

Return to Kyoto, the southern and western districts:
- Fushimi-Inari, Kyoto's huge 10.000 torii santuary
- The Nijo castle, former residence of the shogun
- Arashiyama, its bamboo grove and monkey mountain

Reach Osaka at the end of the day.

 

 

Day 6 : On the trail of the Samurai

On this last day before departure, we recommend a visit to Himeji Castle, ending with a stop in Kobe.

Himeji, 1 hour 30 by train from Osaka (a journey with 1 small change included in your offer) presents the best preserved castle in Japan: the White Heron Castle, a UNESCO World Heritage Site.
In the afternoon, take a detour on the way back to Kobe to visit the Kitano merchant district, Chinatown or the harbour. Return to Osaka for your last evening.

Also:
- Universal Studios with its world-renowned Harry Potter park (tickets optional)
- Guided day trip to KoyaSan, the mountain full of Buddhist temples (1 hour 30 by train)
- The Minoh waterfalls, at the outskirts of Osaka
- Lake Biwa and its beaches in summer (1 hour by train)

Day 7 : Sayonara, and see you next time!

Transfer to Kansai airport (included but not accompanied).

Return flight to Europe, North America, Australia.

Do not hesitate to extend your trip by one or more days in Kansai, or elsewhere… We will be able to advise you!

 

 
Included in your self-guided tour

Accommodation

- 7 nights in a 3* hotel in the heart of the city, close to the metro.

The basic rate includes a twin room for two people.

Transport

- Transfer airport <> Osaka

- Prepaid public transport card

- Metro pass + Osaka bus pass 2 days

- 3-day unlimited transport pass (Kansai Thru Pass)

Experiences

- Airport welcome

- Guided night tour of Dotonbori (1h30)

- Numerous discounts offered in Osaka tourist sites
Additional services

- Unlimited Wi-Fi access with pocket Wi-Fi

- Complete e-travel diary sent before your departure

- The helpline is available from 8am to 10pm Japanese time, 7 days a week, in English and Japanese. The number will be given to you in your travel pack. It is valid for telephone calls and Whatsapp.

Not included in the price of your trip

- Flights Europe <> Japan

- Optional insurance policies

- Personal expenses including meals (breakfasts optional)

- Public transport when all 3 cards are exhausted (see details)

- Anything not included in the "included in your tour" section
Your tour :
The prices displayed on this page may vary according to the exchange rate of the Japanese ¥.
Unfortunately, this tour is not accessible to people with reduced mobility.
Pets are not allowed.
Children and babies accepted. From 3 to 11 years old a child rate is offered. In each accommodation, a standard adult bed will be offered to them, and a standard seat will be allocated to them in transport. From 0 to 2 years old inclusive, a "baby" rate is offered. This price corresponds to the allocation of a cot in the majority of the accommodation of the chosen circuit. However, we cannot guarantee a baby cot in each accommodation.
This programme is subject to change due to circumstances such as weather conditions or any other case of force majeure. Please note that due to the current circumstances, any information mentioned is subject to change or modification.
Your travel documents will be given to you as follows:

Travel diary by email 3 weeks before departure
Paper documents (airport transfer ticket, transportation card, Japan Rail Pass voucher) and Pocket WiFi upon arrival at the airport by our airport assistant.
---
Your accommodation :
Some hotels may ask you to pay a tourist tax on arrival. This depends on the city and even the hotel, as some do not include it in the booking price. Normally, it is 200¥/night/person (about £1.37/1.93$) but can be slightly higher in 4* hotels. It must be paid in cash at the hotel reception. For traditional Japan Experience accommodations, it is included in the initial tour price.
Room size: in Japan, a densely populated country where everything is compact, 3-star luxury hotels are of very good quality but the rooms are often quite narrow (12 to 20m2/129 sq ft to 215 sq ft) depending on the hotel. Please note the size of the single room, between 10 and 16m2 (107sq ft and 172 fq ft). For more comfort, you can choose our luxury 4* accommodation upgrade option. 
Double room: Rooms for two people in western hotels have 2 single beds (twin rooms) by default, which can usually be joined together. As an option, you can select a double room instead of a twin if you prefer a double bed.
Single room: People travelling alone and wishing to book a single room must pay a supplement at the time of booking. The single room supplement is compulsory for orders with an odd number of participants.
3-person room: If there are 3, 5 or more of you and you do not select the single supplement, a triple room will be allocated to you.
In the case of a group order (> 5 people), it is possible, depending on hotel availability, that not all members of the group will be accommodated in the same hotel. Nevertheless, we aim to keep you close.
Names of the hotels : The names given on the site are for information only. In the event of unavailability, an establishment of equivalent standing will be scheduled. Hotels, corresponding to local standards, are given as an indication and may be changed on site for hotels of a similar category.
---
Your transport :
Flights are not included in this tour. Do not hesitate to contact us if you would like to include flights in your order: Flights in economy class with stopovers or direct flights, eco-premium or business air upgrades, provincial departures or abroad: we will be able to advise you.
The departure and end dates shown on this page are for your stay in Japan. You will arrive in Japan via Kansai International Airport KIX (not Itami ITM) and will also depart from KIX. You will have to leave Europe the day before and land at 6:00pm at the latest to make the most of the airport services of your tour (welcome and transfer to Osaka). The return flight is on the same day due to the time difference, with a departure time of 9am at the earliest. Please do not hesitate to consult us for any uncertainty or need for precision in the choice of international flights.
If the flights have been purchased by your care without the intervention of Japan Experience, it is necessary to send us by mail 1 month before your departure your flight information (flight number, airport, date and time of arrival) to allow us 'Organize your welcome and airport transfer.
Airport transfers: The shared shuttle bus leaves from the airport and stops either in front of your hotel or at a stop located between 1 and 15 min walk from your hotel. Our airport assistant in Kansai airport will drive you to the platform to take the airport transfer. Afterwards, this hotel transfer is unassisted. If you would like to be accompanied from the airport to your hotel reception please choose the option "Accompanied Airport Transfer".
Included in your tour is a pre-paid transport card with 1500¥ loaded in advance (about £10.30 / 14.54$) (Suica or Pasmo brand), a 2-day metro/bus pass to Osaka intramural and the 3-day Kansai unlimited travel card (bus, metro and train except JR). These 3 cards should cover the vast majority of your journeys in this tour of Osaka and its region, Kansai. Please note that apart from the pre-paid transport card, where the journey is charged to you, the other 2 cards are not usable on the JR network but rather on the private network (about 2/3 of the total network in Kansai).  When the passes and the 1,500¥ pre-paid transport card expire, you will have to pay for all your journeys by reloading your pre-paid transport card (in the ticket machines at all stations and metro stations.  A metro ticket in Osaka costs around £1.71 / 2.42$, depending on the length of the journey).
---
Your activities 
Airport reception is in English. Your airport assistant will be waiting for you at the customs exit holding a sign with the name of the reservation. They will give you your travel documents and take you to your airport transfer. They will not accompany you to Kyoto (this is possible, but optional).
The guided tour of Dotonbori takes place in groups, in the evening and in English. More details about the meeting place in your travel journal. 
---
Your meals :
No meals are included in your package. Breakfasts which are not included in your package can be added at the reception when you arrive at the hotel. However, you will find many cafés near your hotel serving copious breakfasts, often tastier than those in the hotels, which sometimes have tight schedules and are predominantly savoury. However, if you would like to add breakfast to your offer when you make your reservation, you can select it as an option.
---
Your additional services:
A pocket wifi is included in your tour. It allows unlimited high-speed internet access. Your Pocket WiFi will be given to you at the airport of arrival.
It comes with a small booklet to operate your device (don't panic: simple operation) and a prepaid envelope to return your device at the end of your stay. Your pocket wifi will work naturally until the last day of your trip to Japan.
A maximum of 5 devices can be connected to a pocket wifi (phone, tablet, computer).
A single pocket wifi is provided for a circuit order of 1 to 5 people. For an order of 6 people or more, a second pocket wifi will be added automatically and at no extra cost to your reservation.
When you buy, Japan Experience offers you 2 types of protection:
Japan Experience Flex : 
Cancellation insurance before departure under conditions.
Japan Experience Protect :
Pre-departure cancellation insurance under conditions and on-site assistance under conditions. COVID protection included.
Frequently asked questions
Our commitments as Japan Experience, Europe No. 1 travel in Japan
The guarantee of the first tour operator specialised exclusively in Japan for 40 years
A wide range of products to let you Experience Japan from the inside
Competitive prices thanks to a single team in UK, Europe, USA and Japan, with no intermediaries
Assistance available in Japan throughout your trip
A specialised team is available 7 days a week by phone or email
The best advice thanks to the 3,500 articles available on our website