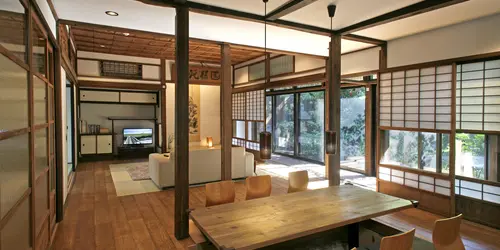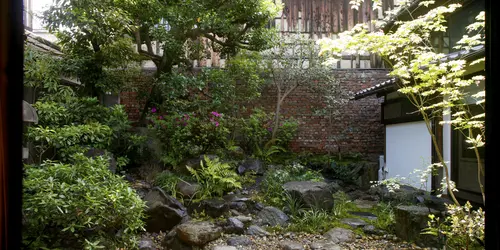 Gojo
The luxurious Gojo house was extensively renovated by award winning Tokyo based architects and includes great amenities, modern appliances, thermal insulation, anti-seismic equipment, refurbished antique materials and more to harmoniously combine tradition and elegance with safety and comfort.
Description of the house
The ground floor offers a luminous, spacious open-space from every part of which you can enjoy our garden. The modern counter kitchen area and dining-sitting space face each other, while the tatami room with its own tsubo-niwa (private pocket garden) completes the layout.
The semi-detached former tea pavilion has been converted into a sleeping area with the bathroom being on the lower level and the bedroom on the higher one.
As far as beddings are concerned, the tatami room next to the sitting area provides traditional Japanese futons, while the converted tearoom has a western style double bed.
The studio area is on the second floor and enjoys its own entrance, kitchen area and bathroom. It can operate as a completely independent unit and measures around 500 Sq Ft (45 Sqm)
The neighborhood
The house is located a short a 15 walk from Kyoto station and 5 min from Gojo station, and is blessed with a peaceful, tranquil environment, yet close to Honganji temple and great restaurants to truly enjoy your stay in Kyoto.
Plans and equipments
Equipment
Bathtub
Kitchen
Fridge
Washing Machine
Coffee Machine
Toaster
Table Ware
Kitchen Ustensil
Microwave
Electric Kettle
TV
Garden
---
Floor plan
---
Location of the house
Gojo
This former district of ceramic artisans, with the slopes Gojo avenue and tiny alleys, still show traces of its past. Even if the fires in the kilns are no longer lit, there is still a remarkable amount of little shops, making this area the best place to hunt for and hope to find the teacup of your dreams.
Pluses: Close to Kyoto Station and the Gion district.
Minuses: Not many city bus stops nearby, but offset by close proximity to the Keihan train.
Shops: 7-eleven Combini - Post office
Transports: The Keihan train line will quickly get you to both the north part of the city and the famous Fushimi Inari Shrine. - Kawaramachi Gojo bus stop for Kyoto Station & Kiyomizu Zaka for the Silver Pavilion.
Restaurants: Benkei Udon - E-Fish, café with a view of the Kamo River - Takasegawa Street and its numerous restaurants
Attractions: Many ceramic shops - The national museum - Sanjusangendo - The Gion district
In the area
---
Frequently asked questions