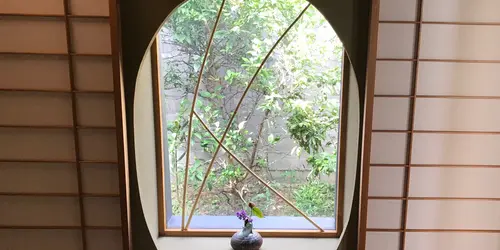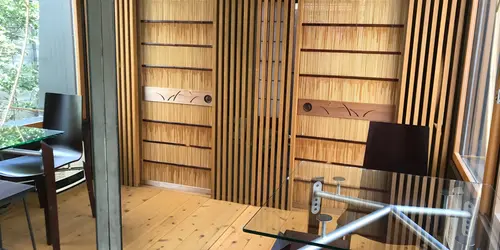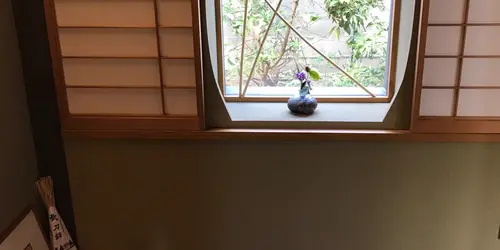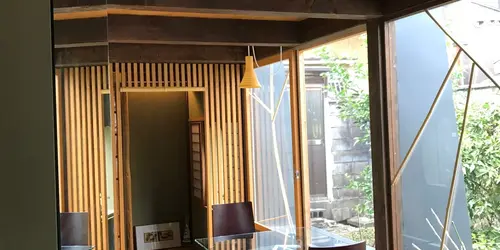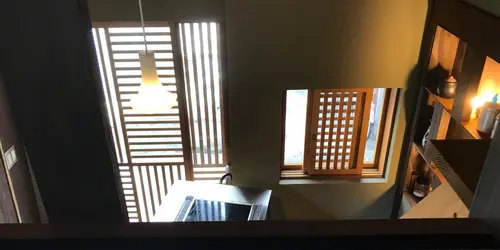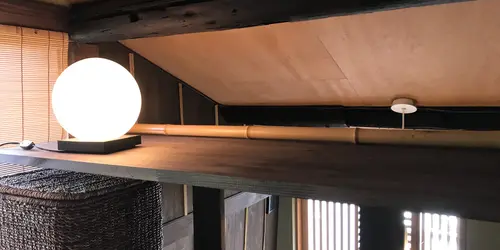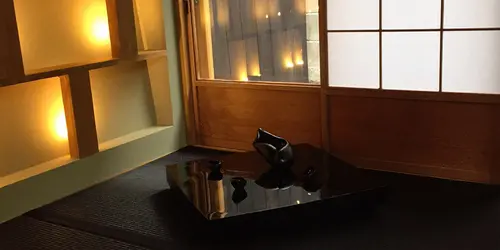 Poem Box
A few steps from the Gion district, architect-designer Fumiko Kaneko renovated this house perfectly named "Poem Box". This serene refuge is ideal for experiencing the blend of modernity and tradition that Japan so perfectly embodies.
Description of the house
The ground floor is composed of an equipped kitchen and a relaxing bathroom. Passing through the house, you will come to a comfortable lounge area with a table and chair that overlook the neighboring garden.
Then you will find a beautiful Japanese-style living room in black tatami, first installed in a house by architect Fumiko Kaneko. Usually, black tatami is only used for famous temples.
The sleeping loft space is accessed by a ladder, and could be difficult for tall or elderly guests. It is possible however for 1 person to sleep on the ground floor. The loft height is about 1 meter. The A/C is located in the loft space.
The neighborhood
In the heart of the peaceful district of Higashiyama, this house is close to Kiyomizu-dera, the famous temple with Unesco world heritage status. Not only is the house close to the famous Gion district as well, but there are supermarkets and great restaurants around to truly enjoy your stay in Kyoto. The house was created for couples to have a beautiful experience located in the Geisha district of Kyoto.
Plans and equipments
Equipment
Bathtub
Shower
Kitchen
Fridge
Washing Machine
Coffee Machine
Toaster
Table Ware
Kitchen Ustensil
Microwave
Electric Kettle
---
Floor plan
---
Location of the house
Gion
This several centuries old district is famous for its entertainment reserved for Kyoto's intellectual and artistic elite. Find yourself immersed in a maze of small streets lined with beautiful Japanese architecture, in a sophisticated timeless universe where small shopkeepers, craftsmen, monks, rich clients and of course maïko and geïko all rub shoulders with each other.
Pluses: A unique ambience. Pass maïkos and geïkos everyday at any time of the day. Near the city centre and the main historical sites of East Kyoto.
Minuses: This very lively district is not conducive to lazy holidays.
Shops : Fresco supermarket open 24 hours a day - Many Konbini - Post offices - Bicycle rental
Transports: Bus service to easily connect to the city's other tourist areas. - Keihan train line to Osaka and Hankyu train line to Arashiyama and Katsura
Restaurants: Jojo, cuisine is centred on vegetables from Kyoto - Izuju, sushi - Kezako, Modern good quality French cuisine - Oku Café
Attractions: The Gion Corner, a theatre in the heart of Gion, gives a taste of the variety of arts (dances, floral arrangement, tea ceremony…). - Kennin-ji temple - Yasaka sanctuary - Kiyomizu-dera temple
In the area
License number
: M260011687
---
Frequently asked questions