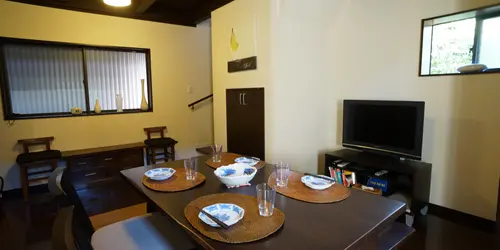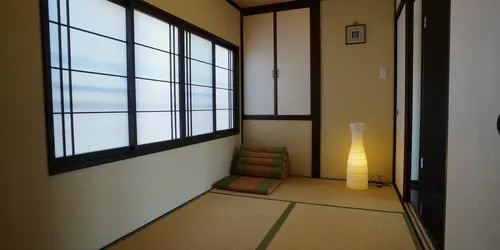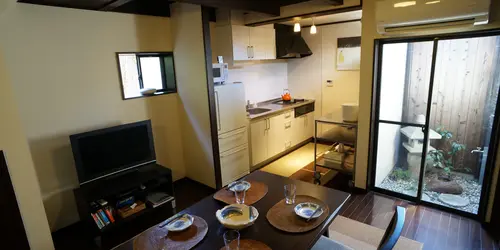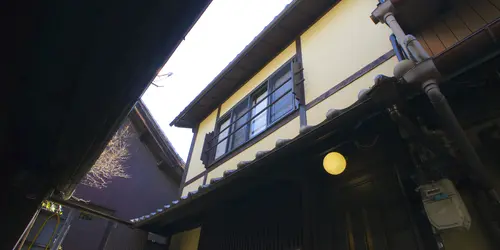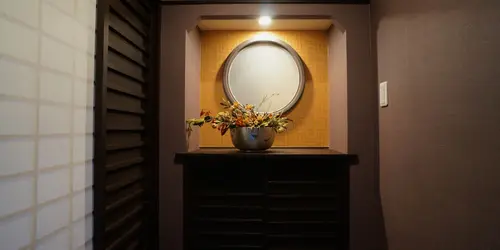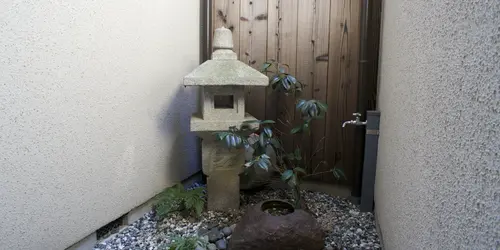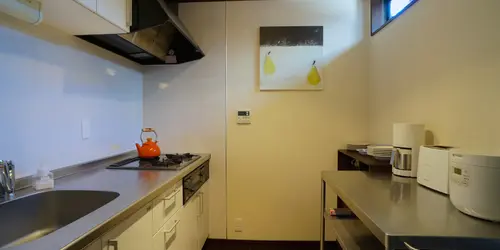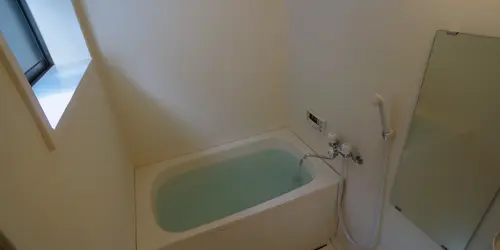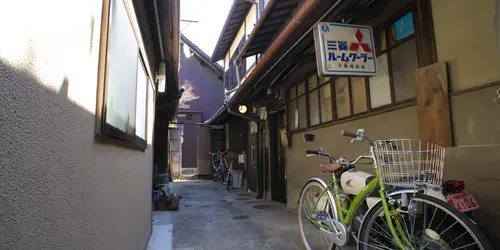 Gojo Machiya
Well renovated and refurbished in an extremely tasteful manner, Gojo Machiya offers the perfect mix of a Kyotoite home from the beginning of the last century and the latest comforts. The warmth of the natural wood and exposed beams, the stone lantern and decor are complemented by the beautifully equipped kitchen and a comfortable bathroom.
Description of the house
On the ground floor, there is a comfortable kitchen / dining room that's great for enjoying meals or a drink with your group. There is also a bathroom (with a shower and Japanese ofuro-bath), and a restroom.
In the evening, head upstairs where you have the choice of either single western beds (two beds), or sleeping more like a local on a futon (two futons).
The neighborhood
In the heart of the peaceful district of Higashiyama, the house is nestled in the pedestrianised alleys beneath Kiyomizu-dera, the famous temple with Unesco world heritage status. Not only is the house not too far from the famous Gion district, but there are supermarkets and great restaurants around to truly enjoy your stay in Kyoto.
Plans and equipments
Equipment
Bathtub
Shower
Kitchen
Fridge
Washing Machine
Coffee Machine
Toaster
Table Ware
Kitchen Ustensil
Microwave
Electric Kettle
Garden
---
Floor plan
---
Location of the house
Gojo
This former district of ceramic artisans, with the slopes Gojo avenue and tiny alleys, still show traces of its past. Even if the fires in the kilns are no longer lit, there is still a remarkable amount of little shops, making this area the best place to hunt for and hope to find the teacup of your dreams.
Pluses: Close to Kyoto Station and the Gion district.
Minuses: Not many city bus stops nearby, but offset by close proximity to the Keihan train.
Shops: 7-eleven Combini - Post office
Transports: The Keihan train line will quickly get you to both the north part of the city and the famous Fushimi Inari Shrine. - Kawaramachi Gojo bus stop for Kyoto Station & Kiyomizu Zaka for the Silver Pavilion.
Restaurants: Benkei Udon - E-Fish, café with a view of the Kamo River - Takasegawa Street and its numerous restaurants
Attractions: Many ceramic shops - The national museum - Sanjusangendo - The Gion district
In the area
---
Frequently asked questions