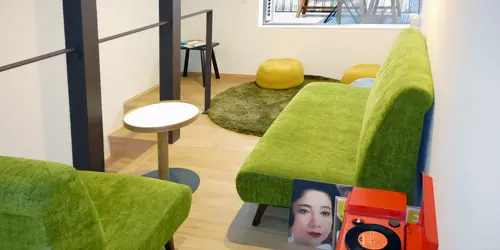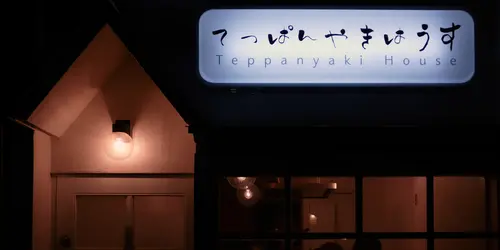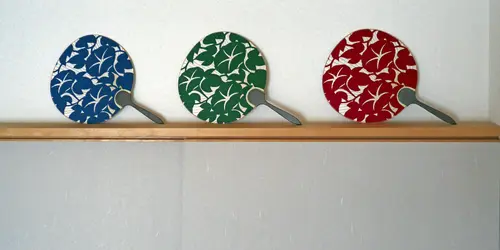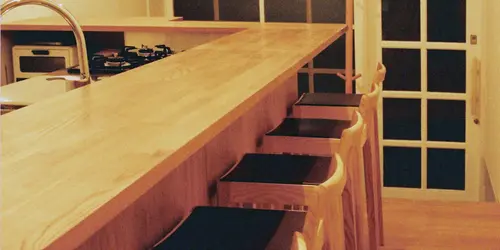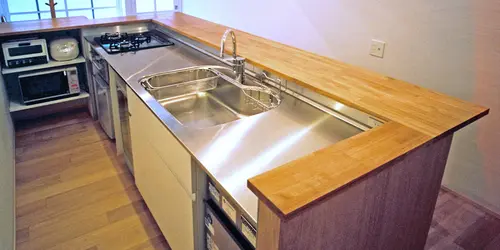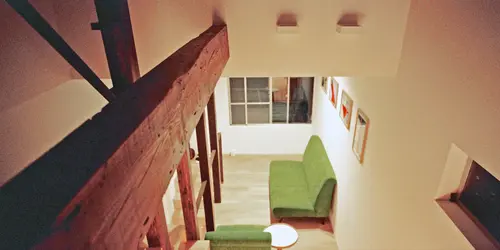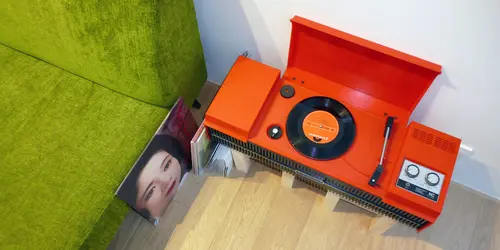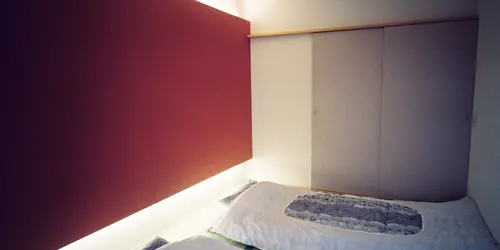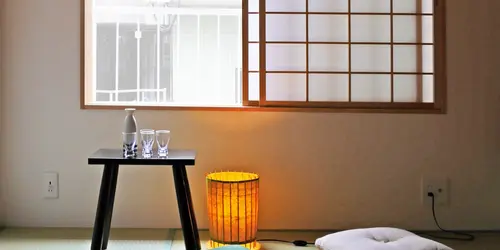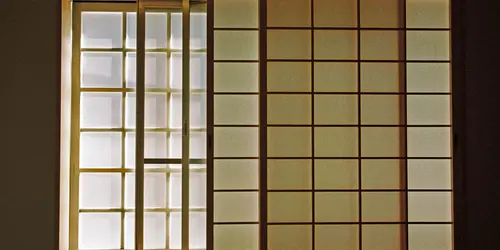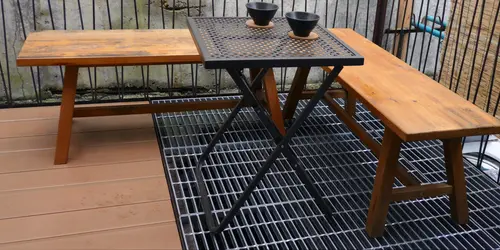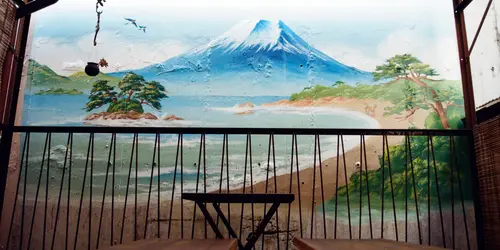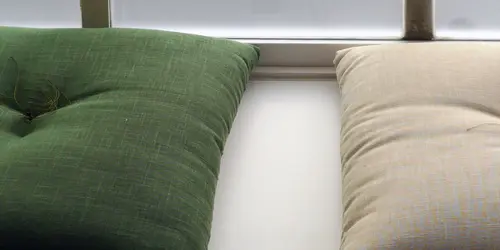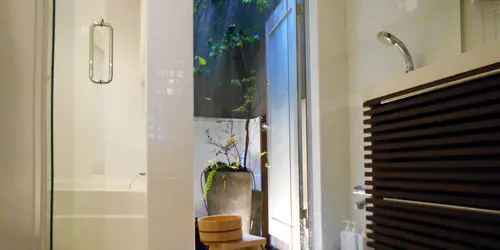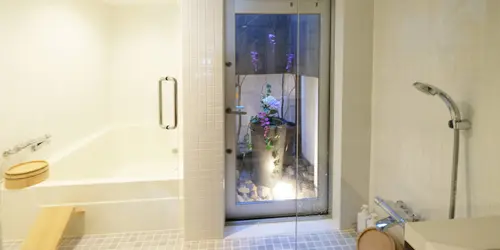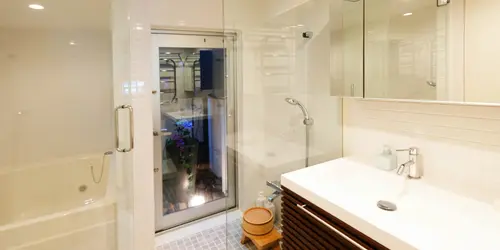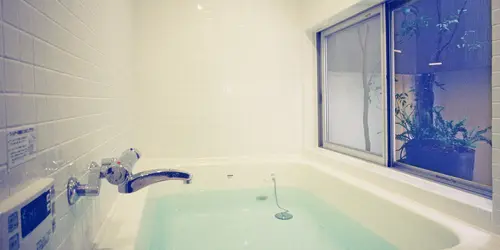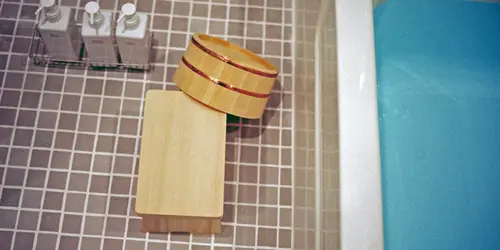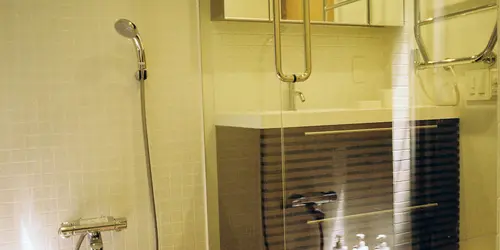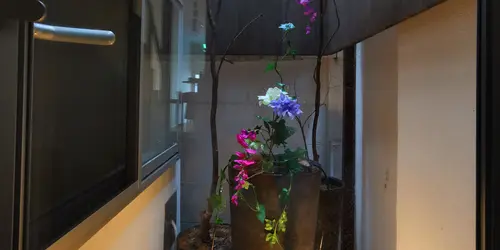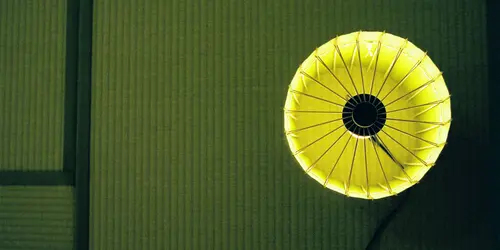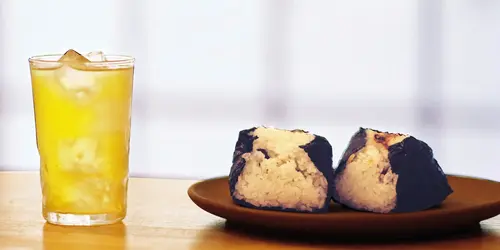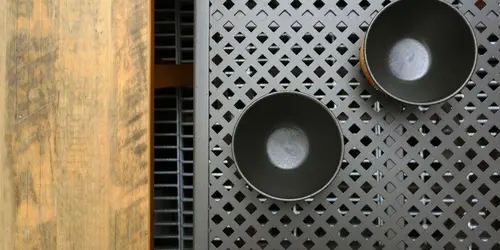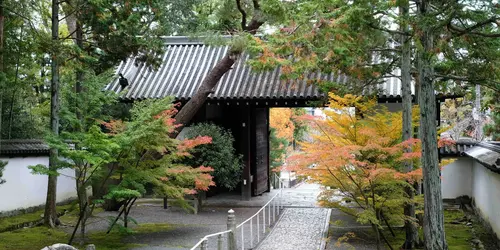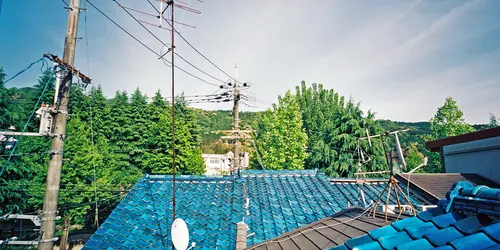 Teppanyaki
The illuminated signs of Teppanyaki House are a reminder that not too long ago this was a restaurant, visited by many grilled food lovers of the neighborhood surrounding the Philosopher's Path. The house's Japanese modern atmosphere and style is very unique, from the bar type kitchen to the open bath area to the wonderful terrace; a great stay in Kyoto.
Description of the house
On the ground floor of Teppanyaki house there is a bar style kitchen with room for 5 people to eat and enjoy, an open bathroom next to a small yet tasteful Japanese garden and a restroom as well. Upstairs guests will find a fashionable living room with a record player and a terrace as well. The mural on the terrace is by the famous sento (Japanese bath) painter Mizuki Tanaka. Next to the living room there is a relaxing tatami bedroom for 3 people to sleep comfortably. In the loft area, there is a double bed as well for groups with more than 3 people.
The best of modern Japanese creation has been sought in the choice of furniture, you'll find here a flanel Hiyoshiya sofa by Takehei and Makoto Koizumi for R & R. Behind the preserved white facade, the architects of Den Nen have combined the best of tradition, modernity, and history.
The neighborhood
The area, rich in shops, supermarkets, cafes and restaurants, offers everything needed for a cozy and friendly stay. There is a bus stop very close to the house with many buses going to Kyoto station and other parts of the city. Being close to the Philosopher's path makes Teppanyaki house a wonderful mix of new Japan at the house and truly a traditional atmosphere of Kyoto outside.
Plans and equipments
Equipment
Bathtub
Kitchen
Fridge
Washing Machine
Coffee Machine
Toaster
Table Ware
Kitchen Ustensil
Microwave
Electric Kettle
Garden
Balcony
---
Floor plan
---
Location of the house
Philosopher's path
The Philosopher's Path is the most famous walks in Kyoto and connects the silver pavilion with the splendid Nanzenji temple district. At the foot of Mount Daïmonji, the path follows a canal bordered by cherry trees, small cafés, craft shops and restaurants. Lots of visitors come when the cherry and maple trees are in bloom and enjoy this wonderful spectacle.
Pluses: Historic, green and calm district. Enjoy the area early in the morning when there aren't too many tourists about yet.
Minuses: The district is located 25 minutes away from the city centre by bus.
Shops : Fresco supermarket, ppen 24hours a day - Family Mart convenience store - Yamada Bakery - Post office -Bicycle rental
Transports: Bus service to easily connect to the city's other tourist areas, take the 100 bus to reach Gion or Kiyomizudera temple. 
Restaurants: Oden, udon and vegetables. - Eisuke, Kyoto cuisine - Goya, Okinawa cuisine. - Mohan Café
Attractions: Ginkakuji, the Silver Pavilion - the Philosopher's path - Honen-in temple - Mount Daimon-ji
In the area
License number
: M260026295
---
Frequently asked questions