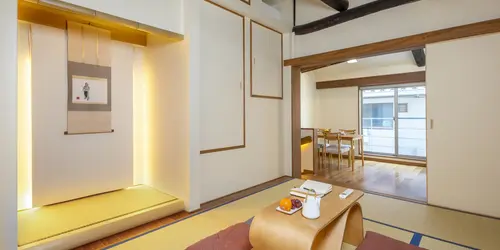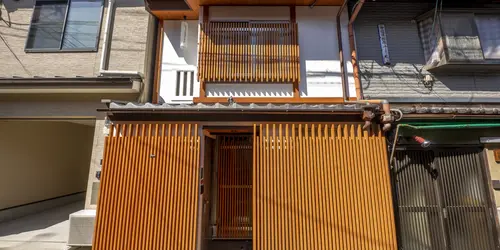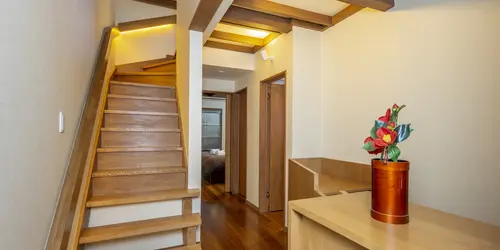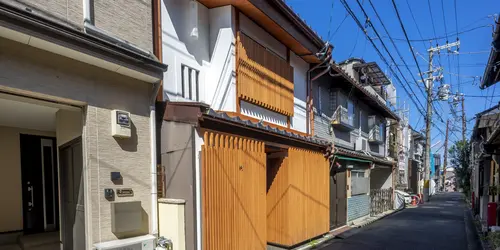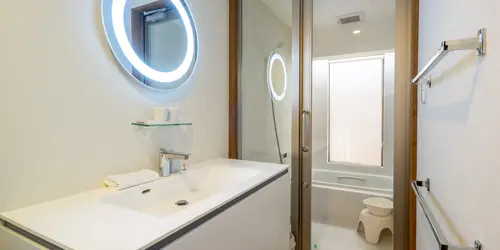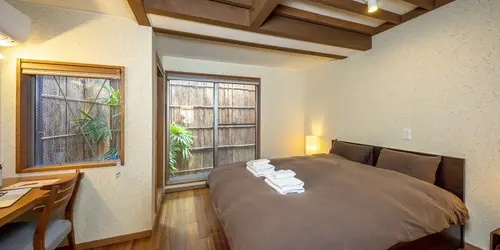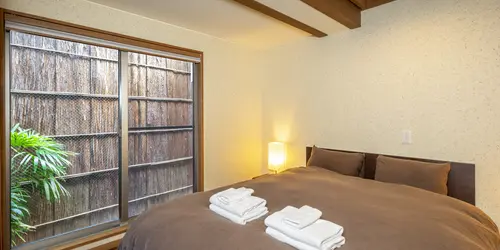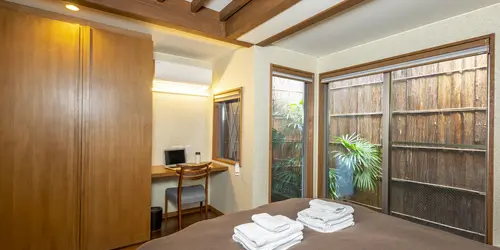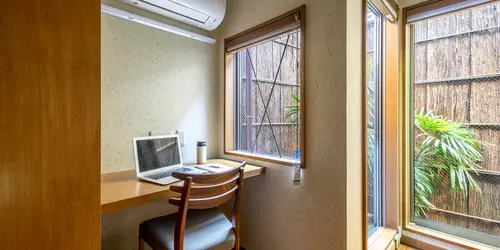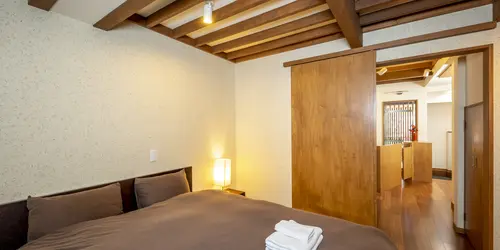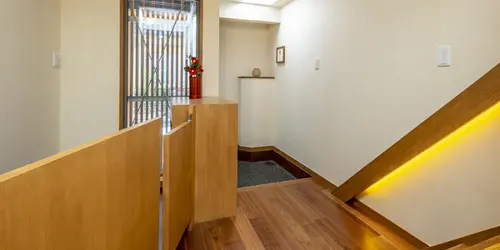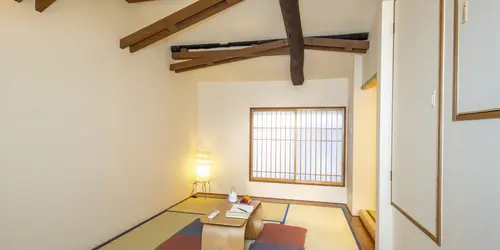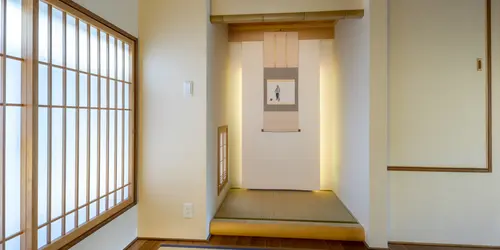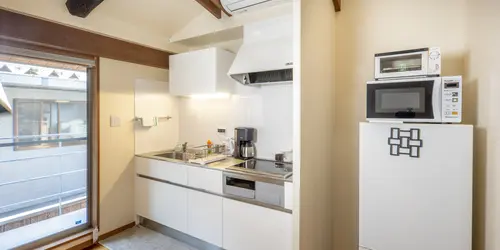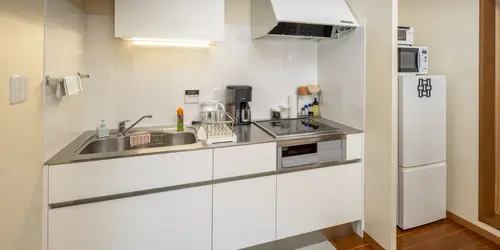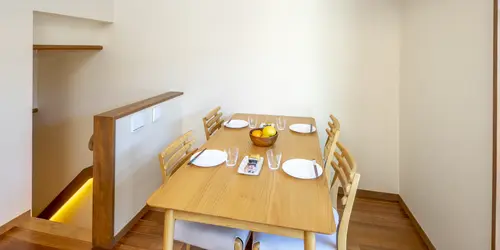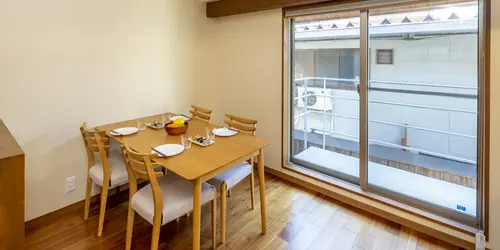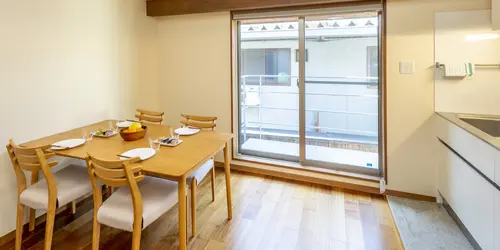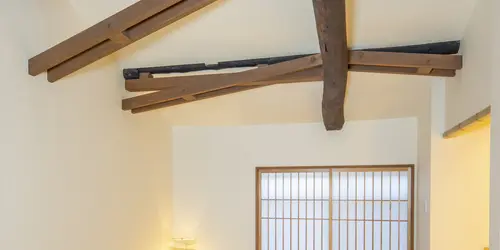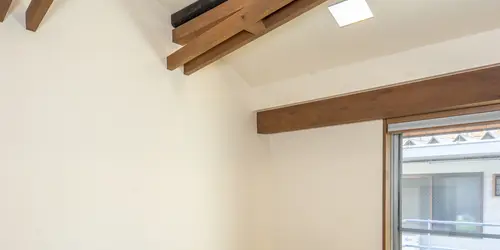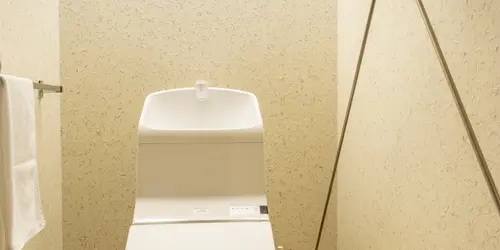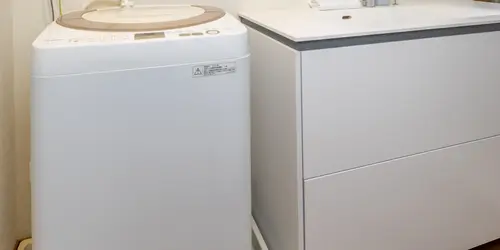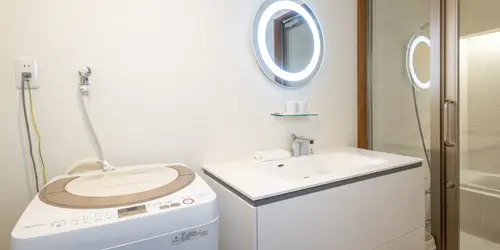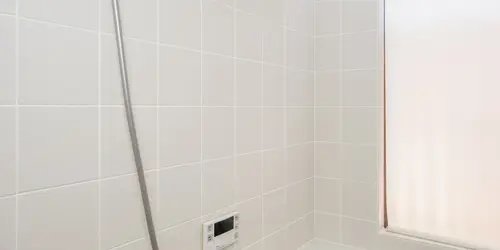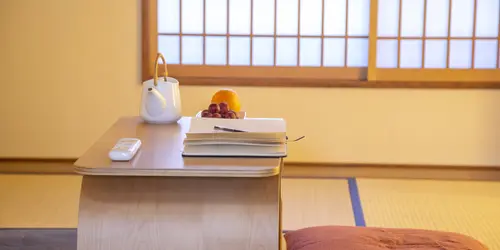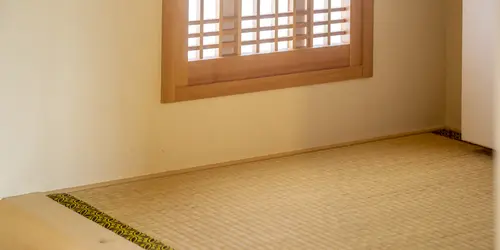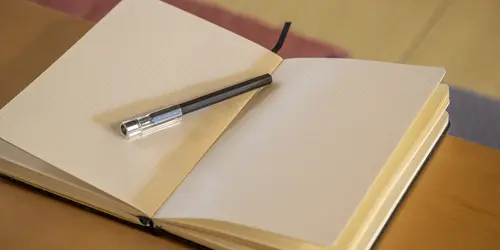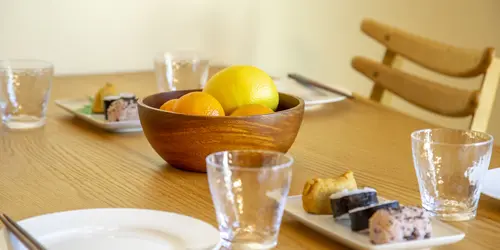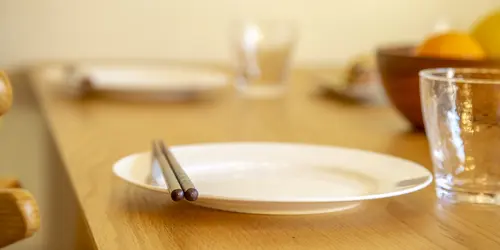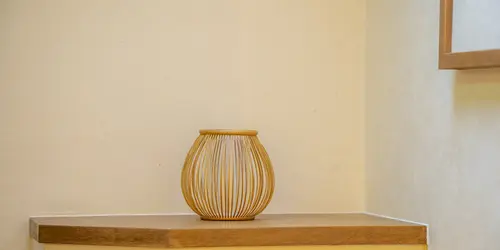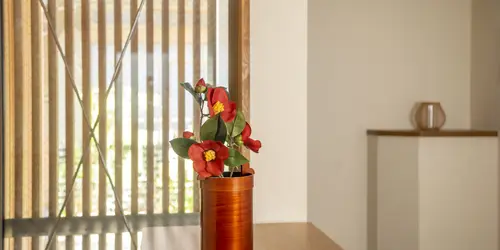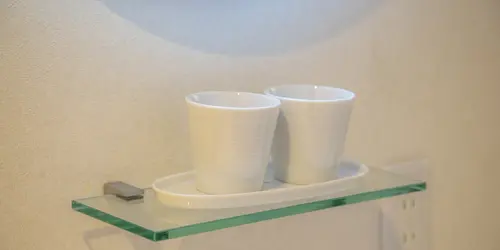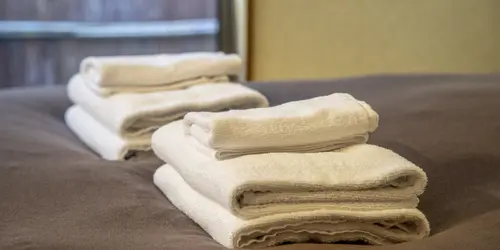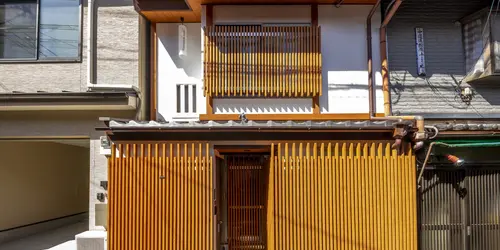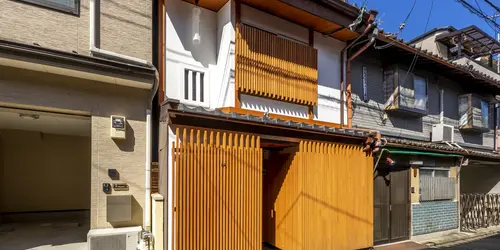 Tsukinowacho
Located in the heart of a lively and charming neighborhood, and just a short walk from the Yasaka pagoda and the street of the same name, Tsukinowacho House underwent an important renovation in the first half of 2017 that transformed an old workshop into a new residence while seismically retrofitting the structure.
Description of the house
On the ground floor, there is a western bedroom with a double bed, bathroom and small garden. Upstairs, there is a kitchen / dining room with heated floors, balcony, and classic Japanese living room to truly feel at home in Kyoto.
The renovation was carried out in the "Wa Modern" style (wa = Japanese) characterized by rigor and austerity as well as the use of wood and indirect lighting, both natural and artificial. You will also find some classic elements of traditional Kyoto architecture. On the facade, the roof and eaves observe the rules of alignment with the street, the vertical wood lattices (koshi) let light enter but prevent those outside from seeing in, and one of the upstairs windows evokes the "insect-cage windows" (mushiko mado) - all typical elements of the traditional machiya-style house. Nor should we forget the small Shouki statue that benevolently offers you its protection.
On the inside as well, the wood beams of the framework have been restored to increase volume, small skylights reminiscent of the "windows on the sky" (tenmado) stud the dining room ceiling, and a miniature garden (tsubo niwa) composed of stones and dragon's beard (ryu no hige) extends an invitation to tranquility.
The neighborhood
The house is located in the southern part of Gion, a district famous for its maiko and geiko. Close to the Matsubara street which leads to the wonderful Kiyomizu-dera temple, one of Kyoto's major symbols, the area has lots of great restaurants and is great for enjoying Kyoto.
The Kennin-ji temple devoted to zen buddhism is not too far. Walk through it and you'll discover the magnificent and bustling Hanamikoji street. It is bordered with traditional houses, luxurious restaurants and tea houses visited by rich clients looking for some fun.
Plans and equipments
Equipment
Bathtub
Shower
Kitchen
Fridge
Washing Machine
Coffee Machine
Toaster
Table Ware
Kitchen Ustensil
Microwave
Electric Kettle
Garden
---
Floor plan
---
Location of the house
Gion
This several centuries old district is famous for its entertainment reserved for Kyoto's intellectual and artistic elite. Find yourself immersed in a maze of small streets lined with beautiful Japanese architecture, in a sophisticated timeless universe where small shopkeepers, craftsmen, monks, rich clients and of course maïko and geïko all rub shoulders with each other.
Pluses: A unique ambience. Pass maïkos and geïkos everyday at any time of the day. Near the city centre and the main historical sites of East Kyoto.
Minuses: This very lively district is not conducive to lazy holidays.
Shops : Fresco supermarket open 24 hours a day - Many Konbini - Post offices - Bicycle rental
Transports: Bus service to easily connect to the city's other tourist areas. - Keihan train line to Osaka and Hankyu train line to Arashiyama and Katsura
Restaurants: Jojo, cuisine is centred on vegetables from Kyoto - Izuju, sushi - Kezako, Modern good quality French cuisine - Oku Café
Attractions: The Gion Corner, a theatre in the heart of Gion, gives a taste of the variety of arts (dances, floral arrangement, tea ceremony…). - Kennin-ji temple - Yasaka sanctuary - Kiyomizu-dera temple
In the area
License number
: 第362号
---
Frequently asked questions