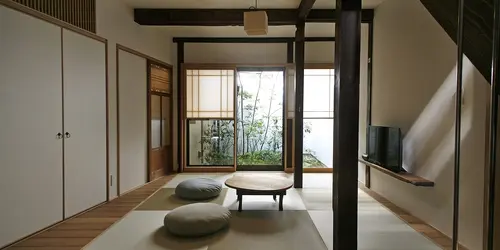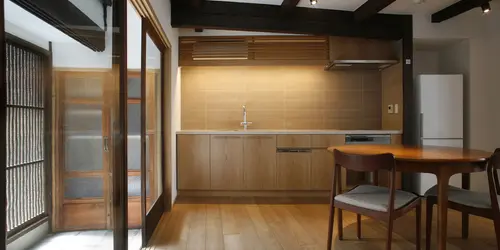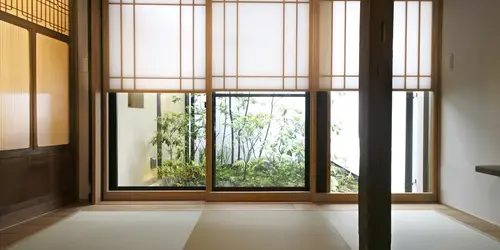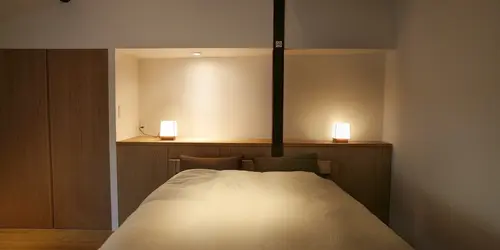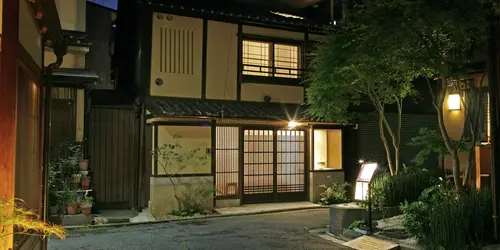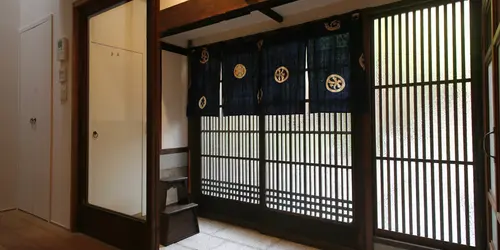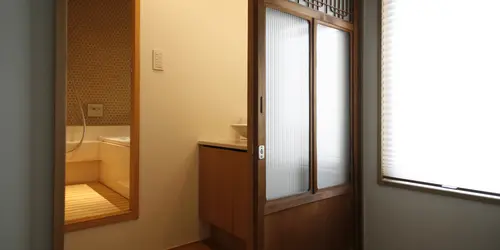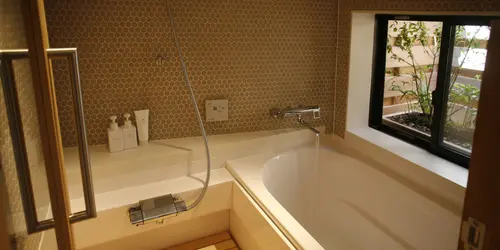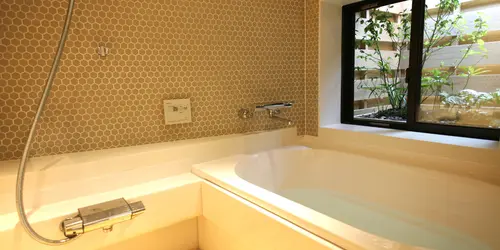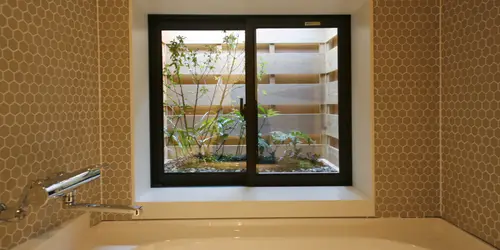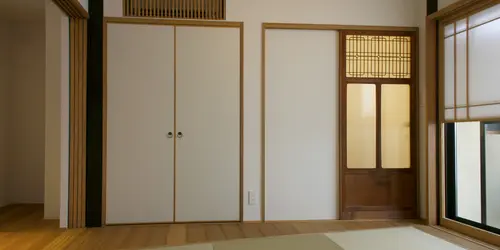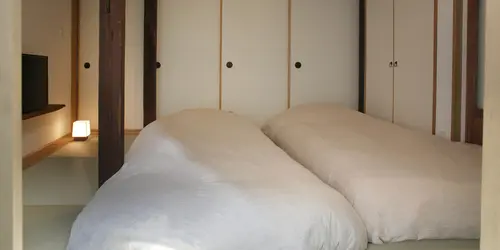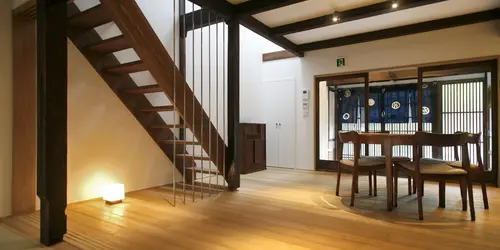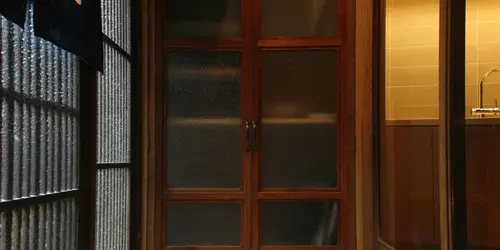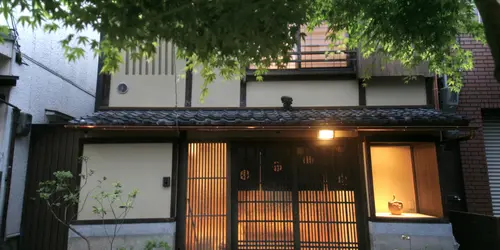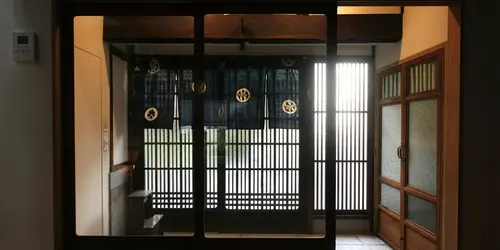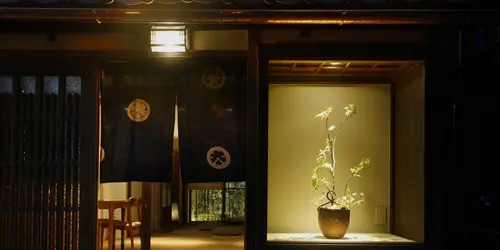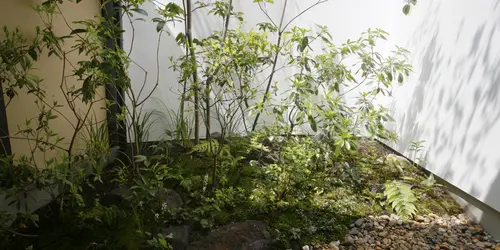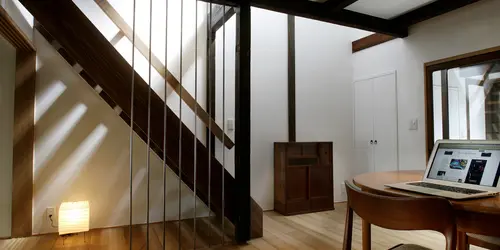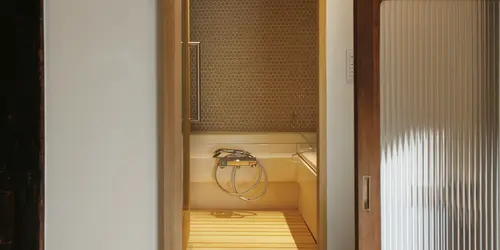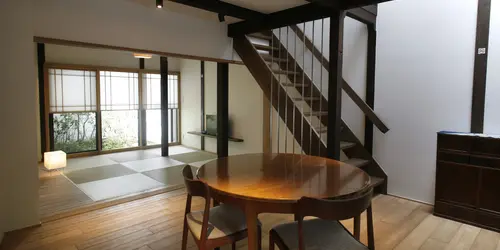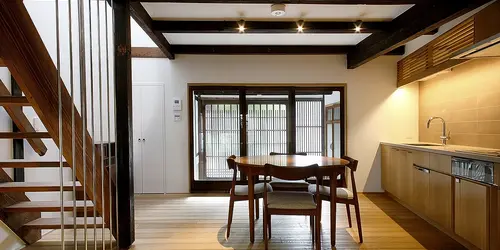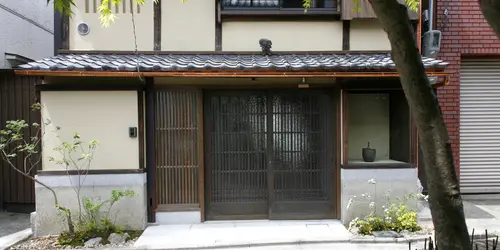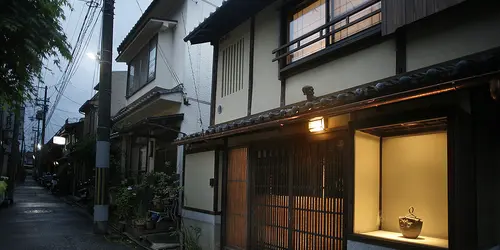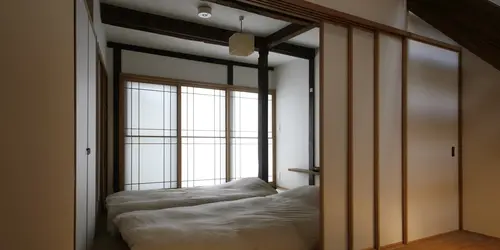 Yasaka
This traditional Japanese townhouse (machiya) is conveniently located right in the middle of the Gion-Yasaka-Kiyomizu district, arguably Kyoto's most popular area, yet away from the hustle and bustle in a little narrow quiet side street offers a haven of tranquility to our guests.
Description of the house
Following the complete and extensive renovation, the ground floor now offers a luminous, spacious open space that leads from the entrance, through the modern kitchen and dining area to the traditional Japanese tatami room, allowing guests to enjoy the view from all side on our small private Japanese garden (tsubo-niwa) complementing the layout.
The custom made kitchen is fitted with modern kitchen fixtures and features a 200cm wide counter area where you can comfortably prepare your meals. In it you will find a refrigerator/freezer, 3 induction heating plates, microwave/oven, coffee/espresso maker, toaster, kettle, rice cooker, kitchen utensils, cooking ware, and enough dining ware, plates, and cups for 4 guests.
On the 2nd floor our western style bedroom is bathed in warm sunlight from our window facing the east side and the skylight coming from the adjacent staircase. For a good night rest, traditional shutters (amado) will insure obscurity in the room.
When renovating this machiya, going slightly against the principles of traditional Japanese architecture, an emphasis was put on opening up the space and bringing in as much light as possible. With this in mind, skylights were added, walls were removed, beams exposed, ceilings opened, beige and light brown hues, and elegant natural materials were chosen to refurbish the interior.
On the safety side, the house foundation and its structure were reinforced to better withstand the risks of earthquakes and modern fire prevention and safety equipment were installed.
The neighborhood
The house is located in Gion, a district famous for its maiko and geiko. Close to the Unesco world heritage site Kiyomizu-dera temple as well, one of Kyoto's major symbols, the area has lots of great restaurants and is great for enjoying Kyoto.
Plans and equipments
Equipment
Bathtub
Shower
Kitchen
Fridge
Washing Machine
Coffee Machine
Toaster
Table Ware
Kitchen Ustensil
Microwave
Oven
Electric Kettle
TV
Garden
---
Floor plan
---
Location of the house
Gion
This several centuries old district is famous for its entertainment reserved for Kyoto's intellectual and artistic elite. Find yourself immersed in a maze of small streets lined with beautiful Japanese architecture, in a sophisticated timeless universe where small shopkeepers, craftsmen, monks, rich clients and of course maïko and geïko all rub shoulders with each other.
Pluses: A unique ambience. Pass maïkos and geïkos everyday at any time of the day. Near the city centre and the main historical sites of East Kyoto.
Minuses: This very lively district is not conducive to lazy holidays.
Shops : Fresco supermarket open 24 hours a day - Many Konbini - Post offices - Bicycle rental
Transports: Bus service to easily connect to the city's other tourist areas. - Keihan train line to Osaka and Hankyu train line to Arashiyama and Katsura
Restaurants: Jojo, cuisine is centred on vegetables from Kyoto - Izuju, sushi - Kezako, Modern good quality French cuisine - Oku Café
Attractions: The Gion Corner, a theatre in the heart of Gion, gives a taste of the variety of arts (dances, floral arrangement, tea ceremony…). - Kennin-ji temple - Yasaka sanctuary - Kiyomizu-dera temple
In the area
---
Frequently asked questions