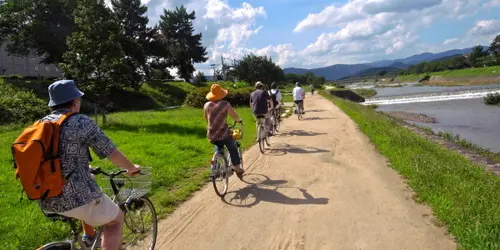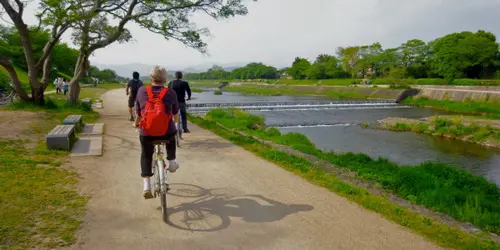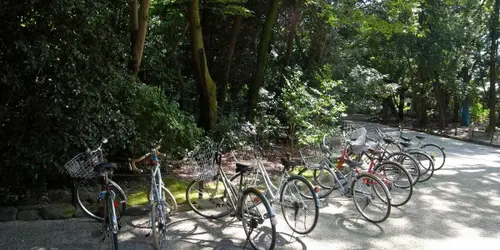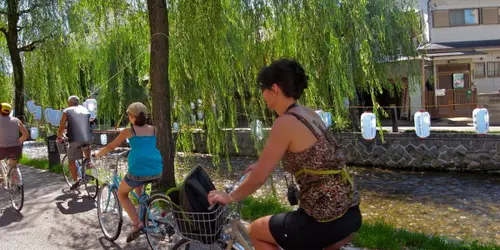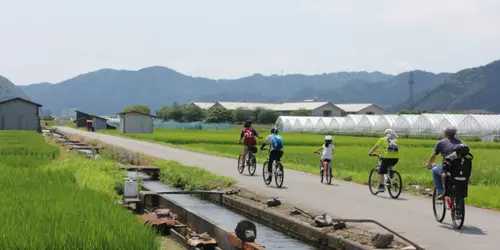 Cycling by the water in Kyoto
An intimate route, never tiring, away from the crowds and off the beaten track, to explore Kyoto's best neighbourhoods along the Kamogawa River.
Why a guided bike tour?
With a bike, you can ride through a considerable part of the northern part of the city, along its waterways and narrow streets, in just a few hours and in a fun way. Kyoto being a relatively flat city, there's no aching the next day!
Discover the secret Kyoto
Experience small, unexpected details, whole streets lined with "machiya", the traditional houses of Kyoto, the imposing door of a temple, the small neighbourhood shrine nestled on a few square metres of pavement and old signs with incomprehensible characters that your guide will be happy to translate for you.
A visit in the open air, at your own pace
 Depending on the group's mood, a break is provided for Zen meditation or just for some food.
 The meeting point at the bike rental company, the most central and easily accessible from your place of stay, will be confirmed by email at least one week before.
 Not recommended for 6 - 12 year olds.
Guided group tour
 The Cycling by the Water tour is a group guided visit, with a reasonable price, which will allow you to fully enjoy Kyoto and its unique atmosphere.
Not included in the offer
- Bike rental
Bike rental is not included in the price of the tour, please allow about 1,500 yen.
Included in the offer
- The temple admission fee - The break for food
Cancellation policy
Up to 7 days before: 0%
Between 7 days before and 5:00 p.m.the previous day: 50%
After 5:00 p.m.the previous day and same day: 100%
Location
---
Cycling by the water in Kyoto
$61 per person