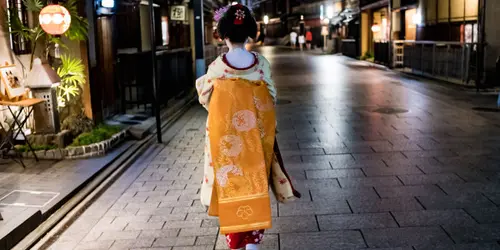 Gion Night Walk - private
Wondering how to spend the evening in Kyoto? Explore the alleyways of Gion, Kyoto's geisha district, at nightfall, with a guide to reveal all of its secrets.
The best way to spend the evening in Kyoto is to visit Gion.
Some of Kyoto's most beautiful places only truly reveal their beauty at nightfall. Thus, our guides will show you Gion by night, telling you its story in a small group in the calm of the lighted alleyways. 
Like many other elegant places around the world, Kyoto is transformed at night by the combination of darkness and minimalist and sometimes old-fashioned lighting. The dark silhouette of the surrounding mountains, populated by wild animals, halo of mystery the old quarter of Gion below.
The tourist crowds of the day have deserted the streets, and the faint halo of old lampposts enhances the quaint charm of the small alleys.
Discover the Geisha district as well as cultural treasures
Fans of Japanese cinema should not be more surprised than this to notice the silhouettes of two warriors in starched kimonos and high buns suddenly appear from a room on a street, laughing and staggering with exhilaration from sake. If these characters disappeared at the turn of the 20th century, there are others whose appearance has not changed since the samurai era and which you are likely to see appear.
These are of course the Geiko or Geishas and their apprentices, the Maïko, whose colourful kimonos still sneak up and down the alleys of the "flower towns" as they were once called, and whose business has survived the times and the turmoil of History.
Kyoto's best night views
Gion at night is also the silence found disturbed only by the passage of rare taxis, the majesty of the illuminated pagodas standing out against the dark ridges or overhanging the luminous grid of the metropolis, the "kura *" whose brilliant whiteness suddenly contrasts in the dark alignment of traditional Kyoto wooden buildings and much more. Photography lovers to your devices! Some of your most beautiful shots await you this evening. *Japanese warehouse in traditional white.
Guided private tour
Meet at 7pm in front of the famous Yasaka Shrine, to start the visit with your guide. The Gion tour lasts about 2 hours, which allows you to fully enjoy Gion and its unique night-time atmosphere.
Important information 
Cancellation policy: 
Up to 7 days before: 0%
Between 7 days before and 5:00 pm the day before: 50%
After 5:00 pm the day before and on the same day: 100%
Location
---
Gion Night Walk - private