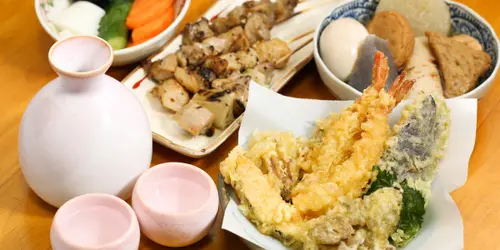 Izakaya cooking workshop
Japanese cuisine cannot begin to be described without talking about izakayas, the bistros. Discover the secrets of their delicious cuisine with this workshop for foodies.
The izakaya, a restaurant but also a cultural phenomenon
Izakayas are Japan's bistros. They are an integral part of Japan's culinary culture, and travellers cannot say they have seen Japan if they haven't been to one.
Open for dinner, the principle of the izakaya is to share small portions between everyone (a bit like tapas), while serving drinks (usually beer or a Japanese spirit like nihonshu or shochu). It's a friendly place, where tongues wag and laughter flows.
The cuisine at the izakayas is exceptional because, while it takes the form of a snack, it is always both delicious and balanced, using a wide range of ingredients.
Learn to cook like the locals
In this izakaya cooking workshop, you will learn the secrets of cooking exactly like the locals do in Japanese homes and neighbourhood restaurants.
Your instructors will teach you the basic secrets of Japanese cooking, such as dashi and seasoning, so that you can learn how to make them at home.
Just like in the izakayas, the course will be divided into small sections. You will first cook 2 or 3 dishes, taste them, and then cook 2 or 3 dishes again.
On the menu:
Vinegar marinated bellows cucumber
Grilled chicken and burdock meatball
Pumpkin soup with white miso and soy milk
Deep-fried chicken fillet with salted plum and shiso leaf
Japanese style dashi soup based beef pasta
Hojicha tea flavored sorbet
At the end of the workshop, you can try what you have cooked. If you are vegetarian, please contact us, as meat can be replaced by other ingredients. Please also let us know if you can have the dashi broth.
Location
---
Izakaya cooking workshop
$77 per person