How to rent a yukata in Japan?
浴衣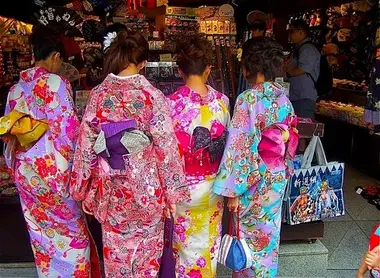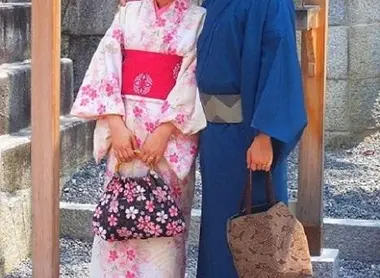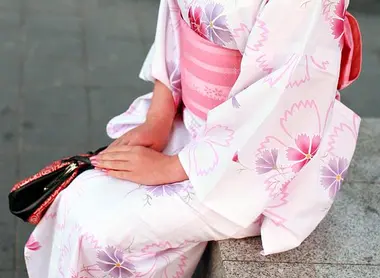 How to dress in the Japanese way?
The yukata (a kimono made of light fabric) is the ideal garment for the heat and humidity of Japanese summers. For several years, it has become a trend for visitors to dress up in this traditional outfit. Many shops offer rental for a few hours or more. If that tempts you, here's our guide to everything you need to know about this new trend! 
What is a yukata?
This "simplified" version of the kimono is made up of two parts: the yukata (a kind of light cotton robe) that women tie with an obi, a belt often decorated with patterns. Men's yukata comes with a simple cotton belt. The yukata is a derivative of the yukatabira, which the Japanese began to wear in onsen from the Heian period (794-1185), to dry out and preserve their modesty. With the proliferation of baths (for pilgrims in fatigue by days of walking, samurai after combat, etc.) and their popularization, clothing has changed from linen to cotton. It is the birth of the yukata that we know today.
The yukata: the trendy summer garment
Yukata has slowly gained popularity as its use changed over time, expanding outside of onsens and ryokan properties into the streets as traditional leisurewear.
Today, it is worn everywhere: it is part of the appeal for the customers of Ryokan and spa town to head out to dinner or stroll the streets in their establishment's yukata. In summer, young men and women alike, as well as foreign visitors, are more frequently seen in yukata in theme parks, towns or tourist districts. Not always properly worn, amusing curious locals, or annoying the older generations...
Rental shops accessible to tourists
Kimono is making a comeback...The rental shops are multiplying and gaining popularity as the demand is growing in the capital, big cities, smaller cities, and towns such as Kamakura, Kanazawa, Kawagoe, etc.
It is possible to rent a kimono all year round which is more suitable for cold weather.
In Kyoto, discounts are offered by establishments such as the Toei Uzumasa Eigamura amusement park and MX Taxi for those dressed in kimonos!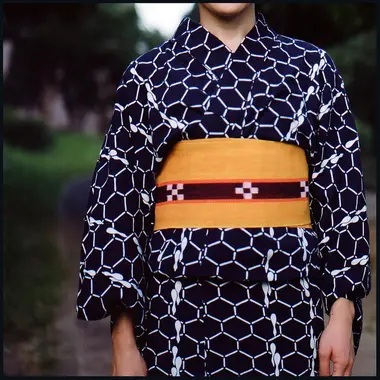 Choosing your favorite Yukata?
First and foremost, choose the size. There are several sizes for children, but for adults, the Japanese size may be a little small for the average foreign visitor: it does not exceed 170 cm and 90 cm bust for women and 185 cm for men. Sizes are generally standard and indicated by unkanji on the label inside the collar (小: small; 中: medium; 大: large). Avoid wearing a yukata short as it should cover your calves and extend just above the Achilles heel for proper fit. 
Read the rental agreement carefully: for women, for example, check if the hairstyling is included and if the accessories (flower, hairpin, etc.) are included. Usually, the rental includes the geta (traditional shoes with wooden soles) and a small bag for the ladies.
The return time is also to be taken into account. To enjoy Kyoto at night, some are overnight rentals. In some stores, appointments are optional as they accept walk-in customers, but we strongly recommend that you book at least three days in advance, especially during holidays and areas popular with tourists.
It will cost you around 3000 to 5000 yen ($26/22€ - $43/38€) to rent a yukata with fitting, a little more for a kimono. The price depends on the rental time: by the hour, half-day, full-day, or overnight. Many establishments offer discounts for couples and advanced reservations and offer additional services such as professional photo sessions and traditional rickshaw rides to enhance the experience to another level!
Many offer websites in English and other languages such as Spanish and even French as the popularity expands beyond international borders! 
The dress-up session in a rental shop
The staff are often multilingual and will usually dress you in less than 30 minutes. But beware, in well-known popular outlets, the wait can be longer as the demand increases.
After slipping out of your shoes, choose the yukata and the obi (the latter sometimes comes matched with the yukata). The dresser will advise you according to your height, hair color, etc.). Then once in the dressing room, you will start with suitable underwear (for ladies to wear over your lingerie) for a yukata / kimono. Once the dressing is finished, hairdressing is to be followed for the ladies, depending on the chosen plan.
Finally, put on your geta (or sandals for better comfort!), and off you go!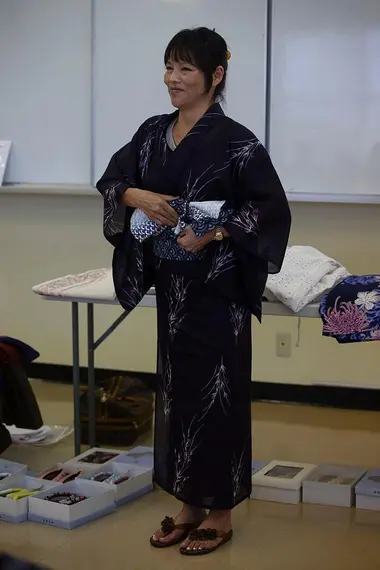 Some good places to rent a Yukata
TOKYO
They offer quality yukata and kimono and the price is all-inclusive so no big surprises! About 5 min from Asakusa station but a bit far from the attractions. For example, you will have to retrace your steps back to the station and walk a little more to visit the Sensô-ji temple.
Located in the middle of the Harajuku district (on Takeshita Street), it is the ideal place to go for a walk to the Meiji-jingu shrine!
In addition to the classic yukata and kimono, they offer themed kimono outfits: gothic, lolita, etc. in ultimate Harajuku spirit!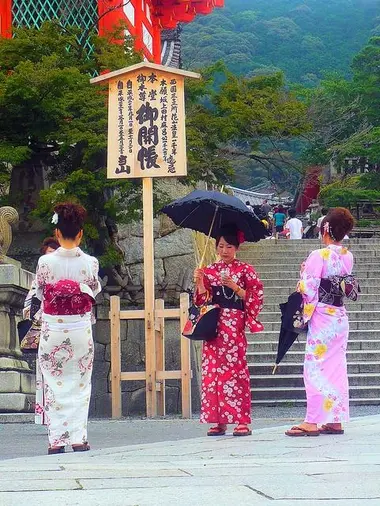 KYOTO
The Yume Kyoto boutique (at the bottom of the Yasaka jima shrine) offers outfits for men up to 190cm. Or why not go to Kyogokoro for and stroll in yukata at Nijo castle.
KANAZAWA
VASARA Kimono Rental Kanazawa Kenrokuen Store is a large national chain found in major cities. Their Kanazawa store near Kenrokuen Garden is ideally located.
KAMAKURA
Kamakura Kimono Komachi is just a 5 min walk from JR Kamakura Station and the famous Hachiman-gu Shrine. This 200m2 boutique has a choice of over 1000 outfits and a website in English/French!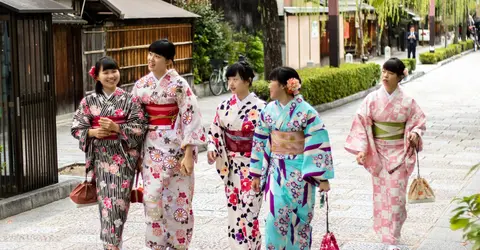 ---
Address, timetable & access
Address

Price

Count between 2,000 yen and 7,800 yen per ($17/15€ - $68/60€ day/person). Discount for couples in some establishments.

Access

Tlj (variable closing depending on the store)
All the themes of the city