Kiyosu Castle
Kiyosu Castle: read a guide to Kiyosu Castle in Aichi Prefecture, just outside Nagoya. Kiyosu Castle is a modern reconstructed castle dating from 1989.
Kiyosu Castle 清州城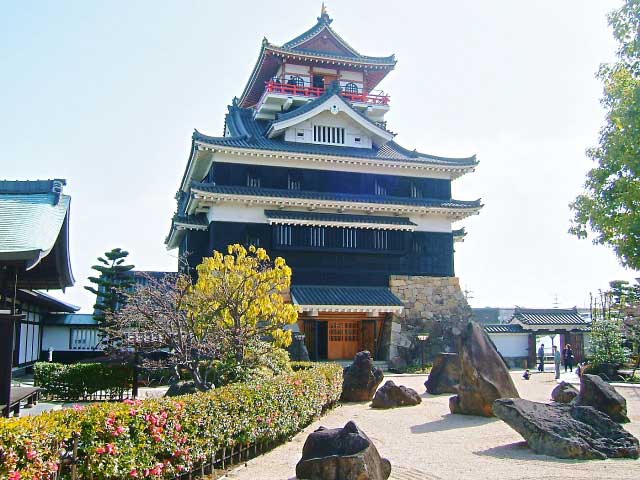 Kiyosu Castle, Aichi Prefecture
Kiyosu Castle, just outside of Nagoya to the north, was built in 1989. The original Kiyosu Castle, which was situated on the other side of the river, dated from the 14th-15th century. However, it was demolished on the orders of the Tokugawa shogunate in 1610 and parts of the castle were moved to build nearby Nagoya Castle.
As the capital of the Owari domain was moved from Kiyosu to Nagoya in this period, the former castle town of 60,000 people lost its importance and gradually faded into obscurity.
Kiyosu Castle History
The first fortress in Kiyosu was built during the Muromachi Period sometime between 1394 and 1427 by Shiba Yoshishige.
Local warlord Oda Nobunaga took possession of Kiyosu Castle in 1555 and many of the exhibits in the fortress are related to this famous Japanese general, who made Kiyosu Castle a stepping-stone of his military operations before moving Komaki Castle and then to the larger Gifu Castle to the north.
After Nobunaga's death at Honnoji Temple in Kyoto, his son Nobukatsu took control of Kiyosu Castle and strengthened its defenses during major renovations in 1586.
In 1619 the old donjon of Kiyosu Castle was moved to Nagoya Castle to become the "Kiyosu Tower" of the Ofukemaru.
The original golden shachi or kinshachi of Kiyosu Castle, mythical orca-like creatures, believed to protect the castle from fire, are now kept in Sofukuji Temple in Gifu city. Clay replicas of the originals are on display, 1.2 meters in height and covered with three layers of gold.
The pleasant castle grounds of Kiyosu Castle contain a stone garden, pine trees and an ornamental carp pond as well as the impressive Performing Arts & Culture Hall, which was built to resemble a castle palace or goden and puts on performances of local arts and crafts.
The first floor of the four-story, three-level castle has a display of suits of samurai armor, made out of recycled beer cans, which visitors are encouraged to try on and be photographed.
Polished wooden stairs lead up to rooms with displays of locally-discovered Yayoi Period pottery, swords, suits of samurai armor, roof tiles and photographs of Japan's other major castles. The highlight of Kiyosu Castle was a plastic mannequin of Oda Nobunaga performing a traditional dance surrounded by his fearsome, loyal henchmen, but this has since been removed.
The recent renovation of the castle's interior has added audio-visual displays detailing the complicated history surrounding Kiyosu Castle as well as a collection of clothes worn by the actors and actresses portraying important historical figures of the age in historical dramas on TV.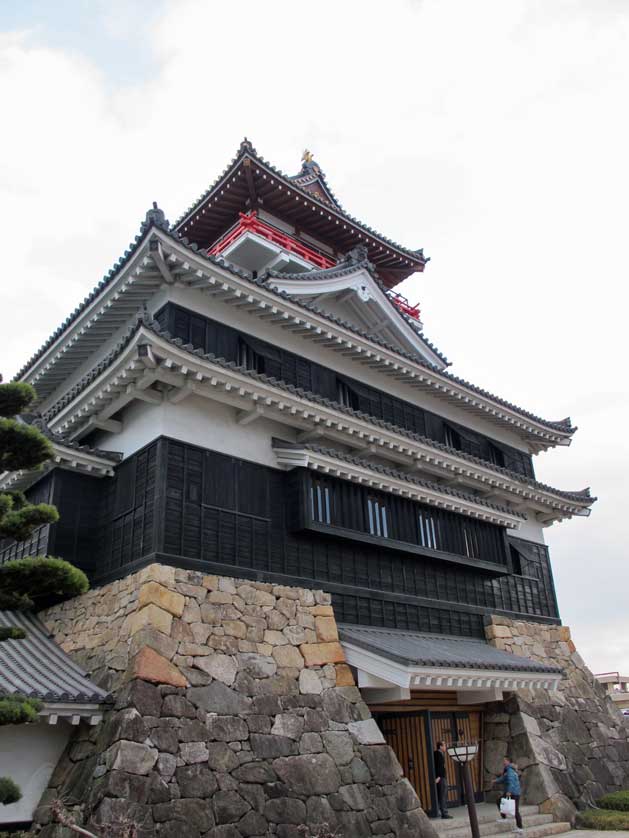 Kiyosu Castle just outside Nagoya city is a replica castle erected in 1989
Kiyosu Castle, Aichi Prefecture
Views from Kiyosu Castle keep
There are good views back to Midland Square and the skyscrapers around Nagoya Station from the top storey of Kiyosu Castle.
Across the ornamental Otebashi Bridge, which is illuminated along with Kiyosu Castle at night, is a souvenir and snack shop and a small park where the original castle once stood. Kiyosu itself still retains some old wooden houses and the walk from Shin Kiyosu Station on the Meitetsu Line along the river bank is a peaceful stroll. Nearby Kiyosu Koen Park contains a bronze statue of Oda Nobunaga.
The Kiyosu Furusato Festival with a parade in traditional samurai dress takes place on the Taiku no Hi (Sports Day) public holiday annually in early October.
Kiyosu Castle stone garden is located just outside the main entrance to the castle
Kiyosu Castle1-1 Asahishiroyashiki, KiyosuAichiTel: 052 409 7330Admission: 300 yenHours: 9 am-4.30 pm (last entry 4 pm); closed Mondays unless Monday is a national holiday.
Access To Kiyosu - how to get to Kiyosu Castle in Aichi
Take the JR Tokaido Line two stops north from Nagoya Station to JR Kiyosu Station (190 yen) or the Meitetsu Line eight stops to Shin Kiyosu Station on the Nagoya Main Line. Kiyosu Castle is a 15-20 minute walk from either station along the Gojyo River.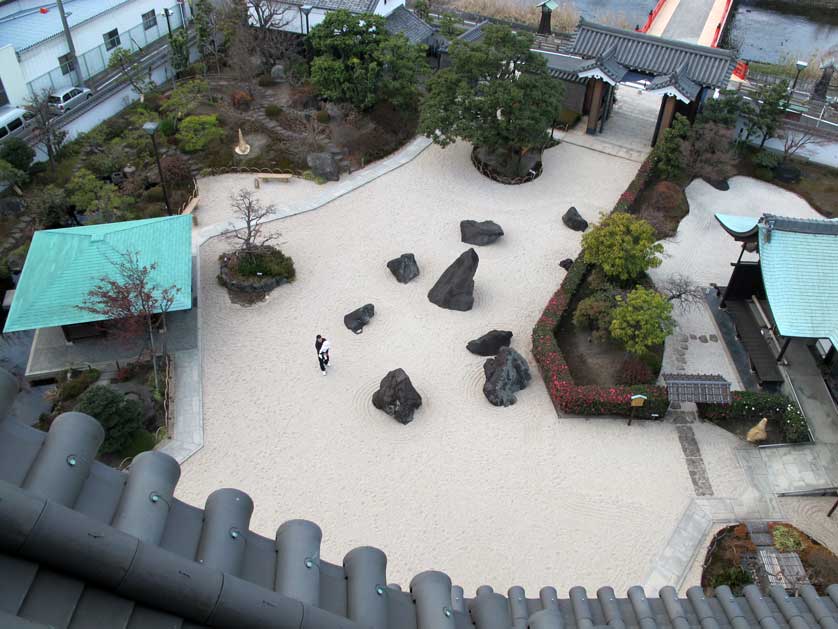 View of the garden of Kiyosu Castle from the observation deck of the castle keep
Kiyosu Castle Video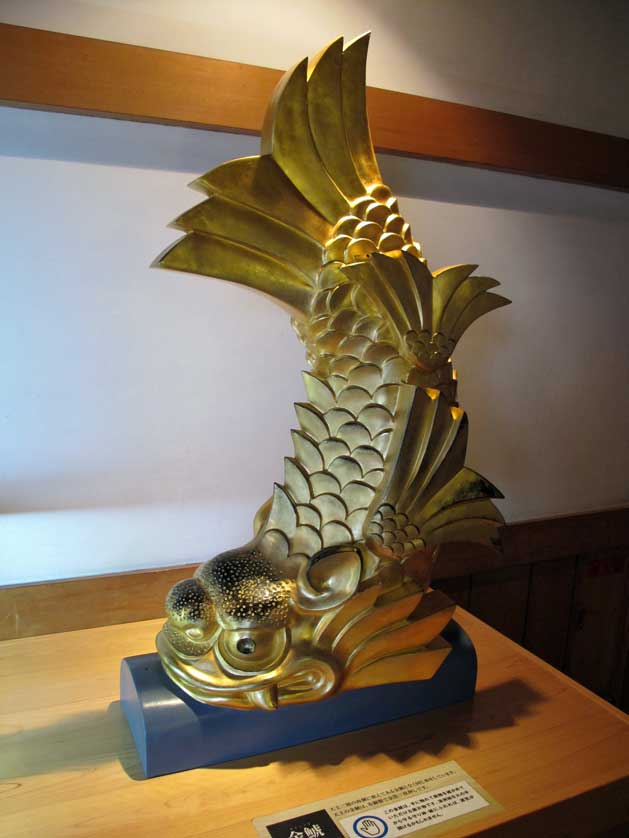 Shachihoko, Kiyosu Castle, Aichi Prefecture

Book Hotel Accommodation in Japan Near Kiyosu Castle
All the themes of the city