Sakae Guide Nagoya
Sakae, Nagoya 栄,名古屋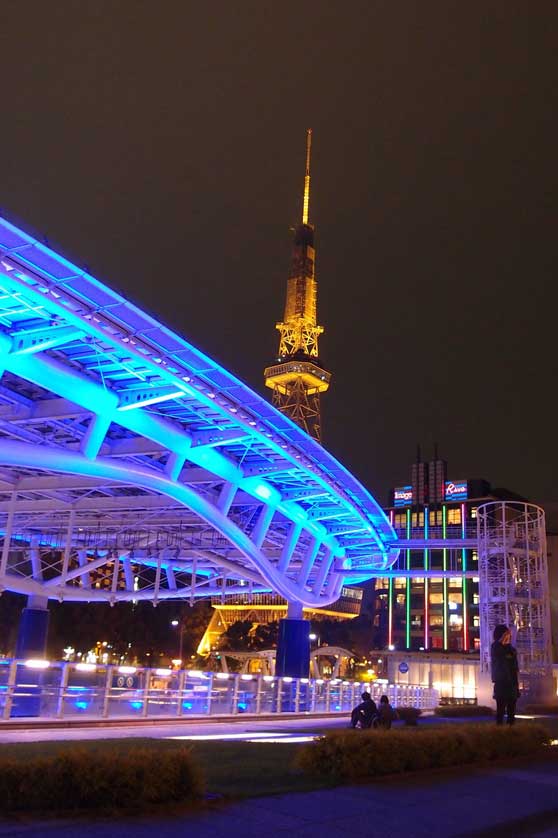 Oasis 21 and Nagoya TV Tower, illuminated at night in Sakae, Nagoya
Sakae, along with the Meieki area around Nagoya Station, is Nagoya city's main shopping and entertainment area, dealing predominately to the young and young at heart, as well as the town's legions of students and salarymen in search of after-hours fun.
Sakae's main landmarks are the space-ship-like Oasis 21 building and the soaring Nagoya TV Tower adjacent to each other around Sakae subway station. Nagoya TV Tower offers great views over Sakae from its two observation decks. Oasis 21 itself is home to several boutiques and high-end eateries as well as a bus station. Opposite Oasis 21 is the Aichi Arts Center which contains the Aichi Prefectural Museum of Art on its 10th floor.
Sakae spreads north south along Hisaya Odori from Hisaya Odori Station to Sakae Station to Yaba-cho all on the Meijo Line and the parallel north-south Otsu Dori to the west. Hisaya Odori is split by the linear Hisaya Odori Park, which becomes Central Park at its northern end. Hisaya Odori Park is one of the venues for the Nagoya Festival as well as many annual food, drink and music events throughout the year including a Nagoya Oktoberfest (held in July), a Thai festival and Belgian beer festival (over Golden Week).
Heading west is the nearby Fushimi district of financial institutions, museums and restaurants and then on to Nagoya Station.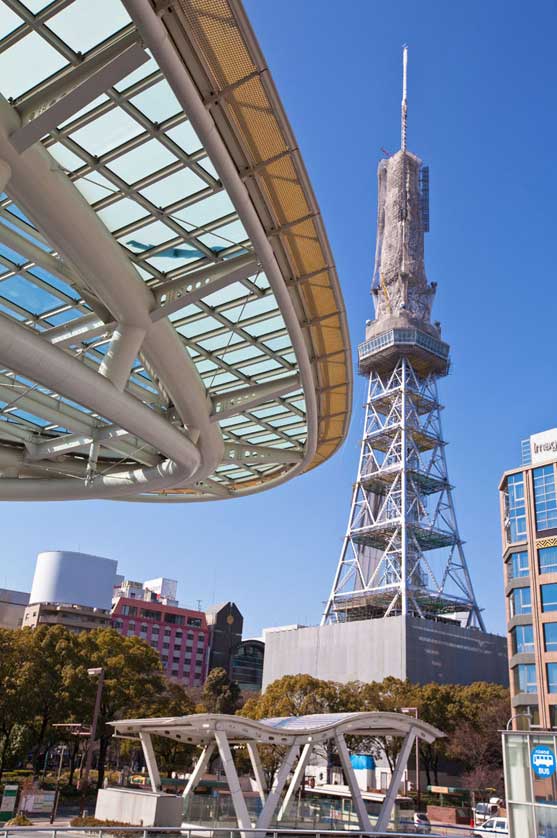 Nagoya TV Tower and the Oasis 21 Building in Sakae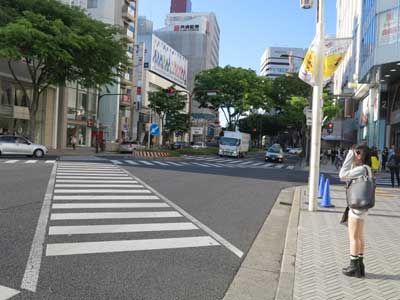 Crossing, Sakae, Nagoya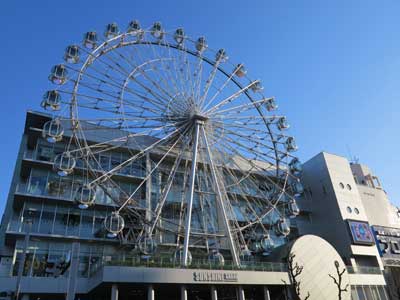 Sunshine Sakae Building and Ferris Wheel
Sakae Shopping
Sakae is retail therapy for the city's fashion conscious trendsetters by day and lively bars, clubs and restaurants by night with Nagoya's main red-light area located in nearby Shin-Sakae.
Located close to Yaba-cho Station on the west side are the large department stores: Parco, Matsuzakaya and Mitsukoshi. Sandwiched in between the latter is a branch of Lachic with a number of clothing outlets and adjacent is a branch of the Spanish fashion house, Zara. Just west of Matsuzakaya department store is Nadya Park (Nagoya Design Youth Amusement), containing the IDCN design center and museum, a branch of the Junkudo book store, a MontBell outdoor clothing and equipment outlet and a Loft department store on 7 floors.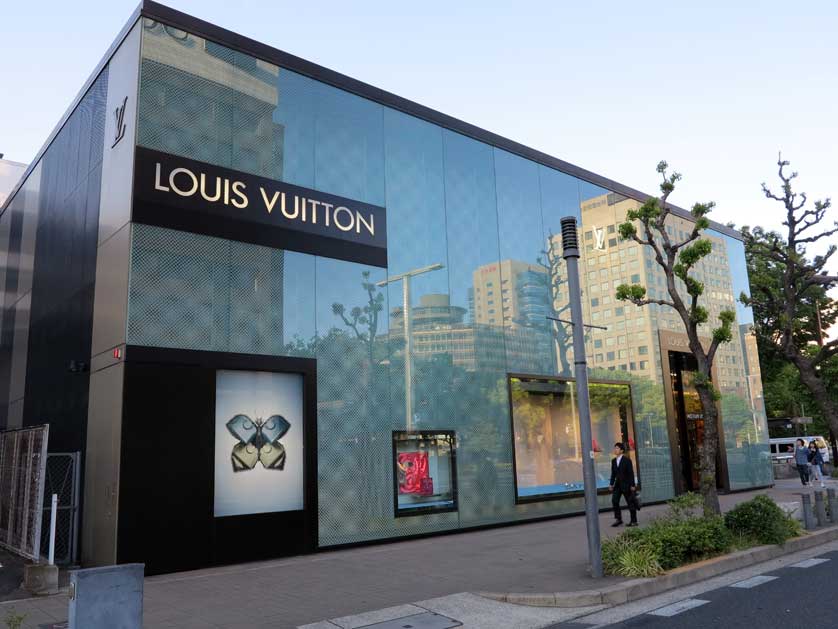 Louis Vuitton Store, Sakae, Nagoya
Yaba-cho also has branches of the Apple Store, Mikimoto Pearls, Agnes b. and Christian Dior (the latter two in the Mitsukoshi store). Just behind the Apple Store is a huge, recent Uniqlo store with 5 floors of clothing on offer.
Close to the Hisaya Odori and Hirokoji Dori crossroads is a Maruei department store incorporating a Maruzen book store, where English-language books can be bought. Before Maruei right on the corner of the intersection is Sakae Skyle Building with branches of Uniqlo, Daiso (the 100 yen shop) and Muji. Underground at Sakae Station there is also a maze of retail outlets and cafes.
Just north on Nishiki Dori is Sunshine Sakae, with a 42 meter Ferris wheel, more shops and restaurants and a pachinko parlor. Louis Vuitton is also a landmark here just near Sakae Station. On the east side the Chunichi Building is another standout building, mainly for its drabness, with more shops and eateries.
At Hisaya Odori Station in the Tokyu Hands Annex Building there is also a branch of Muji.
In the Sakae area it is possible to find the following brands and major shops: Adidas, Apple, Book Off, Brooks Brothers, Coach, Loft, Meidi-ya, MontBell, Muji, Tiffany & Co, Uniqlo and Zara.
Sakae Store Guide
Parco
The Parco department store in Sakae has three buildings: the West, South and East buildings. The main West Building has 11 floors above ground and a basement floor with the Creston Hotel occupying the top three floors. The 7th and 8th floors have a variety of restaurants. Floors B1 to 6 are men's and ladies' fashion and household goods. Big foreign names (and quite a few British ones) are Body Shop, Calvin Klein, Coach, Lush, Mary Quant, Paul Smith and Vivienne Westwood.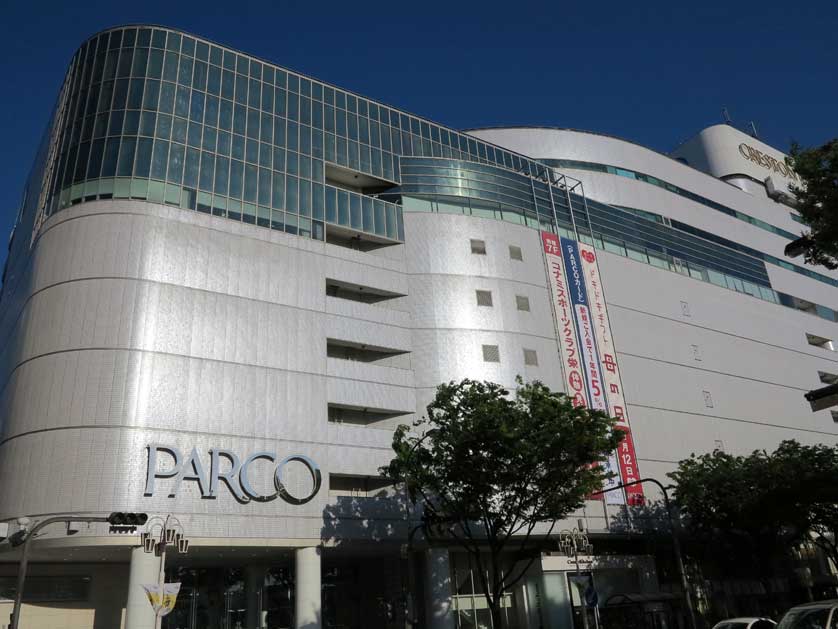 Parco Department Store, Sakae, Nagoya
Matsuzakaya
Matsuzakaya also has three buildings: the Main Building (10 floors + 2 basement floors), North Wing (7 floors + 2 basement floors) and South Wing (10 floors + 2 basement floors). The main building includes such brand stores as Armani, Bvlgari, Burberry, Cartier, Dolce & Gabbana, Gucci, H&M, Hermes, Louis Vuitton, Mikihouse, Ralph Lauren and Tiffany & Co. Cosmetics are on the first floor of the main building. Sports goods (Mizumo, Nike, Puma, Adidas etc) are in the South Wing. Watches and jewelry (Cartier, Damiani, Patek Philippe, Panerai, Piaget, Rolex) as well as tableware (Baccarat, Herend, Hermes, Swarovski, Wedgwood) are in the North Wing. All three buildings have restaurant floors. The 10th floor of the Main building and 9th and 10th floors of South building and the first basement floor of the North Wing. On the 5th floor of the main building is a branch of the popular Pokemon Center, open 10am-7.30pm.
Mitsukoshi
Mitsukoshi has 10 floors above ground and two basement levels. The 10th floor has a beer garden in summer. The 9th floor has restaurants with the other floors offering men's and women's fashions, accessories, baby wear. The first basement floor has a large food and drink supermarket and pharmacy. Mitsukoshi is connected to the LaChic fashion store which has young men's and women's fashions and accessories on B1F - 6F with restaurants on 7F - 8F. There is a bakery and grocery on the first basement floor. Name stores include Banana Republic, Birkenstock, Cath Kidston, Comme des Garçons, Dolce & Gabbana and Fortnum & Mason.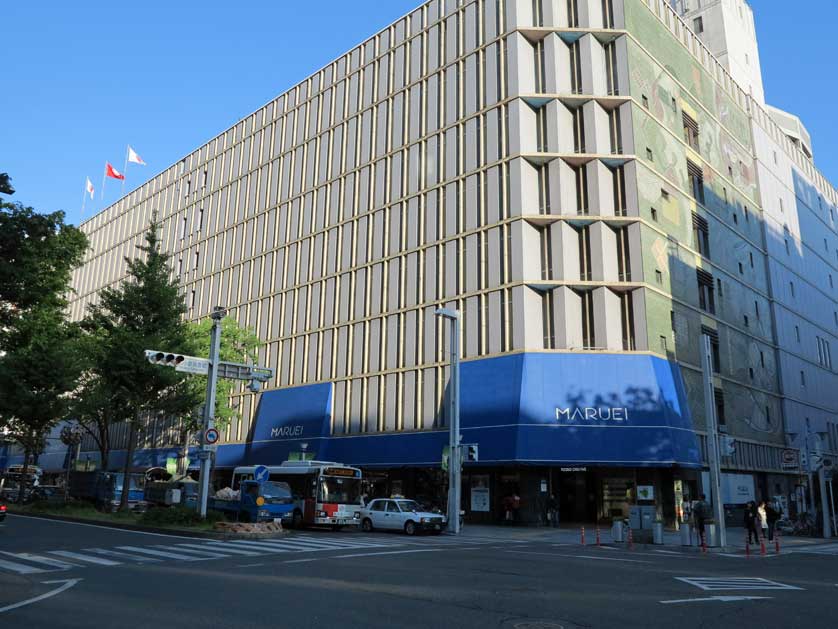 Maruei Department Store, Sakae, Nagoya
Maruei
Maruei has 11 floors above ground and two basement storeys. The top three floors are a car park with women's fashion on floors 1-5. The first floor is the specialist cosmetics' floor. Maruzen book store is on the 6th and 7th floors along with men's fashion, sports' goods and swimwear, a gift store and household items. Restaurants and cafes are congregated on the first basement floor with the fresh food and grocery area on the 2nd basement floor.
Sakae Transport - Getting to Sakae
Hisaya Odori, Sakae and Yaba-cho stations are all on the Meijo Line of the Nagoya subway with Hisaya Odori also on the Sakuradori Line and Sakae on the Higashiyama Line. Buses also radiate out from both Oasis 21 and a local bus station near the Chunichi Building.
The Me~guru Nagoya Sightseeing Route Bus stops at Nagoya TV Tower in Sakae.
Sakae-machi Station on the Meitetsu Seto Line can be reached by underground passage from Oasis 21 and Sakae subway station. The Seto Line runs east to Ozone Station and on to Owari Seto Station.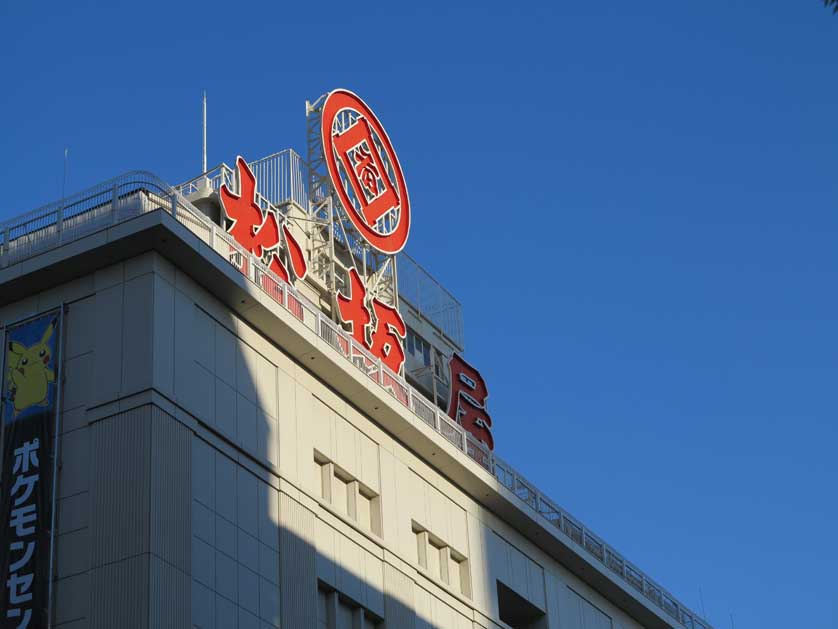 Matsuzakaya Department Store, Sakae, Nagoya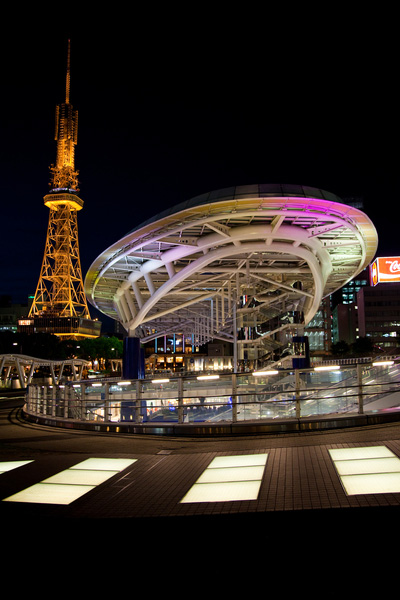 Nagoya TV Tower and the Oasis 21 Building in Sakae © John Lander
Sakae's Hotels
A short walk from Sakae over in nearby Fushimi District is the Hilton Nagoya, one of the city's premier hotels. The Hilton Hotel's Genji Restaurant is particularly renowned for its superb sushi and tempura dishes and desserts made from cherry blossom.
In the heart of Sakae is the b Nagoya, a more mid-priced hotel just minutes from several Nagoya subway stops and all of Sakae's shopping temptations.
The Hotel Creston is above the Parco department store and as about as close to the shopping as it is as possible to be. Other recommended hotels in Sakae are the stylish Hotel Trusty business hotel, the no-frills but affordable Hotel Econo Nagoya Sakae and a reliable Tokyu Inn.
Sakae Nagoya Map
Related Nagoya Resources
Sakae guide: read a guide to the entertainment and shopping district of Sakae in Nagoya, Aichi prefecture, central Japan.
All the themes of the city