Okazaki Guide
Okazaki 岡崎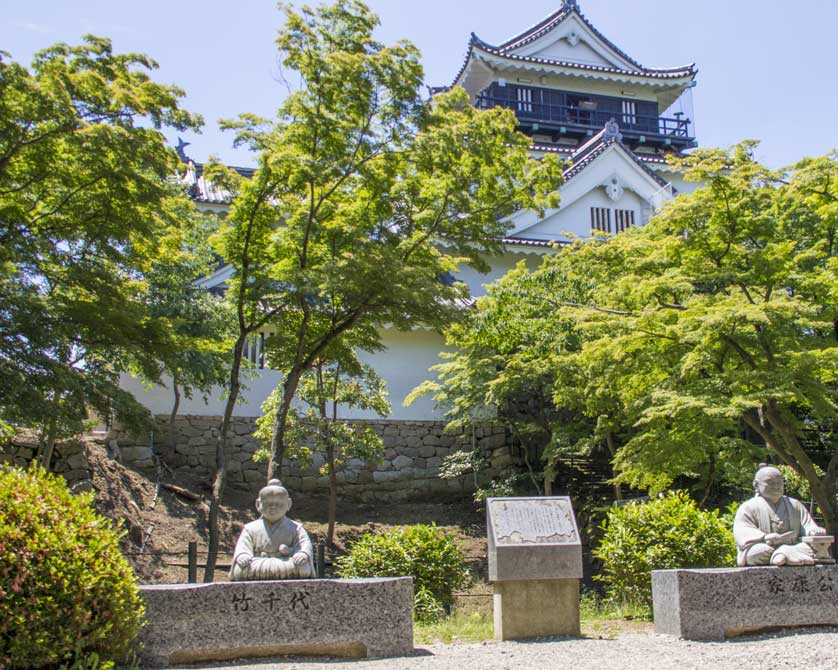 Okazaki is a peaceful, old castle town 40 km from Nagoya in Aichi Prefecture central Japan on the railway route to Toyohashi.
Okazaki is notable for its numerous parks and waterways and its connection with Ieyasu Tokugawa, of which the city is very proud.
Okazaki Castle
Okazaki's main attraction is Okazaki Castle, the birthplace of Ieyasu Tokugawa, the founder of the Tokugawa dynasty and one of the most important figures in Japanese history.
Okazaki Castle is located in Okazaki Park, a 15-minute walk north-west from Higashi Okazaki Meitetsu station over the Otogawa River. The Otemon Gate (pictured above), was the main gate to the castle and stood near to the old Tokaido highway. Otemon Gate was rebuilt in 1993 using local stone.
Okazaki Park is a lovely, wooded area where you can stroll among the fern-covered walls and moats of the old castle. The park is also famous for its cherry blossoms in spring, especially at night when the trees are lit up.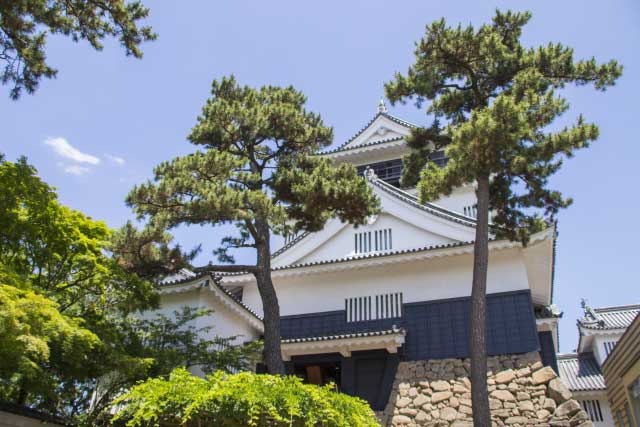 Okazaki Castle Donjon or keep
The Iyeyasu and Mikawa Bushi Museum (三河武士のやかた家康館, Tel: 0564 24 2204) at the north-west corner of Okazaki Park showcases the history of Ieyasu Tokugawa and his struggle to unify Japan. On display are original weapons, helmets and documents from the times as well as video installations and dioramas detailing the numerous battles Ieyasu fought. Hours: 9 am-5 pm (last admission 4.30 pm), barrier-free.
Ieyasu's Well is one of the many wells in the park and the future warlord's first bath was drawn here. The many monuments to Ieyasu in Okazaki Castle Park include a bronze statue of the man and a stone stele inscribed with his "teachings on the conduct of life." The park has a Noh theater, a flower clock, two traditional teahouses, Kishoan and Jonantei, and the Karakuri Tokeito clock tower from which a model of Ieyasu dressed in Noh costume appears every 30 minutes to perform a Noh dance accompanied by music. The historic Gomangoku Wisteria Terrace at the south-west corner of the park near the Igagawa River is in full bloom in early May.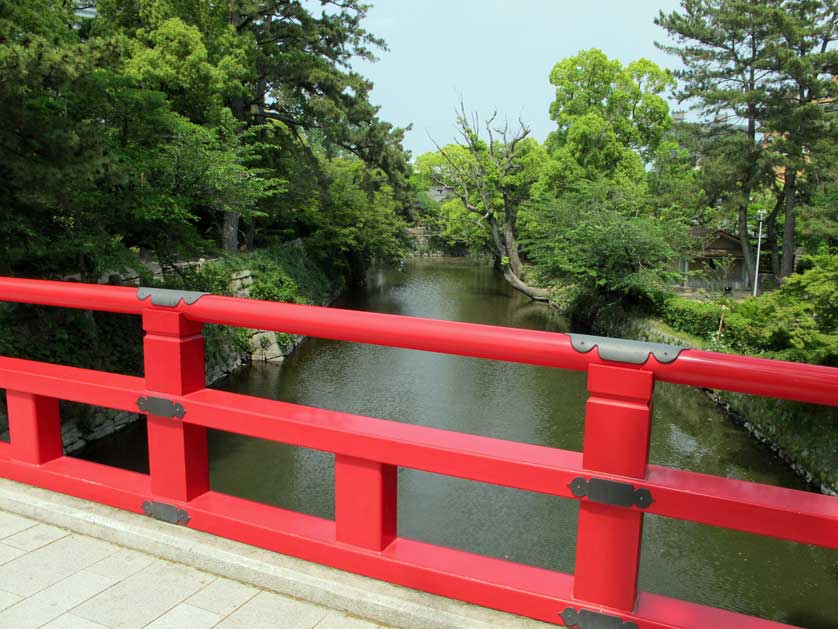 Okazaki Castle Park with castle moat and bridge.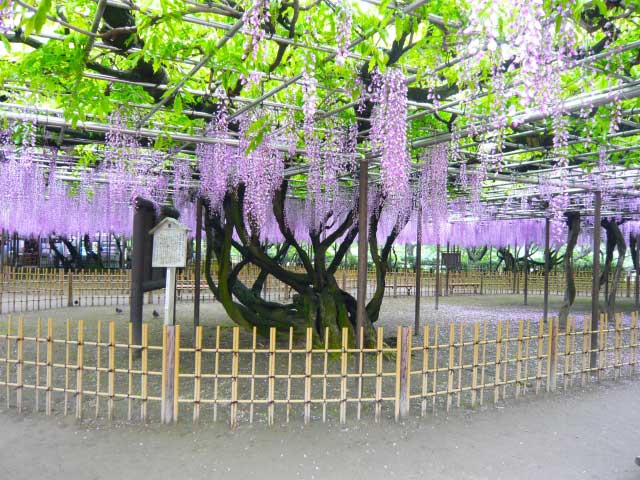 Wisteria in full bloom at Okazaki Castle Park
Okazaki Parks & Museums
Other pleasant parks in Okazaki include Higashi Park, with its Okazaki-shi Higashi Park Zoo, and noted for its ornamental ponds, iris garden in early May and maple leaves in autumn. Okazaki Chuo Sogo Park (or, Okazaki Central Total Park), just a little south-east, is a big park on an elevation that is home to the Okazaki City Art Museum (Tel: 0564 285000). South of the city center is Minami Park with its plum trees, forested areas, birdlife, and a children's amusement area which includes a Ferris wheel.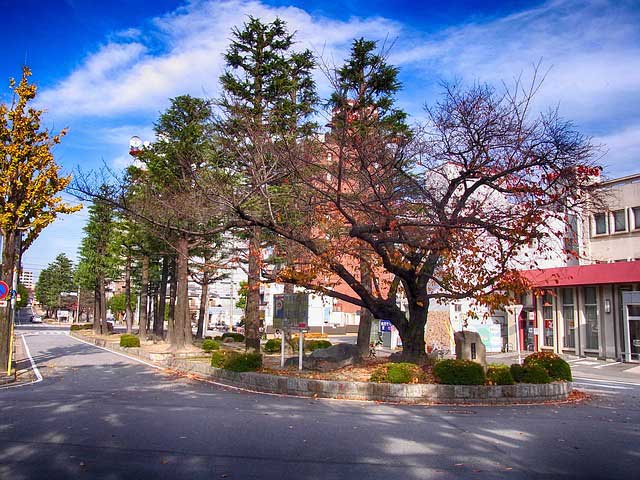 Okazaki City in the fall
Okazaki Shrines and Temples
Okazaki has a number of temples and shrines worth visiting including the Rinzai zen temple of Tenonji, which is connected with the life of Ieyasu and located east of the center along the Otogawa River. The temple grounds contain an ancient cedar tree.
Nearer Higashi Okazaki Station is the pleasant Ryukai-in Temple. East of Okazaki Castle in Monzen-cho is Zuienji Temple, a short walk from Okazaki Tenmangu Shrine, which is connected to the famous Kitano Tenmangu Shrine in Kyoto.
North of Okazaki Park are the closely spaced Shouoji Temple, Nomi Shinmeigu Shrine and Iga Hachimangu Shrine, dedicated to Hachiman, the god of war, where Ieyasu would pray for the success of his campaigns.
Okazaki Sekirei Hall and Okazaki Municipal Hometown Hall
The Okazaki Sekirei Hall is a public municipal performance facility on Route 1, about 300 meters east of Okazaki City Hall, or about 20 minutes walk east of Okazaki Park. On its grounds is the Okazaki-shi Kyodokan (岡崎市郷土館, "Okazaki Municipal Hometown Hall"), an old wooden Western-style building dating from 1913 - early Taisho-era. Okazaki-shi Kyodokan is designated an Important Cultural Property. It began life as the town hall and product exhibition space of the former Nukata District. It is now in a state of semi-disrepair and closed, but still has an atmosphere.
Okazaki Products
Okazaki was located on the important Tokaido highway connecting Kyoto and Edo and a number of local Edo Period industries and crafts have continued to thrive in the city. These include delicious tofu, fireworks, sake brewing, woodwork and stonework, tea and Okazaki's famous Hatcho miso and Nukata miso - fermented soya bean paste used in miso soup, a mainstay of Japanese cuisine.
The Hatcho miso factory near Naka Okazaki Station on the Aichi Loop Line (Aikan), a 15-minute walk west of Okazaki Castle offers free, short tours of the traditional miso-making process, where the soy beans are pressed in huge cedar barrels using an array of large stones. There's a free miso sweet at the end of the fun tour and a shop to buy souvenirs.
Okazaki Festivals
Okazaki has a number of festivals throughout the year not surprisingly some of them are dedicated to Ieyasu Tokugawa. The Iyeyasu Parade with participants in samurai costume takes place in April. Also on the Sunday closest to April 14th is the Spring Festival at Suga Shrine involving a procession of five, large decorated floats or dashi.
The Okazaki Summer Festival on the first Saturday in August features a spectacular fireworks display on the Otogawa River. The Oni Festival at Takisanji Temple takes place in February and is a fire festival to pray for a good harvest in the coming year. The Takisan Toshogu shrine, virtually next door, is dedicated to Ieyasu. The Natsuyama Fire Festival takes place in October at rural Natsuyama Hachimangu Shrine, north east of the city center.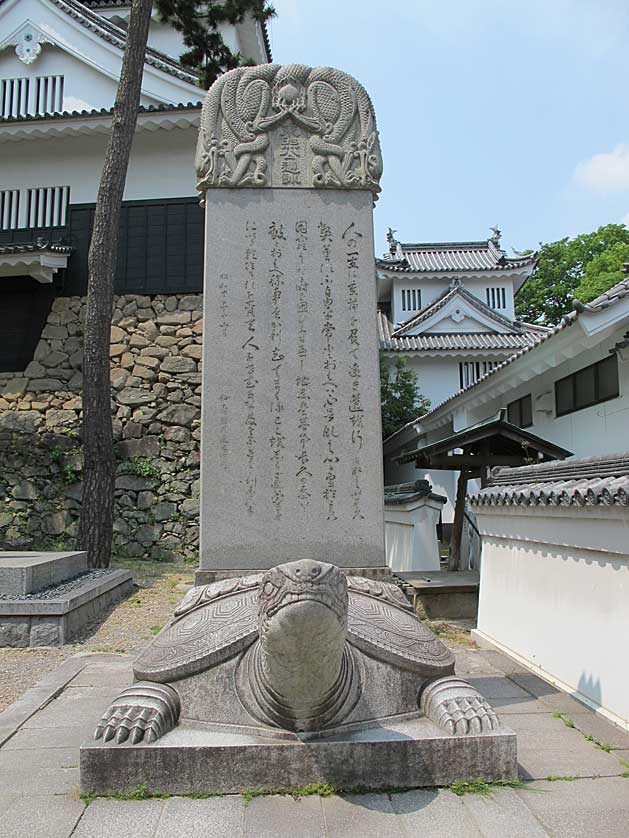 Stele Celebrating Ieyasu Tokugawa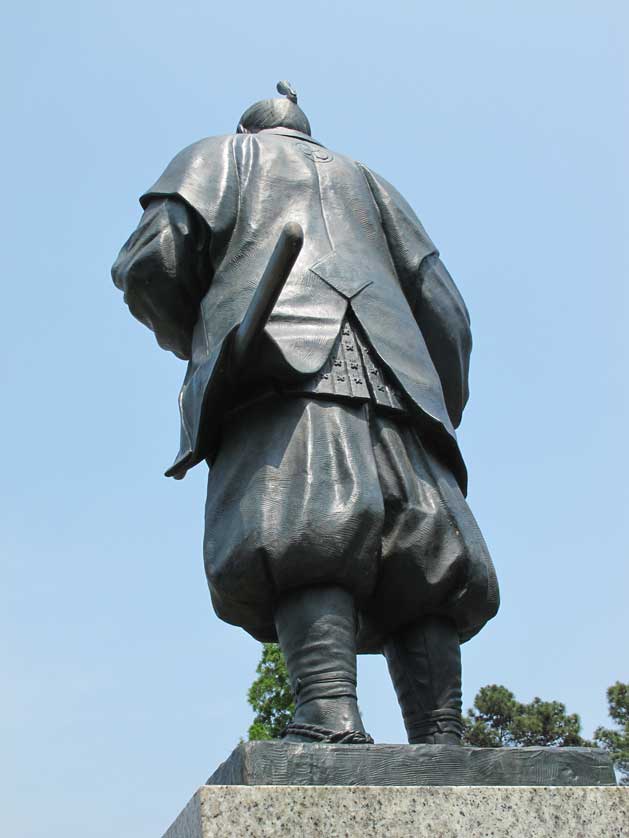 Ieyasu Tokugawa Statue
Okazaki Accommodation
The Okazaki New Grand Hotel is not quite as new or grand as the name suggests, but has a fantastic location, right near Okazaki Castle, and offers clean, comfortable, reasonably priced rooms with a river view right next to beautiful Okazaki Park. Great view of castle from the sauna. 5 minutes walk from Higashi Okazaki Station. Free Wi-Fi. Free parking.
MyHotel Okazaki is right next to Okazaki Station on the Tokaido Railway Line, and is a very reasonbly priced Japanese business-style hotel. Clean, quiet and modern, with a free onsen bath and sauna with a great view of the city. Plenty of electrical plugs in rooms.
Green Hotel Rich Tokugawaen is a little south of Higashi Okazaki Station, and offers budget accommodation in a decidedly retro, but perfectly comfortable, setting. Coin launderette on premises, TV, fridge, green tea maker in each room. Air-conditioning and Wi-Fi.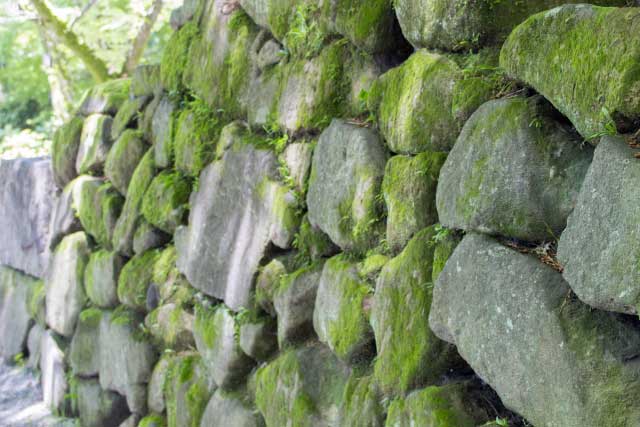 Okazaki Castle Stone Walls
Okazaki Access
Take a Meitetsu Express train to Higashi Okazaki Station from Nagoya Station (28 mins) or from Toyohashi (20 mins). The nearest station to Okazaki Park is actually Okazaki Koen-mae one stop west on a local Meitetsu train or Naka Okazaki on the Aichi Loop Line.
From Higashi Okazaki Station take the north exit and turn left, then take the right at the first traffic light and walk over the Tono Bridge, then take the first left and walk along the river to the entrance to Okazaki Park just past the Okazaki New Grand Hotel (Tel: 0564 21 5111).
The main JR Okazaki Station is a distance south of the downtown area so change to the JR Aichi Loop Line and take a local train two stops north to Naka Okazaki for the Hatcho Miso Factory.
By car exit the Tomei Expressway at Okazaki Interchange or take National Highway Route 1.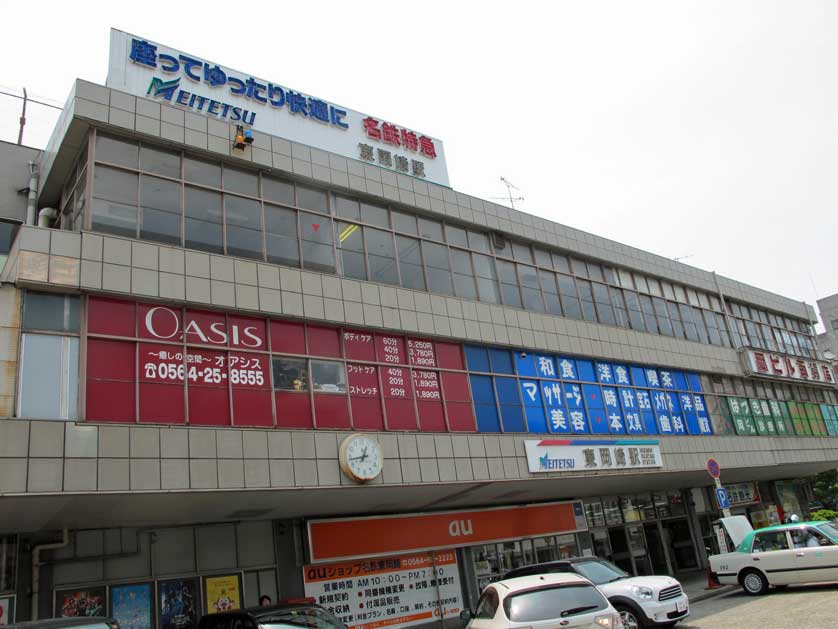 Higashi Okazaki Station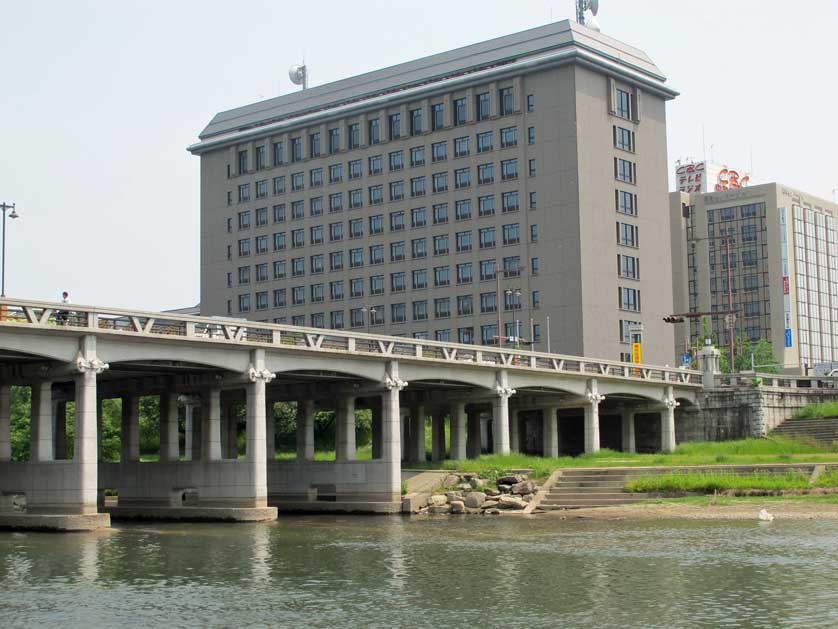 Downtown Okazaki City
Okazaki Castle Video
Book Hotel Accommodation in Japan Here
Okazaki: read a travel guide to Okazaki in Aichi Prefecture including Okazaki Castle and Okazaki festivals.
All the themes of the city