Tokoname
Tokoname, Chita Peninsula, Aichi Prefecture 常滑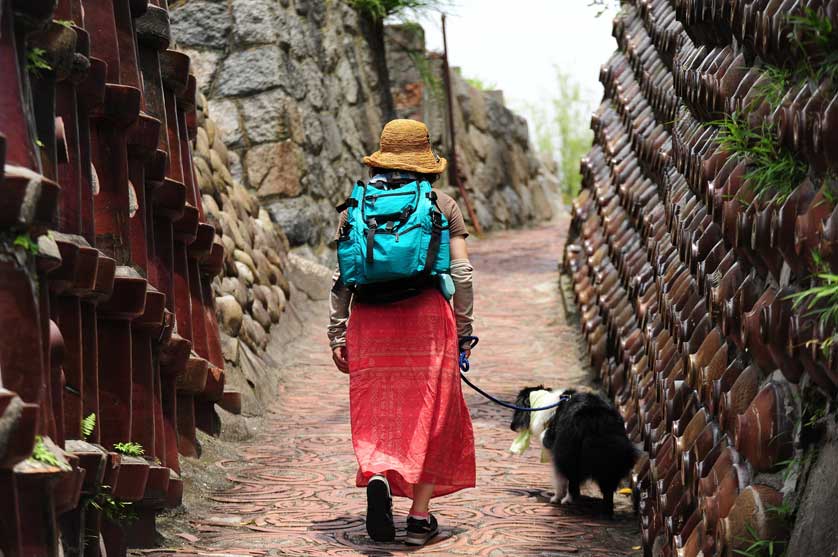 Tokoname is famous for its ceramics and old ceramic pipes line some of its streets
Tokoname, south of Nagoya on the Chita Peninsula near Chubu International Airport, has long been a center of pottery production going back to the Heian Period of Japanese history and remains Japan's foremost producer of maneki neko figures.
Tokoname is one of Japan's six most important ancient kiln towns - the others are Bizen, Echizen, Seto, Shigaraki and Tanba - and had the largest output of ceramics of any kiln town in the Edo period (1600-1868). Tokoname was a major producer of ceramic water pipes and is known for its signature "redware" and fine Japanese teapots.
With a population of around 55,000, Tokoname is a relaxing and easy day-trip from Nagoya and has a number of interesting museums in town as well as pleasant swimming beaches nearby. Another draw in the area is the huge Costco megamart.
At the tourist office at Tokoname Meitetsu Station there are brochures in English and other languages providing information on the various walking courses to enjoy Tokoname's attractions.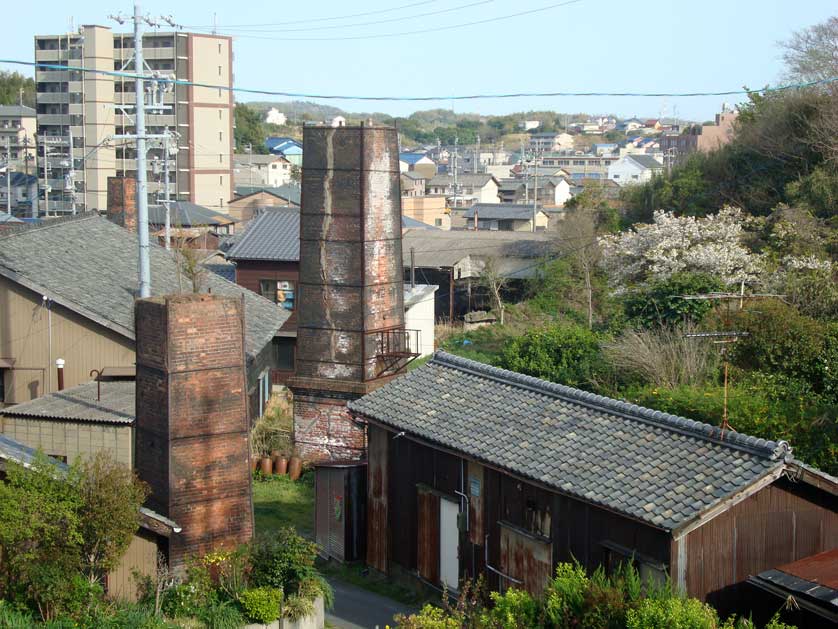 Tokoname kiln chimneys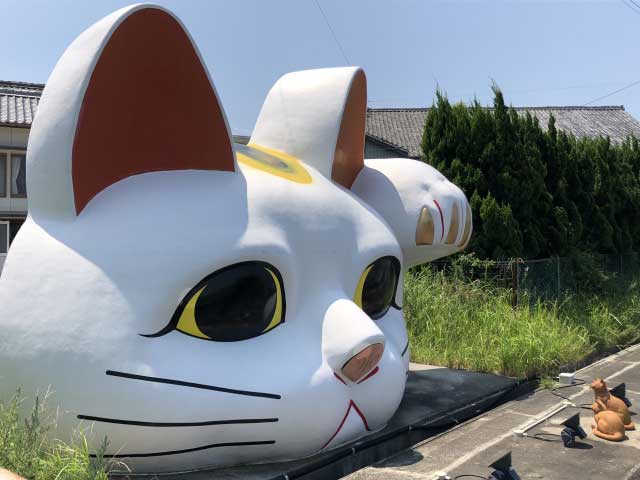 Tokoname's most famous product in recent times is its signature maneki neko or beckoning cats
Pottery Footpaths
There are two pottery footpaths to enjoy Tokoname's ceramics heritage: the 1.6 km A Course and the 4 km B Course
Follow the signs and turn left out of the station on Tokoname Maneki Neko Street to begin the A Course at Ceramic Hall (Tel: 0569 35 2033), which has galleries exhibiting Tokoname's pottery and a shop. The path leads through narrow streets lined with picturesque black-painted wooden houses. At Dokanzaka the walls and the path itself are constructed from old ceramic pipes, shochu bottles and the clay rings used as stands when the pipes are fired. Along the path are a number of brick chimneys that have been preserved from the Meiji Period.
The Takeda Family Residence (Tel: 0569 36 2031), is a preserved merchant's house from the Edo Period. The family business was involved in the shipping trade to Edo (Tokyo). The company's registered wooden ships, known as Bishu-Kaisen, loaded rice from Kuwana or Yokkaichi and ceramics from Tokoname for the voyage to Edo. The ships returned with a cargo of soy beans and manure made from fish lees for Ise Bay. The tatami-floored house has some fine period furniture, a Japanese garden and storehouse (kura).
Climbing Kiln Square (Tel: 0569 35 0292) has a "climbing kiln" built into the hillside. Of the 60 such kilns that once operated in Tokoname this is the only one left and is the largest in Japan. It was in operation from 1887 to 1974 and lies at an incline of 17 degrees with ten chimneys of varying height. It is possible to look inside and try your hand at making pottery at a modern kiln nearby.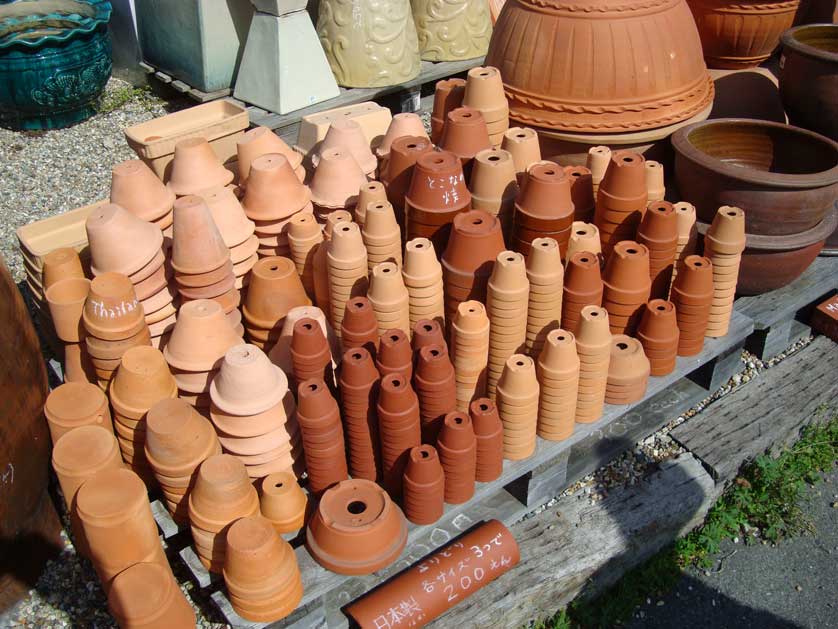 Ceramic plant pots on sale in Tokoname, Aichi Prefecture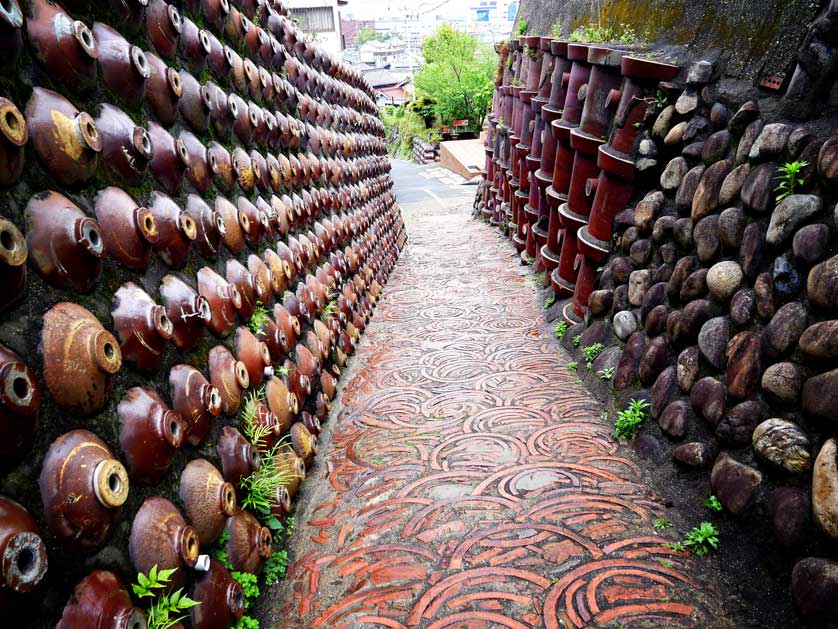 View of Tokoname, an ancient kiln town in Aichi Prefecture; shochu containers on the left, drainage pipes on the right, recycled and used to build walls
The longer B Course passes the Tokoname Ceramic Art Institute (Tel: 0569 35 3970), which is both a training center for young potters and a museum displaying Edo Period redware and shallow tea bowls and the Tokoname City Folklore Museum (Tel: 0569 34 5290) with more exhibitions of typical household pottery and pots excavated from the sites of the town's historic kilns.
INAX Museums
Walking south is a cluster of five INAX Museums (Tel: 0569 34 8282). The Kiln Plaza is housed in an old kiln that was used for firing ceramic pipes, the Tile Museum has around 1,000 decorated tiles from around the world, the Clayworks has clay-themed exhibits and allows visitors to make their own clay ball, at the Tiling Workshop you can try painting patterns on tiles and the Tiling Labo displays the history and development of ceramic production.
Walking back towards the station is a ceramic statue of Hoju Koie, considered the father of modern Tokoname ceramics, who developed the production of ceramic pipes using wooden molds that were used in the foreign settlement of Yokohama and other Japanese cities, thus ensuring the latter-day prosperity of the town.
Linking the Pottery Footpath A with the Inax Museums is the town's shopping street lined with pottery stores and around 150 ceramic sculptures along with a mechanical clock.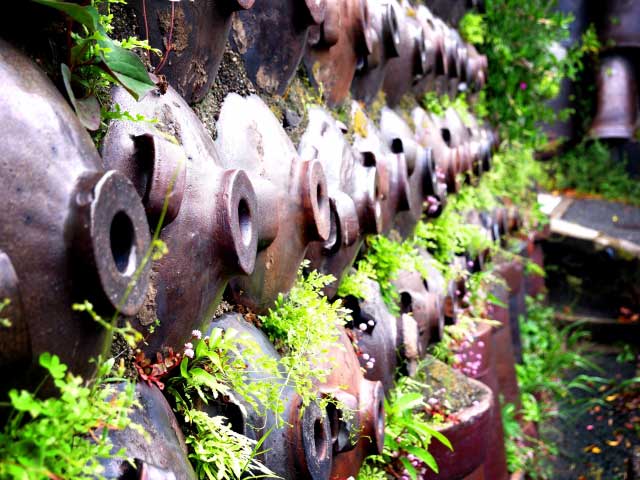 Walls in Tokoname built with ceramic shochu bottles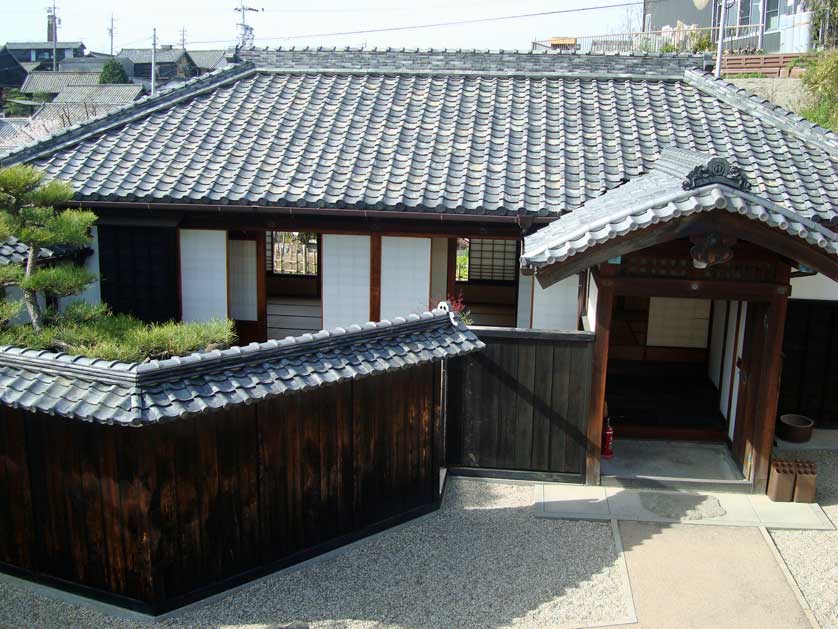 Takita Family House, Tokoname, Aichi Prefecture
Ono-cho Area
North of Tokoname is the Ono-cho area, formerly known as Minato-machi, which flourished as a port from the Kamakura Period (1192-1333) onwards. The area is known for its rows of wooden houses and numerous temples and the ruins of Ono Castle now stand in Shiroyama Park. The Ono Sea Bathing Beach is a pleasant place to swim in summer. Ono-machi Station, 5 stops north of Tokoname, on the Meitetsu Tokoname Line is the nearest station.
Accommodation in Tokoname
TUBE Sq is a super-clean, modern and budget capsule hotel located right next to Centrair Japan International Airport Station, on the artificial island the airport occupies just off the coast of Tokoname. As good as a capsule hotel gets.
Spring Sunny Hotel Nagoya Tokoname is 1 minute on foot from Tokoname Station, and 5 minutes by train from the airport. Has an onsen for guests, coin laundrette, spacious, clean and comfortable rooms. Free parking.
J Hotel Rinku is ideally located between the airport and the station, with useful facilities all around. Clean, spacious, modern rooms, chic decor, a big fitness center, free internet, and with a convenience store and steak restaurant on-site. Classy, convenient comfort.
Access - Getting to Tokoname
Tokoname is 35 minutes by Meitetsu train from Nagoya Station or slightly less from Kanayama Station. From Chubu International Airport is is two stops and about 5 minutes on the Meitetsu Kuko Line. There are high speed boats from Tsu and Matsusaka to Chubu International Airport.
By road take Route 155 or the Chitahanto Toll Road and exit at the Tokoname I.C.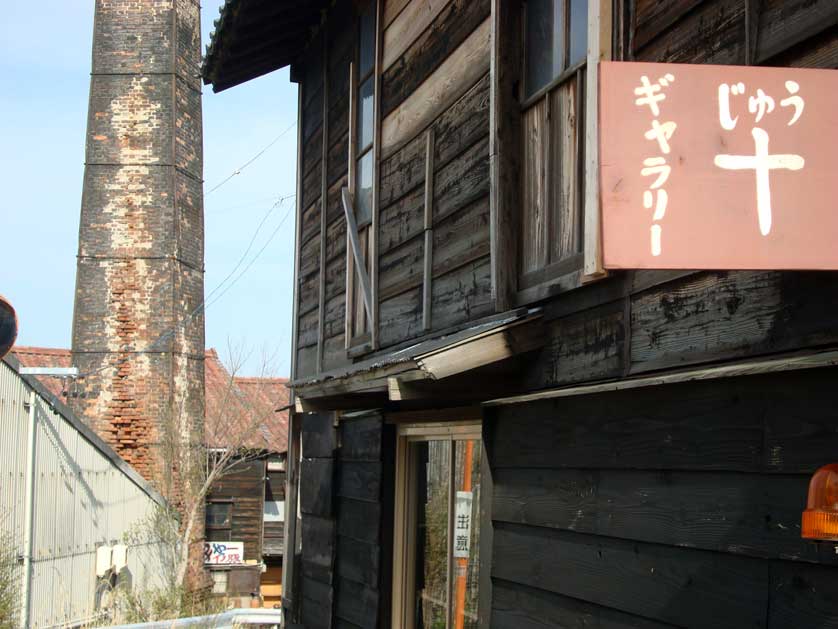 Tokoname kilns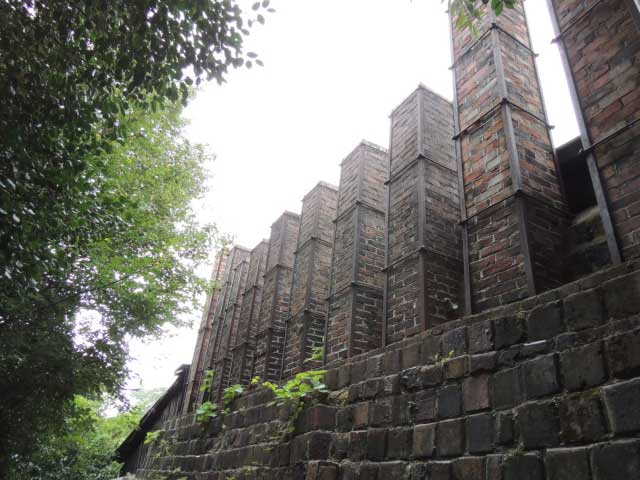 Tokoname chimneys
Tokoname Map
Tokoname: read a guide to Tokoname in Aichi Prefecture famous for its ceramic production and historic kilns.
All the themes of the city