Atsuta Jingu Shrine
Atsuta Shrine: read a guide to Atsuta Jingu Shrine in Nagoya, one of Japan's most important Shinto shrines.
Atsuta Shrine, Nagoya 熱田神宮
Atsuta Shrine, aka Atsuta Sama (Venerable Atsuta) or Miya (the Shrine), is one of Nagoya's top attractions along with Nagoya Castle and the Tokugawa Art Museum.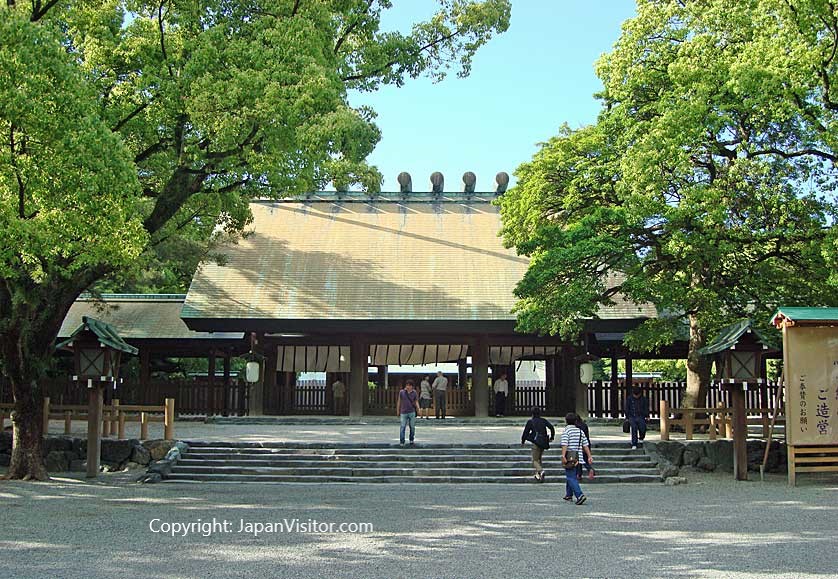 The main shrine building at Atsuta Shrine in Atsuta-ku, Nagoya
History of Atsuta Shrine
Atsuta Shrine is an important shrine in Japanese history as it is believed to date from the 1st century. The presiding shrine deity is Atsuta-no-Ohkami.
Atsuta Shrine (lit. "Hot Field Shrine") is considered one of the most prestigious shrines in Japan as it houses the kusanagi-no-tsurugi ("Grass-Mowing Sword"), a sacred sword which is one of the three sacred Imperial regalia, the others being the mirror at the Ise Jingu shrines and the jewels at the Imperial Palace in Tokyo. Most likely the sword is a copy, as the original was lost in the sea battle of Dan-no-ura in 1185 off the coast of Shimonoseki.
Ema votive plaques with a cherry blossom theme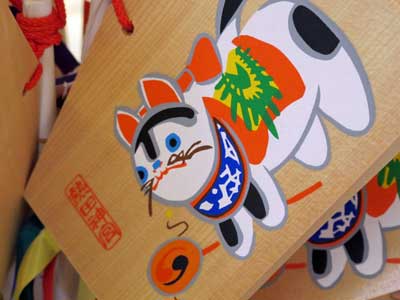 Ema votive plaques at Atsuta Shrine in Nagoya
Atsuta Shrine is Nagoya's number one must-visit shrine at New Year time and is also a popular venue for shichi-go-san festivals. Shichi-go-san, literally 'seven-five-three', is a celebration held on November 15 for when a girl turns 3 or 7 and when a boy turns 5.
Atsuta Jingu is said to visited by around 8-9 million people per year. The shrine was bombed in World War II and subsequently rebuilt in the 1950's. Atsuta Jingu is seen as a protector of the area's agriculture and the shrine's festivals include an opulent planting ceremony. Throughout the year over 70 festivals are held within the shrine's large precincts with the main festival held on June 5.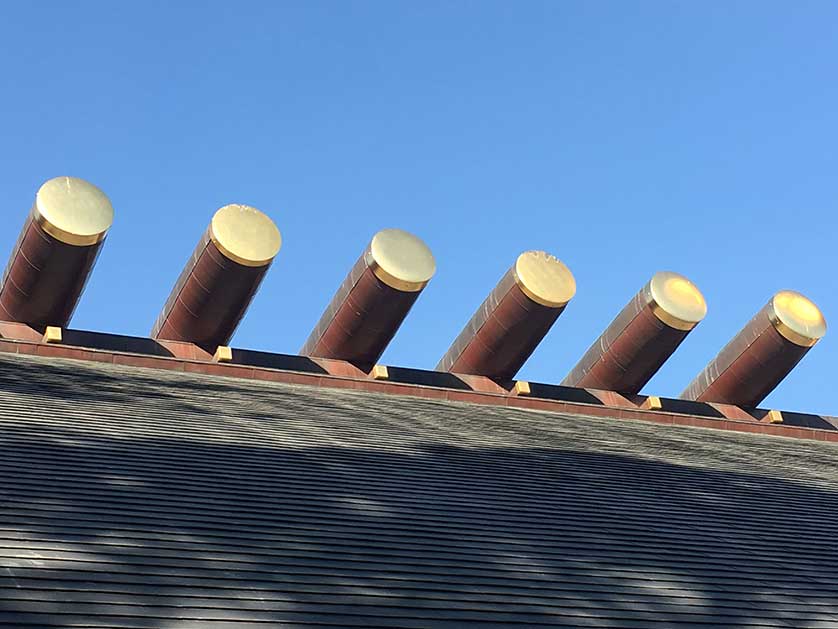 Shrine roof at Atsuta Shrine in Nagoya
The shrine grounds include a 1,300 year old giant camphor tree said to be planted by the renowned Buddhist priest Kobou Daishi, a Noh theater, and the Bunka-den treasure storehouse museum full of over 4,000 important cultural assets, especially swords. (The museum is open 9 am-4.30 pm, closed last Wed and Thu of every month. Closed Dec 25-31. No admission after 4.10 pm).
You may also see some chickens wandering the grounds, their significance is unclear. They may have been used as offerings for ceremonies but also you will hear because the torii is based on a bird perch, because cocks announce the arrival of the sun (Amaterasu is the Sun Goddess) and the same reason anyone keeps chickens, for a supply of eggs.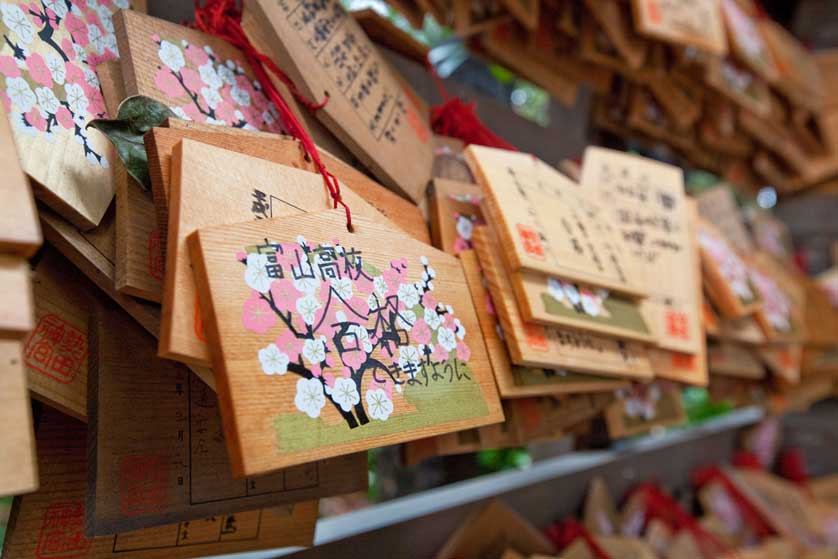 Ema votive plaques at Atsuta Shrine, Nagoya
The spacious grounds of Atsuta Shrine are well-wooded with narrow streams running through them. This large space is a lovely place to stroll and appreciate the undoubted spritual atmosphere that exists at this ancient shrine.
There are a number of less-visited, sub-shrines in the complex which are particularly pleasant to linger in. Look out for the many ema or votive plaques where worshipers make a wish to the gods on a small wooden board.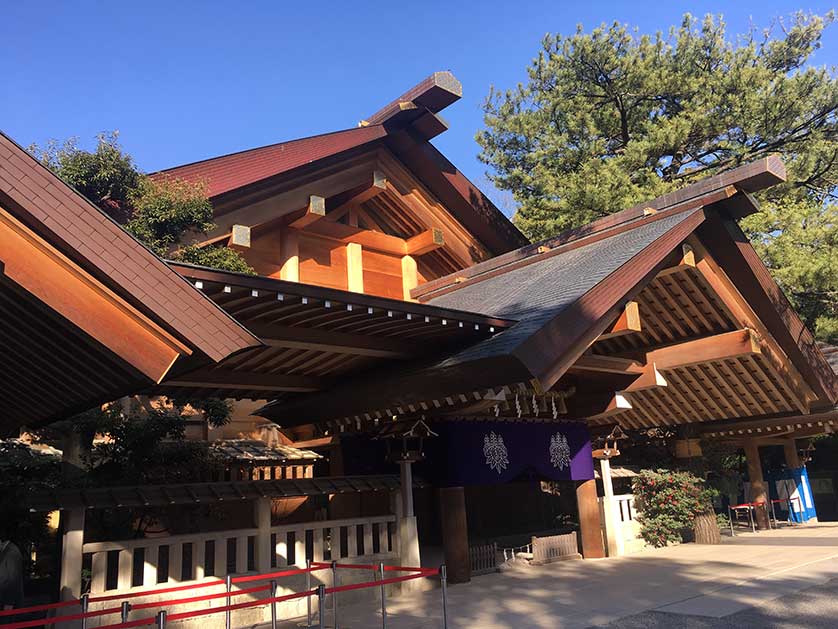 Atsuta Shrine in Nagoya is one of the most prestigious shrines in Japan after Ise and Izumo and contains one of the three sacred Imperial regalia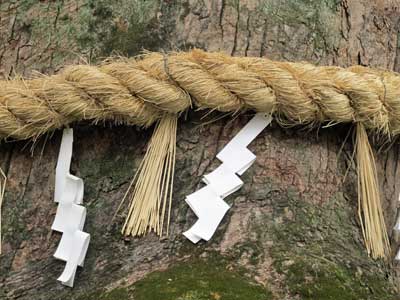 Sacred tree with shimenawa rope at Atsuta Shrine, Nagoya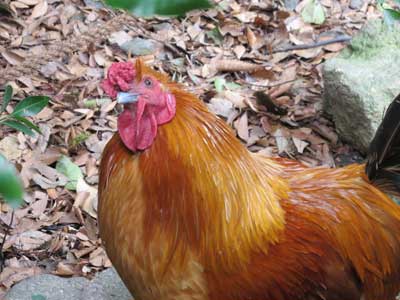 Several cocks and hens freely wander Atsuta Shrine
Atsuta Shrine Access
Atsuta Jingu (www.atsutajingu.or.jp)Atsutajingu-Kyu-Cho (Shrine Office)1-1-1 JinguAtsuta-kuNagoya456-8585Tel: 052 671 4151Admission: Free
Sake barrels at Atsuta Shrine, Nagoya's most important Shinto site
Atsuta Jingu is 8 minutes walk from Jingu Nishi on the Meijo Line of the Nagoya subway, also 8 minutes walk from JR Atsuta (Tokaido Honsen line) or 5 minutes from Meitetsu Jingumae Station, which is 8 minutes from Nagoya Station by Meitetsu Limited Express train.
If you are connecting from Jingumae Station to Jingu Nishi walk through the shrine. West of Atsuta Jingu are the Nagoya Congress Center (venue of the COP 10 conference), Nagoya Gakuin University and Shirotori Park.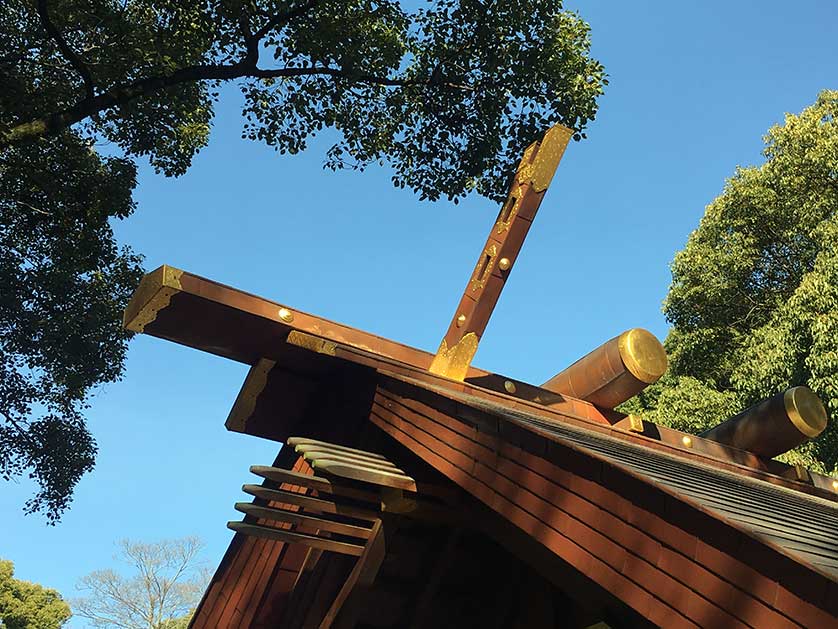 Sub-shrine of Atsuta Shrine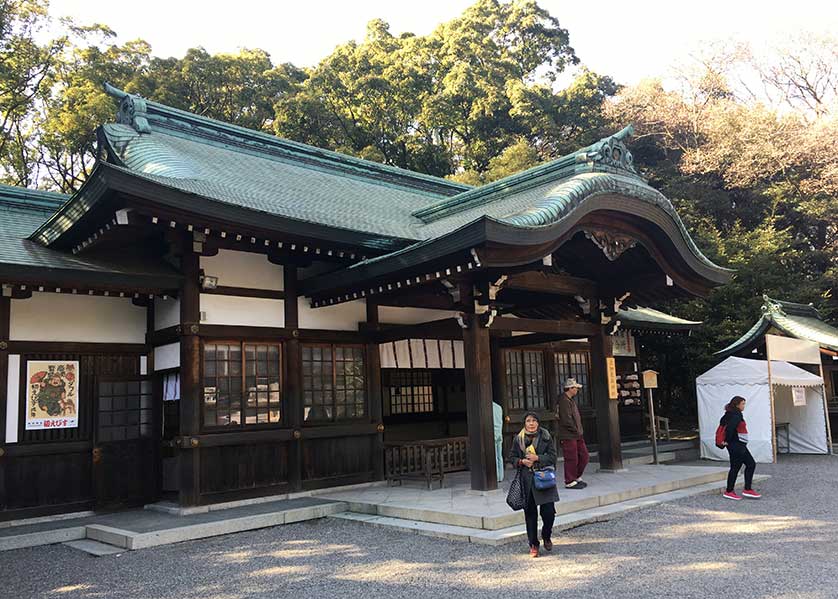 Atsuta Shrine covers a large expanse of woods and green space and a number of small streams run through the grounds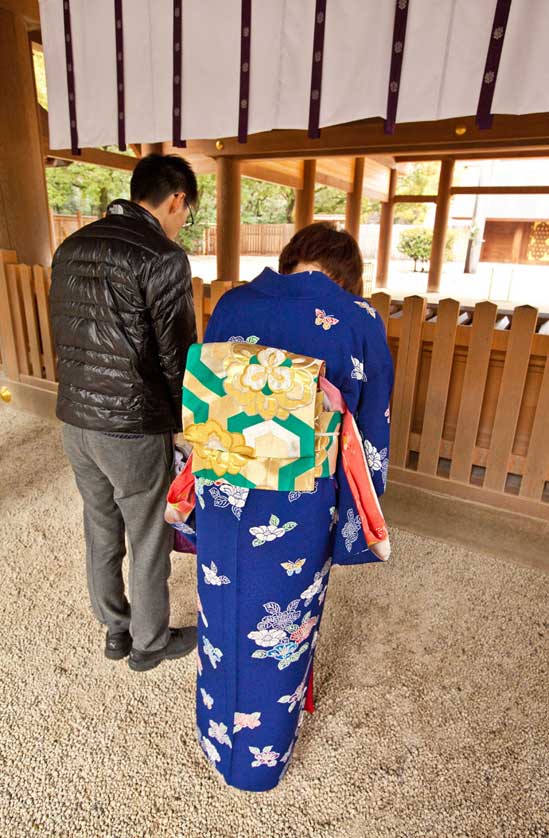 Supplicant at Atsuta Shrine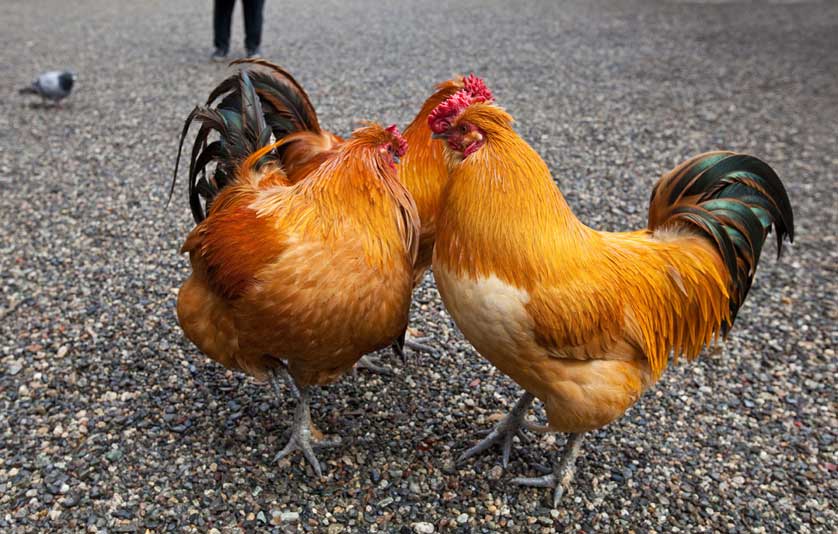 Atsuta Shrine, Nagoya

Atsuta Shrine Video
Atsuta Shrine Map
Book Hotel Accommodation in Nagoya Near Atsuta Shrine
All the themes of the city