Raizan Sennyoji Daihioin Temple
雷山千如寺大悲王院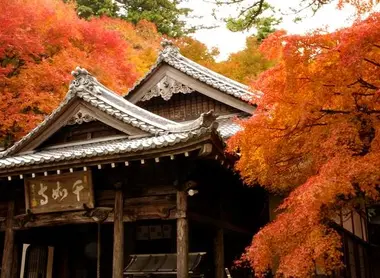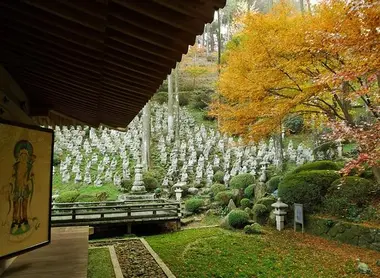 A flamboyant temple
Not far from the artists' studios of Itoshima is the Raizan Sennyoji Daihioin Buddhist temple, which has a few surprises in store for you!
A goddess who does not have her hand in her pocket
Come and discover the Buddhist complex of Raizan Sennyoji Daihioin during a short hike in the heart of Fukuoka prefecture. The main building is located on the north face of Mount Raizan, just 340 meters above sea level. Founded in the year 178 by Seiga, an Indian Buddhist monk , it quickly became a temple dedicated to imperial worship. In fact, the prayers were dedicated to the feudal government of Kamakura, especially during the Mongol invasion attempts. The temple was then enriched with 300 small huts , scattered on the volcano, to house the many priests. These were finally destroyed during the war of the Muromachi period (1336-1573). It is nicknamed the Kannon of Raizan because it houses an exceptional statue of the goddess of compassion, embellished with 1,000 arms and therefore 1,000 hands, with an eye engraved in each of the palms . Photos are forbidden, but you will remember it all your life! You can also see a statue of Seiga Shonin, the founding monk of the temple , as well as no less than a hundred Buddha statues outside the main hall.
The momiji star
Take the opportunity to take a walk in the Shinji Zen garden , a perfect example of a traditional Japanese garden, inaugurated during the Muromachi era. Many maple trees are present in the garden, which makes it an essential spot during the Japanese autumn , in order to be able to admire the momiji in all their splendor from mid-November. Don't miss the majestic 400-year-old maple tree: it is said to have been planted by Kuroda Tsugutaka, the sixth lord of the Kuroda clan, in 1573. It has even been declared a historical monument by the Fukuoka prefecture. You will rarely have the opportunity to contemplate such an old, but no less colorful tree. In the fall, he becomes the real star of the Raizan Sennyoji Daihioin complex.
See also: Kôyô, autumn in red and gold
The Raizan Sennyoji Daihioin complex allows you to take a cultural-historical getaway during your visit to the very trendy Itoshima Peninsula.
---
Address, timetable & access
Address

Timetable

5-minute walk from Raizan Kannon Mae bus stop

Price

400 yen (3€)

Access

9 a.m. to 5 p.m.
All the themes of the city