Dazaifu Tenmangu Shrine
Dazaifu Tenmangu Shrine in Dazaifu, Fukuoka Prefecture is dedicated to Sugawara no Michizane and is the head shrine of 10,000 Tenjin Shrines across Japan.
Dazaifu Tenmangu 太宰府天満宮
Jake Davies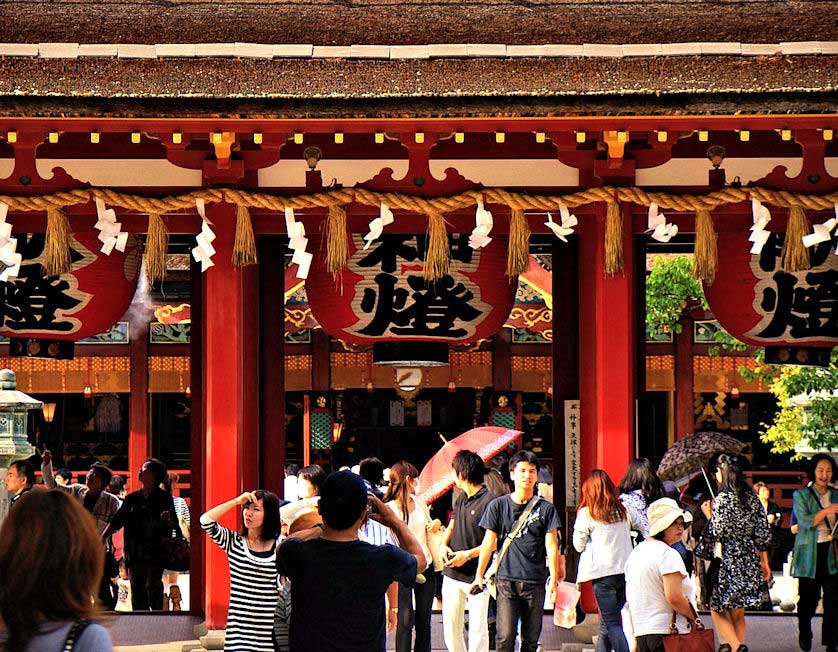 Dazaifu Tenmangu Shrine is extremely popular with students about to take exams
Dazaifu Tenmangu in Dazaifu, Fukuoka Prefecture, is located less than an hour from downtown Fukuoka.
This shrine is one of the most popular destinations for visitors to Fukuoka.
This 1,100 year old shrine is set in extensive grounds with many points of history and interest that make it worth a visit even if you have already visited many other shrines in Japan.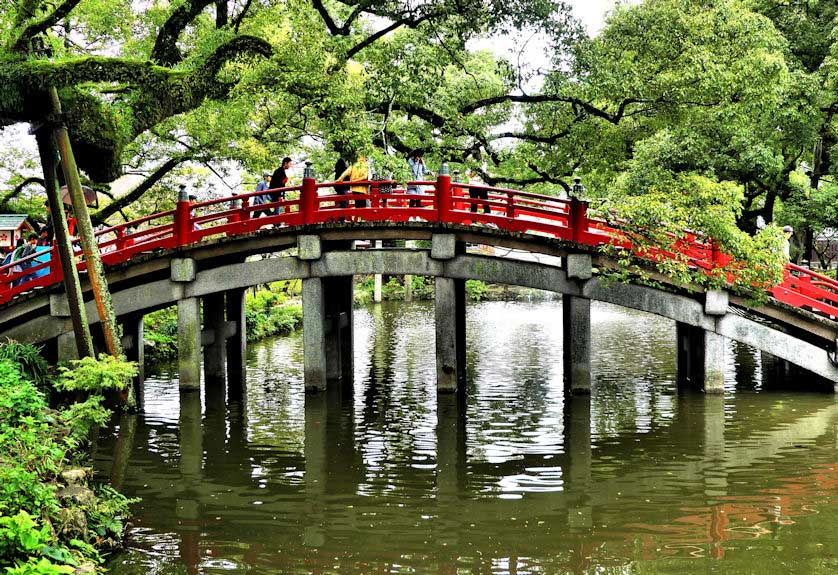 The first of three vermilion bridges that take visitors across the pond into Dazaifu Tenmangu Shrine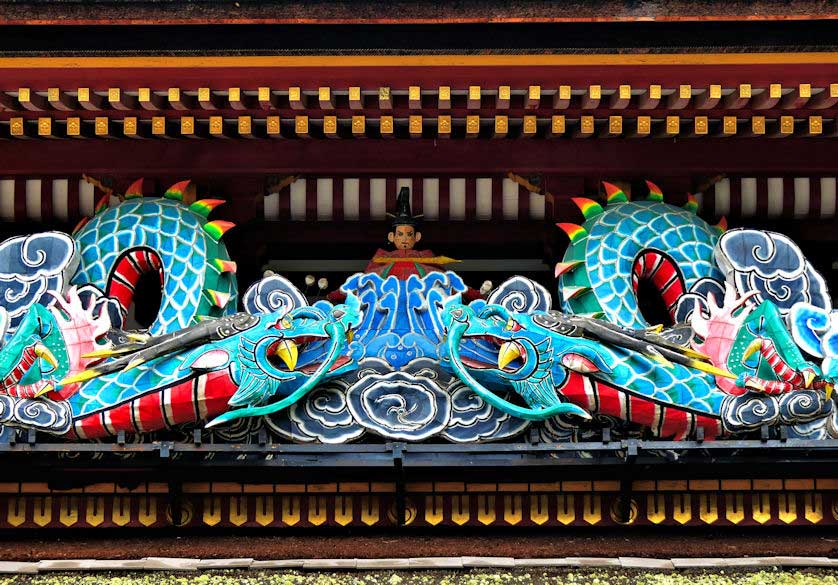 During October the main gate of the shrine is decorated with colorful dragons to mark a month of special prayers for students taking exams
Tenjin Shrines
It is the head shrine of more than 10,000 Tenjin Shrines around the country. Among the most numerous shrines in Japan, Tenjin, the god enshrined here, is known as a god of poetry and learning.
Tenjin Shrines are where students of all ages come to pray for success in upcoming examinations. Tenjin is the deified spirit of a man called Sugawara no Michizane and Dazaifu Tenmangu is built on the site of where he was buried in 903. How Michizane became Tenjin is a story worth telling.
History: From Sugawara to Tenjin
Born into a wealthy aristocratic family in Kyoto in 845, Sugawara no Michizane was the oldest son.
Advancement at court and promotion up through the ranks of the government bureaucracy was dependent on the passing of exams, mostly based on calligraphy, the composition and appreciation of poetry, and the Chinese classics.
Said to have been gifted academically from an early age, Michizane rose through the ranks and eventually became a chief adviser to Emperor Uda.
However, court life in Heian Period Kyoto was filled with rivalry, betrayal, and intrigue. The major power brokers for centuries were the Fujiwara clan.
When Emperor Uda abdicated the Fujiwara convinced the new emperor to banish Michizane. He was stripped of his rank and exiled to Dazaifu where he died a few years later.
While his remains were being carried to burial by ox-cart the ox suddenly sat down and refused to move any further so he was buried at that spot which is where the current shrine stands.
The large shingyu, or ox statue in front of the shrine entrance, rubbed by millions over the years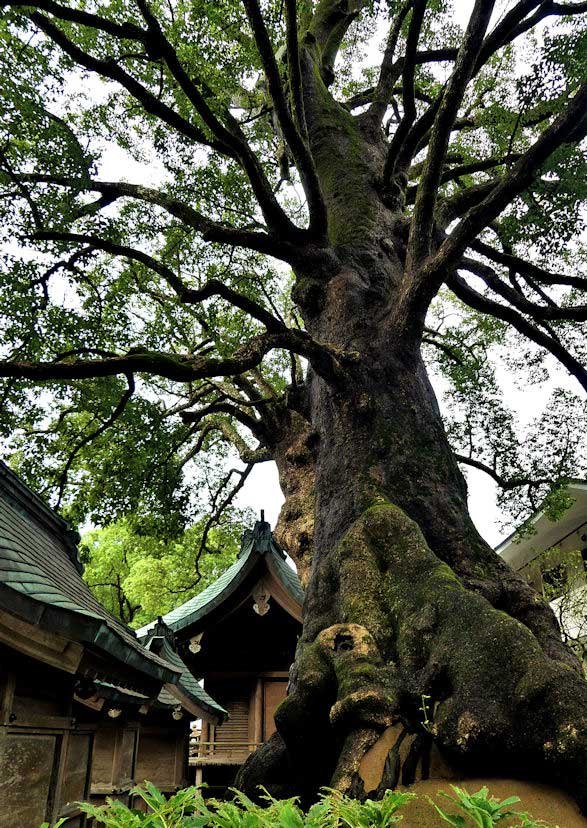 The extensive grounds of Dazaifu Tenmangu are home to many huge, ancient trees including this massive pair of Camphor trees which are considered "married"
In Japan at that time such things as disease, calamities, natural disasters and such were believed to be caused in part by angry spirits of the dead.
Sometimes known as Hungry Ghosts, or Vengeful Spirits, they were called Onryo or Goryo, and there were various kinds of rituals, both Buddhist and other, to pacify and quell these angry spirits.
In the years following Michizane's death disaster, calamity, and death did indeed befall both the Imperial family and the Fujiwara in Kyoto.
It was decided that this was caused by Michizane's angry ghost so in an attempt to placate and pacify him his rank was restored.
Some time later the court built Kitano Tenmangu Shrine in Kyoto where he was deified as Tenjin Tenman, and later still Tenjin became a kind of patron saint of learning and the arts.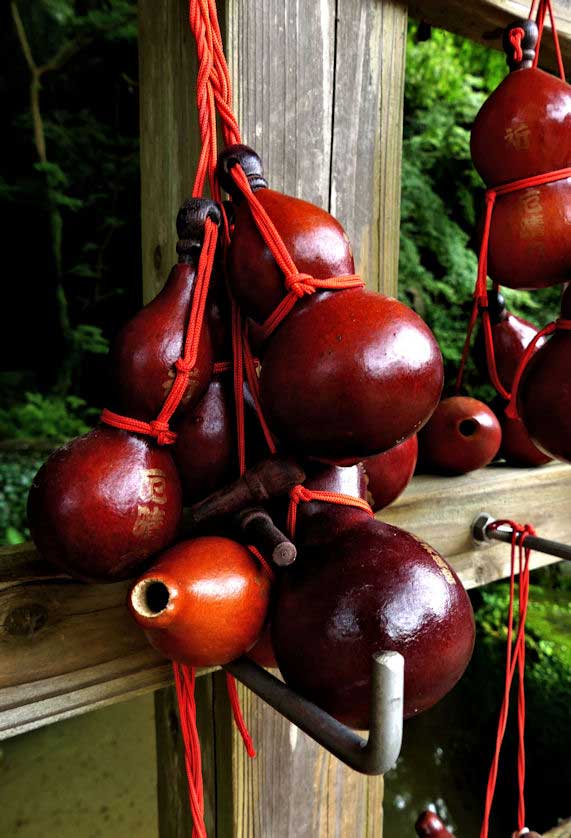 Each of these small gourds contain a small slip of paper upon which is written the prayers and wishes of petitioners
Visiting Dazaifu Tenmangu
From the station a long street lined with shops selling souvenirs as well as snacks, coffee, ice cream and such, leads up to the entrance to the shrine, passing through several large, stone torii gates.
On the corner across from the shrine entrance is a Visitor Center where you can pick up leaflets and maps in English as well as much more information in Japanese.
Visitor CenterOpen 8.30 am to 5 pm every day.2-7 Zaifu, Dazaifu, Fukuoka 818-0117Tel: 0929 22 8225
Just across from the Visitor Center is the first of eleven statues of an ox you will see in the grounds. Called Shingyu, this one is the largest and is cast in bronze.
It is a Japanese tradition to rub holy statues for luck and health, and the head of this ox is gleaming bronze from having been rubbed by untold millions of visitors.
Behind the Shingyu, within the walled compound not open to the public, is a small Buddhist temple, a small reminder that in fact Dazaifu Tenmangu, like many shrines in Japan, was actually a Buddhist institution until 1868 when the new Meiji government forcibly separated "the Buddhas and the Kami" in an edict called Shinbutsu Bunri.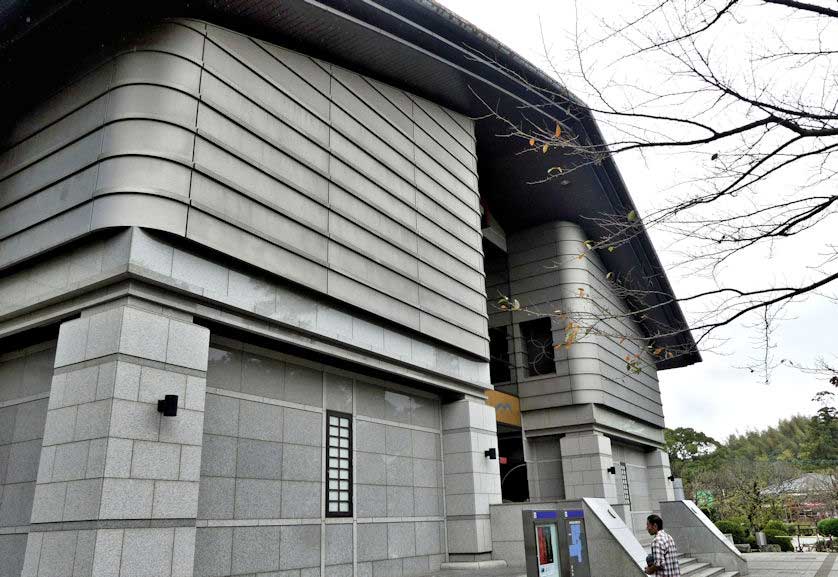 The Treasure House / Museum of Dazaifu Tenmangu
Shrine Buildings
The main compound of the shrine is entered by crossing three vermilion bridges, that cross a large pond built in the shape of a heart.
Now you come to the Romon, the large, two-storey gate, but before going in you may want to purify yourself in the large water basin by rinsing your mouth and hands.
Don't worry if you haven't done it before, just follow everyone else or read the easy instruction posted.
Inside the main compound people line up to pray at the main hall which dates back to the 16th century. You will also see two plum trees, the one on the right, named Tobiume, flying plum, is according to the legend,  Michizane's favorite plum tree which followed him here all the way from Kyoto.
At the time Michizane lived the cherry blossom had not yet become the primary focus of poetry.
Blossom viewing, was, as in China, pre-eminently the plum blossom, which announced the onset of spring and as such was a major subject of poetry and art.
Consequently Dazaifu Tenmangu has hundreds of plum trees in its grounds, but also cherry trees. In the shops within the main compound you can also purchase a variety of souvenirs and sacred paraphernalia such as amulets, omamori in Japanese, or votive tablets, ema in Japanese.
Most visitors venture no further than the main shrine building, but there is much more to see if you venture behind the main compound and explore the extensive shrine grounds.
There are dozens of ancient trees, the oldest believed to date back 1,500 years, and also numerous shrines and monuments each of which has any interesting history.
If you have the time you can venture further back and then follow the vermilion torii gates that lead up the hill to an Inari Shrine.
Of course there is a fair bit of art to see as at most shrines. There are statues around the grounds and carvings on some of the buildings, in fact you will see a rather unusual bronze statue of the mythical beast the Kirin.
Dazaifu Tenmangu is unusual in that the grounds contain multiple examples of modern art sculptures. Called the Keidai Art Museum, you can pick up a map from the information center that shows you the location of each sculpture. Detailed explanations of each piece can be found at dazaifutenmangu.or.jp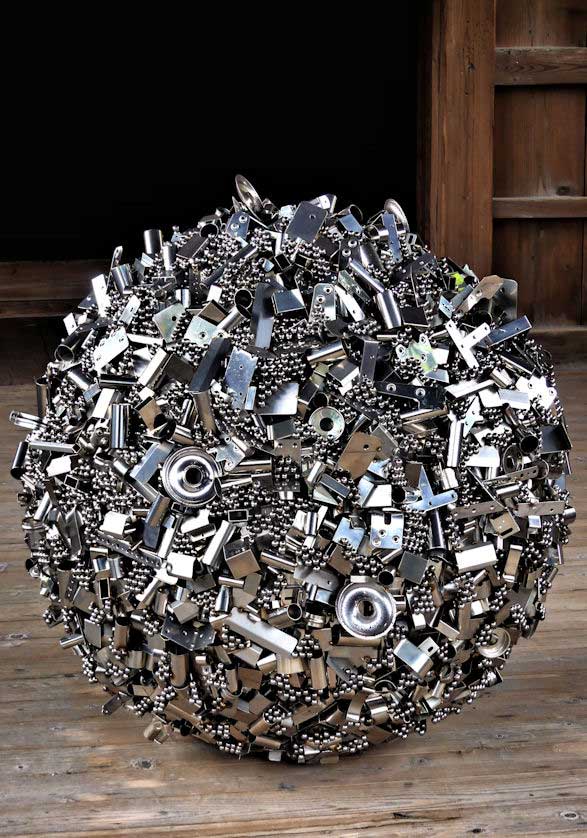 Really Shiny Stuff That Doesn't Mean Anything, a sculpture by British artist Ryan Gander, part of the Keidai Art Museum at Dazaifu Tenmangu Shrine in Fukuoka
Shrine Museum
For more traditional art you can visit the shrine museum. Here there are lots of paintings, poems, calligraphy etc including pieces reputedly done by Michizane himself.
They also have one of his swords as well as other swords and samurai armor that has been donated to the shrine over the centuries.
Entry for adults is 400 yen though there is a reduced price for a joint ticket that gets you into the nearby Kyushu National Museum. Open 9 am to 4.30 pm. Closed Mondays
Ceremonies, festivals, and rituals are held throughout the year at Dazaifu Tenmangu and the shrines own website, www.dazaifutenmangu.or.jp/en, will let you know what is going on at the time you are planning to visit.
In early spring the plum trees blossom, a little later it is the turn of the cherry trees. In May the large Iris Pond is filled with irises in bloom, and of course in the autumn the maple trees turn red.
Dazaifu Tenmangu Access & Hours
4-7-1 Zaifu, Dazaifu, Fukuoka 818-0117Tel: 092 922 8225
Dazaifu Tenmangu is a few minutes walk from Dazaifu Station and Kyomyozenji Temple.
Dazaifu is 15 km from Fukuoka.
There are Nishitetsu trains from Nishitetsu-Fukuoka Station in Tenjin to Dazaifu Station on the Tenjin Omuta Line or JR train from Fukuoka Hakata Station to JR Futsukaichi Station on the JR Kagoshima Main Line then change to Nishitetsu at Futsukaichi Station.
By road from Fukuoka take the Kyushu Expressway and exit at Dazaifu or Chikushino Interchange if coming from Kumamoto.
There is a Nishitetsu bus service to Dazaifu from Hakata Station Bus Terminal in Fukuoka. The journey time is 40 minutes. Dazaifu is also 25 minutes by bus from Fukuoka International Airport.
Book Hotel Accommodation in Fukuoka Japan
All the themes of the city