Anime Books
Japanese Anime Reviews
Japan anime and manga reviews: read reviews of the best Japanese manga and anime books and DVDs.
Please note if you purchase something through a link displayed on the website we may earn commission.
Please note if you purchase something through a link displayed on the website we may earn commission.
Astro Boy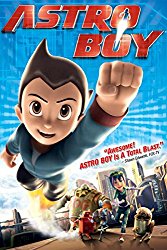 by Osamu Tezuka
ASIN: B000063K4N
To Americans of a certain age, Astro Boy was a legendary tv show hero, probably aired in the late afternoon on a local channel.
To learn later that he was not "American" at all but from the great King of Manga himself--Osamu Tezuka--makes them all the more compelling.
These five color episodes are the start of the 1980 remake, The New Adventures of Astro Boy. Many of the scripts were written by the King of Manga: Osamu Tezuka. The animation is fair, but the Astro Boy story was and is loved by many for its simple charm. This is a color remake of the 60's series but with a quicker pace.
Astro Boy is a child and at times is in over his head. He is selfless, risking his life as he helps and protects those weaker than himself. Parents looking for a moral tale for their glued-to-the-tube youngsters could find no better DVD.
Cruising the Anime City: An Otaku Guide to Neo Tokyo
by Patrick Macias and Tomohiro Machiyama
Stone Bridge Press
ISBN: 1-880656-88-4
144 pp
This is the geek's guide to Tokyoand much more. It is guidebook, social commentary, and a peek into the latest trends on the otaku scene ... and all before they hit the shores of the West. Cruising the Anime City: An Otaku Guide to Neo Tokyo covers the studios that produce anime, includes interviews with the movers and shakers in the industry, discusses the toys, museums, film "locations," music, etc., and has detailed maps of the otaku mecca that is the Akihabara district of Tokyo.
Macias has written a comprehensive guide that does not talk down to beginners. It is written with wit and is handsomely illustrated. The book's piece de resistance is its coverage of the Great Gathering, the climax of the otaku calendar: the annual Comiket 65. This is the yearly "Comic Market," a three-day festival held at Tokyo Big Sight. All the sub-cultures are featured here making for a geek nirvana. Macias covers it with an and humor. For those thinking of making the trip to Comiket, or even just Tokyo or just wanting to read about this fascinating world from home - this is an indispensable guide.
Watching Anime, Reading Manga: 25 Years of Essays and Reviews
by Fred Patten
Stone Bridge Press
ISBN: 1-8806-5692-2
360 pp
Anime and manga aren't just for otaku anymore. A recent article in The New York Times noted that sales of Japanese comics in the U.S. have exploded,
inspiring big-name publishers like Penguin and super-hero giant DC Comics to get in on the action. Some 1,000 paperback titles are expected to appear in 2005, many aimed at younger readers and in particular, girls.
Fred Patten has been preoccupied with the world of Japanese cartoons since the early 70's and is credited with founding the first American anime fan club in 1977.
This collection of articles originally written for magazines like Starlog and Manga Max deals with everything from business concerns like licensing to the discovery of covert cultural messages in popular stories.
While early chapters dealing with fandom - one of which consists of a monthly chronology of events from 1977 to 1992 - are far too detailed to be of interest to the average reader, we do come to understand that, like any surge in popularity, the current anime/manga boom has been building for many years. Later sections of the book contain invaluable information on major artists and works, but again one can't help thinking that rather than assembling material that was designed for a very limited audience, an "autobiography-of-a-fan" approach tracing the rise of the form would have made for a better book - for a newbie like me, at least.
Christopher Stephens
Anime Essentials
by Gilles Poitras
Stone Bridge Press
ISBN: 1-880656-53-1
128 pp
This book is a wonderful introduction to the exciting and diverse world of animation, or anime. Anime Essentials goes over the history, genres, theatrical release, clubs, conventions, and concerns of anime. It also includes a list of other print and web-based resources.
The book is written primarily with a US audience in mind and therefore has multiple references to the anime culture that exists in America. It also has concise sections on the greats of anime: Osamu Tezuka, Sailor Moon, etc. The section on anime genres is especially well done, with good introduction to the roots of anime (science fiction, horror, romance, crime, etc.). Also interesting are the explanations regarding the depictions of hair, sweat, large eyes, and more. Highly recommended.
Animation on DVD: The Ultimate Guide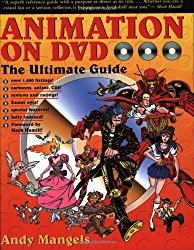 by Andy Mangels
Stone Bridge Press
ISBN: 1-880656-68-X
571 pp
This comprehensive guide lists more than 1,500 animated films on DVD. It includes everything from early Disney works to the latest digital CGI.
There are foreign films, the major hits, hundreds of Japanese anime releases, plus a separate section on adult material such as Fritz the Cat.
Each entry includes a storyline, review, history, key personnel plus ratings. For an anime buff, librarian or parent, this is a gem. There are indexes, a bibliography, and a listing of companies. Richly illustrated.
Yu-gi-oh
ASIN: B0000ZFZYG
The Master of Magicians Saga is a tale in which Yugi gets kidnapped and spirited to an underground dueling spot. There, he meets Arcana, an evil magician who challenges Yugi to a duel.
Yugi has both his favorite card and Millennium puzzle on the line, so if he loses he will be banished to the shadow realm.
During the duel, Arcana appears to be losing, about to go down when Yugi summons the Dark Magician.
Arcana, however, pulls out another, even stronger, Dark Magician.
Will Yugi win? Can he win? Lions-and-tigers-and-bears, oh my! A must have for all Yugi fans.
Anime Explosion! The What? Why? & How! of Japanese Animation
by Patrick Drazen
Stone Bridge Press
ISBN: 1-880656-72-8
320 pp
Anime has gone mainstream. Or, rather, it has gone everywhere. Ten years or so ago the number of people outside of Japan who even knew what anime was was limited to a small but devoted number of maniacal fans. From Hayao Miyazaki to Osamu Tezuka, today anime is everywhere in the US and Europe and increasingly popular in China and the rest of Asia.
But where did Japanese animation come from, and what does it all mean? Cultural commentator Patrick Drazen has written a concise, witty, and lively guide for fans, those with a general interest in Japan, and even for those who have only the vaguest idea of what this omnipresent phenomenon really is and means. Drazen leads the reader through the characters and themes, styles and conventions, in a highly readable style.
Some of the major themes include warriors, teenage girls, hardcore, the Japanese mother, nature, reincarnation, and more. The text includes over 100 pictures. Moreover, at the end of the book are essays on 15 classic anime. Last, there is a brilliant essay on Hayao Miyazaki and his organization.
This book is useful not only as a reference to anime, but also as an insightful guide to contemporary Japanese culture. A great read.
Cutie Honey Collection (Region 1)
ISBN: B000050IL9
Cutie Honey took Japan by storm. She made the superhero-like leap to the silver screen. The classic cartoon was made into a live-action film and opened in theaters across Japan in May 2004. Starring Eriko Sato - a real-live human being female - as Cutie, it had the young and not so young lining up to see it.
The Cutie Honey Collection is anime and is based on the original Saturday morning TV show that was a long-running hit in Japan - and has since become one of the latest anime imports to win a devoted following in the US. The characters will be familiar to anime fans: Grandfather Denbei is simultaneously powerful and lecherous; Chokkei is the awkward teenage boy whose bumbling charm wins him the aid and interest of the buxom title character; and Cutie herself, the warrior android who fights evil and loses her clothes.
They face off against the evil Dolmek and his thugs who are attempting to take over Cosplay City. Rated 17 and over: nudity! violence! profanity!
Appleseed
Story & Art by Kazuyoshi Katayama
ASIN: B00005AX6N
Based on Masamune Shirow's Ghost in the Shell, Appleseed is a high-wire act, an action feature where the clock is ticking as the future of civilization hangs in the balance. Following World War III, the few remaining governments in the world create the perfect city: Olympus. However, this city-state is run by half-human half-robot control-freak Biodroids. A group of freedom-fighters attempts to destroy the Biodroids' guiding computer in order to liberate mankind.
The main characters are Dunan Nats, a tough female cop, and her partner, Buliarous Hekatonecles, who was wounded in the war and rebuilt with mechanical limbs and sensors. Together they hunt a cyborg 'terrorist' and an officer 'gone bad', the latter two aiming to destroy Olympus. A bit dated, but wonderful nonetheless. "For Mature Audiences Only"; age 16 and over with violence and profanity.
Ghost in the Shell
ASIN: 6304493681
Ghost is the masterful fusion of wonderful hand-drawn animation and computer-generated imagery. It took the anime world by storm when it was released in 1995.
At the time viewers excitedly assumed they were witnessing the future of animation. Set in 2029, a mysterious, anonymous government employs cyborgs, or "enhanced" humans, to do its dirty work. (Conspiracy theorists will enjoy this).
The key cyborg is The Major, Motoko Kusanagi, who is both sexy and very, very tough.
The film hinges on her pursuit of the superhacker known as "The Puppet Master."
This master computer criminal is suspected of manipulating the market and other acts of terror. If she fails but all is not what it seems.
Devilman: The Birth/Demon Bird
ASIN: B00000JL4M
Another anime to make the leap to the big screen is Devilman, released on DVD in Japan in April 2005.
The original anime is the story of the alter ego of mild-mannered schoolboy Akira Fudo.
He suddenly becomes possessed by a demonic force.
The plot of Devilman documents his struggle to control that force and, eventually harnessing that force, to fight and defeat more evil demons.
It is full of the fanged and tentacled demons so popular today in Japanese anime. Great action.
The perfect gift--for you or a friend.
Initial D: Battle 01
ISBN: B00009N1ZE
In a tiny dull town north of Tokyo, the only game in town is street racing on Mt. Akina.
A local geek named Takumi "Tak" Fujiwara isn't turned on by racing like his friends Iggy and Cole are. Unbeknown to them, though, his ex-champion father has taught him all the tricks of the racing trade. That is how he can deliver tofu up and down Mt. Akina without losing a single piece.
When Cole is injured preparing to lead the local Speed Stars club (read: the good guys) against the arrogant Red Suns, he begs Mr. Fujiwara to find a replacement. Three guesses. 17-year-old Tak is now thrust into the thick of the street-racing world. He drives the legendary "Eight-Six"a Toyota Trueno AE86 and his prowess immediately shines forth. Rivals line up to take him on. The CG cars, rock soundtrack and great camera work make for a great ride. (Rated PG-13; 13 and older: tobacco use, minor profanity, street racing)
GTO -- Great Teacher Onizuka (Vol. 1)
by Tohru Fujisawa
Former motorcycle gang leader Eikichi Onizuka decides he will become a high school teacher for the very academic reason that he can get paid to stare at his female charges all day long. In episode one, a girl in the class: the beautiful Nanako Mizuki, puts the new senseiaka, GTO (Great Teacher Onizuka)in a rather compromising position allowing three of her hooligan pals to take compromising photographs of them. Their attempt at blackmail collapses when Onizuka and some of his (even thuggier) pals capture the would-be millionaires and erstwhile juvenile delinquents and torture them.
However, in a later turn of events, Onizuka helps Mizuki with her family problems and gets a pair of her panties for his efforts. Yes, parts of this anime veer heavily in the direction of the puerile. The drawing, too, reflects this and may not travel well outside of the permissive atmosphere that insulates much of popular anime and manga in Japan. Yet for the right audience, this can't be beat - a must-have. Unrated; suitable for ages 17 and over. Sexual humor, profanity, violence, tobacco and alcohol use, grotesque imagery. This is the first of 44 issues.
Brigadoon, Vol. 1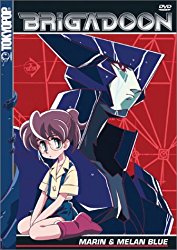 by Yoshitomo Yonetani
ISBN: B00008G8WE
Brigadoon originally aired in 1999 on the Japan-based satellite channel WOWOW as a 26-episode series. The fabulous animation comes courtesy of Sunrise, one of Japan's leading anime production studios. The talented folks at Sunrise have created, among others, Gundam Wing, Cowboy Bebop, and Outlaw Star.
Brigadoon is the tale of a wildly imaginative orphan, Marin, who is befriended by Melan, an alien robot protector. The show combines over-the-top family humor and battle sequences made up of cutting-edge graphics.
Marin lives in a Tokyo slum with her wacky adopted relatives. Marin, however, is a normal teenager with a very abnormal problem: she's the target of a mysterious object in the sky called Brigadoon. She is attacked by mecha-like weapons. Just when all seems lost, a Gun-Swordsman named Melan Blue comes to her rescue. Much, much more awaits. (Rated 13 and older: violence, risqu humor, alcohol and tobacco use)
Hayao Miyazaki: Master Of Japanese Animation
by Helen McCarthy
ISBN: 1-88065-641-8
240 pp
With the notable exception of Tezuka Osamu, no one has done more than Miyazaki Hayao to take Japanese animation to a worldwide audience. The celebrated writer, animator and director's Sen to Chihiro no Kamikakushi (Spirited Away) smashed box office records in Japan when released in 2001, though it didn't do as well as expected in the United States. After grossing 0.4 billion at the Japanese box office, Spirited Away went on to win an Oscar for Best Animated Feature.
Miyazaki's films display a level of technical mastery and attention to character and plot that has his Studio Ghibli regularly outdoing Disney, financially and critically. Indeed, the popularity of his works has outgrown the confines of animation; the 1988 Tonari no Totoro (My Neighbor Totoro) was named the second most popular film of all time in an NHK poll, forgivably beaten into first place by Kurosawa Akira's Shichinin no Samurai (The Seven Samurai). In her study of the animator's life and work, Helen McCarthy manages to temper her scholarly interest with enough raw enthusiasm to draw in the layman. McCarthy begins, though, with some ill-judged advice. Having warned that what follows will include plot synopses of all of Miyazaki's major works, she then rather indifferently advises the non-buff whose interest in film is restricted to discovering "what happens" to stop reading.
That, however, is the only minor blot on an otherwise thoughtful and well-researched work that draws on scores of magazine and newspaper articles, books, television programs and interviews with Miyazaki himself. The sections on the origins of each film, and the character profiles and critical commentaries are ideal accompaniments to the films themselves, particularly for those who have dismissed, mistakenly in Miyazaki's case, the anime genre as long on thrills and short on feeling. The best passages explore Miyazaki's inspiration for his masterpieces. They are not, we learn, simply the fruits of a fertile imagination, but are also grounded in classical literature, family, working-class consciousness and a concern for the environment. The only quibble here is that McCarthy devotes very little space to the driving force behind Studio Ghibli's astounding success since it was set up in the mid-1980s. Miyazaki's university days (where he studied politics and economics), his early Marxist leanings, and his heavy involvement in trade unionism while working as a lowly inbetweener at Toei Animation in the early 1960s could have been explored in greater depth since, by McCarthy's own admission, his political views continue to have a bearing on his work.
But the anime newcomer will find much of interest in McCarthy's description of production techniques used at the studio, and purists will be comforted to find that, despite ever-tighter schedules, the vast majority of frames in a Miyazaki film are hand-crafted; although, as the author points out, this apparent concession to aesthetic integrity is partly commercially inspired. Fortunately, McCarthy's decision to discuss the films' endings does negligible damage to this authoritative, comprehensive study that should fulfill her aim of opening the door to anime appreciation to a non-Japanese audience.
Justin McCurry
Samurai Girl: Realbout High School
by Reiji Saiga
ISBN: B000095J66
Samurai Girl is a must-have for fans of comedy adventures. As the box set states on the back cover: "teachers don't break up fights--they grade 'em!" Ryoko Mitsurugi is the reigning K-style (essentially anything goes) fighting champion at Daimon High. One day at school Ryoko-san discovers a mysterious pendant in her locker that transports her to another world called Solvania, where she does battle with a "demon beast." She thinks it's all just a dream, and remains more preoccupied with her more earthly rivalry with Azumi over kendo stud Tatsuya.
As she goes back and forth between the Earth and Solvania, Ryoko forms a reluctant alliance with the rough and ready ex K-Fight champion Shizuma "Nagi" Kusanagi. At this point, though, Azumi's Secret Flower Arrangement Club attacks Ryoko using a shuriken (ninja star)-like flower holders with multiple points. At the end of Samurai Girl is a wild melee of a battle scene. Fantastic.
C. Ogawa
Barefoot Gen
directed by Mamoru Shinzaki
ISBN: 6305339724
This is the DVD based on "Hadashi no Gen" (Barefoot Gen), a Japanese comic book series about a boy who has survived the atomic bombing of Hiroshima. The story begins with Japan is in the midst of the war. Gen is a normal and active boy who is more preoccupied with his own child's life than the war and other adult concerns. That, however, is turned upside-down by the horror of one clear day in August 1945. It goes without saying that some of the themes in Barefoot Gen are inappropriate for small children. The story itself is lovingly told and visually appealing; however, some may find the subject matter disturbing, however compelling. Perhaps even more compelling is the fact that the story is semi-autobiographical. The writer of the original manga series, Keiji Nakazawa, was six when the bomb was dropped. He based the original Barefoot series on his own childhood experiences.
C. Ogawa
Note To Authors & Publishers
If you wish to have your title reviewed by JapanVisitor's team of Japan-specialist reviewers please contact us to arrange for a review copy to be sent to the editors.
JapanVisitor provides a thorough and professional review.
JapanVisitor works in cooperation with the following publishing houses: Kodansha International, Rough Guides, Lonely Planet, Penguin, Alexandra Press, Oxford University Press, Vertical, APA Publications, Columbia University Press, University of Hawaii Press, Dark Alley, ME Sharpe Inc., Tokyopop, Trafalgar Square Books, Houghton Mifflin Company, Grove/Atlantic Press, Tuttle Publishing, Yale University Press, Intercultural Press, Pantheon Books, Pan Macmillan, Bantam Press, Faber & Faber, University of California Press, Harvard University Press.
Japan anime and manga reviews: read reviews of the best Japanese manga and anime books and DVDs.
All the themes of the city