Japan Art Books
Japanese Art & Design books: read book reviews on titles from the world of Japanese art and design.
Japan Art & Design Books
Please note if you purchase something through a link displayed on the website we may earn commission.
The Art Lover's Guide to Japanese Museums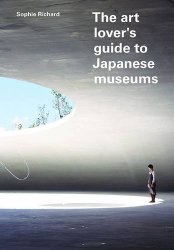 by Sophie Richard
Japan Society Publications
ISBN: 0-9559-9771-2
Paperback, 176 pp.
Japan is home to a massive number of art museums, more than 1100 in total, ranging widely in both size and quality. Trying to decide what is worth visiting is made harder by the fact that many of the museums have no English language web presence. A partial solution is offered by the new The Art Lover's Guide to Japanese Museums by art historian Sophie Richards.
She personally visited over 100 art museums in Japan and from these selected 50 to include in the guide, so while it is far from comprehensive, it does mean that the book is slim enough to be easily carried along in a bag, though not small enough for a pocket.
The criteria for a museum's selection seems to be based on the quality of the museum's collection, the uniqueness or individuality of the museum, and in a few cases the quality of the architecture. She also chose to focus on the areas of Japan most visited by tourists which means that Tokyo and its surroundings is most heavily represented and Kyoto also well reflected. This leaves most of the rest of Japan hardly covered, with Kyushu not even meriting a single museum.
There are however a few museums in the hinterland covered and I was pleased to see two of my favorites included: The Museum of Modern Art in Nagi Okayama and the Shoji Ueda Museum of Photography near Mount Daisen in Tottori. Given the limited selection of museum included, they do cover quite a wide range, from small. private museums like the ICU Hachiro Yuasa Memorial Museum dedicated to traditional Japanese Mingei art, to the Benesse Art Site on a group of islands in the Inland Sea comprising a series of large museums dedicated to primarily Modern Art from around the world.
Many of the larger National Museums have not been included because they are already well known and information about them readily available in English. The bulk of the book's content is detailed reviews of the selected museums which are illustrated by beautiful photography and include a lot of background material on the collections and interesting details on the museum's history gleaned from interviews with the curators.
Full details of opening times, prices, and access information is included, and often details of places worth visiting nearby. With its introductory chapters and articles on themes such as Japanese gardens, Tea Ceremony, Mingei, etc the book is a good read for anyone wanting a grounding in Japanese art history even if you are not planning on visiting Japan. If you are planning on checking out art sites in Japan then The Art Lover's Guide to Japanese Museums is certainly well worth purchasing.
Jake Davies
A Japanese Touch For Your Garden
by Kyoshu Seike, Masanobu Kudo, David H. Engel
Kodansha International
ISBN: 4-7700-1661-1
80 pp
Ever since Japan was "discovered" by the West in the late 19th century, Japanese gardens have fascinated Westerners. They are unlike gardens anywhere else, and garden design in Japan is considered an artform, being a subject of study in art schools.
To the Western eye, the philosophy behind Japanese garden design can seem elusive. This book, through copious full-color photographs and numerous plans, shows the underlying concepts that can be utilized by gardeners, even within a very limited space.
The first 3 sections cover courtyard gardens, stone gardens, and trees and water. These sections are mostly full-color photos, with captions that point the reader to design elements within each garden.
The fourth and largest section is called Grammar and Vocabulary: The language of the Japanese garden, and is the meat of the book with practical advice on designing and constructing elements of gardens such as fences, walls, paths, streams, waterfalls, stepping stones, etc.
This section is amply illustrated with diagrams, plans, and color photos. For those who enjoy looking at Japanese gardens, this book would enhance your coffee table. For those who want to build gardens, this book gives you more than enough to think about, and plenty of practical advice.
There is even a section of suppliers (in the U.S.) for plants and materials, and a list of Japanese gardens in the U.S. to visit.
New Bar and Club Design
by Bethan Ryder
Laurence King
ISBN: 1-85669-429-1
192 pages, 200 illustrations (150 in color)
The modern club-devotee is no longer satisfied with just a large pubic space set aside for his raving, drugs, and sex. Instead, we have come to expect the unexpected, the serendipitous, the odd, and even the divine to surround and please us as we revel.
To meet that need, design and architectural firms have sprung up that specialize in club and bar design--imagine telling an interior designer or architect in 1983 that he would do nightclubs for a living--and some of that work is truly spectacular.
New Bar and Club Design highlights the best of that oeuvre. It showcases work from around the globe, but with heavy doses of New York, London, and the rest of Europe. There are however also visits to spots in Beirut, Kuala Lumpur, and other cities a bit off the beaten path.
For Japanophiles, the firms Zokei Shudan Design and Yasumichi Morita (and his Glamorous team) get special mention. Located in of all places Shinbashi, a dull Tokyo business quarter, two clubs merit attention: Ashibina and So-An, both by the Okinawa native Yusaku Kaneshiro of Zokei Shudan.
Of So-An, Kansehiro notes: "The owner wanted us to create a woman-friendly bar and had already decided upon the name, so we chose a feminine 'grass and flower' theme for the interior." And thus was born a masterpiece, replete with Okinawan influenced touches, such as caves, the liberal use of the color red, and the bar's tempered glass.
New Bar and Club Design is a coffee table book for those serious about design. It features a total of 47 "projects" from around the world, from boutique clubs to nightspots that offer comfort and luxury. A wonderful read, and a fabulous peek into the some of the most elegant bars and clubs you ever hope to get past the bouncer into.
Discovering the Arts of Japan: A Historical Overview
by Tsuneko S. Sadao and Stephanie Wada
Kodansha International
ISBN: 4-7700-2939-X
283 pp
Sadao and Wada have created a lovely book that, in the space of fewer than 300 pages, lays out the history of Japanese traditional arts. Handsomely appointed with photos representing the finest pieces from the prehistoric era through to modern times, the arts are organized into Architecture, Sculpture, Painting, Calligraphy, Textiles, Lacquer, Ceramics, and Metalwork subheadings.
Richly illustrated, the authors discuss the pieces themselves and set them in historical context. Chronological maps are included; even those new to Japanese arts will have little trouble following and comprehending the artifacts discussed in the text.
The presentation is highly visual: photographs tell the story, with text to aid the reader. It shows us how "successive waves of imported ideas and artifacts were assimilated and synthesized into a new interpretation." As author Wada notes in the Preface: "The aim of this book, then, is to present a concise but comprehensive survey of the arts of Japan from pre-history to the start of the modern era."
This text succeeds in that, and can be read for its historical interest or skimmed through to enjoy the profound beauty of the photos. A lovely coffee-table book - but much more than that.
Japanscapes: Three Cameras, Three Journeys
Photos by Ben Simmons, Johnny Hymas and Gorazd Vilhar
Text by Lucille M. Craft, Johnny Hymas and Charlotte Anderson
Kodansha International
ISBN: 4-7700-2876-8
136 pp
Coffee-table books of Japanese images are about as numerous as varieties of donut, and like many such sugary confections, they may often look enticing but turn out to lack substance. Japanscapes is one of the happy exceptions - a book that will reward repeated samplings.
This is a sumptuous volume both for photo lovers and those wishing to get behind some of the stereotypical images of Japanese life. Three skilled photographers have been assigned to turn their critical lenses on, respectively, the Japanese city, the countryside, and culture in general. Their luscious imagery is carefully arranged in sweeping montages that bring out the hidden and not-so-hidden patterns in each individual image.
The accompanying text is more than just captioning, offering insights into the state of Japan in the 21st century, and the traditions that it has both overwhelmed and clung to.
Even the longtime resident of Japan is sure to find a fresh new angle on their adopted land, while for the visitor or regarder-from-afar, Japanscapes offers a tessellated, pulsating glimpse of a country that remains an important trend-setter and cultural icon for the rest of the world.
Richard Donovan
ARAKI by ARAKI
by Nobuyoshi Araki
Kodansha International
ISBN: 4-7700-2938-1
407 pp
Self-described "photo-maniac" and sex trade voyeur, Nobuyoshi Araki is modern Japan's best-known photographer. This selection is an autobiographical record of the artist's career from 1963-2002. It chronicles in black-and-white and color the whims of the enfant terrible of the Japanese art scene - and the changes in Japan as well.
Reviled by feminists for his frequent use of ropes and other implements to bind women, Araki remains unrepentant and upbeat. If that and his documentation of Japanese brothels is not your cup of tea, his lovely color shots of exotic flowers may be more appealing. They bring to mind some of Robert Mapplethorpe's work. However, it is the recurring motifs of rope, lizard, yukata (i.e. cotton robe), tatami (i.e. woven straw flooring), Tokyo street scenes, and above all the ever-present Japanese female nude that appear most often in this book. Also, Araki provides commentary ("Notes of a Photomaniac") on each picture, which has been translated into English.
Yoshimasa and the Silver Pavilion
by Donald Keene
Columbia University Press
ISBN: 0-231-13056-2
208 pp
Donald Keene's latest contribution to the field of Japan studies is a masterpiece on the development of Japanese aesthetics and kokoro (heart, soul, mind), much of which evolved during the Higashiyama Period at the Silver Pavilion (Ginkaku-ji) under the leadership of Ashikaga Yoshimasa. Shogun at the time of Onin War (1467-1477), which destroyed nearly all of Kyoto, Yoshimasa was a hapless leader who devoted himself instead to the pursuit of beauty.
In this period, Noh and ink painting flourished, the tea ceremony "originated in a small room at Ginakaku-ji where Yoshimasa offered tea to his friends," and with it the Japanese art of flower arrangement was born. Keene acknowledges the judgment of most historiansthat Yoshimasa was weak, extravagant, incompetent in affairs of state, and unable to end a meaningless war and its incumbent famine and suffering yet posits that he has yet to be recognized for his contribution to Japanese arts and taste.In the midst of wholesale destruction, Yoshimasa precipitated a Japanese renaissance.
Though respecting his grandfather Yoshimitsu, the builder of the Golden Pavilion (Kinkakuji), he had no interest in emulating either his life or works. Yoshimasa's Silver Pavilion stands in stark contrast to his grandfather's Golden Pavilion, the later coated in gold leaf, the former the epitome of Kyoto cool wabi sabi understatement.
"The simplicity and reliance on suggestion of the buildings and gardens at Higashiyama may indicate that a man who had earlier exhausted the pleasures of extravagance had at last achieved a kind of enlightenment," writes Keene.
This concise work is a complex web of murder, chaos, and endless war that destroys everything in its wake. And, simultaneously - amazingly, ironically, unbelievably - the period gave birth to some of Japan's best-known art forms. As an insight into medieval Kyoto, there is no better place to begin.
The History of Japanese Photography
Edited by Anne Wilkes Tucker
Yale University Press
ISBN: 0-3000-9925-8
405 pp
For a country that has such a strong association with the camera, surprisingly little of Japan's photographic history is known to the West. The reason, more than any other, is simply that until 2003 no definitive book on the subject existed in English.
With the appearance of The History of Japanese Photography, things changed. Designed as a companion volume to an exhibition of the same name, the 400-page, large-format book provides a comprehensive survey of the field from 1848, when the first daguerreotype set was brought to Japan, to the rise of post-bubble artists like Yanagi Miwa and Homma Takashi.
Along with essays by curators and historians such as Dana Friis-Hansen and Iizawa Kotaro, the book's appendices include a detailed chronology, informative profiles of the artists and lists of the major photography clubs and publications. (It is worth mentioning that the book retails for the very reasonable price of $60, and is available for considerably less online.)
Interest in photography began in the late Edo Period and, though the technology was already being studied, the first pictures weren't taken until 1854 - and then, by an American. Eliphalet Brown, Jr., who accompanied Commodore Perry on his second mission to Japan where he awed his hosts with the images he made of the ports at Shimoda, Yokohama and Hakodate, and later gave the world a look at the long-secluded nation.
To local residents, the book's most fascinating section may well be the chapter on the New Photography movement of the 1930s in which Kansai artists such as Hanaya Kambei, whose camera shop is still open for business on Route 2, and his Ashiya Camera Club helped introduce avant-garde imagery and hands-on techniques in a burst of creativity that lasted until the rise of pre-war militarism.
Christopher Stephens
Isamu Noguchi & Modern Japanese Ceramics
by Louise Alison Cort and Bert Winther-Tamaki
University of California Press
ISBN: 0-5202-3923-7
256 pp
Known primarily for his sculpture and secondarily for his public installations and furniture designs, Isamu Noguchi is not normally thought of as a ceramic artist. Yet, the Japanese-American had three highly productive ceramic phases, all of which occurred during extended stays in Japan. The first was in Kyoto in 1931, the second in the porcelain center of Seto (Aichi) in 1950 and the last in Kita-Kamakura and Bizen (Okayama) in 1952.
Though he kept a house in Shikoku and continued to visit Japan regularly until his death in 1988, he never worked in clay again. Unlike more general studies of Noguchi's work, the focus in Cort and Winther-Tamaki's book is firmly on Noguchi's relationship with Japan and traditional potters like Kitaoji Rosanjin and avant-garde ceramists like the Kyoto-based Sodeisha group (lit., the "Crawling through Mud Association"), and the influence these had on Noguchi's art as a whole.
Though marred in places by the typically opaque writing of art history ("In other words, the ball of clay used to form a vessel or sculpture serves as a metonymy for the vast aggregate of the physical matter of terra firma."), in many respects, the book is an ideal starting point for the general reader.
And as Noguchi's short-lived marriage to the actress Yamaguchi Yoshiko coincided with and directly inspired much of the 1952 work, movie fans may also want to have a look.
Christopher Stephens
Historic Rings: Four Thousand Years of Craftsmanship
photographed by Takayuki Toyama
by Diana Scarisbrick
Kodansha International
ISBN: 4-7700-2540-8
356 pp
This is a magnificently photographed encyclopedic volume that illustrates the vast collection of Kanji Hashimoto. The ring collection Hashimoto spent 15 years amassing consists of 800 rings. The rings were selected as much for historic interest as for intrinsic value.
The book begins in the Ancient Mediterranean World and moves from Byzantine and Medieval European history through the Renaissance, the seventeenth to nineteenth centuries, Art Nouveau, Belle Epoque, and Art Deco. From there it moves into the major jewelers of the 20th century from America and Europe and concludes with works from the Middle East, Africa, the Americas, and the Far East.
This lovely work features both many well-known and rare pieces. Examples include an amethyst scarab set in a gold wire hoop with beads at the shoulders. This exquisite work dates from the 12th-13th Dynasties of the Egyptian Middle Kingdom.
This is the perfect text for scholars, experts, collectors, and dealers.
C. Ogawa
A Guide to the Japanese Stage: From Traditional to Cutting Edge
by Ronald Cavaye, Paul Griffith, Akihiko Senda
Kodansha International
ISBN: 4-7700-2987-X
288 pp
Japan has been blessed with a range of theatrical experiences unknown in many countries. This ranges from the highly refined stage developed over the centuries experience of Kabuki et al to the ultra modern.
In the market of guides to the theater, there are many highly academic and abstruse works that read like a conversation among experts. A Guide to the Japanese Stage: From Traditional to Cutting Edge, however, provides the practical information necessary to understandand enjoy - a select body of works without taxing - or speaking down to - the reader.
This guide provides a brief history to the features of each genre, along with recommendations of plays to see. For each of the recommended works there is a synopsis. In addition, the best-known actors, writers, directors are introduced.
There are also many illustrations as well as information about theater listings, how to get tickets, and which plays are available on DVD with English subtitles. A must for anyone considering delving into the Japanese stage. The ideal companion for the theater-goer in Japan.
C. Ogawa
Wabi Sabi: The Japanese Art of Impermanence
by Andrew Juniper
Tuttle
ISBN: 0804834822
176 pp
Wabi Sabi: The Japanese Art of Impermanence is Juniper's take on a traditional Japanese aesthetic. Beginning with a definition of wabi sabi: "If an object or expression can bring about, within us, a sense of serene melancholy and a spiritual longing, then that object could be said to be wabi sabi", Juniper continues by examining different aspects wabi sabi, such as its historic origins in Zen, its development within Japanese culture, and its expression in Japanese arts and crafts.
Finally, he lists design criteria, identifies suitable materials, and sketches out ethical principles that are required for the creation of objects that have wabi sabi.
The book is a primer and a cry from the heart for an aesthetic that senses increasing beauty, loveliness and value in things with the progress of time. All but lost in Japan itself where, for example, old buildings are torn down without a thought for any architectural merit they may possess, it is hoped that this book may help inspire something of a revival of this old aesthetic.
C. Ogawa
Living Wabi Sabi: The True Beauty of Your Life
by Taro Gold
ISBN: 0740739603
144 pp
From the author of Open Your Mind, Open Your Life and The Tao of Mom, Living Wabi Sabi introduces readers to the "imperfection" of much of Japanese art and craft and how it is the source of true beauty and growth.
Author Gold highlights how the concept of wabi sabi embraces "weakness" and "flaws" to produce beauty. It is a short step from Japanese porcelain and traditional homes - in which goods aged from use were revered as objects of beautyto human foibles.
Gold espouses a universal 'wabi sabism' that celebrates the imperfect in all of us. Singing off key, the small "mistakes" we all make: by acknowledging and accepting these, we can, according to Gold, lead fuller and happier lives. Lovingly illustrated.
An Illustrated Encyclopedia of Japanese Family Crests
Japan Publications
ISBN: 4-88996-070-8
413 pp
Kamon, or family crests are what would now be called logos. Kamon are everywhere in Japan, on the noren (doorway curtains) of shops, on the eaves of old farmhouses, and even as corporate logos. Japanese crests differ from European in that usually the design is simpler and bolder. This book has collected together more than 4,000 examples of these designs, laid out 20 to a page, with the yin (white on black) and the yang (black on white) versions.
Almost all of the designs are symmetrical, some designs are complex, some simple, some organic, and some starkly geometrical. The images are grouped by category such as plants, animals, utensils, etc.
For artists and designers, this book is a goldmine of ideas as all the designs are copyright-free so can be used by anyone. The book is also valuable to those interested in the symbols of Japan, or to those interested in Japanese design in general.
Early Japanese Images
by Terry Bennett
Kodansha International
ISBN: 0-804-82033-3
168 pp
Western photographic techniques and equipment began filtering into Japan in the mid-nineteenth century. After Japan's gradual opening to the West in the following decades, both Western and Japanese photographers began establishing studios and recording the life and times they saw around them.
Terry Bennett's collection of 167 images of early Japan make essential viewing not only for students of Japanese history but indeed anyone with an interest in early Japanese culture. The striking sepia images capture historical figures and events of the time, fearsome samurai in full armor, semi-naked tea-house prostitutes, peasants in loin-cloths and strutting Westerners on their Grand Tours of the East.
The introduction sets the historical background to this period of wide-reaching change and there is an excellent chapter on early Japanese photography: the leading Western practioners including Beato, Stillfried-Ratenicz and Farsari and the most notable Japanese photographers of the day: Shimooka Renjo, Ueno Hikoma and Kusakabe Kimbei among others. A delight.
Gift Wrapping with Textiles
by Chizuko Morita
Kodansha International
ISBN: 4-7700-2736-2
96 pp
One of the many practical and beautiful items in daily Japanese life is the furoshiki, which is a traditional cloth used to wrap and carry daily items. Though used in many cultures and countries, Japan has taken the furoshiki to the level of art. Even today, children going to school or families out for a picnic can be seen with colorful cloth bearing their lunches.
Gift Wrapping with Textiles is a coffee table How To book. It features beautiful photographs that teach the three knots necessary to learn how to tie and carry.
These are graceful and practical pieces of cloth that, with a bit of practice, anyone can learn to tie and use. Step-by-step photos aid even the least nimble learner.
Note To Authors & Publishers
If you wish to have your title reviewed by JapanVisitor's team of Japan-specialist reviewers please contact us to arrange for a review copy to be sent to the editors.
JapanVisitor provides a thorough and professional review.
JapanVisitor works in cooperation with the following publishing houses: Kodansha International, Rough Guides, Lonely Planet, Penguin, Oxford University Press, Vertical, APA Publications, Columbia University Press, University of Hawaii Press, Dark Alley, ME Sharpe Inc., Tokyopop, Trafalgar Square Books, Houghton Mifflin Company, Grove/Atlantic Press, Tuttle Publishing, Yale University Press, Intercultural Press, Pantheon Books, Pan Macmillan, Faber & Faber, University of California Press, Harvard University Press.
All the themes of the city