Japan Nature Books
Japan Nature Books
Japan nature books: read reviews of books on Japanese nature, bonsai, plants and gardens, including ways to create a Japanese touch for your garden.
Please note if you purchase something through a link displayed on the website we may earn commission.
Japanese Plants: Know Them and Use Them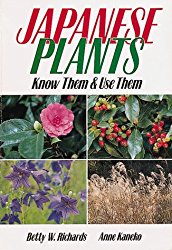 by Betty W. Richards, Anne Kaneko
ISBN: 4-07975-121-4
228 pp
This is an excellent book for visitors to Japan, even for those with no great interest in plants. Its a guidebook for just about any plant you will encounter on a trip to Japan even if you don't leave Tokyo, including trees, bushes, fruit and vegetables, flowers, herbs, and even grasses. Each plant has a clear colour photo, the Latin name, and the Japanese name. What made this book so fascinating for me was the wealth of information about the history and uses made of each plant. Not just the obvious utilitarian uses such as which plants are edible, medicinal or used to "make" something, but the place and influence of the plants in Japanese religion, culture, arts, and language. You'll learn a lot about Japan by reading this book. The book is small enough to fit a pocket, and the clear photos make identifying a plant an easy task. There are three appendices, one on Botanical gardens in Japan, one on "The seven herbs of spring and seven flowers of autumn, and one on that most Japanese of flowers, the cherry blossom.
Wild Flowers of Japan: A Field Guide

by Ran Levy
Kodansha International
ISBN: 4-7700-1809-6
283 pp
The deliciously named Ran Levy ("ran" in Japanese means orchid) has put together a book that is an excellent guide to the amazing variety of wild flowers in the Japanese archipeligo. The text is nicely arranged and very easy-to-use. Beautfiul color photos and group keys help even the least knowlegdable easily identify many different floral species. Japan, which ranges in habitat and climate from subarctic to subtropical, is home to a diverse flora.
Wild Flowers of Japan introduces the reader to hundreds of species in an easy to understand format. There are also identification keys and detailed background information. At the beginning of the text is an illustrated shape-and-color key, at the end a comprehensive index. Also helpful is a list of terms in both Japanese and English.
Pop Bonsai: Fun with Arranging Small Trees and Plants

by Lisa Tajima
Kodansha International
ISBN: 4-7700-2980-2
93 pp
Lisa Tajima has blended one of Japan's stodgier hobbies with Andy Warhol and created Pop Bonsai. The typical image of bonsai is that of a salaryman coming home and trading his suit and tie for shears - and taking out his worldly frustrations on a pathetic, clipped to the nub "tree." Tajima, who studied in New York in the 1980s, was strongly influenced by Pop Art. She returned to Japan and took up classical bonsai, finding however that the rules and customs left no room for individual expression. At that point, she began to experiment - and, voila, an art form was born.
Her creations are whimsical and humorous, using guitars and motorcycle helmets and odd pottery to house her creations. Following an introduction and photos of some of her work, the book shifts gears and becomes a how-to guide. Tajima goes through the basics of pots, rocks and stones, moss; cutting; care and maintenance; and how to avoid disease. Both practical and funny.
Bamboo in Japan

by Nancy Moore Bess
Kodansha International
ISBN: 4-7700-2510-6
224 pp
This book is about much, much more than just bamboo. It's about the many ways that bamboo is used in Japan, and in fact there is hardly any part of life in Japan that does not incorporate bamboo in some way.
It begins with an overview of the place bamboo occupies in Japanese culture, with some interesting examples of bamboo as a design motif and a subject for poetry, and explores the use of the kanji for bamboo. Following that we get a basic introduction to the plant itself and the various species, how it is grown, harvested and prepared for use. Next comes bamboo in crafts, especially in basketry, and, as would be expected, this is a fairly lengthy chapter, as the author is a basketmaker herself. Both this chapter and a following chapter on bamboo in architecture introduce some innovative contemporary designers' use of bamboo, which stands in good contrast to the more traditional uses.
The section on gardens is extensive, as there are many uses for bamboo there. The list of uses of bamboo then goes on to include, tea ceremony, lanterns, kitchen utensils, umbrellas, fans, kites, dolls, fishing rods, toys, flutes, archery bows, kendo swords, calligraphy brushes, with each section introducing the art or craft itself, and then how bamboo is used traditionally and nowadays within that art or craft. Bamboo as food does get a brief mention, and maybe that is the one section that could have been expanded a little.
This is an interesting and appealing book not only for those interested in bamboo, but for anyone wanting an introduction to Japanese arts and crafts. The book is a real visual feast, with excellent design and beautiful color, sepia, and B and W photography.
The book is rounded off with an extensive appendix of organizations, businesses and gardens in both the U.S.A. and Japan that are of interest to bamboo enthusiasts.
Birds of East Asia: Eastern China, Taiwan, Korea, Japan, Eastern Russia
by Mark Brazil
Christopher Helm
ISBN: 0691139261
528 pp
Readers of the Japan Times will already be familiar with Mark Brazil through his regular column for that newspaper, Wild Watch, incidentally the longest still running natural history column in the world. English-speaking ornithologists in Japan will most probably already own some of his previous books, A Birdwatcher's Guide to Japan (1987), or The Birds of Japan (1991).
For his latest book, a field guide, he casts his net further afield to encompass all of East Asia.
It's a field guide, not a pocket guide, and considering its 528 pages its not too heavy to carry along in a bag.
The success of any field guide will to a large extent rest on the quality of the illustrations, and in this the book scores high marks. The team of illustrators have produced 236 color plates covering 985 species and they are very clear and detailed. I have successfully used the guide to identify several birds and I am in no way and ornithologist.
All the necessary technical details for each species, including maps, are included and for beginners there is an introduction that explains the classification systems and how to use the book.
The species listed includes migratory and vagrant birds that have been seen in the region, not just the birds that reside there, so the guide may be useful to ornithologists outside of the region.
An excellent book for ornithologists as well as those simply wanting to recognize birds they see, Mark Brazi's postion as the leading English language expert on the avifauna of East Asia is assured.
Jake Davies
Note To Authors & Publishers
If you wish to have your title reviewed by JapanVisitor's team of Japan-specialist reviewers please contact us to arrange for a review copy to be sent to the editors.
JapanVisitor provides a thorough and professional review.
JapanVisitor works in cooperation with the following publishing houses: Kodansha International, Rough Guides, Lonely Planet, Penguin, Alexandra Press, Oxford University Press, Vertical, APA Publications, Columbia University Press, University of Hawaii Press, Dark Alley, ME Sharpe Inc., Tokyopop, Trafalgar Square Books, Houghton Mifflin Company, Grove/Atlantic Press, Tuttle Publishing, Yale University Press, Pantheon Books, Pan Macmillan, Bantam Press, Faber & Faber, University of California Press, Harvard University Press.
Japan nature books: read reviews of books on Japanese nature, bonsai, plants and gardens, including ways to create a Japanese touch for your garden.
All the themes of the city