Japan Travel Guides 3
Japan Travel Guides 3
JapanVisitor has the largest collection of independent reviews of Japan-related books on the Internet: travel guides, Japanese fiction and fiction with a Japan setting, books on Japanese history, Japanese politics and society, Japanese food and cuisine, books on learning the Japanese language, books on Japanese art, design and photography, the nature and environment of Japan as well as books covering manga, anime and music. If you wish to have a title reviewed on JapanVisitor.com please see the contact details at the bottom of this page.
Please note if you purchase something through a link displayed on the website we may earn commission.
Japan Traveler's Companion: Japan's Most Famous Sights From Okinawa to Hokkaido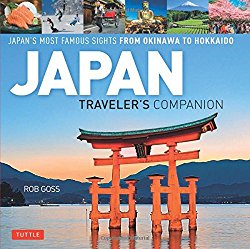 by Rob Goss
Tuttle
ISBN: 4-8053-1388-9
144 pp
One way to judge a travel book is by how much that book makes the reader want to visit the destination described. If that is your criterion, then Rob Goss' book is a great travel book for you. You will want to visit Japan after getting done with this book.
The book covers all parts of Japan (it is not Tokyo-centric) and has very strong writing and exceptionally beautiful pictures. In fact, the pictures are so colorful and vivid that one might suspect many of them have been photoshopped a bit.
There is an opening, 20-page overview of Japanese culture which touches on general topics like present and future Japan, Japanese cuisine, matsuri (festivals), ryokan and onsen (hot springs).
That is followed up by six chapters covering Tokyo, Tokyo side trips, Kyoto/Kansai, Western Honshu and Shikoku, Kyushu and Okinawa and finally Northern Honshu and Hokkaido. Again, each section has stunning photography and tight, informative writing.
Goss' voice is like the voice of your friend or high school teacher, not a paid hack using overly flowery language to get a commission on tickets sold.
The author assumes the reader has some knowledge of Japan, and never condescends to his readers. Unlike some books about Japan, this one does not overemphasize temples to the exclusion of other Japanese attractions. For example, there are as many pages dedicated to the wetlands and wilderness of Eastern Hokkaido as there are dedicated to Nara. This is not a travel book which has recommendations on hotels, travel routes or restaurants. It concentrates on the most interesting sights. There is no index, but the table of contents is pretty much all that is needed.
Each section begins with an intriguing, two-page photograph, then follows that with a one-page map of the sights which are to be mentioned and a one-page overview of what is to come in the chapter. This would make a beautiful coffee table book, but it could also be used to persuade even the most jaded traveller to take a trip to Japan.
Marshall Hughes
Japan by Rail (4th Edition 2016)
by Ramsey Zarifeh et al
Trailblazer
ISBN: 978 1 905864 751
Softback, 480 pp. Black and white with colour plates.
Many of those vacationing in the Land of the Rising Sun arrive in Tokyo, hang around for a few days, then buy a shinkansen (bullet train) ticket to visit Kyoto. After a few temple-visiting days, its back to Tokyo then on home. Mission accomplished.....poorly. If you want to see and experience much more than the basics, if you want the freedom to get inside the country, Japan By Rail is an excellent help. It will provide you with explanations of the train systems, how and which tickets to buy (with discounts thrown in), where to go and what to see, and infinitely more.
With all of the information and little-known insights given about Japan, this should in no way be considered a book regarding only trains and train travel. It is an excellent travel guide in its own right, although hotel coverage has few specifics.
Still, early in the book there is a good explanation of the various types of lodging available, whether it be ryokans, minshukus and pensions, airbnb, or various types of hotels on the cheap or with no discernible upper spending limit. Numerous websites are listed to help even further.
Although much of this book is geared to people not living in Japan, the ex-pat living in Japan can pick up lots of useful information, but will still have to make do with the Seishun Juhachi Kippu. There is ample information which even jaded, know-it-all expats living in Japan will find very useful.
In the early pages of this beefy book are lists (with beautiful pictures) of the best shrines, temples and castles, the best places to see and the best experiences. There are no pictures between pages 29 and 525, but there are plenty of maps to break up the pages.
The reader will read more than 100 pages of general information before hitting the spot where specific areas of the country are discussed. By then, a lot of ground has been covered.
One of the bonuses of this book is that it is long enough and detailed enough to give you some ideas of off-the-beaten-track sites and experiences. There are many little-known places of interest in Japan, and this book lets you in on some of the secrets. In Shingo, Aomori Prefecture, for example, the locals believe that their city contains the burial site of...Jesus Christ. There is more than half a page of the hows and whys of this belief. The only possible criticism of the book concerns the maps. Some maps are a bit redundant, and the markings on some maps of what is a shinkansen line, what is a suggested JR route and what are other JR routes are difficult to distinguish. For city maps, most notably Tokyo, Nara and Kyoto, there is no grid on the edges of the map to help readers locate something. A case in point; the Imperial Palace East Gardens are listed at spot 30 on the Tokyo map, but there is no C-4 (for example) to help you narrow down where exactly spot 30 is on the map. Still, if you are coming from outside Japan, this is quite possibly the best single book you can bring.
Marshall Hughes
Okinawa & The Ryukyu Islands: The First Comprehensive Guide to the Entire Ryukyu Island Chain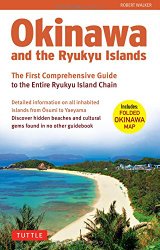 by Robert Walker
Tuttle
ISBN: 4-8053-1233-5
288 pp
Part guide book and part encyclopedia, author Robert Walker's labor of love covers about everything you'll need to know, and a lot of things you don't, about Okinawa and the Ryukyu Island chain in the southern end of Japan.
If it possible for a book to have TMI - too much information - then this almost 300-page book written in small font might be accused of that. It is jammed not only with information on all 150 inhabited islands, but information about many of the uninhabited islands, too.
For example, there is a 110-word paragraph on uninhabited Showa Iojima, describing its size (125 by 175 meters), shape (oval), exact location, date of origin (1934 from an undersea eruption) and distance from the closest island.
Interestingly, what the book doesn't have is much information about places to stay and places to eat. Perhaps the author thought that this information would change too quickly, and he stuck with more permanent things to see and do.
Because this treatise does not include information on hours of operation, parking information and costs for most places, it is not a book that will need to be updated every few years as Lonely Planet books are. You will be able to pick it up 15 years from now and most of the information will still be pertinent, baring things like China coming in and grabbing up some islands.
The book is filled with beautiful pictures, although nitpickers might claim that the pictures are a bit on the diminutive side. Not only did the author research and write everything in the book, but it appears he took most of the more than 500 photographs. There is a large, useful map, all in English, tucked in the inside back flap.
Perhaps the most interesting part of this publication is its scores of interesting sidebars, detailing information on topics such as Okinawan tombs, sake (called awamori), goya (a bitter fruit claimed to be a cure for most everything, including cancer) and yakushika deer. The Okinawan deer are some of the smallest deer in the world at only about one meter tall.
You will also learn of bull-versus-bull bullfighting, shisa lion dogs, traditional Okinawan houses and Churaumi Aquarium, the world's second largest aquarium. There is a good, brief explanation of the Shinto religion and longer, well-written sections on the first site of the Battle of Okinawa and on the Battleship Yamato.
One of the more bizarre sidebars is the story of a Japanese businessman who decided, for some reason, to build an exact, full-sized replica of the Hope Arkansas house where U.S. President Bill Clinton was born.
For people living long-term in the Ryukyus, this is a must-own book. For people traveling there for a short time, it would be a great supplement to a more traditional guide book which would have prices, phone number, operational hours etc. If you want even obscure information about the Ryukyus, it is probably to be found somewhere in the book.
Marshall Hughes
Hana No Kage: Shadow of a Flower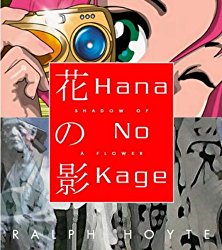 by Ralph Hoyte
City Chameleon
ISBN: 0955118034
96 pp
In the spring of 1689 Basho, one of Japan's best known poets, and ranked by many as the master of the haiku, set off on a journey around the northern part of Honshu. His travel diary of the journey, Oku no hosomichi (The Narrow Road to the Interior) is considered to be his greatest work.
Basho was inspired by poetic journeys made more than 500 years earlier by the poet Saigyo.
More than 300 years later, Bristol-based poet and artist Ralph Hoyte set off to retrace Basho's footsteps, and this little book is the result.
Basho took 150 days for his journey, and walked the whole way. Hoyte spent a third of that time, and while he did walk some, bus and train provided most of his transportation. Nevertheless his travelogue does take us to much of the lesser-visited area of Japan, and in that way reminds me a little of the writings of Alan Booth.
His anecdotes and observations are at times interesting, at times refreshing, and occasionally display a slight arrogance that seems to afflict some western students of Zen. He gives plenty of background historical information to the temples, mountains, and other sites he visits, as well a liberal sprinkling of Basho's writings and his own poems. A fairly decent selection of color photos round out this slim volume.
Anyone interested in Basho, or anyone planning on visiting the northern regions of Honshu will find this book interesting.
Jake Davies
Old Kyoto: A Guide to Traditional Shops, Restaurants, and Inns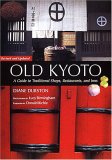 by Diane Durston with a forward by Donald Richie
Kodansha International
ISBN: 4-7700-2994-2
240 pp
In spite of much self-inflicted post-war destruction, Kyoto retains much of its past, often hidden down an alley or behind a simple noren curtain. A good PR man would say that "the old way of life goes on in the ancient capital as it always has," and, yes, there is indeed some truth to this cliche And Diane Durston has found and compiled and given solid proof of it in one lovely paperback.
The first edition appeared in 1986, and has become a bible for a certain type of traveler. Neatly divided into regions within Kyoto, Old Kyoto highlights primarily family establishments that have been in business for at least a hundred years. Often these generations-old establishments are still housed in the same machiya (Kyoto-style town house) in which the business was founded. Here you will find unmatched craftsmanship, gorgeous inns, and some of Kyoto's legendary restaurants.
I have lived and roamed in Kyoto for coming on nine years, and was stunned by the jewels in this book I had never heard of. It is annotated throughout with maps, prices, directions, descriptions, etc. This is very highly recommended.
C. Ogawa
Across Tokyo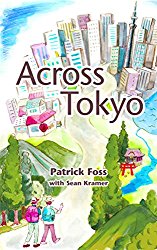 by Patrick Foss with Sean Kramer
Kindle Edition
ISBN: B077W2F5NH
270 pp
A few years ago, longtime Japan resident Patrick Foss decided to grab his buddy Sean Kramer and walk the width of Tokyo, looking for adventure. This book describes what they saw, felt, ate and experienced along the way. Although their trip covered 56 miles (90 kilometers), it is never revealed how many days it took. "Tokyo is fascinating because it has everything," writes Foss. "Skyscrapers and neon lights, yes, but also villages. Military bases. Farms. Rice paddies. Temples. Shrines. Mountains. Hot springs. Lakes. Dams. Rivers. Beaches." "It starts in the mountains and ends at the sea." And finally, "It's rural at the beginning and urban at the end: the story of Japanese history."
Before heading out the two trekkers decided on a "no-maps" policy, which undoubtedly led them (at the cost of getting lost a few times) to some more interesting finds.
The reader, conversely, might want a bit more detail on the book's lone map, but at the very least the map shows just how much of Tokyo is not the 23 well-known wards of the city that, historians say, maybe have been the world's largest as far back as the year 1700.
Foss doesn't just describe what they found, he often goes into details about what he ran across. For example, he talks of walking by a number of colleges on his stroll through Tokyo. He says that the number of colleges has grown from 500 to 800 just since 1990. "That's an increase of almost sixty percent in twenty-five years. The number of college-age kids in Japan has declined by nearly half in the same time period."
His takes on how seriously, or not, the Japanese take their national religion of Shinto is interesting, and is spiced with observations and somewhat contradictory thoughts of his Japanese wife. One small reader quibble would have to do with the photos. Foss is not a professional photographer, which some might argue actually strengthens the feeling that the author is just like you and me. He's a guy out for an interesting stroll. Still a couple of the pictures seem a little pointless.
The pace of the book can be described as leisurely as Foss is focused on the journey and not the destination. This gives him time to get lost occasionally and stumble upon many unplanned sites such as a giant incinerator he writes about.
Foss' attitude towards Japan, reflected in his writing, is best summed up by what he wrote as the book drew to a close: "I'm an American, and I always will be.…America is a special place. But dammit, Japan makes me happy."
He thinks Japan in general and Tokyo in specific are special places, and if you read his book you will likely come to the same conclusion.
Marshall Hughes
Japan Made Easy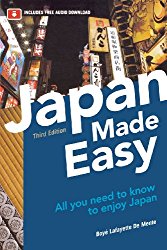 by Boye De Mente
McGraw-Hill
ISBN: 0844285285
264 pp
De Mente's 1995 work, Japan Made Easy, is a useful starting point for someone looking for some insight into planning their visit to the country. While the book shows its age at times (the section on telephoning in Japan, for example, makes no mention of the now predominant cellular phone), it would still prove useful for first-time travelers to Japan. The information provided ranges from advice on practical considerations, such as transportation and communication, to suggestions for culturally rewarding experiences. The final section, titled "The Pleasures of Japan," is particularly handy. In it, De Mente runs through a list of recommendations for activities that any traveler might want to consider in order to get the most from their time in Japan.
While De Mente could have taken a more critical approach to some of the controversial topics that he very lightly mentions, including the Yasukuni Shrine and the sex industry in Japan, this book is clearly not meant to be an in-depth analysis of Japanese society. De Mente's main goal, it seems, is to convince the reader to approach their trip to Japan as a cultural experience rather than just a vacation. He rightly points out that one can see all the sights in Japan, eat every local dish there is to be found, and still not dig past Japan's veneer. One has to attempt to actively immerse themselves in Japanese life to gain a deeper understanding of the country, and to have the most fulfilling experience possible. Whether this is possible in a short visit is debatable, but Japan Made Easy provides the traveler with some good ideas for how to go about trying.
James Homsey
Tokyo Realtime: Akihabara
by Patrick W. Galbraith, Max Hodges
White Rabbit Press
ISBN-10: 097486949X, ISBN-13: 978-0974869490
CD + notes
Akihabara is renowned as an area of Tokyo representing the apex of Japanese electronics technology and the nadir of the nation's social adjustedness. It is equally chockablock with stores selling computer parts and appliances/equipment for the home as it is with stores catering to quirky - and usually solitary, i.e. otaku - tastes in reading manga, videogaming, costumed entertainment, and more. Such is its scale and depth that "you could write a book about it," or, better still for the tourist, an audio guide.
Patrick W. Galbraith is an author on and researcher of otaku culture, based at Tokyo University, and has made Tokyo Realtime: Akihabara, an audio guide to be listened to as you follow a map and verbal directions through Akihabara.
This reviewer had been through Akihabara numerous times before trying this guide, but was surprised to find a new dimension to the area thanks to it. By "simply" directing you up certain stairs and down certain streets, and informing you by way of various types of narratives about the venues, you are made quickly and memorably aware not only of the existence but the cultural and historical significance of the dozen or so places you visit and, of course, Akihabara in general.
Thanks to Tokyo Realtime: Akihabara, I now know why Akihabara is nearly all male nerds, and in which part of Tokyo the female nerds hang out. I now also know where I can buy vintage PacMan, dolls that cost half a million yen, and have a Cinderella lookalike blow on my hot coffee and coo in my ear - or twist it.
The soundtrack features Galbraith, sounding much more connected and boy-next-door than the rough-trade nutcase photo of him would have you imagine, and with multiple sub-narrators, including researchers on and denizens of Akihabara adding their enlightening perspectives while you browse, or walk between, venues. The tour takes an hour.
Tokyo Realtime: Akihabara is very professionally and glossily produced and packaged, complete with full-color booklet with photos of tour spots. However, it lacks instructions about how to import the audio to your device (not iTunes-friendly - has to be manually dragged).
All up, an eye-opening, informative and titillating tour guide to enjoy exploring to, and keep as a stylish memento of your Akihabara experience.
David Stormer
Living Abroad in Japan
by Ruthy Kanagy
ISBN: 1-56691-672-0
207 pp
Ruthy Kanagy has produced a comprehensive and useful guide for those thinking of taking the plunge across the Pacific and moving to Japan. Living Abroad in Japan joins many other wonderful titles put out by the publishers Living Abroad In. Kanagy, herself born and raised in Tokyo, approaches her subject as only an insider could. The book assumes the reader knows nothing but does not speak down to her - and is well written and full of detail. It is neatly broken into chapters on Japan (history, government, economy, people, culture), daily life (moving, language, health, employment, finance, communications, travel, and housing), and "prime living locations" (Tokyo, Hokkaido, Kansai, Nagano, and Hiroshima).
The back of the book too is filled with useful indices: contacts, a phrasebook, suggested reading/films, clothing sizes, and an index. Having lived in Japan - Tokyo and Kyoto - for 15 years, I thought this would be a guide for someone just off the boat (i.e., not for me). It most certainly is for those new to or thinking of coming to Japan; however, it is much more than that. Even for the long-term resident of Japan, this is an invaluable guide.
C. Ogawa
Tokyo Pub Crawler

by Dan Riney & Gia Payne
Alexandra Press
ISBN: 4990079116
110 pp
Where to begin? Within the Tokyo metro area, there are at least 10 major nightlife areas. Within each of these, 100s - in Shinjuku, perhaps 1000s - of bars await the overwhelmed but expectant tippler. In traditional media outlets, one is assaulted with ads. In Tokyo Pub Crawler, one gets the real deal from a female and male perspective.
The guide begins with basic bar Japanese, last train times for the major lines (pumpkin time in Tokyo usually around 12:30), and then is broken into 10 night spots plus Yokohama. Within each of these is a map and then the bar reviews. Dan ranks his with beer mugs, Gia with kisses. And they hold no punches. Dan on one mega-bar-complex in Omotesando: "I know some revere it, but I think this complex is, at least for nightlife, a soon-to-be-extinct giant dinosaur." Ouch. And can Gia rave: "Moo and call me Bessie, this place is the cat's meow." That lucky bar got four big smooches.
Never to shirk on research, the two go at all hours, describe the bar in detail, its atmosphere, the crowd, prices, and more. Whether you live in Tokyo or in the provinces and only get up to the Big City once or twice a year, this is a great guide.
Hiking In Japan: An Adventurer's Guide to the Mountain Trails

by Paul Hunt
Kodansha International
ISBN: 4-7700-1393-0
205 pp
More than 60 percent of the land area of Japan is composed of forest-covered mountains, which gives ample opportunities to escape from the noisy, crowded cities and find some peace and tranquility, and also in the heat of the summer to retreat to higher, cooler altitudes. Hiking In Japan covers 33 mountain hikes all over Japan from Kyushu to Hokkaido, though most are in the central Honshu area which makes them easily accessible to residents of the major cities. The hikes range in difficulty from those suitable for children up to those suitable for fit, experienced hikers, but most hikes can be adapted to suit individual abilities. Each hike is described and includes information on how to get there, budget accommodation in the area, a small map, and full details on what to expect on the hike: scenery, wildlife, plant life, geology, as well as sites of historical and cultural interest such as shrines and temples, and local legends. However it is recommended to purchase suitable maps of the area as the ones included in the book are simple and small-scale. As would be expected of any guidebook of this nature, there is plenty of background information; transportation within Japan, where to purchase maps and hiking and camping supplies, food and accommodation, and a small glossary of Japanese language that would be useful while hiking. Reflecting the author's background in geography, the sections on Japan's natural environment are excellent, with 2 sections in particular standing out; the introduction to Japan's geology is as good as I have ever read, and in the section on weather he comes to the remarkable conclusion that Japan does not have 4 seasons, but 6! A fact likely to disturb those Japanese who believe Japan's 4 seasons are unique. Even if you don't plan on doing any hiking yourself, this book offers mountains of useful and interesting information.
Lonely Planet: Hiking in Japan

by Mason Florence, Craig McLachlan, Richard Ryall, Anthony Weersing, Chris Rowthorn
Lonely Planet
ISBN: 978-4805309186
384 pp
Another specialized book from the Lonely Planet team, this one catering to those who like to take exercise with their nature. Japan is heavily populated, and the megalopolis called Tokyo is easily the world' s biggest, but nearly all the people live on the coastal plain of the Pacific coast, leaving the rest of this mountainous country open for the adventurous hiker.
The book follows the usual Lonely Planet formula with the first pages devoted to the geography, history, climate, flora and fauna as well as social and religious areas of Japanese life.
The second section deals with specific information for the hiker, including suggested itineraries, weather information, safety while hiking and, usefully, pre-departure planning. This last section tells us to have health insurance and know something about First Aid; good advice for those who haven't thought of such things.
The hikes suggested in the book, and there are over a hundred, cover the length and breadth of Japan, are classified into five levels from easy to hard, and are divided up into day-long walks.
The maps in the book show a marked improvement over earlier Lonely Planet publications, early editions of which often had no scale or compass point! "Hiking in Japan" on the other hand contains maps that are very difficult to obtain even in Japan itself.
For those who speak no Japanese, there is the glossary of everyday language at the back of the book, and, perhaps even more essential, a transliteration of the Japanese character place-names into the roman alphabet.
Recommended. Peter Rodd
Kyoto: 29 Walks in Japan's Ancient Capital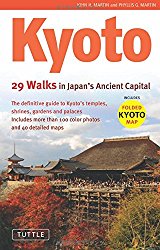 by John H. Martin and Phyllis G. Martin
Tuttle
ISBN: 1-8645-0039-5
386 pp
Kyoto is the ancient capital and modern-day center of tourism, industry, and traditional culture in Japan. The city was founded some 1,300 years ago and managed to avoid bombing during World War II (though the damage during the Onin War was tremendous).
Kyoto as a result has a wealth of historic sites, including 17 World Heritage sites and more than 2,000 temples and shrines.
Kyoto: 29 Walks lays out 29 easy-to-use walking tours through the city.
More than 100 color photos and 40 full-color guide maps and diagrams of individual sites make this an indispensable guide.
Each walk comes with a huge amount of detail and background information.
The beauty of the photos makes this almost coffee-table book like in its quality. Yet, it is small enough to carry around.
This reviewer has lived in Kyoto for 15 years, and we learned much. Highly recommended.
All-You-Can Japan: Getting the Most Bang for Your Yen
by Josh Shulman
CreateSpace
ISBN: 978-1453666357
64 pp
Josh Shulman's All-You-Can Japan is a slim, useful guide for backpackers headed to Japan.
It is not a guidebook per se, but rather a primer on how to visit Japan without breaking the proverbial bank.
Having lived in Japan, Shulman offers many tips for saving money and still enjoying Japan.
The book is broken down into 8 sections: an Introduction, Flights and Transportation, Accommodation, Food, Shopping, Having More Fun, Do's and Don'ts, and Planning.
Each section comes with useful Japanese phrases.
The book will save you its cover price.
There are however a few minor points that we take issue with. First, the recommended times of year to visit Japan are listed as: "September - October and April- May." Honshu is still scorching through mid-September (sometimes even late-September). Not recommended unless you enjoy sweating. Next, the cherry blossoms have in recent years bloomed in late March. This varies every year, but for those hoping to see them, April is often too late.
Second, in addition to listing organizations helpful to Jewish travelers (Beit Shalom), perhaps Mr. Shulman will be more ecumenical in future editions and list groups for other visitors, including the General Mission of Palestine and the Quaker meeting, both of which are in Tokyo. There are also many other religious organizations throughout Japan.
Last, though the book is not a guide, it is very Tokyo-centric in outlook.
Otherwise, useful and recommended.
Shikoku Japan 88 Route Guide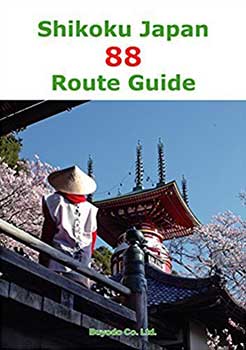 by Tateki Miyazaki
Buyodo Co. Ltd
ISBN: 978-4829710586
192 pp
If you are planning to walk any or all of the famous Shikoku 88 temple pilgrimage, and your Japanese reading skills are less than really good, then this book is simply indispensable. If you are planning on simply visiting or exploring Shikoku, then this book is also very useful.
The bulk of pocket-sized book is detailed maps that cover the whole 1,200 km route encircling the island. When I first began the pilgrimage I worried that the maps were too small and so I printed out more detailed maps from the internet, but ended up not using them at all. The maps in the book are detailed enough to be all you require. The maps contain all the information you need for the walk, distances between points, alternative routes, etc, but just as importantly all the services you will need are marked: everything from public toilets to convenience stores and supermarkets, laundromats etc. Most useful, and this is for regular tourists as well, are the locations and phone numbers of all types of accommodation, minshuku, ryokan, and hotel. Usually in cities and big towns finding accommodation is not so difficult, but further afield it is much more problematic if you cannot read Japanese. This information alone is worth the price of the book for anyone planning on traveling in Shikoku.
Information on each temple is given, including phone numbers, as well as access to each of them by bus or train, including timetables. As with the hotel information, this is priceless information that is very difficult to get otherwise. Phone numbers for all the local taxi companies are also listed.
There are introductions to the pilgrimage, the history of Kobo Daishi (the legendary founder of the pilgrimage), etiquette at temples, pilgrim attire, brief explanations of the various type of statues etc etc. At the back are a couple of pages of useful phrases.
The latest edition is 2009, and I did find one instance of a hotel no longer existing, and one bus timetable that had changed, but in my experience more than 99% of the information is current and up-to-date.
Since writing this review this guide has gone through several editions. The newest edition, 2017, has just been released. Most importantly all the bus and train timetables have been updated, telephone numbers of accommodations etc as well as any changes to the walking trails. Outdated information has been removed, ie places that have closed. New information includes elevation profiles for the mountainous sections and a list of camping and outdoor supply store throughout Shikoku. Some of the "How To" information has been removed because this information is available for free on this website.
www.awanavi.jp/henro/howto/english
If you are thinking about walking or doing the pilgrimage in part or in total, this book remains simply indispensable and if you are visiting Shikoku extremely useful.
Jake Davies
Getting Around Tokyo Pocket Atlas and Transportation Guide: Includes Yokohama, Kamakura, Yokota, Yokosuka, Hakone and MT Fuji
by Boye De Mente
Tuttle Publishing
ISBN: 4805309652
192 pp
Boye de Mente has done it again.
Just when you think he can't possibly publish another useful book on Japan, here he comes again.
The latest in the de Mente oeuvre is Getting Around Tokyo, which is a pocket atlas.
This very useful guide for those who have yet to master Japanese has sections on trains and subways, buses and street names, taxis and more.
The English-language guide has written descriptions and clear and colorful and easy to understand maps.
For those venturing outside Tokyo, the guide also has sections on Yokohama, Kamakura, and Hakone and Mt. Fuji.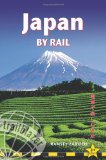 by Ramsey Zarifeh et al
As the authors of Japan by Rail note, Japan's creation of a world-beating rail network, "given the country's topography and history of devastating earthquakes, is nothing short of extraordinary". On any given day, a staggering 26,000 thousand trains trace Japan Rail's 20,000 kilometres of track, which of course excludes the many private lines throughout the country.
Japan's famous shinkansen, or bullet trains, are still expanding their reach, with new lines planned for Kyushu and Hokkaido. Such feats of infrastructural enterprise means it is no surprise that the Trailblazer series of travel guide books includes Japan by Rail, now in its third, fully revised edition. While at first glance this chunky guidebook, with its obligatory pictures of Mt Fuji and maiko, sidebars on how to use Japanese baths, and amenity-dotted schematic city maps, appears to be a Lonely Planet clone, it has much to offer the traveller who makes rail their preferred mode of transport in Japan.
This guide is squarely aimed at the many foreign visitors planning to use the JR Rail Pass, which the authors rightly describe as the "bargain of the century". For the price of a return journey by bullet train between Tokyo and Kyoto, one can have unlimited travel on the Japan Rail network for a week, including most shinkansen. The deals for two- and three-week passes are even more favourable. The catch is that it must be purchased before coming to Japan. Regional passes, however, may be bought on arrival, though a tourist stamp in your passport is still a requirement.
Naturally, like its fellow tomes, Japan by Rail leads you through the pass-purchase process, but it really comes into its own with its unique Route Guides for each section of Japan. These allow the curious traveller to fully exploit the flexibility of their pass by providing points of interest and side-journey connections for every stop on a given route. For example, instead of bulleting directly from Shin-Osaka to Hiroshima in one trip, you can stop off at Fukuyama, view the Automobile and Clock Museum, then take a side trip on a local train to Matsunaga, the home of geta, with its inevitable Japan Footwear Museum. Having had your fill of offbeat museums, you can simply retrace your steps, as it were, to Fukuyama and pick up the next shinkansen. This simple yet ingenious approach relies on the ability of someone with a pass to get on and off train at will. It encourages travellers to regain some of the spontaneity that such guides have in fact been responsible for removing from overseas journeys.
Of course, the railway enthusiast will find sections devoted to rail history, train types (with illustrative photos) and timetables, though the latter are examples only and should not be relied on for the latest information. As the authors note, a site such as hyperdia.com is a great journey planner. Together with the usual potted history of Japan, culture notes, glossary, and language primer, the guide's sections comprise a well-thought-out, truly usable whole, further enhanced by previous readers' suggestions. Of course, no guide is without its quirks: the reference to Kyoto's "skyscrapers" will raise a grin on anyone who has actually been there.
If you plan to rely on trains in Japan to get around -- which in most cases you should -- then Japan by Rail may prove more useful than the standard guidebook. Since it limits its focus in this way, it is also somewhat more compact and cheaper, both of which attributes could be good news for your back pocket as you make your way around some fraction of the country's countless kilometres of rails.
Richard Donovan
Note To Authors & Publishers
If you wish to have your title reviewed by JapanVisitor's team of Japan-specialist reviewers please contact us to arrange for a review copy to be sent to the editors.
JapanVisitor provides a thorough and professional review.
JapanVisitor works in cooperation with the following publishing houses: Kodansha International, Rough Guides, Lonely Planet, Penguin, Alexandra Press, Oxford University Press, Vertical, APA Publications, Columbia University Press, University of Hawaii Press, Dark Alley, ME Sharpe Inc., Tokyopop, Trafalgar Square Books, Houghton Mifflin Company, Grove/Atlantic Press, Tuttle Publishing, Yale University Press, Intercultural Press, Pantheon Books, Pan Macmillan, Bantam Press, Faber & Faber, University of California Press, Harvard University Press.
Japan Travel Guides 3: read book reviews of travel guides to Japan including Tokyo and Kyoto.
All the themes of the city