5 Onsen with a view
絶景露天風呂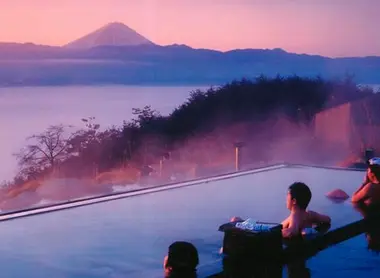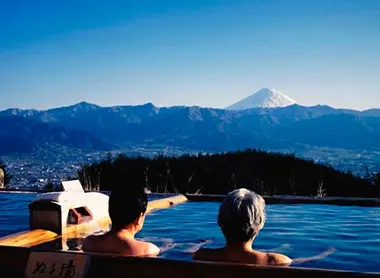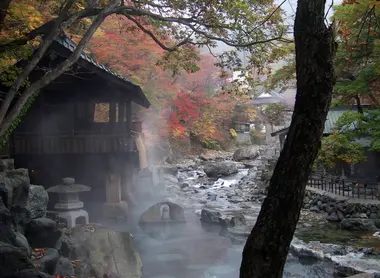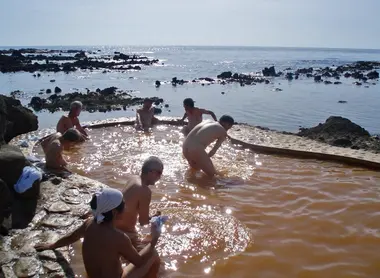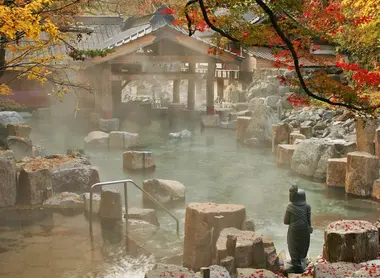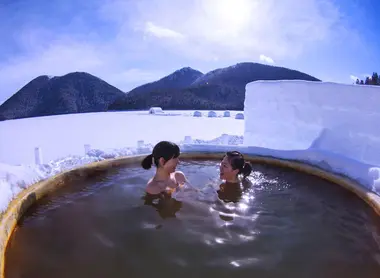 The ultimate in relaxation
Relax in an outdoor hot spring surrounded by nature, overlooking the sea, forest, or even Mount Fuji. It's a must-try experience.
Here, Japan Experience have put together a small selection of recommended rotenburo, outdoor onsen (hot springs).
This is a place that's been known by word of mouth since its creation. Originally a failed nursing home project, now the springs have been updated and turned into baths. No fancy service, you can simply enjoy the hot springs as you like, for an hour, or for a day! This family-run onsen is located 700m above sea level in Yamanashi Prefecture. It has two baths, with views of Mount Fuji and Kofu Valley. What a luxury to feel the fresh breeze of summer as you admire the sunrise from the onsen, the pink carpet of peach blossoms in spring, the red autumn leaves, or the starry winter sky.
Open daily, one hour before sunrise until 22:00, ¥800. Separate baths for men/women.
Access: from JR Yamanashi Station, 10 minutes by taxi.
In the extreme south of Kagoshima prefecture on the island of Kyushu, this spa boasts geothermal heat. There are two rotenburo, one with a view of the sea and Mount Kaimon, the other with a view of Takeyama rock. At water level, it feels as if you're in the sea, only warmer. Feel the sea breeze tickling your face... On a clear day you can even see the island of Yakushima in the distance.
Closed Thursdays. Open from 9:30 to 19:30, ¥510, the baths for men and women change daily.
Access: From JR Yamakawa Station, 10 min by bus to Kagoshima Kotsu, get off at Healthy Land.
This is the onsen of immortality, located on the coast of the Sea of Japan, not far from Shirakami-Sanchi, a UNESCO world heritage site. A colorful onsen, because the water is so rich in iron. It's wonderful to enjoy the baths while gazing into the horizon and listening to the sounds of the sea. You can choose between a mixed sex bath, or one exclusively for women. This onsen is also a ryokan. If you want to enjoy the sunrise - and above all, the famous sunset over the sea of Japan - book a room and a good seafood meal.
Open 8:00 to 16:00 daily, ¥600. From sunrise to sunset for ryokan guests.
Access: from JR station Wespa Tsubakiyama, free shuttle.
In Gunma prefecture, Takaragawa onsen has four gigantic rotenburo at the edge of a mountain river. The total area is 450 tatami - that's more than 700m2. Three are mixed sex (note that you can keep a towel with you), and one is available for women only. The four baths each have their own individual features. We advise you to come here in the fall to enjoy koyo, viewing the flaming-red maple leaves from the onsen.
Open 9:00 to 17:00 daily, ¥1,500.
Access: From JR Minakami Station, take the bus and get off at Yunokoya Takaragawa Iriguchi.
Lake Shikaribetsu is in the center of Hokkaido, in Daisetsuzan National Park, 800m above sea level. The cold and snow in Hokkaido are not always pleasant to live in, but for 36 years now, every winter the youth in the area have enjoyed building a temporary village of snow and ice on the frozen lake. The hot water rotenburo at this village comes directly from a nearby spring. Here you can experience a 360° view of pure-white snow, under the stars, in -20 degree temperatures! Happiness here is warming up amidst the magnificent scenery.
From January 28 to March 20, 2017, open from 6:30 to 22:00, free.
Directions: From Obihiro Station, take the bus to Lake Takushoku Shikaribetsu. 1.45hr journey, free this time of year.
Some advice
Outdoor baths rarely include showers, so you should wash first using water from the taps nearby. The onsen water is around 40-42 degrees, so to avoid thermal shock it's recommended that guests do not immediately plunge in, but get used to the temperature more gradually. To do this, they should pour water on themselves using the large ladles or wooden buckets provided. Your towel should stay out of the bath unless you are told you can keep it with you.
All the themes of the city