Kusatsu Onsen
草津温泉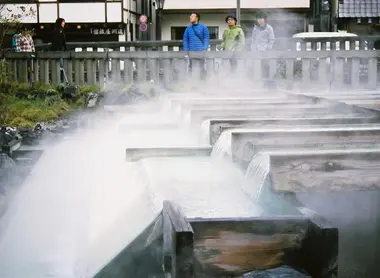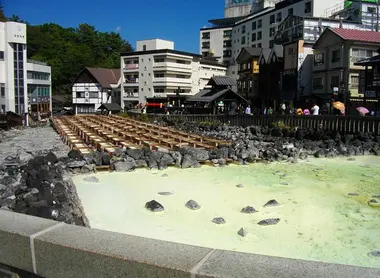 Favorite hot spring of the Japanese
Kusatsu Onsen is one of Japan's most famous hot spring resorts. Located in Gunma prefecture, north-west of Tokyo, it attracts onsen lovers all year round.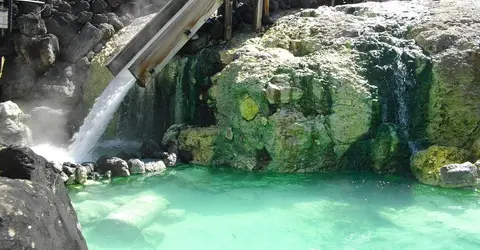 Onsen are a real institution for the Japanese! These hot water baths are known for their many health benefits. So if you're a fan of onsen, don't hesitate to visit the hot spring resort of Kusatsu Onsen.
Along with the springs of Arima Onsen (Hyogo prefecture) and Gero Onsen (Gifu prefecture), Kusatsu Onsen is one of the three hot springs in Japan with the highest temperature, oscillating between 51 and 94°C. In order to cool the water temperature so it can be bathed in, there is a special ceremony called yu-momi. Women, stood around the pool of water, mix it using 1.80m long wooden paddles.
The benefits of this particular spring's waters were first recognized by Erwin von Baelz, the German physician of the imperial family of Japan, who contributed to the development of Western medicine in Japan during the Meiji era (1868-1912).
Japan's largest water flow
Kusatsu Onsen has the largest natural water flow in Japan at 32,300 liters per minute. Incredible flow, due in particular to the fact that the area is fed by more than 100 water sources.
In the heart of this spa town, where the smell of sulfur permeates the air, is Yubatake, the "hot water field", where the spring's particularly hot and acidic water arrives from nearby volcanic Mount Shirane. The water reaches the town after being slightly cooled in large pipes, and irrigates the 18 onsen present in the city.
See also: Onsen - a short guide to good manners
An Edo footbath
Near Yubatake is a footbath, named Yubatake Yukemuri-tei. A faithful reproduction of a public bath from the Edo period (1603-1868), this foot bath is open 24 hours a day. A delight when you've spent the day exploring the city and its surroundings.
Nestled in the Japanese Alps, not far from Nagano, Kusatsu Onsen is also located near a ski resort, open every winter, where skiers can hit the slopes of Tenguyama and Honshiranesan. The mountains are open every summer too, with hiking trails for lovers of nature walks.
Related : The best hikes in the Japanese Alps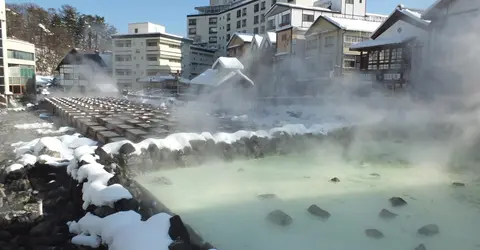 All the themes of the city