Japan Festivals - April
April Japan Festivals 4月の祭り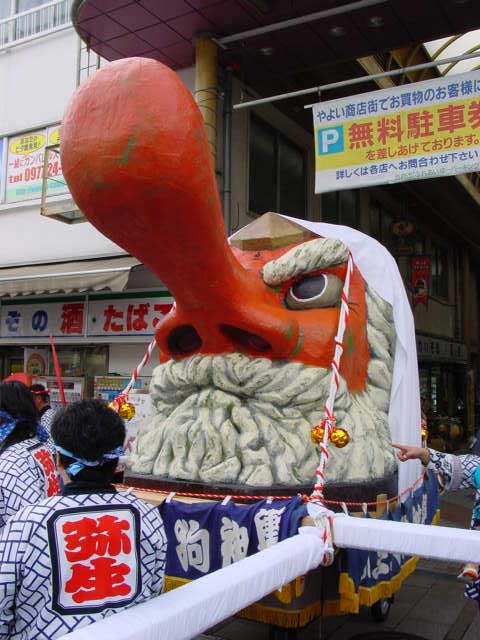 Miyako Odori
1-30 April
Kobu Kaburenjo Theatre, Kyoto
A highly-anticipated annual showcase of geiko (geisha) dances and music. A rare chance to see these skilled artists perform in public. Tickets must be obtained well in advance. Call 075 541 3391.
Onbashira Festival
April/May (every 6 years)
Suwa Taisha Shrine, Suwa, Nagano
Held once every six years (or every seven in traditional Japanese reckoning) in the Year of the Tiger and Year of the Monkey (2004, 2010 and 2016 were the latest) this amazing and sometimes dangerous festival takes place over the course of a month in April and May. The first part of the festival 'Yamadashi' held in early April sees the giant fir trees, weighing over 10 tons, pulled from the forest and hauled with straw ropes across freezing rivers to the town. In the second part of the festival 'Satobiki' the trees are paraded through Suwa to the local Suwa Taisha shrines: Kami-sha and Shimo-sha (upper & lower shrines). During 'Yamadashi', local men clad in happi-coats and tanked with sake ride the huge logs 'onbashira' down the steep slopes in Shimosuwa. Over the years there have been a number of deaths and the log riding is strictly reserved for locals only. The next festivals will take place in 2016.
Super Azusa Express from JR Shinjuku Station to Chino & Kamisuwa stations.
www.onbashira.jp or call 0266 52 3121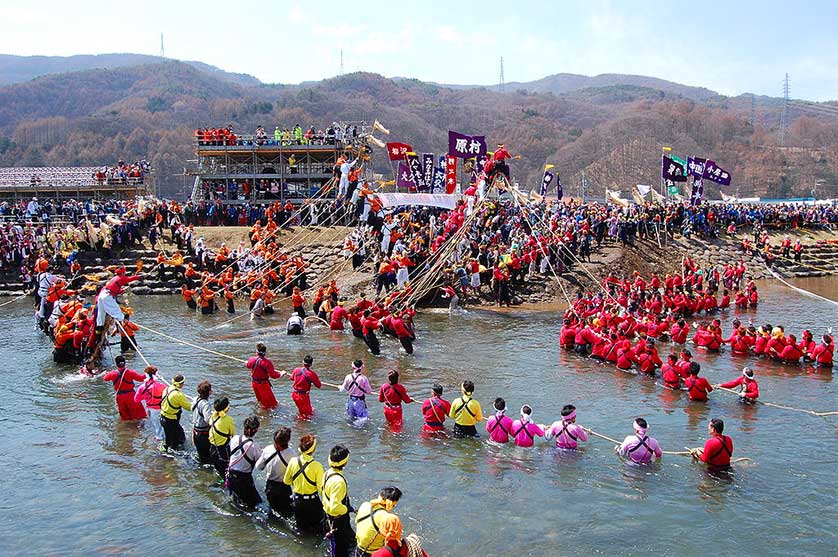 Onbashira Festival 御柱祭
Obasama Festival
1st Sunday in April
Hakusan Shrine, Kannari-obasama, Kurihara City, Miyagi
A planting season festival to pray for a good crop, in which various ancient and colorful dances take place. The prime event is the Obasama no Ennen dance, popular from the Heian to Muromachi periods, revived here every year and designated an Intangible Cultural Property.
Ose Matsuri
4 April
Ose Shrine, Shizuoka Prefecture
Unique festival in which men dressed in women's clothes dance a lively jig on board a boat afloat in the harbour which is festooned with flags and streamers. On the sure, taiko groups play their drums and many stalls sell local produce.
Tonbansan Matsuri
First weekend in April
Kotohira Jinja, Setokashinourago, Oseto-cho, Saikai-shi, Nagasaki
Participants in the Tonbansan Festival paint their faces white with comical expressions and clothing, there is an omikoshi portable shrine procession, a lion dance, drumming and folk dancing, all the while chanting "tonbansan" - a corruption of the word "tohmibansho," which was the lookout near Kotohira Shrine, overlooking the sea, for the purpose of spotting any foreign ships.
Go'o Taisai Matsuri
4 April
Go'o Shrine, Kyoto
Festival honors the death day of the presiding deity at Go'o Shrine on the west side of Kyoto's Imperial Palace.
Saga Dai Nenbutsu Kyogen
1, 7, 8 April
Seiryoji Temple, Kyoto
Ancient festival of silent plays begun by the monk Enkaku. Performances at 1.30pm, 2.30pm and 3.30pm. Take a #28 bus to Saga Shakado-mae.
Beppu Hot Spring Festival
1st week of April
Beppu, Oita
A week long festival to give thanks for Beppu's hot springs - onsen. There are parades, marching bands, mikoshi portable shrines and a large Tengu is drawn through the streets. many hot springs are free of charge.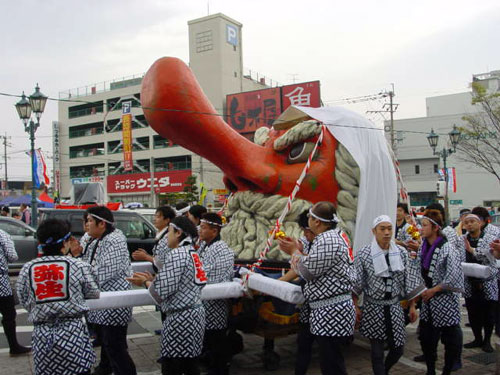 Beppu Onsen Matsuri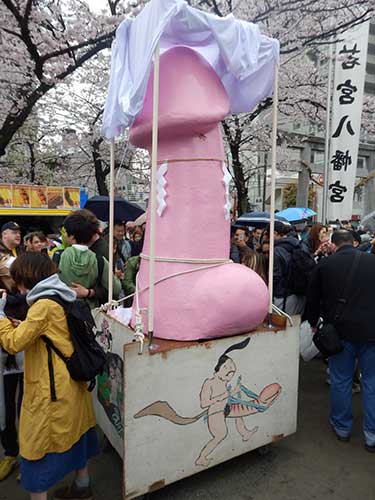 Kanamara Festival, Kawasaki City, Kanagawa Prefecture
Nagashi Bina
Mochigase, Tottori Prefecture
To mark the melting of the snows and the beginning of spring, paper or toy nagashibina dolls are floated down rivers. Once popular during the Heian Period (794-1192), this tradition can now only be seen in a few places.
Kanamara Festival
Wakamiya Hachiman-gu Shrine, Kawasaki, Kanagawa Prefecture
Late March or early April
The Kanamara Matsuri or "Festival of the Iron Phallus" in Kawasaki near Tokyo features a parade of a 2 m tall pink penis through the streets to offer prayers for conception, safe child-birth and marital happiness. The festival dates from the Edo Period when prostitutes prayed for protection from sexually transmitted disease.
Access: Bus #23 from JR Kawasaki Station, alight at Wakamiya Hachimangu Shrine or Daishi Line train from Keikyu Kawasaki Station to Kawasaki Daishi Station.
Tel: 044 233 3060
See a movie of Kanamara Matsuri
Matsuyama Haru Matsuri
4-6 April
Matsuyama, Ehime Prefecture
Spring celebrations incorporating the Matsuyama Castle festival and the Dogo Hot Springs festival. Events including period dress parades, dances, noh plays and rice-throwing for longevity.
Zen Nihon Chindon Concours
4-6 April
Toyama City, Toyama Prefecture
An annual get together for Japan's remaining Chindon (professional 'musicians' employed to advertise new store openings). Noisy and fun festival in Toyama.
Inuyama Matsuri
5-6 April
Inuyama, Aichi Prefecture
Annual parade of floats carrying centuries old, elaborately-made mechanical dolls in Inuyama 30 minutes outside Nagoya. They perform to the sound of traditional music played on flutes and drums.
Himesama douchu
5-6 April
Hosoe, Shizuoka Prefecture
Traditional dress parades featuring many women and girls in stunning kimono and full make-up accompanied by servants and attendants. Held annually on the first weekend of April.
Katori Jingu Otaue-sai
5-6 April
Sawara, Chiba Prefecture
Rice planting festival accompanied by ritual song and dance. Coincides with cherry blossom season making the event all the more colorful. Held annually on the first Saturday and Sunday of April.
Shingenko Matsuri
5 April
Kofu, Yamanashi Prefecture
Festival to honor Takeda Shingen, a famous warlord of the Sengoku Era and the founder of Kofu. The highlight of the festival is a parade recreating the Takeda Army with more than 1,500 local citizens dressed in authentic costume. Held every year on a Saturday in early-mid April.
Hoyoke Taisai Festival
6-8 April
Jonan-gu Shrine, Kyoto
Jonan-gu enshrines the divinity for avoiding wrong directions and believers come to pray to the god on this day to avoid evil. Traditional entertainment and amazake are on offer.
Kamo Kyokusui-no-en
8 April
Kamigamo Shrine, Kyoto
Participants dressed in Heian Period costume enact a poetry reading game known as Kyokusui no Utage with traditional music and tea ceremony at Kamigamo Shrine from 1pm.
Taiko Hanami Gyroretsu Procession
8 April
Daigo-ji, Kyoto
Daigo-ji Temple is the venue for a recreation of Hideyoshi Toyotomi's famous cherry blossom viewing party. Procession starts at 1pm. Kyoto subway to Daigo Station.
Kambutsue Matsuri
8 April
Shitennoji, Tennoji, Osaka
April 8 is celebrated as the Buddha's birthday throughout Japan with a baptism ceremony where sweet tea - amacha - is poured over a statue of Buddha at Tennoji Temple in Osaka.
Yasurai Matsuri
11 April
Imamiya Jinja, Kyoto
Festival dating back to a ninth century plague in Kyoto. Around 30 people dressed in period costume carry a decorated canopy with four "demons", when the procession stops spectators rush to get under the canopy to protect themselves from ill-health.
Mino Festival
12-13 April
Mino, Gifu Prefecture
A parade of colourful hanamikoshi (flower floats) takes place on the first day followed by an evening of streetside comedy with teams of amateur comedians wheeling props around in carts and performing wherever they find an audience. A parade of wheeled floats takes place on Sunday followed by more of the same. Held annually on the second weekend of April.
Asanogawa Enyukai
12-13 April
Kanazawa, Ishikawa Prefecture
Festival to coincide with the blossoming of the cherry trees on the banks of the Asano river in Kanazawa. Traditional dances and other entertainments are held on a floating stage.
Yakumo Jinja Shunki Reitaisai
2nd weekend in April
Inari Shrine, Hane-higashi, Hamura City, Tokyo
Young men wade across the Tamagawa River bearing portable shrines.
Oh-chamori
2nd weekend in April
Saidai-ji Temple, Nara
A 700-year-old tradition in which participants help each other drink tea from an oversized tea cup. Held annually on the 2nd Saturday and Sunday of April at Saidaiji Temple in Nara as well as on the second Sunday in October.
Hiyoshi Taisha Sannousai
12-15 April
Otsu, Shiga Prefecture
The annual festival reaches its climax after 3 days when 4 huge mikoshi are aggressively shaken by bearers in a vigorous and dramatic manner. Coincides with the blossoming of the cherry trees in the shrine precincts.
Kasama Tsutsuji Matsuri
12 April - 11 May
Kasama, Ibaraki Prefecture
Azalea festival celebrating the blossoming of approximately 35,000 azalea trees. Attracts 3 million visitors annually.
Wakuri Mibu Kyogen
Second Friday and weekend in April, every 6 years
Saihoji Temple, Wakuri, Obama-shi, Fukui Prefecture
Wakuri Mibu Kyogen is the only performance of comical Mibu kyogen mime that happens outside of Mibu Shrine, its Kyoto birthplace. Next performance due in 2020.
Flower Arrangement Festival
13-15 April
Daikakuji Temple, Saga, Kyoto
Ikebana flower arrangements and tea ceremony as well as other stalls at Daikakuji Temple in western Kyoto.
Kamakura Festival
13-20 April
Kamakura, Kanagawa Prefecture
Festival commemorating the establishment of a bakufu (shogunate) government at Kamakura in the late 12th century. Events including Shinto dances, yabusame (horseback archery) and mikoshi parades take place from the second to the third Sunday in April.
Takayama Spring Festival
14-15 April
Takayama, Gifu Prefecture
Widely considered to be one of the three most beautiful festivals in all Japan. Rightly famous are the majestic festival floats on which intricately controlled marionettes perform for stunned audiences. Also features gagaku & bugaku and kagura (Shinto music and dance). The festival is designated an important cultural asset by the government. Sight-seers gather outside Takayama jinja - a local government office during the Edo period.
Omiyukisan (Kai no Kuni Ichinomiya Asama Jinja Reitaisai Omiyuki Matsuri)
15 April
Kainokuni Ichinomiya Asama Shrine, Ichinomiya, Fuefuki City, Yamanashi
Men in female garb and wearing white, women's make up bear a shrine of a goddess towards the river. Picking up white stones on the way is said to bring good fortune.
Hikiyama Matsuri
14-16 April
Nagahama, Shiga Prefecture
Unique festival in which children perform kabuki plays on extravagantly decorated festival floats as they are pulled around the town of Nagahama on the shores of Lake Biwa.
Cherry Blossom Matsuri
15 April
Jishu Shrine, Kyoto
Women known as Shirakawa-me offer songs, poems and cherry flowers to the shrine deity. Starts from 10am.
Nikko Yayoisai
17 April
Futaarasan Shrine, Nikko, Tochigi Prefecture
Gaily decorated mikoshi representing 13 neighboring towns are paraded around historical Nikko.
Hojo-e Matsuri
17 April
Kofukuji, Nara
Carp are released in to the Sarusaono Lake in the belief that suffering is also thrown away with the fish.
Ushibuka Haiya Matsuri
18-20 April
Ushibuka, Kumamoto Prefecture
One of the liveliest dance festivals in Kyushu. Incorporates elements, brought over by boat from festivals from all over Japan. It was originally thought up by fishermen who had nothing to do but sit and drink when the southern wind set in. Held on the third weekend of April.
Ominugui Ceremony
19 April
Seiryo-ji Temple, Kyoto
Ceremony to honor Shaka Nyorai - the historical Buddha. Take a #28 bus to Saga Shaka-do-mae.
Okoshi Daiko Festival
19-20 April
Furukawa, Gifu Prefecture
On the first day, hundreds of men dressed only in loincloths fight to touch a wooden frame supporting a huge taiko drum which is being carried through the streets. On the second day is an elegant parade led by lion dancers and accompanied by traditional music.
Ningen Shogi
19-20 April
Maizuru Koen, Tendo, Yamagata Prefecture
Top-ranking shogi (Japanese chess) players play games using people dressed in full traditional military garb as pieces. Held in the Maizuru Forest Park with views of Mt. Gassan in the background.
Oiran Dochu
Second Saturday in April
Bunsui, Niigata Prefecture
Annual procession featuring women in sumptuous period kimono and full make-up. Recreates the common Edo Period (1603-1867) sight of courtesans parading the streets with their attendants.
Renge-mai (Lotus Dance)
21 April
Kokubun-ji, Saigo, Oki Islands, Shimane Prefecture
Performance of an ancient dance which first came to Okibun-ji Temple during the Nara Period (709-795 AD). This dance, said to be the origin of Japanese religious performing arts such as kagura and noh, now survives only in Oki and in the Imperial Court itself.
Negi-no-mai
21 April
Tenso Shrine, Ota-ku, Tokyo
Masked dancers perform sacred dances to the music of drums from 3pm at Tenso Shrine to pray for a successful harvest. Access: Tokyu Ikegami Line to Ontakesan Station.
Annual Spring Festival
21-23 April
Yasukuni Shrine, Tokyo
Performances of traditional dance and martial arts on the stage of Nogakudo Hall in Yasukuni Shrine from 9.30am-3.30pm.
Mibu Kyogen
21-29 April
Mibu Shrine, Nakagyo-ku, Kyoto
Performances of traditional pantomine designated as National Important Intangible Folk Cultural Properties at Mibu Temple from 1pm-5.30pm daily. See also February festivals and October festivals.
Fuji (Wisteria) Matsuri
21 April - 6 May
Kameido Tenjin Shrine, Koto-ku, Tokyo
Traditional music and other performances to celebrate the blooming of the wisteria in Kameido Tenjin Shrine. Take the JR Sobu Line to Kameido Station.
Inari & Shinko Matsuri
22 April
Fushimi Inari Shrine, Kyoto
Five mikoshi portable shrines are transported from Fushimi Inari Shrine to the shrine's Otabisho near Kyoto Station.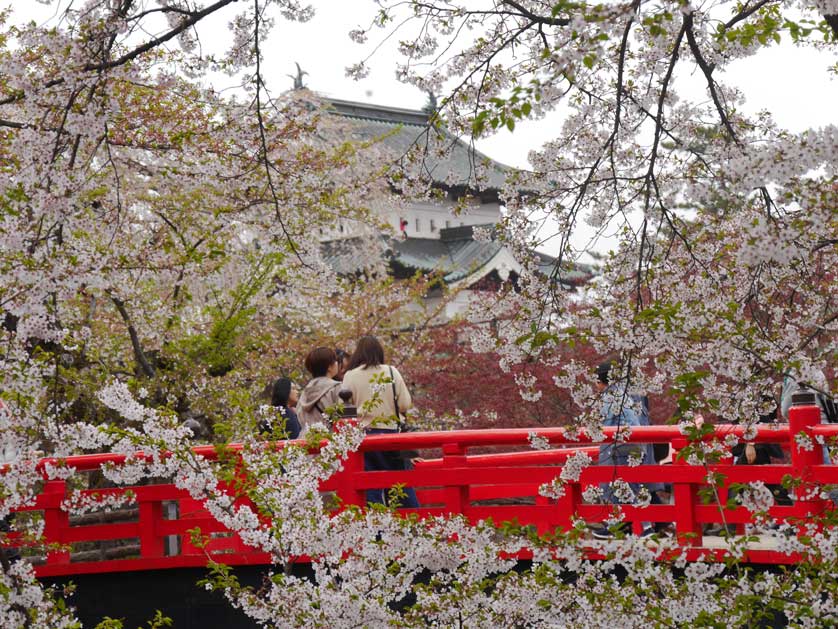 Hirosaki Castle and Gejobashi Bridge with full cherry blossom
Hirosaki Sakura Matsuri
23 April - 5 May
Hirosaki, Aomori Prefecture
The Hirosaki Cherry Blossom Festival celebrates the blossoming of the 2,600 cherry trees in the grounds of Hirosaki Castle with traditional events during the days and illuminations at night.
Shinkosai
25 April
Matsuo Taisha Shrine, Kyoto
A thousand year old festival dedicated to the god of sake-brewing. There is a mikoshi procession and participants hold up maks of the deity on long sticks. Train from Kyoto Station on the Arashiyama line to Matsuo station.
Nagasaki Tall Ships Festival
25-29 April
Nagasaki Harbour
Sailing festival with famous sailing boats representing Japan, China and Korea as well as European countries conduct manoeuvres in the harbour.
Kamikochi Mountain Opening Festival
27 April
Kamikochi, Nagano Prefecture
Festival to mark the opening of the mountain climbing season in Kamikochi featuring ceremonies devoted to the safety of climbers and many entertainments.
Togyu Taikai
27 April (and 3-5 May)
Tokunoshima Island, Kagoshima Prefecture
Traditional bullfighting event in which two bulls are pitted against each other in a test of strength. Unlike Spanish bullfighting, the animals are not wounded and are not killed.
Hidaka Hibuse Matsuri
28-29 April
Mizusawa, Iwate Prefecture
Festive floats tour the town carrying about 40 child musicians playing flutes, drums and shamisen. Starts from Hidaka Shrine at 8.30 am and continues until 9 pm. All in aid of praying for safety from fire.
Hoenya Matsuri
29 April, every second year
Karo Shrine, Karocho-kita, Tottori City, Tottori Prefecture
A festival distinguished by the colorfully clad participants riding down the Sendai River in boats.
Kyokusui-no-utage
29 April
Jonan-gu Shrine, Kyoto
Participants in Heian Period kimono compose poetry and float them downstream in a sake cup from 2pm. Also traditional dances are performed.
Uesugi Matsuri
29 April - 3 May
Yonezawa, Yamagata Prefecture
Musical parades, ceremonies and other festive events take over the whole town throughout the period. The spectacular climax is a recreation of the famous battle of Kawanakajima which involves flintlock guns and thousands of local people dressed in period armor.
Arita Ceramics Fair
29 April - 5 May
Arita, Saga Prefecture
The largest ceramic fair in Japan. Hundreds of stalls line both sides of the main street in Arita selling a wide variety of pottery at bargain prices.
DISCLAIMER Festivals may be cancelled or postponed without much warning. Check with your local tourist office for confirmation.
Kanamara Festival
Japanese Festivals - April. View a monthly calendar of information on Japan festivals in April.
All the themes of the city