Japan Festivals - July
July Japan Festivals 7月の祭り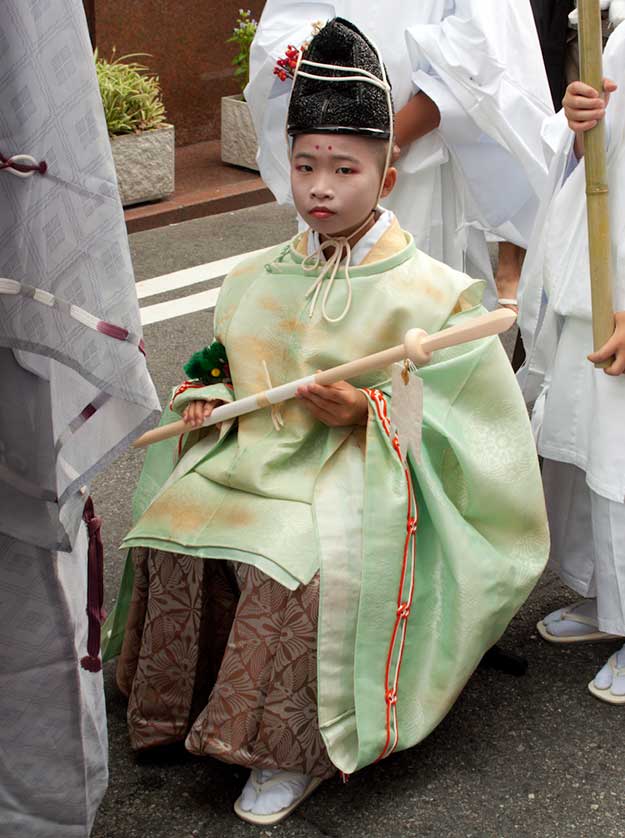 Shindo (holy child), Tenjin Festival, Kita-ku, Osaka
Tokyo Summer Festival
All July
Tokyo - various venues
A music festival organized by the Arion-Edo Foundation. Huge variety of acts and shows all over Tokyo featuring music from many parts of the globe. Runs for the whole month of July.
Shounan Hiratsuka Tanabata Matsuri
4-8 July
Shounan City, Kanagawa Prefecture
One of Japan's largest Tanabata festivals, annually attracting in excess of 3 million people. Colourful decorations and illuminations brighten up the entire downtown area.
Read more about the Tanabata Festival
Iriya no Asagao-ichi
6-8 July
Kishibo-Jin Shrine, Taito Ward, Tokyo
Iriya (morning glories) flowers are said to symbolise the beginning of summer and bring good luck. Every year, thousands come to the Kishibojin Temple area to buy morning glory plants from hundreds of street stalls.
Shiman Rokusen-nichi
9-10 July
Sensou-ji Temple, Asakusa, Tokyo
'Shiman Rokusen-nichi' means 'day of 46,000' and it is said that a visit to Sensou-ji Temple in the Asakusa district of Tokyo on these days gets you the credit for visiting on 46,000 normal days. Many thousands of people turn out and hundreds of stalls sell potted hozuki (ground cherry) plants and wind chimes until midnight.
Danjiri Festival
Kumata Jinja, Osaka
12-13 July
Large festival floats are ridden precariously by local men while being towed in vigorous fashion around the Hirano area of Osaka before being taken back to Kumata Shrine late at night. An exciting spectacle that regularly draws in excess of 300,000 visitors.
Info: 06 6791 0208
Access: 5 min walk from Hirano Station (Yamatoji Line)
Kuki Tennosama Chochin (Lantern) Festival
12 & 18 July
around Kuki Station, Kuki City, Saitama Prefecture
This more than two century old festival features seven giant cubic danjiri floats made up of hundreds of lanterns, which are paraded around the station area. Of all the lantern festivals in Japan, the Kuki Tennosama festival floats are the biggest, with over 500 lanterns each. During the day, the floats are decorated with dolls and paraded around.
Kiyoku Chochin (Lantern) Festival
the Sunday closest to 15 July
Kiyo-ku, Kuki City, Saitama Prefecture
This lantern festival is related to the Kuki Tennosama Chochin Festival and, after that festival, boasts the next biggest lantern floats of any danjiri festival in Japan.
Ueno Natsu Matsuri (Ueno Summer Festival)
Mid-July to mid-August
Ueno, Tokyo
This mid-summer festival consists of all sorts of events - many of them requiring an admission fee - that take place over the space of about a month. The main feature is a weekend parade on Chuo-dori Avenue near the end of July that includes dance and performance acts from all over Japan.
Nachi Himatsuri
14-15 July
Kumano-Nachi Taisha, Nachi-Katsuura, Wakayama Prefecture
Grand summer festival of Kumano-Nachi Shrine which climaxes with an ancient purification ritual where 12 daitaimatsu (giant torches) of vigorously burning cypress logs are swung by white robed priests as they ascend and descend stone steps at the Nachi Falls - a spectacular 133 meter high waterfall.
Hakata Gion Yamagasa
15 July
Kushida Shrine, Fukuoka
Sacred Gion festival of Kushida Shrine in Hakata (the name of the old quarter of Fukuoka) dating back to the 13th century. Prayer ceremonies and festivities begin at the shrine from July 1 and from this date Hakata's famous kazari-yamakasa go on display. These beautifully-crafted floats depict scenes from various historical or legendary tales but at around 16 meter high, they are too large to be carried. You can see them positioned at various points around the city centre.
The highlight is the kakiyamakasa race on the last day of the festival from 5am. At five-minute intervals, teams of happi wearing bearers carrying the smaller but equally extravagant kaki-yamakasa floats race around a 5 km circuit to see who can get the best time. The frenzied rush last for about 30 minutes as teams of about 100 take turns carrying the 1-ton float which requires 32 people to carry it at any one time. Spectators throw water on the teams as they pass.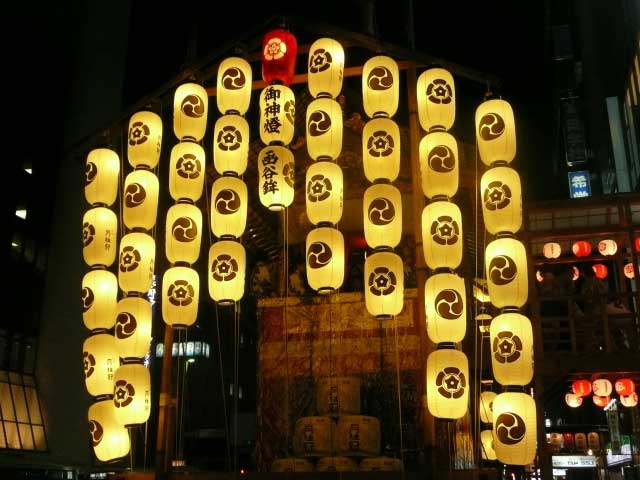 Float at Yoiyama with illuminated lanterns, Gion Matsuri Festival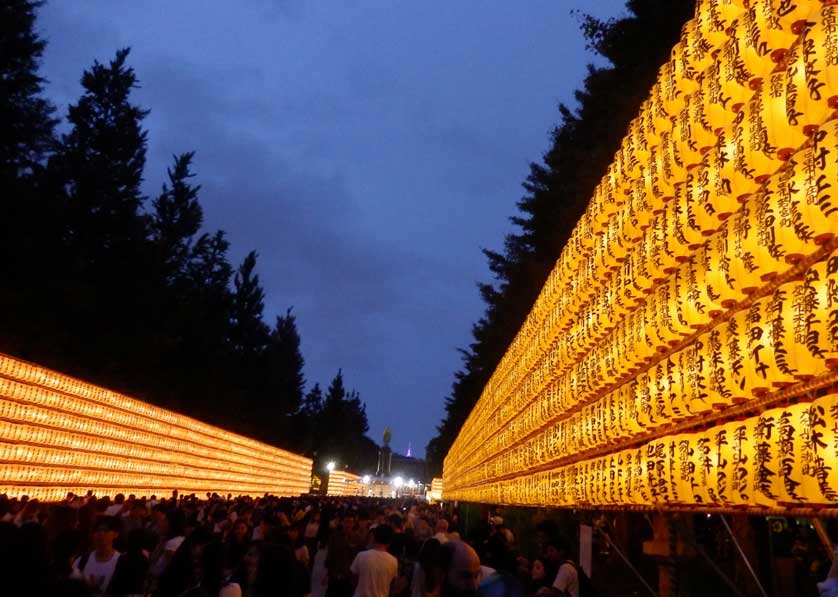 Mitama Festival, Yasukuni Shrine, Tokyo
Mitama Festival
16-19 July
Yasukuni Jinja, Tokyo
The Mitama Festival at Yasukuni Shrine in Tokyo honors the souls of the people killed in Japan's wars since the late 19th century with lanterns and a parade of portable shrines (mikoshi).
Gion Matsuri
17 July
Yasaka Shrine, Kyoto
Kyoto's Gion festival is one of the most popular festivals in all Japan and features the most lavishly-decorated festival floats. Hoko are wheeled floats up to 25 meters in length and 12 tons in weight which are pulled with ropes. Some hoko are two stories high and carry people on each level and even on the roof. Yama are smaller and are carried on the shoulders of bearers like mikoshi.
Although the festival begins at Yasaka Shrine on the 1st and continues until 31 July with many larger and smaller events taking place, the highlight of the festival is when all 25 yama floats and all 7 hoko parade through the city, watched by many thousands at every turn. The night before the procession crowds gather to see the hoko in downtown Kyoto in a festival called Yoiyama.
Nankai Jinja Natsu no Reitaisai
The weekend before Umi no Hi (Marine Day)
Misaki, Miura City, Kanagawa Prefecture
This vibrant festival features two lion dog characters who lead the parade, followed by portable shrines. The procession goes around commercial and residential districts in this fishing town, driving out evil and ensuring good fortune. Lots of chanting and drumming make this a festival to remember.
Shiogama Minato Matsuri
The day before, and on, Umi no Hi (Marine Day)
Shiogama City, Miyagi Prefecture
A festival started in 1948 as recovery from WWII and featuring big intricate, fantastical, vivid boats depicting mythical creatures: the Ho-oh-maru bird boat and the Ryu-ho-maru dragon boat in beautiful Matsushima Bay which carry the altar from Shiogama Shrine. On land, the festival is marked by costumed processions and dancing. A 10 minute walk from Hon-Shiogama Station.
Toyohashi Gion Matsuri
19-21 July (third Friday-Sunday in July)
Yoshida Shrine, Toyohashi City, Aichi Prefecture
Summer festival of Yoshida Jinja which culminates in a display of 'pistol fireworks' which are hand-made and then set off by their makers who continue to hold them in position while they spew forth large and spectacular flames over a long period. The bearers wear extra-strong happi coats and douse themselves in water to protect themselves.
Kokura Gion Taiko
19-21 July
Yasaka Shrine, Fukuoka City, Fukuoka Prefecture
Shrine festival that incorporates a taiko drumming competition which attracts up to 100 different teams and hundreds of thousands of spectators. Some of the drummers perform atop special floats as they are borne through the streets.
Samukawa Jinja Hamaorisai
20 July
Samukawa Shrine, Chigasaki City, Kanagawa Prefecture
A mikoshi parade begins at the shrine at 2.30 am and proceeds through the streets of the city towards the beach. Mikoshi from neighbouring shrines join on the way. By the time they reach the beach they can number more than 30. At dawn, around 150,000 people watch them borne into the cleansing waters of the sea as part of a purification ceremony.
Mushi Okuri Festival
July 20th
Iwami Town, Shimane
A group of dancers and drummers, accompanied by flute player and singer, spend all day walking around the town. At numerous locations they stop and perform the Mushi Okuri Odori, an ancient dance asking all the insects to leave the rice fields and go somewhere else. Once common throughout Japan, this dance is rarely performed anymore.
Yamaguchi Gion Festival
20-27 July
Yamaguchi City, Yamaguchi Prefecture
A Gion festival modeled on the famous Kyoto Gion Matsuri. Famous for sagimai, an elegant dance performed in a winged costume that represents the graceful courting dance of the heron.
Yasaka Jinja Festival
20, 27 July
Yasaka Shrine, Shimane Prefecture
Summer shrine festival featuring sagimai, an elegant dance performed in a winged costume that represents the graceful courting dance of the heron.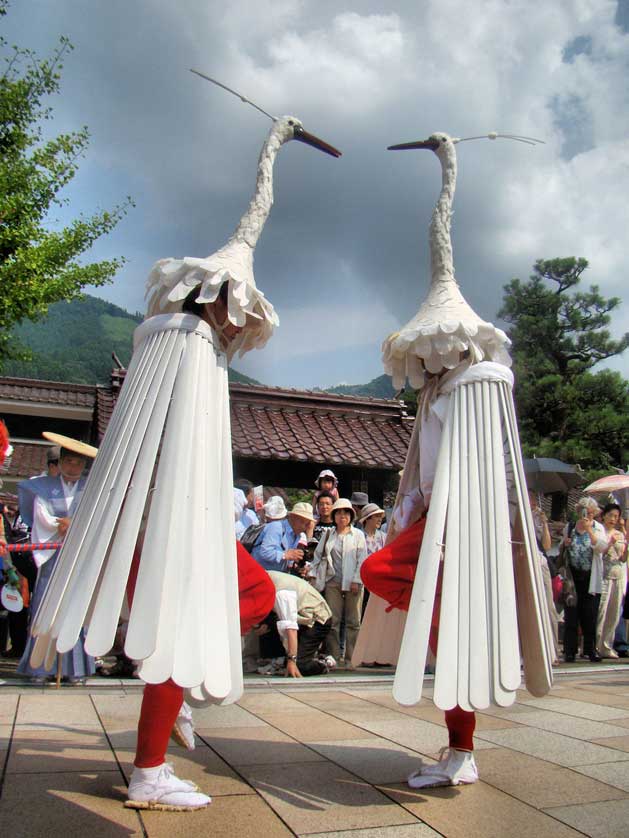 Sagimai Heron Dance Festival, Tsuwano
Osorezan Taisai
20-24 July
Bodaiji Temple, Mutsu City, Aomori
Mt. Osore in Aomori Prefecture in the far north of Japan is believed to be a place where the souls of the dead gather and every year in this period, people climb to the top to speak to the spirits through female shamans who act as mediums. The path to the summit is studded with pinwheels placed by parents praying for departed children.
Nagasaki Peiron Senshukan
20-21 July
Matsugae International Pier, Nagasaki City, Nagasaki Prefecture
A dragon boat racing festival begun by Chinese residents of Nagasaki in the 17th century. Long wooden boats crewed by a total of 35 people including a drummer and a bailer race on a 4 km course in the harbour.
Uchiwa Matsuri
20-22 July
Yasaka Shrine, Kumagaya, Saitama Prefecture
Most famous for a parade of 12 highly-decorated dashi floats around the city of Kumagaya and the uchiwa or round fans that are given out to festival goers.
Kurosaki Gion Matsuri
Fukuoka City, Fukuoka Prefecture
20-22 July
Gion festival modelled on the world famous Kyoto Gion Matsuri. The highlight is on the evening of the 20th when elaborately decked-out yamakasa floats are whirled round the streets of Fukuoka by their bearers to win a competition. Lively atmosphere with festival music and decorative lights.
Sapporo Summer Festival
21 July - 20 August
Odori Park, Sapporo
Large areas of Odori Park in central Sapporo and surrounding streets are turned into a beer garden with many entertainments and festivities. Attracts hundreds of thousands of visitors every year.
Aizu Tajima Gion Matsuri
22-24 July
Tajima Town, Fukushima Prefecture
A local version of the Kyoto Gion Matsuri. Features Shinto music and dance, taiko drumming and children's kabuki theatre performed on festival floats.
Tajima Tourism Association: 02 4162 6210
Warei Shrine Summer Festival
23-24 July
Warei Shrine, Uwajima City, Ehime Prefecture
A parade of mikoshi led by large ushioni or 'ox-demon' effigies crosses the river followed by hundreds of people carrying torch lights. Other attractions include fireworks and togyu, a kind of non-fatal bull-fighting in which two bulls fight to push each other out of the ring. Also known as ushi-zumo or 'bull sumo'.
Access: JR Uwajima Station.
Soma Nomaoi
23-25 July
Hibarigahara, Haramachi, Fukushima Prefecture
Commences with a parade of mikoshi and over 600 horsemen in full feudal military dress. The horsemen race each other and take part in various competitions over the three days finishing with the Soma Nomaoi itself in which participants dressed in white, chase wild horses around the shrine compound in order to offer them to the gods.
Honmyo-ji Tonshae
23 July
Honmyo-ji Temple, Kumamoto City, Kumamoto Prefecture
Thousands gather to watch Nichiren Sect Buddhist monks from 120 different temples climb stone steps lined with hundreds of lanterns to the mausoleum of a feudal lord in Kumamoto. Dates back to an episode in which a dying head priest ordered that a transcription of the 69,384-character Lotus Sutra in one night.
Tenjin Festival, Kita-ku, Osaka

Tenjin Festival, Kita-ku, Osaka
Tenjin Matsuri
24-25 July
Tenmangu Jinja, Osaka
The Tenjin Matsuri is one of Japan's three major festivals. Various festivities on the first day include a procession of danjiri festival floats, drumming performances and a lion dance. On the second day, spectators gather at 4 pm and a drum-led procession from Tenmangu Shrine to the Tenjin bridge begins. At 6.30 pm the procession continues on the river with 100 decorated boats. Bugaku and kagura are performed on a lantern-lit floating stage in the middle of the river.
Info: 06 6353 0025
Kangensai (Music Festival)
Usually in July (17 June by lunar calendar)
Itsukushima Shrine, Miyajima, Hiroshima Prefecture
Brightly decorated boats are towed from the famous torii gate standing in the sea at Itsukushima in Hiroshima to the opposite shore. Shinto rituals and classical bugaku dance are performed on board. Dates back more than a thousand years to times when court nobles would enjoy music and dance on boat trips.
Kuromatsu Festival
Late July
Kuromatsu, near Gotsu, Shimane Prefecture
Unusual festival where the kami (gods) are brought by boat in a portable shrine from an offshore island back to the mainland with accompanying taiko drum music.
Read more about the Kuromatsu Festival and watch a video of the proceedings
Otaru Tide Festival
26-28 July
Otaru Wharf, Otaru City, Hokkaido Prefecture
One of the most popular sea festivals in northern Japan. More than 10,000 take to the streets to dance and numerous paper lanterns decorate the whole city. At Otaru Wharf, some 4,000 paper lanterns are set adrift on the sea and many boats and ships parade around the bay amongst them. Other attractions include mikoshi and fireworks.
Owari Tsushima Tenno Festival
4th Sat & Sun July
Tenno River, Aichi Prefecture
One of Japan's top three river festivals. The highlight is Saturday evening when five straw boats decorated with hundreds of paper lanterns each are set afloat on the Tenno river setting the water glittering with reflected light.
Access: 15-minute walk from Tsushima station on the Meitetsu Tsushima line or the Bisai line.
Listen to the sounds of the Tsushima Tenno Festival
Tai Festival
27-28 July
Toyohama, Minamichita Town, Aichi Prefecture
A fishermen's festival to pray for good catches at sea. Huge mikoshi (about 20 meters long) in the shape of tai, or sea bream, are paraded around the town before being taken out to sea.
Tanukidani Fudoin Fire Festival
28 July
Kyoto, Kyoto Prefecture
A fire festival at Tanukidani Fudoin in Higashiyama in the mountains of eastern Kyoto officiated by yamabushi mountain priests who prepare a fire made from pine branches and then walk across the burning ashes. Visitors can then walk across. The festival is designed to drive out disease in the participants. The Tanukidani Fudoin "Hi matsuri" begins at 7 pm.
Hokkai Heso Festival
28-29 July
Furano, Hokkaido
Heso means "navel" in Japanese, and this festival features the Zubara ("picture belly") dance where a human-like face is drawn on each dancer's belly. This festival has Flower Power roots, having begun in 1969, and the belly is an important focus of energy in Japanese culture (think sumo wrestlers); so the festival invokes the very first settlers drawing on their power to fell forests and till the land.
Sumiyoshi Matsuri
30 July - 1 August
Sumiyoshi Taisha Shrine, Osaka
This is the last of the major summer festivals in Osaka and is also known as the 'Minami-matsuri' or 'Oharai'. At its heart are various Shinto purification ceremonies and the festival ends with a mikoshi parade through the grounds and environs of Sumiyoshi Taisha.
Hachinohe Sansha Taisai
31 July - 3 August
Hachinohe City, Aomori Prefecture
One of the most colourful and spectacular neputa festivals in the prefecture. Fabulously decorated mikoshi and lantern floats adorned with colourful dioramas parade the streets led by kagura musicians and lion dances. On the second and third days of the festival a traditional polo-like game is played by teams of horsemen at Shinra Shrine.
Shimodate Gion Matsuri
Last Thursday to Sunday in July
Haguro Jinja, Shimodate City, Ibaraki Prefecture
The star of the festival is the giant Ou mikoshi. At 2 tons it is the largest in Japan and it leads a vigorous parade of over 30 mikoshi in total and progresses from the shrine to the downtown area. On the last day of the festival, the bearers carry their mikoshi into the river and immerse themselves up to their necks as part of a purification ceremony.
Access: Shimodate, Ibaraki Prefecture (Mito Line)
Yokohama Summer Night Festival
27-28 July
Yamashita Park, Yokohama City, Kanagawa Prefecture
Professional and amateur musicians, dancers and other entertainers perform on stages in Yamashita Park in Yokohama and on floating stages in the bay.
Sumida River Fireworks Display
27 July
Sumida River, Asakusa, Tokyo
One of the largest fireworks displays in all Japan. The Sumida River Fireworks Display is said to date back to Edo times (1603-1867) when firework makers would come here to compete to create the most sensational displays.
DISCLAIMER Festivals may be cancelled or postponed without much warning. Check with your local tourist office for confirmation.
Kuromatsu Festival, Shimane
Japanese Festivals July. See a listing by prefecture for Japanese festivals in July including the Gion Festival in Kyoto and the Danjiri Festival in Osaka.
All the themes of the city