Japan Festivals - May
May Japan Festivals 5月の祭り
Exact dates may change year by year - please check in advance.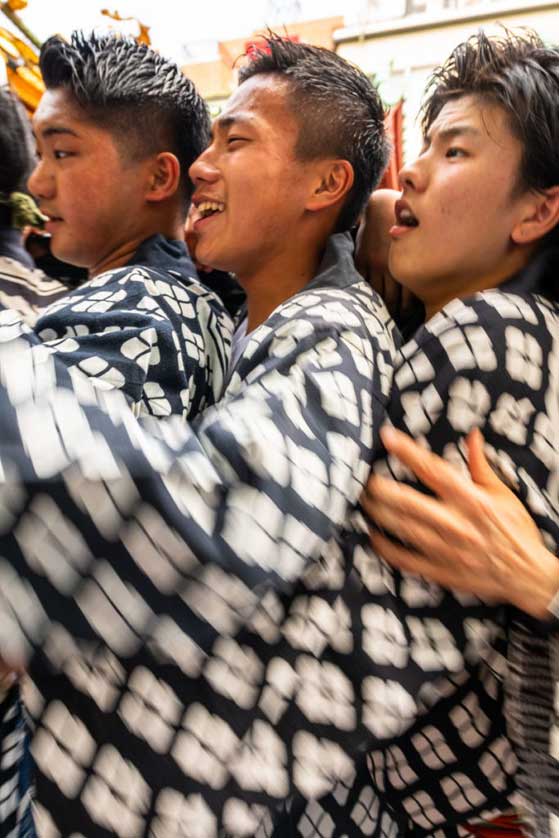 Sanja Matsuri, Asakusa, Tokyo
Yotaka Matsuri
1-2 May
Fukuno, Toyama Prefecture
Night festival of colourful floats consisting of giant, decorative paper lanterns. At around midnight, the lanterns begin to be paraded around town with local men hanging from them who start battles whenever other floats come close.
Nembutsu Kyogen
1-4 May
Senbon Emmado, Kyoto
One of the three main nembutsu kyogen (comic drama) performances in Kyoto. May 1 & 2 from 7 pm; May 3 & 4 1 pm and 6 pm.
Kakeuma Shinji / Fukakusa Matsuri
1 - 5 May
Fujimori Shrine, Fukakusatoriizaki-cho, Fushimi-ku, Kyoto
This five-day long festival of shrine processions, drumming performances and more climaxes on the final day, May 5, with the Kakeuma Shinji event: a demonstration of cavalry techniques from the old days, with riders performing daredevil stunts.
Nozaka Mairi
1-10 May
Daito City, Osaka Prefecture
Thousands gather on the approach to Nozaka Kannon Temple to enjoy puppet plays, storytelling and a range of other classical arts and festival amusements.
Fujiwara Festival
1-5 May
Hiraizumi, Iwate Prefecture
The main event is a period dress parade on the 3rd recreating the arrival of Minamoto Yoshitsune and his entourage when he came to Hiraizumi in northern Japan to seek the protection of Fujiwara Hidehira.
Kamogawa Odori
1-24 May
Pontocho Kaburenjo Theater
Maiko and geisha perform their annual spring dances with show times at 12.30 pm, 2.20 pm and 4.10 pm.
Tarui Hikiyama Matsuri
2-4 May
Tarui, Gifu Prefecture
This festival features floats known as Hikiyama. Children in full make up and costume perform Kabuki plays on stages built in to these lavishly decorated three-storied festival floats.
Shinsen-en Kyogen
2-4 May
Shinsen-en Temple, Kyoto
Kyogen, taiko drumming, traditional dances, gagaku court music and Buddhist chanting at Shinsen-en Temple in Kyoto.
Shimonoseki Straits Festival
3 May
Shimonoseki, Yamaguchi Prefecture
Many colourful events in the port town of Shimonoseki including recreations of a samurai era sea battle involving about 200 boats, the famous duel between Miyamoto Musashi and Sasaki Kojiro and a colourful parade of courtesans.
Yokohama Port Festival
3 May
Yokohama Port
Parades, dances and entertainments all with an international flavour. Features dragon dances, baton twirlers and decorated festival floats in the port area of Yokohama.
Odawara Hojo Godai Matsuri
3 May
Odawara, Kanagawa Prefecture
Shinto ceremony, parades of warriors in full period dress, traditional music and mikoshi parades.
Inari Kanko-sai Festival
3 May
Fushimi Inari Taisha, Kyoto
A mikoshi procession in the surrounding streets precedes a festival beginning at 4 pm.
Kamezaki Shiohi Matsuri
3-4 May
Handa, Aichi Prefecture
A gathering of 31 antique dashi, (drawn festival floats). These remarkable wooden constructions are towed around town and then down to the beach where they are pulled through the shallows at low tide.
Japan Festivals in May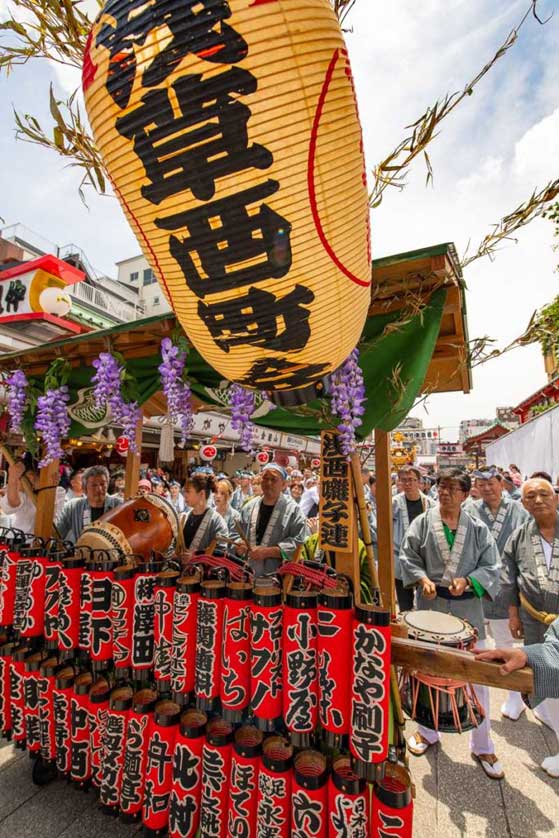 Sanja Matsuri, Asakusa, Tokyo
Hakata Dontaku
3-4 May
Hakata (Fukuoka), Fukuoka Prefecture
Large scale festival with history going back nearly 800 years. Colourful and musical parades and events all over the downtown area of Fukuoka city. Attracts 2 million people annually.
Giant Kite Festival
3-5 May
Showa, Saitama Prefecture
Giant decorated kites (up to 15 meters in length) are flown on the banks of the dry riverbed of the Edo River.
Togyu Taikai
3-5 May (and 27 April)
Tokunoshima Island, Kagoshima Prefecture
Traditional bullfighting event in which two bulls are pitted against each other in a test of strength. Unlike Spanish bullfighting, the animals are not wounded and are not killed.
Hamamatsu Festival
3-5 May
Hamamatsu, Shizuoka Prefecture
Local teams fly huge decorated kites, attempting to bring kites of other teams to the ground. Accompanied by assorted events, traditional and otherwise, including sacred dances, parades and taiko drumming.
Hamamatsu Festival
Hiroshima Flower Festival
3-5 May
Hiroshima
Festival for peace featuring flowers, music and a wide range of fun and entertainments in Hiroshima. Attracts visitors from all over the world.
Kutani Chawan Matsuri
3-5 May
Terai, Ishikawa Prefecture
Dozens of stalls selling kutani pottery set up in the grounds of Terai Town Hall and the Sano Kutani Museum. Many events related to kutani pottery also take place.
Seihakusai
3-5 May
Nanao, Ishikawa Prefecture
Features a parade of three enormous dashi, (drawn festival floats) each around 20m in height and weighing around 20 tons. Known locally as dekayama (giant mountains), these floats are built entirely from wood, bamboo and rope and without the use of nails.
Shio no Michi Festival
3-5 May
Omachi, Nagano Prefecture
A procession of local people, dressed in traditional costumes, visit historical spots on the route of the Shio no Michi (Salt Route), a historical road that was once an important trade route.
Okinohata Suitengu Festival
3-5 May
Yanagawa, Fukuoka Prefecture
Three days of festival music and ceremonies are held on a floating stage made from canal boats tied together with stalls and other festivities on the banks of the canals in Yanagawa.
Sea Bream Netting Festival
3-31 May
Fukuyama, Hiroshima Prefecture
See demonstrations of this centuries old method of fishing on specially prepared tourist boats during the period.
Iba no Sakakudashi Matsuri
4 May
Sanposan Shrine, Iba-cho, Hibashiomi City, Shiga Prefecture
Young men roll and guide three shrines from the mountaintop Sanposan Shrine 500 meters down to Otori Shrine at the foot of the mountain, over a precipitous, rocky passageway, in a risk-filled procession that takes up to four hours to complete.
Ageuma Shinji
4-5 May
Tado Shrine, Kuwana, Mie Prefecture
The ageuma (rising horse) ritual involves young horseback riders in samurai armor riding horses up a steep 3m high cliff. It is traditionally believed to predict the success of the coming year's harvest. The festival also includes a procession of a boy on horseback and retainers in period costume. Access to Tado Station from Kuwana on the Kintetsu Yoro Line, then bus or a 20 minute walk.
Yabusame Matsuri
4-6 May
Sengen Taisha Shrine, Fujinomiya, Shizuoka Prefecture
Demonstrations of yabusame, traditional Japanese horseback archery.
Sagami Giant Kite Festival
5 May
Sagami, Kanagawa Prefecture
Held on the banks of the Sagami River, this is an annual event at which a giant (14m long) kite is flown by a team of nearly 100 people.
Kotohira-gu Shugiku
5 May
Kotohira, Kagawa Prefecture
Kemari, a ritual game of kick-ups played by priests in Heian Period (794-1192) robes, is played in the grounds of this famous shrine in Kagawa, west of Takamatsu.
Nihon Dowasai
5 May
Kusu, Oita Prefecture
An event held in the memory of Takehiko Kurushima, a writer of children's stories who lived in this town. Various events for children to participate in such as a festival parade and kids' sumo wrestling.
Nagashino Kassen Nobori Festival
5 May
Shinshiro, Aichi Prefecture
The festival features a parade by participants in samurai costume, taiko drum performances and demonstrations of matchlock muskets commemorating the 1575 Battle of Nagashino. The parade takes place from 9.30am. The venue is a short walk from JR Nagashinojo Station on the JR Iida Line.
Yamakage Shrine Festival
8 May
Yoshida Jinja, Kyoto
Prayers to the kami of cooking, eating and drinking. Raw fish is cut with chopsticks and knives.
Uesaku Festival
Full Moon in May
Kurama Temple, Kyoto
Prayers to the kami for world peace at 7 pm with fires lit in the temple grounds.
Kanda Festival
The Saturday and Sunday closest to 15 May
Kanda Myojin Shrine, Tokyo
Floats, wagons filled with dancers, and around 200 mikoshi are paraded through a large area of downtown Tokyo in honour of the deities of the Kanda Shrine, shinto priests on horseback accompany the parade. The main Kanda matsuri is held once every two years in odd-numbered years, while festivals held in even-numbered years are on a smaller scale.
Takigi Noh Performance
11 & 12 May, 4-9 pm
Kofuku-ji Temple and Kasuga Shrine, Nara
Performance of traditional noh theatre held outdoors lit only by torchlight at Kofukuji Temple and Kasuga Jinja in Nara.
Matsuno-o Kanko-sai Festival
14 May
Matsuno-o Taisha, Kyoto
An aoi (hollyhock) festival with a mikoshi procession beginning at noon.
Johana Hikiyama Festival
14-15 May
Johana, Toyama Prefecture
A parade of six intricately carved and lacquered floats, each the work of skilled local craftsmen. These are joined by Iori yatai floats that carry musicians playing folk tunes.
Otabi Festival
14-18 May
Komatsu, Ishikawa Prefecture
Kabuki is performed by children on eight festival floats parading around the town led by children performing lion dances.
Read more on the Otabi Festival
Sanjo Matsuri
15 May
Sanjo Niigata Prefecture
Features a parade of hundreds of local people dressed as warriors and attendants. Recreating the clan lord's journeys to Edo Castle during the Edo Period (1603-1867).
Aoi Festival
15 May
Kamigamo Shrine, Kyoto
The Aoi (hollyhock) Festival is a solemn and formal parade dating back over 1,000 years, involving 500 people in full Heian Period court dress. An ox drawn cart is led to Kamigamo Shrine from the Imperial Palace (Gosho) in Kyoto where Shinto rituals take place. Sacred dances and music are performed on the way. Known as the world's oldest festival, dating from the mid 6th century.
Read more about the Aoi Matsuri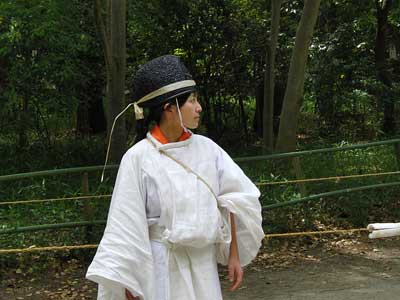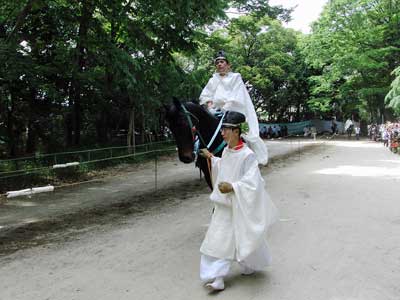 Kurofune Matsuri
16-18 May
Shimoda, Shizuoka Prefecture
Many events of both a traditional and an international flavour as this is a festival to mark the coming of the kurofune (black ships) led by Commodore Matthew Perry who arrived in Shimoda in 1854 to demand that Japanese ports be opened to American trade.
Sanja Matsuri
13 - 15 May
Asakusa, Tokyo
One of the largest mikoshi parades of all Japanese festivals. A parade of about 100 portable shrines centered on Sensoji Temple in Asakusa, Tokyo. Many geisha as well as others dressed in traditional costumes also take part. Attracts 2 million spectators every year. One spectacle is the tattooed yakuza mobsters who have traditionally been a significant presence at the Sanja Matsuri.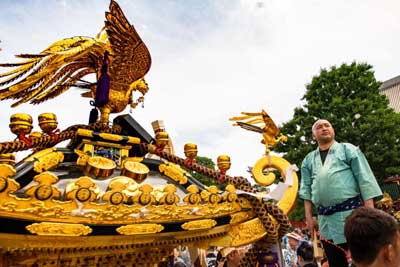 The Sanja Matsuri courts controversy with the participation of gang members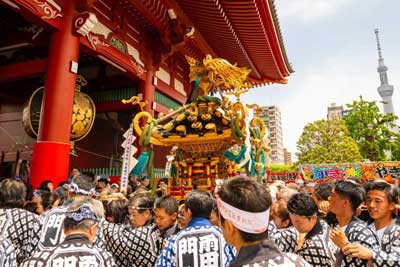 The Sanja Matsuri is one of Tokyo's most lively and riotous festivals
Kobe Matsuri
16-18 May
Kobe
Citizens' festival featuring parades during the day and in the evening, samba dancing and a fireworks display held out over the harbour in Kobe.
Tosho-gu Grand Festival
16-18 May
Nikko, Tochigi Prefecture
Nikko's most important annual festival, featuring yabusame (horseback archery) and a 1000 strong costumed re-enactment of the delivery of Tokugawa Ieyasu's remains to Nikko.
Aoba Festival
3rd weekend in May
Sendai, Miyagi Prefecture
2-day people's festival in Sendai packed with events such as mikoshi parades, a flea market, warrior processions, taiko drumming and street dancing.
Kawawatari Jinkosai
17-18 May
Tagawa, Fukuoka Prefecture
Thrilling traditional festival during which ten teams carrying richly-decorated mikoshi participate in races, ending in a hectic crossing of the Hikosan River in the afternoon of both days. Tagawa is east of Fukuoka city.
Mifune Boat Festival
3rd Sunday
Arashiyama, Kyoto
Thirty boats carrying participants in court dress of the Heian Period (794-1192) travel upstream on the Oi River in Arashiyama, Kyoto. Leading the way are three boats carrying players performing noh dramas, gagaku musicians and shrine maidens respectively. A group of poets, dressed in ancient ceremonial robes, compose and recite symbolic verses of 17 syllables (haiku). Offerings of any impromptu poem to the deity of Kurumazaki Shrine (075 861 0039) will be welcomed.
Uchiwa Maki
19 May
Toshodai-ji Temple, Nara
Buddhist ceremonies and performances of court music and dance held before the main event when thousands of specially prepared paper fans are thrown into the crowd at Toshodaiji Temple in Nara. The fans are kept as good luck charms for the coming year.
Mikawa Okaeri Matsuri
3rd weekend in May
Fujitsuka Shrine, Hakusan City, Ishikawa Prefecture
A festival that takes place over two days, with 13 omikoshi portable shrines leaving Fujitsuka Shrine on the early morning of the first day and reaching a temporary shrine that evening. Later that night, the journey is made back to Fujitsuka Shrine. This festival involves the whole town and attracts many outside visitors.
Mikuni Festival
19-21 May
Mikuni, Fukui Prefecture
One of the largest festivals in the Hokuriku region. Features a parade unique festival floats each decorated with ornately decorated, giant effigies of famous samurai warriors.
Saga Festival
21 May & 28 May
Nonomiya & Atago Shrines, Arashiyama, Kyoto
Mikoshi portable shrines at Seiryo-ji Temple on the 21st; children's procession from Otabisho via Daikakuji, Arashiyama and then back to Otabisho.
Aioi Peiron Festival
24-25 May
Aioi, Hyogo Prefecture
Harbor festival with teams of oarsmen and women competing in longboat races. Also features street parades, dancing and fireworks.
Hanazono Shrine Festival
24-26 May
Shinjuku, Tokyo
The highlight of this 3-day festival at Hanazono Shrine is the shinkosai procession of floats and mikoshi on the 25th along Yasukuni Dori, Meiji Dori and Shinjuku Dori from 9.30 am-7.30 pm. Food stalls are set up along the way in places. Go to Shinjuku-Sanchome Station on the Toei Shinjuku, Marunouchi or Fukutoshin lines.
Nanko Matsuri
24-26 May
Minatogawa Jinja Shrine, Kobe
A memorial service for the spirit of Masashige Kusunoki, the enshrined deity of Minatogawa Jinja. Many visitors come for the shigin contest (recitation of Chinese-style poems), and for the rice-cake scattering event.
Bakemono Matsuri
25 May
Tsuruoka, Yamagata Prefecture
Participants wearing costumes and hats which hide their faces wander around downtown Tsuruoka giving out sake to passers by. It's said that if you participate for three years without being recognized then your wishes will come true. Properly known as the Tenjin Festival.
Yushima Tenjin Matsuri
24-25 May
Bunkyo-ku, Tokyo
There is a float (horen) procession on the 24th as mikoshi circulate around Yushima Tenjin Shrine from 10 am-4.30 pm. There is similar activity the next day from 8 am-6 pm. Take the Chiyoda Line subway to Yushima Station.
Soga no Kasayaki
28 May
Jyozen-ji Temple, Odawara, Kanagawa Prefecture
Various ceremonies and attractions including sumo wrestlers scattering rice cakes and money, a ritual burning of old paper umbrellas, a children's parade, a warriors parade and a children's sumo wrestling competition.
DISCLAIMER Festivals may be cancelled or postponed without much warning. Check with your local tourist office for confirmation.
Sanja Matsuri, Asakusa, Tokyo
Japanese Festivals May: see a list of the main Japanese festivals in May throughout Japan.
All the themes of the city