Japan Festivals - October
October Japan Festivals 10月の祭り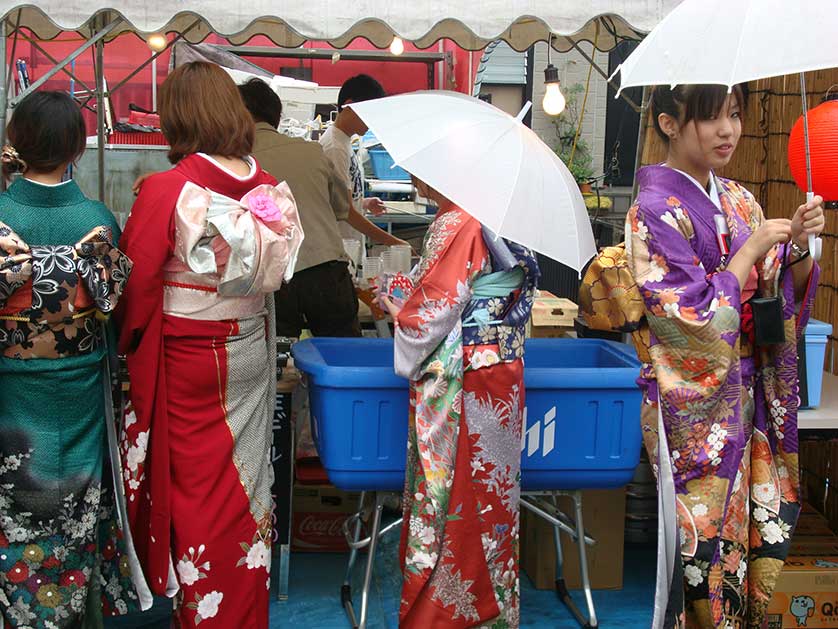 Zuiki festival
October 1-5
Kitano Tenmangu, Kyoto
An autumn harvest festival with two mikoshi portable shrines bedecked with zuiki (taro stems).
Nihonmatsu Lantern festival
October 4-6
Nihonmatsu Jinja, Nihonmatsu, Fukushima
The annual grand festival of Nihonmatsu Jinja is the location of one of Japan's three great lantern festivals. 7 large floats bedecked with hundreds of paper lanterns parade through the town to the strains of festival music.
Otsu Festival
Sunday before the second Monday in October
Tenson Shrine, Otsu, Shiga Prefecture
The Otsu Matsuri (Otsu Festival) is one of the three big Shiga festivals and takes place on the first weekend of October before the second Monday of the month. 13 three-wheeled, richly-decorated, ornately-carved and painted floats (hikiyama) are pulled through the streets around JR Otsu Station. Get a sneek preview at the free Otsu Matsuri Hikiyama Pavilion.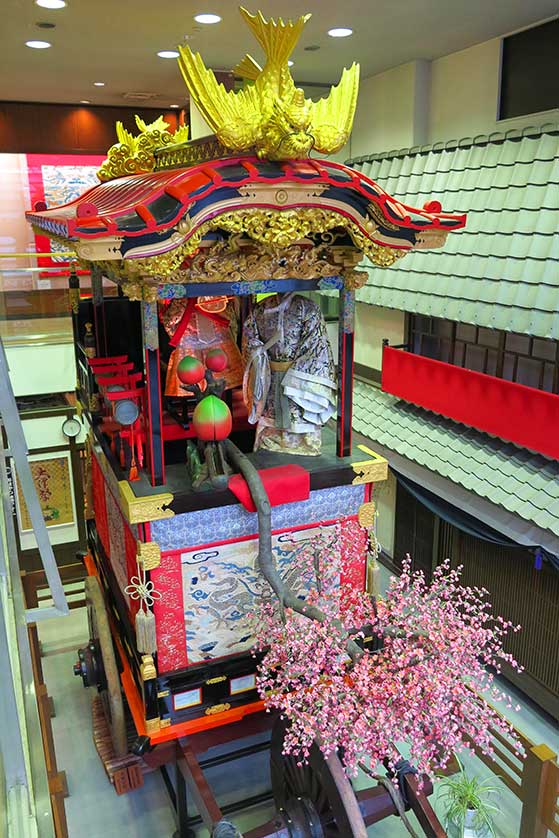 Replica float, Otsu Matsuri Hikiyama Pavilion
Arimatsu Festival
Early October
Arimatsu, Aichi
A procession of heavy floats are pulled through the streets by happi-clad men accompanied by traditional music in Arimatsu, an eastern suburb of Nagoya known for its traditional shibori (tie-dye) crafts. Read more about the Arimatsu Matsuri.
Warai Festival
8 October
Niu-Jinja Shrine, Wakayama
Various traditional dances and a bizarre laughing "warai" festival as the participants laugh in time to the jangle of small bells and commands from a leader.
Access: JR Wasa Station
Nagasaki Kunchi
7-9 October
Suwa-Jinja Shrine, Nagasaki-shi, Nagasaki
Lively festival with a cosmopolitan atmosphere reflecting Nagasaki's history of international contact. Features parades of colourful floats and unique dances, all with a strong Chinese influence from Suwa Shrine in Nagasaki. Regularly attracts over 350,000 visitors.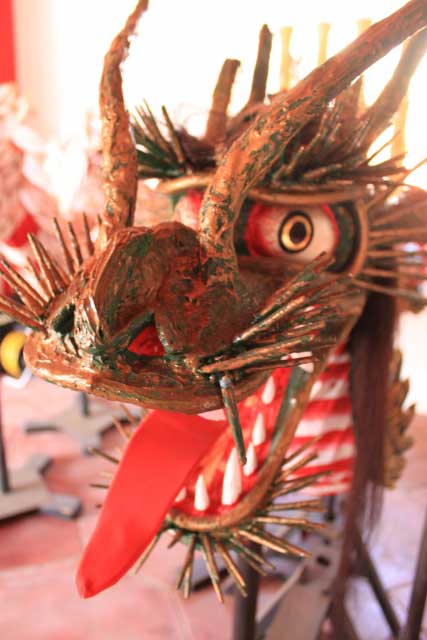 Nagasaki Kunchi Festival
Autumn Festival
9 October
Shimogamo Shrine
Traditional music and entertainment performed as people pray for a good harvest from 1.30pm at Shimogamo Shrine in north west Kyoto.
Dai Ginza Matsuri
October 10-17
Ginza, Tokyo
Held every since 1968, the 100-year anniversary of the Meiji Restoration. Parades, bazaars and bands fill the streets of Ginza in Tokyo with colour and music but the main attraction has to be the bargain sales held by the major name stores in the district.
Takata-no-Baba Yabusame
Second Monday in October (Health and Sports Day)
Toyama Metropolitan Park, 3-chome, Toyama, Shinjuku-ku, Tokyo
Demonstrations of yabusame, the ancient Japanese art of horseback archery. 2-3 blocks from Waseda Station on the Tozai Line in Tokyo. Associated with the nearby Ana-hachimangu Shrine.
Naha Ohtsunahiki Festival
Second Weekend in October and the Monday (Health and Sports Day)
Naha, Okinawa Prefecture
Many events and folk entertainments to enjoy but the centerpiece is the tug-of-war, or ohtsunahiki involving a rope, 1.5m in diameter, and weighing no less than 27 tons. Hundreds of competitors and many thousands of spectators attend this lively matsuri in Naha, Okinawa.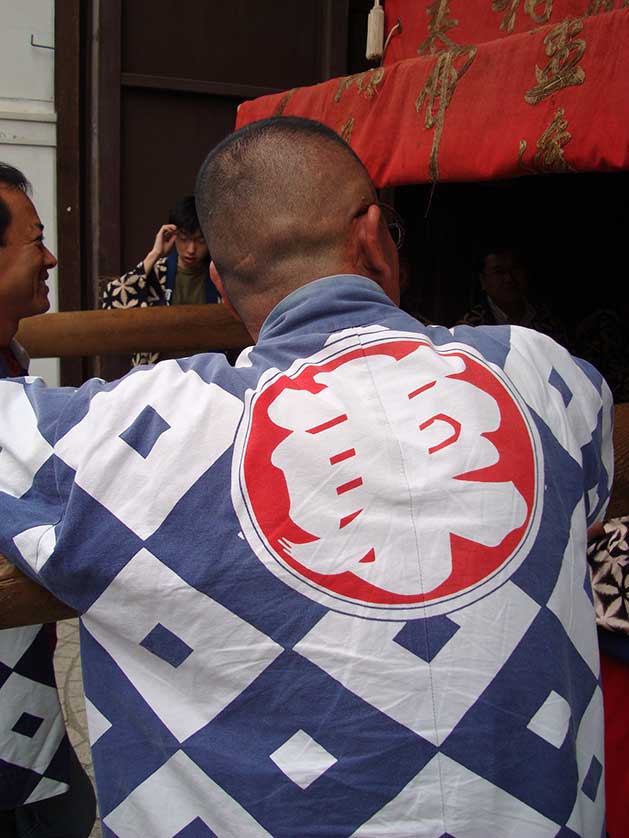 Arimatsu Festival in Aichi Prefecture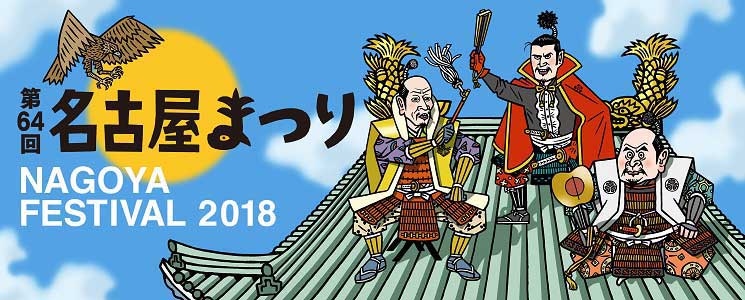 Nagoya Festival is the city's biggest festival with a number of processions through downtown Nagoya
Konpira Matsuri
October 10-13
Yasui Konpira-gu, Gion, Kyoto
The main event at Yasui Konpira Shrine in Gion is on the 10th from 11am. The enshrined deity is transferred to a portable shrine at 8pm. Prayers for world peace from 11am on the 12th, closing festival from 9am on the 13th.
Sanuki Toyohama Chosa Matsuri
October 11-13
Kannoji Kagawa Prefecture
20 large chosa or decorated floats are paraded through the streets involving the chosa katsugi, where local youth compete to climb the floats at Wada Omatsuri Square and Ichinomiya Shrine.
Ride the JR Yosan Line to Toyohama Station.
Sawara-no-Taisai Aki Matsuri (佐原の大祭)
Second weekend in October
Katori Chiba Prefecture
An historic festival dating from the Edo Period where 14 decorated floats adorned with large, 4 meter-tall dolls representing figures from Japan's historical past are pulled through the town accompanied by sawara-bayashi traditional music.
Ride the Sawara Aki Matsuri Go special train from Shinjuku Station on the JR Narita Line to Sawara Station. The train leaves at 10.10 am and returns at 6.15 pm. There is also a similar summer festival held in July on the first Friday, Saturday and Sunday after July 10. (Further info in Japanese here)
Mibu Kyogen
October 11-13
Mibu Temple, Kyoto
Performances of ancient masked theater at Mibu Temple, accompanied by the music of flutes, bells and drums. Take bus #26 to Mibudera-michi. See also February festivals and April festivals.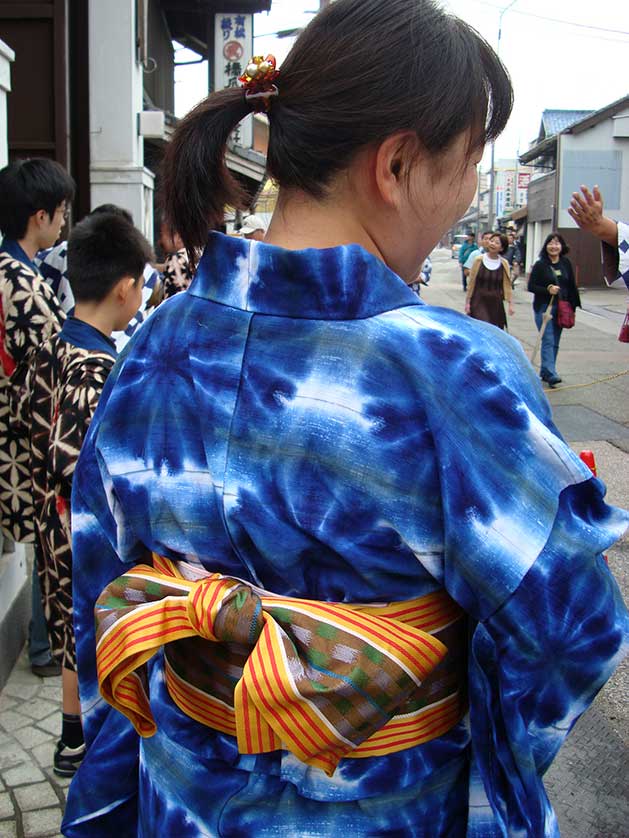 Woman in Shibori kimono, Arimatsu Festival in Aichi Prefecture
Nada Fighting Festival
14-15 October
Himeji-shi, Hyogo
It is said that the rough and tumble of fighting festivals pleases the gods - and the rougher the better. Mikoshi battles and hand-to-hand scrapping for all to enjoy in Himeji. Young men in loin cloths carrying portable shrines battle to reach the bell in the courtyard of Matsubara Shrine. The first man to ring the bell is blessed with good fortune by the shrine priests. The Himeji Kenka Matsuri is one of Kansai's most colorful festivals.
Access: Sanyo Dentetsu train to Shirahama-no-miya Station.
Hiraoka Matsuri
14-15 October
Hiraoka Jinja, Hiraoka, Osaka Prefecture
Taiko drums and three large floats are paraded in the grounds of Hiraoka Shrine by happi-clad participants. The shrine is a short walk from Hiraoka Station on the Kintetsu Nara Line.
Doburoku Festival
October 14-19
Shirakawago, Gifu Prefecture
Harvest festival in Shirakawa-go where visitors to the shrines in the area are treated to the local doboroku, a milky-white and slightly sweet home-brewed sake.
Nagoya Festival
Mid-October
Nagoya, Aichi Prefecture
Nagoya's biggest festival takes place over two days in various parts of the city including daily large parades of giant floats with period costume and accompanying kagura music down Otsu dori celebrating Japan's three great medieval strongmen: Oda Nobunaga, Toyotomi Hideyoshi, and Tokugawa Ieyasu. Other events include: exhibitions of medieval warfare yabusame (horseback archery) in Atsuta jingu and mock fighting with pikes in Angel Square just south of Nagoya TV Tower. More contemporary-focused events include marching bands, open-car and flower parades and children's activities.
Nagoya Festival
Sennin Musha Gyoretsu
16-17 October
Nikko, Tochigi
Sennin Musha Gyoretsu (lit. procession of a thousand warriors) a reenactment in period costume of the 1617 procession accompanying the remains of Tokugawa Ieyasu to Nikko.
Niihama Drum Festival
16-18 October
Niihama, Ehime
Decorated portable stages carrying drumming teams are carried by hundreds of other men in this huge taiko drumming competition. 30 teams of 150 compete every year.
Shimabara Hot-Springs Matsuri
Mid-October
Shimabara, Nagasaki Prefecture
Two event-filled days honoring the health-giving hot-springs of Shimabara City. Festivities include a beauty pageant, a folk-singing contest, parades and torch-lit Noh performances in Shimabara Castle grounds.
Doburoku Festival
October 17-18
Shiharige Jinja Shrine, Ota, Oita Prefecture
Festival of sake-drinking at one of the few shrines in Japan allowed to serve home brewed sake to worshippers. Plenty of unrefined, milky-white sake to go round.
Read more about the Shirahige Tahara Doburoku Matsuri
Funaoka Matsuri
October 19
Kenkun Shrine, Kyoto, Kyoto Prefecture
Warlord Oda Nobunaga is enshrined in Kenkun Shrine and every year on October 19, the day Oda first entered Kyoto in 1568, participants in period dress re-enact his march into the city.
Yabusame Festival
October 19
Koyama, Kagoshima Prefecture
Yabusame (horse-back archery) festival performed by young boys. There is a procession of men in samurai costume and dressed as dragons, followed by the archery contest with elaborately dressed and made up young boys.
Read more about the Koyama yabusame festival
Kasagake Ritual
October 19
Kamigamo Shrine, Kyoto
Japan's oldest Yabusame (horse-back archery) festival - kasagake - dates back over 800 years. Begins at 1pm.
Take Kyoto bus #4 and get off at Kamigamo-jinja-mae.
Saigu Procession
October 19
Nonomiya Shrine, Togetsu-kyo Bridge, Arashiyama, Kyoto
Celebrates the tradition of emperors sending their daughters to Ise Jingu in Mie Prefecture to serve as shrine maidens. Participants in Heian Period costume leave Nonomiya Shrine at noon passing over Togetsu-kyo Bridge and then completing a purification ritual
Take Kyoto bus #28 to Nonomiya.
Kawagoe Matsuri
Third weekend in October
Kawagoe-shi, Saitama
Recreates the splendour of the Edo period. Magnificent floats and mikoshi parade around the old town area of Kawagoe outside Tokyo before taking part in the hikkawase ceremony in which they are forcefully crashed in to each other. The hon-matsuri (full festival) takes place once every two years.
Jidai Matsuri
22 October
Heian Jingu Shrine, Kyoto-shi, Kyoto
One of the most spectacular parades to be found at any of Japan's autumn festivals. Consists of over 1,700 marchers representing figures from Japanese history in a five-hour long parade. The procession starts from the Imperial Palace (Gosho) in Kyoto at noon and heads west along Marutachi dori, then south on Karasuma to Oike dori, then through Gion and Sanjo dori culminating at Heian Shrine.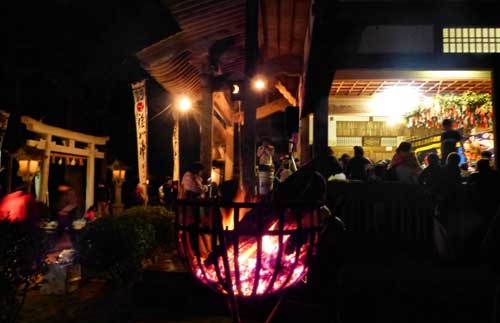 Whereas urban areas and coastal villages tend to have their biggest matsuri in the summer, in the countryside where rice growing dominates, October, after the harvest, is when all-night matsuri at shrines take place
Matsue Do-Gyoretsu
3rd Sunday in October
Matsue, Shimane Prefecture
A drumming festival in which 30 neighbourhood teams compete to outplay each other on huge taiko drums mounted on floats.
Hi Matsuri (Kurama Fire Festival)
22 October
Kurama, Kyoto-shi, Kyoto
One of the most "unique" of Japan's autumn festivals. The Kurama Fire Festival is held in the mountain village of Kurama, north of the city. Participants carry torches, 5-6 meters long weighing 100kg, and light bonfires throughout the night. Later revelers carry a mikoshi (portable shrine) from Yuki Shrine in Kurama.
Ton-Ten-Ton Festival
22-24 October
Imari-shi, Saga Prefecture
Pounding drums and real danger characterise this major fighting festival. Teams of bearers ram their mikoshi into each other at top speed and battle until one is forced to the ground. Climaxes with a pair of mikoshi racing to cross the river.
Ueno Tenjin Matsuri
23-25 October
Sugawara Jinja Shrine, Ueno-shi, Mie
Festival featuring a unique parade of mikoshi (floats) and dancers led by 100 people dressed as oni (demons) and wearing comical masks.
Kyoto Antique Fair
4th weekend in October
Pulse Plaza, Kyoto
One of the largest antique fairs in Japan with over 350 dealers from Japan and overseas selling their wares.
Edo Tenka Matsuri Festival
Late October
Hibiya Park, Tokyo
Originally held under the official approval of the Tokugawa Shogunate (1603-1667), the Edo Tenka Matsuri was re-established in 2003 to mark the 400th anniversary of the beginning of the shogunate. Nine mikoshi and 12 floats accompany a large happi-clad procession from Hibiya Park to the Imperial Palace.
DISCLAIMER Festivals may be cancelled or postponed without much warning. Check with your local tourist office for confirmation.
Arimatsu Matsuri, Aichi Prefecture
Japanese Festivals October. See a calendar of Japanese festivals (matsuri) for October including Jidai matsuri in Kyoto.
All the themes of the city