Japan Festivals - September
September Japan Festivals 9月の祭り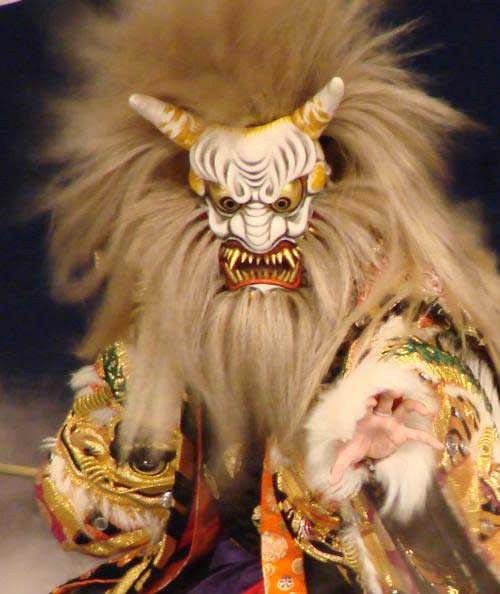 Gotsu Kagura Festival, Shimane Prefecture
Hassaku Oshi-tsuki
September 1
Tsuma, Oki Island, Shimane Prefecture
Traditional bull fighting (bull sumo) in which two bulls lock horns and fight to push each other out of the ring. The bulls do not 'fight' in the Latin sense and no blood is shed.
Kaze no Bon
September 1-3
Yatsuo-cho, Toyama
Houses throughout the town are decorated with paper lanterns and hundreds dance the graceful Owara-odori (a form of bon odori) well into the night to the strains of Chinese fiddles.
Hassaku-sai
Early September
Matsuo-taisha Shrine, Kyoto
A day of rituals, sumo wrestling and Buddhist dance to petition the gods for mild weather, good harvests and safety in the home at Matsuo-taisha Shrine in Kyoto.
Kitazawa Hachiman Festival
First Weekend of September
Kitazawa Hachiman, Shimokitazawa, Tokyo
The shrine grounds are full of stalls, there are events, both religious and otherwise, happening, ornate portable shrines are carried boisterously around the neighborhood, and the whole of Shimokitazawa comes out to celebrate.
Karasu-zumo
September 9
Kamigamo-jinja Shrine, Kyoto
A very distinctive festival at Kamigamo Shrine in Kyoto in which Shinto priests perform rituals in which they hop from side to side, 'cawing' like crows (karasu). These observances are followed by a sumo competition for local boys.
Choyo no Sechi-e Festival
September 9
Kokuzo Horinji Temple, Arashiyama, Kyoto
Traditional song and dance in celebration of the chrysanthemum. Bus #28 to Arashiyama Koen.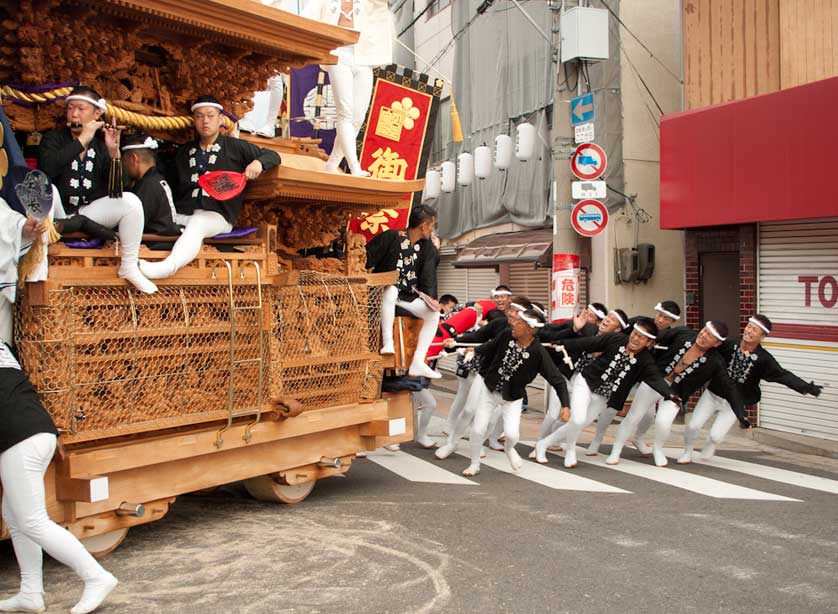 Danjiri Festival, Kishiwada
Seto Festival
Second Weekend of September
Seto-shi, Aichi Prefecture
Seto city is famous for its ceramics and the second weekend of September sees hundreds of pop-up stalls selling cut-price pottery and maneki neko good luck cats. There's also a procession of participants in period costume during the day around Owari Seto Station on the Meitetsu Line and a fireworks display on the Saturday night. Around half a million people attend what is Japan's largest ceramics festival.
Manto Festival
September 14
Hirano Shrine, Kyoto
Lantern festival with over 800 illuminated lanterns plus traditional Noh, poetry reading and dance at Hirano Shrine in north west Kyoto. City bus #50 to Kinugasko-mae.
Ukai Comorant Fishing
Until September 15
Arashiyama, Kyoto
Traditional ukai cormorant fishing on the Oi River in Arashiyama, western Kyoto. Boats leave at 6.30 pm & 7.30 pm. City bus #28.
O Sannomiya Autumn Festival
September 14-15
Hie Shrine, Yokohama, Kanagawa Prefecture
Mikoshi, large and small, parade both days to and from Hie Shrine in Yokohama and the Matsuzakaya department store and many entertainments are held at the shrine itself.
Tsurugaoka Hachimangu Festival
September 14-16
Kamakura, Kanagawa Prefecture
Tsurugaoka Hachimangu Shrine's Reitaisai festival in Kamakura features displays of yabusame - Japanese archery on horseback - and draws large crowds.
Tono Matsuri
September 14-15
Tonogo-hachimangu Shrine, Tono-shi, Iwate
Held every year to pray for a good harvest, this is the largest annual festival held in the garden city of Tono. Shishi-odori (lion dances), Taue-odori (rice-planting dances) and kagura are performed along with yabusame and festival music. Always draws large crowds.
Kishiwada Danjiri Matsuri
Mid-September
Kishiwada, Osaka
Over thirty 4m-tall floats (mikoshi), carried by their bearers at top speed, rampage around the streets of Kishiwada followed by a stampede of festival-goers, hundreds strong. Not for the faint-hearted but compulsive viewing. The Danjiri Festival is one of the most spectacular (and often dangerous) festivals in Japan with hundreds of thousands of people turning up to watch in Kishiwada in Osaka.
Tsurugaoka-hachimangu Reitasai
September 14-16
Tsurugaoka-hachimangu Shrine, Kamakura-shi, Kanagawa
Tsurugaoka-hachimangu Shrine in Kamakura is the spiritual home of yabusame, the ancient art of horseback archery. On the 16th, you can see horsemen dressed in the hunting costumes of feudal times compete in a yabusame competition. Arrive early for a good view.
Yachi Donga Festival
September 14-17
Hachiman-gu Shrine, Yachi, Yamagata Prefecture
Festival showcasing the Hayashi-ke Bugaku, the style of court dance that remains truest to the oldest forms of Japanese dance, showing many influences from as far West as Ancient Greece.
Yoshitsune Festival
September 15
Kurama Temple, Kurama, Kyoto
Memorial ceremony to honor the spirit of the legendary warrior Minamoto no Yoshitsune with a martial arts display. Eizan Railway to Kurama.
Seiryu-e Festival
September 15-17
Kiyomizu Temple, Kyoto
Blue dragon dance in the grounds of the popular Kiyomizudera in eastern Kyoto.
Hagi Festival
September 17-19
Nashinoki Shrine, Kyoto
Participants write poems and attach them to the shrine's flowering bush clover. Also kyogen, dance and koto performances at Nashinoki Shrine on the eastern side of the Imperial Palace (Gosho).
Toyokuni Shrine Festival
September 18-19
Toyokuni Shrine, Kyoto
Festival honoring the spirit of warlord Toyotomi Hideyoshi (1537-1598) with traditional music and dance and a tea ceremony on the 19th.
Furusato Hyappei Festival
mid-September
Iwamizawa, Hokkaido
Recent festival dating from 1983 to pray for harvest fertility in the locality. A 200kg pestle, hoisted 13m in the air, is used to pound 60kg of glutinuous rice in a 4-ton, 2.4m wide mortar.
Okuma-kabuto Festival
September 20
Nakajima, Ishikawa Prefecture
The Noto Peninsula's top autumn festival. Mikoshi from 19 shrines in the surrounding area converge on Nakajima and form a day long parade of flag-bearers, musicians and dancers led by a dancing goblin.
Seimei Festival
September 22-23
Seimei Shrine, Kyoto
Festival dedicated to Abe no Seimei a Heian Period astrologer and cosmologist. There is a procession, kagura dancing and traditional music. Take city bus #9 to Ichijo Modoribashi stop near the Nishijin Textile Center and walk a short distance to Seimei Shrine.
Aizu Byakko Matsuri
September 22-24
Aizuwakamatsu-shi, Fukushima
Festival recreating the march to war of troops who fought in the battle of Boshin no Eki in 1868, a major battle between Imperial and bakufu (shogunate) troops during the Meiji revolution. Features a parade of 700 warriors in full period dress.
Sendai Great Tug-of-War
Eve of the autumnal equinox (usually September 23)
Sendai, Kagoshima Prefecture
Dates back 400 years to a time a feudal lord wanted to raise morale after many local people had been sent to war. 3,000 men, young and old, form teams at each end of a 365 meter rope and pull against each other with thousands of spectators cheering them on in Sendai in Tohoku.
Fukuro Matsuri
September 25-26
Ikebukuro, Tokyo
Commercially sponsored festival to promote tourism but fun nonetheless. Foreigners who apply in advance can carry mikoshi through the streets of Ikebukuro. Other events include taiko drumming, folk dancing and a karate demonstration.
Comb Festival
Shubun no Hi (Autumn Equinox) Public Holiday on a Monday in late September
Yasui Konpira Shrine, Gion, Kyoto
Festival at Yasui Konpira Shrine in Gion dedicated to women's hair and hair ornaments. From 1 pm traditionally dressed women with hair styles representing the various periods of Japanese history parade near the shrine. Take city bus #206 to Hagashiyama Yasui stop.
Tokyo Detention House Festival
Weekend day in late September
Tokyo Detention House
Near Kosuge Station
Tokyo
More a fair selling goods made by the inmates of Japan's prisons plus a chance to sample "Prison Curry" and Prison Bread."
Read more about the Tokyo Detention House Festival
Kokkeisetsu
September 30 - October 1
Chinatown, Yokohama
Celebrating Chinese National Foundation Day in the largest Chinatown in Japan in Yokohama. Lion dances, parades and firecrackers add extra color to the already vibrant streets and a giant 'moon cake' is divided up amongst 300 lucky visitors.
DISCLAIMER Festivals may be cancelled or postponed without much warning. Check with your local tourist office for confirmation.
Brazilian Festival, Yoyogi Park, Tokyo
Japanese Festivals September. Read a monthly listing of festivals in September in Japan.
All the themes of the city