Highway Buses From Shinjuku Station
Highway Buses From Shinjuku Station 新宿高速バスターミナル
As well as being Japan's busiest railway station, Shinjuku Station in Shinjuku, Tokyo is also an important terminus for Japan's highway bus network.
Traveling by highway bus may be slower than train or shinkansen but fares are cheaper and it is possible to travel overnight thus saving on accommodation costs.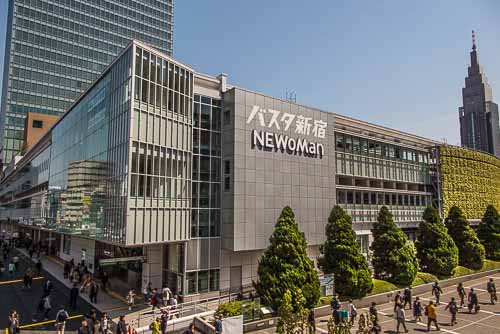 Busta Shinjuku Bus and Taxi Terminal
Busta Shinjuku
Busta Shinjuku is the 4-story expressway bus and taxi station across the road from the South Exit of Shinjuku Station. Nearly all expressway buses arriving at and departing Shinjuku do so from the 4th floor of Busta Shinjuku. Busta is derived from "bus and taxi terminal." Busta Shinjuku's official name in English is the Shinjuku Expressway Bus Terminal.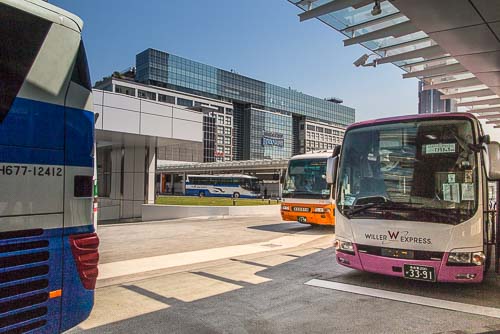 4th floor of Busta Shinjuku
Busta Shinjuku History
Work began on Busta Shinjuku in 2006, as a project to consolidate the 19 different highway bus stations around Shinjuku Station, bring them closer to Shinjuku Station, and relieve traffic - especially taxi - congestion at the South Gate of Shinjuku Station.
The project was initiated and funded by the Ministry of Land, Infrastructure, Transport and Tourism and administered by the East Japan Railway Company. It was completed 10 years later, opening on April 4, 2016.
The company that runs Busta Shinjuku is half owned by the Nihon Bus Association and the rest by 11 of the bus companies that use Busta Shinjuku and which consign services such as ticketing to the company.
Busta Shinjuku Taxis
Taxis leave from the third floor (3F) of Busta Shinjuku. From the South Gate of Shinjuku Station, taxis may be boarded only from the third floor of Busta Shinjuku, and are prohibited from picking up passengers on the street outside the South Gate.
Shinjuku WE Bus
The Shinjuku WE Bus operated by Keio travels in a loop between the east and west districts of Shinjuku and leaves from the third floor (3F) of Busta Shinjuku. The WE bus runs 10am-7pm daily with buses every 15 minutes on weekdays and every 10 minutes on weekends and public holidays (100 yen for a single journey or 300 yen for a day pass).
The WE Bus leaves from the 3rd floor of Busta Shinjuku with stops in Kabukicho, Shinjuku Sanchome Rainbow Village opposite the Isetan Department Store, the Shinjuku Washington Hotel, Tokyo Metropolitan Government Building (Tocho) the Hyatt Regency Tokyo, Kogakuin University and back to Busta Shinjuku. The Busta Shinjuku stop is known as the Shinjuku South Gate Transport Terminal (新宿南口交通ターミナル) stop.
Tourist Information Center Tokyo at Busta Shinjuku
The Tourist Information Center Tokyo has a branch on the third floor (3F) of Busta Shinjuku. Multilingual staff are on hand to answer questions, there are iPads with Tokyo-related information, and English-language brochures. Hours: 6:30 am - 11 pm, 365 days.
The Sagawa courier company also has a desk in the Information Center for keeping Busta users' baggage in safekeeping or delivering baggage to hotels.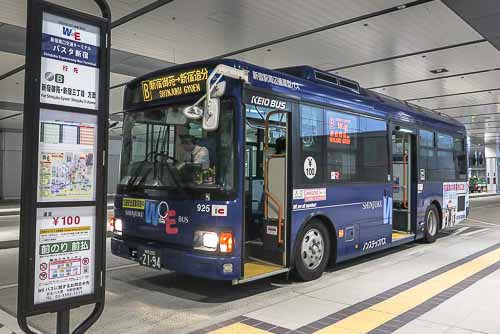 Shinjuku WE bus stop, 3rd floor, Busta Shinjuku
PLEASE NOTE: THE FOLLOWING INFORMATION IS CURRENTLY BEING EDITED FOLLOWING THE OPENING OF BUSTA SHINJUKU ON APRIL 4, 2016. BASICALLY, ALL BUSES NOW LEAVE FROM BUSTA SHINJUKU, WITH JUST A FEW SPECIAL BUSES LEAVING FROM SHINJUKU WEST ENTRANCE.
Shinjuku Expressway bus terminal (Tel: 03 5376 2222) is at the West Exit of Shinjuku Station opposite the Yodobashi Camera store. Buses are operated by Keio Dentetsu.
The JR Highway bus terminal is situated at the New South Exit of JR Shinjuku Station very close to JR Yoyogi Station on the Yamanote, Chuo-Sobu and the Toei Oedo Subway Line. The booking office is open from 6.20am-0.10am.
Shinjuku Express Bus Terminal (West Exit)
Shinjuku Express Bus Terminal has buses to Kawaguchiko (1 hour, 45 minutes) for Fuji Five Lakes, Fuji-Q Highland (1 hour, 40 minutes) and Mt Fuji Fifth Station (1 hour, 50 minutes) for climbing Mt Fuji. There are also buses to Takayama (4 hours, 30 minutes) and Hakuba (4 hours, 30 minutes). Buses to the Shinshu area include Highland Express services to Lake Suwa, Suwa Taisha (about 3 hours) and Matsumoto.
JR Highway Bus Terminal (South Exit)
Kansai
JR Highway Bus Terminal has buses to the Kansai (western Japan) including: Kyoto, Osaka (Namba), Sakai, Nara, and Wakayama.
Shikoku
There are buses from Shinjuku to Shikoku: Takamatsu, Tokushima, Kochi and Matsuyama.
Chugoku
Highway buses also run from the Shinjuku JR Highway Bus Terminal to the Chugoku area: Okayama and Kurashiki.
Shimane & Western Honshu
The Iwami Express goes to Hamada, Masuda and Tsuwano.
Hokuriku & Tokai
There are JR express buses to Gotemba Premium Outlet, Fukui, Kanazawa, Mikawa-Anjo, Nakatsugawa, Nagoya, Sakudaira, Shizuoka and Tajimi.
Kanto
From Shinjuku there are express buses to Hitachiota, Hiratsuka, Ikaho Onsen, Kusatsu Onsen, Nasu Onsen, Shibukawa, Shiohara Onsen, and Tokyo Disneyland and Tokyo DisneySea (about 60 minutes depending on traffic; 820 yen one-way). Keisei Bus Company along with JR operate the buses to Tokyo Disneyland and Tokyo DisneySea. The full timetable is here www.keiseibus.co.jp. PASMO/SUICA etc can NOT be used. Please buy a ticket from the automatic vending machine at the bus stop at JR Shinjuku Station Minamiguchi (South Exit) Highway Bus Terminal opposite JR Yoyogi Station for Keisei buses. For JR buses pay the driver when you get off.
Single, return and multiple tickets can be booked. Return tickets are in general much cheaper than booking two singles. Check to see if your JR Rail Pass is valid for any JR Highway Buses you wish to use.
West Exit Bus Terminal
Kanto Odakyu and Seibu buses arrive and depart from Shinjuku Station West Exit Bus Terminal.
Odakyu
Odakyu Hakone Highway Buses run to Gotemba Station, Shuzenji Onsen and Mishima in the Hakone and Izu areas.
Seibu
Seibu buses connect to and from Niigata, Kashiwazaki, Karuizawa and Toyama.
Seibu also has buses to Toba in Ise, Matsusaka, Tsu and Yokkaichi.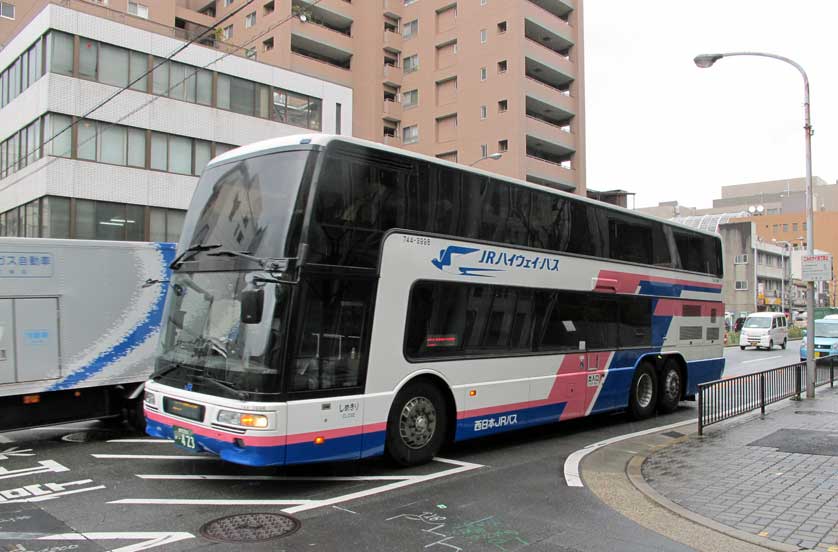 JR highway bus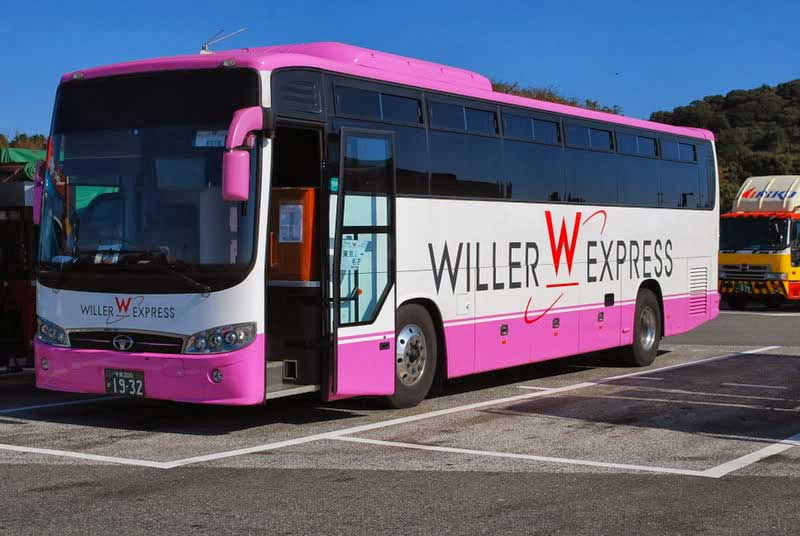 Willer Express highway bus
Willer Bus Terminal
The Willer Bus Terminal is in the Shinjuku Sumitomo Building 1F at the West Exit of Shinjuku Station. Willer buses cover Honshu, Shikoku and Kyushu in the following areas:
Tohoku (Akita, Aomori, Fukushima, Morioka, Sendai and Yamagata); Kanto (Chiba, Kanagawa and Tokyo); Hokuriku (Fukui, Kanazawa, Niigata and Toyama); Tokai (Gifu, Nagoya, Mie), Kansai (Hyogo, Kobe, Kyoto, Osaka, and Shiga); Chugoku/Shikoku (Ehime, Hiroshima, Okayama, and Yamaguchi); Kyushu (Fukuoka, Kagoshima, Kumamoto).
Japan Bus Pass
The Japan Bus Pass from Willer Express can only be purchased outside Japan (like the Japan Rail Pass) and is valid for up to two months. Two routes per day only can be reserved: one overnight bus and one night bus or two daytime routes. Prices are presently 10,000 yen for three days, 12,000 yen for four days and 14,000 yen for five days. The service is ticketless and reservations must be made online.
Japan Bus Video
Busta Shinjuku is the taxi and highway bus terminal near the South Gate of Shinjuku Station from which highway buses serve many parts of Japan.
All the themes of the city