Tochigi Prefecture
Tochigi Prefecture: read a guide to Tochigi Prefecture north of Tokyo, famous for the UNESCO World Heritage Site of Nikko as well as Mt. Nasu.
Japan's Regions: Tochigi 栃木県
Tochigi Prefecture, located north of Tokyo in the Kanto, is south of Fukushima Prefecture and also borders Saitama, Gunma, and Ibaraki prefectures.
Tochigi is a mainly rural prefecture with its main urban centers the prefectural capital Utsunomiya and Tochigi city (the former capital). Around 21% of the total area of Tochigi Prefecture is protected land including the Nikko and Oze National Parks, as well as eight Prefectural Natural Parks. However, due to Tochigi's strategic location just over 100 km from Tokyo there is a substantial industrial base including car and car parts manufacturing, electronics and pharmaceuticals.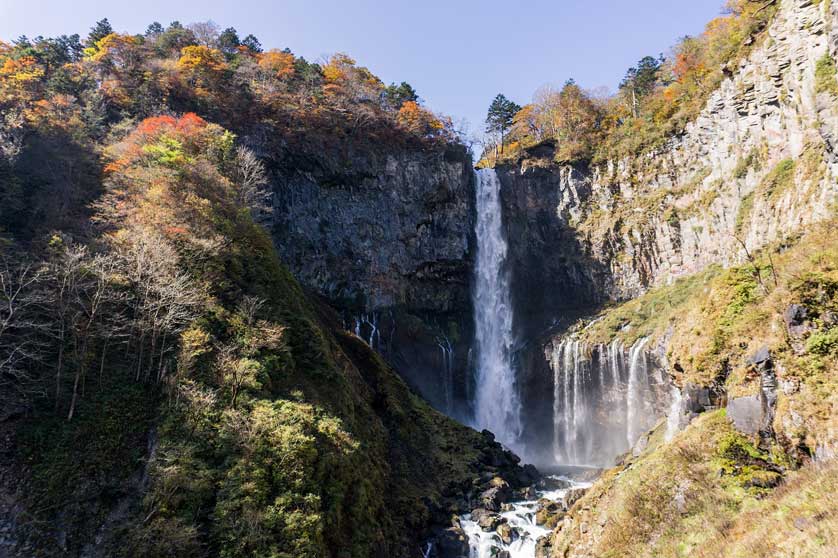 Autumn in the valley at Kegon Falls, Lake Chuzenji, Tochigi, Japan
Utsunomiya is the largest city in Tochigi Prefecture with a population of over 500,000 inhabitants and is the capital of the prefecture.
Other important towns and cities in Tochigi Prefecture are Ashikaga, Kanuma, Moka, Nasukarasuyama, Nasushiobara, Nikko, Otawara, Oyama, Sakura, Sano, Shimotsuke, and Yaita.
Tochigi has slightly cooler weather in the summers than areas further to the south, though temperatures can still top 30 degrees Centigrade or more in July and August. Snowfall in the mountains can be heavy in winter.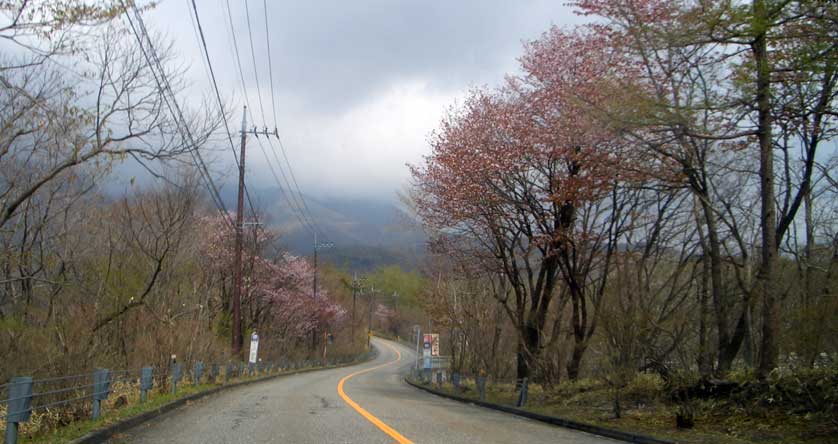 Highway 169 to Kirifuri Highland, Tochigi Prefecture.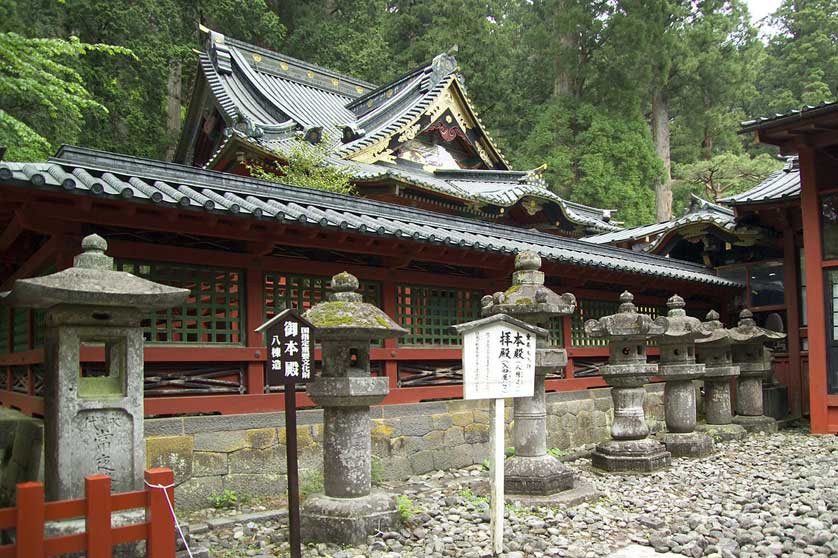 Futarasan Shrine, Nikko, Tochigi
Tochigi Attractions
The town of Nikko, a UNESCO World Heritage Site, is Tochigi Prefecture's stand out attraction and includes the Toshogu, where the shogun Ieyasu Tokugawa is enshrined, Rinnoji Temple, Shinkyo Bridge and the Kegon Falls in the Lake Chuzenji area.
Tochigi offers skiing at a number of ski resorts including Nasu-Shiobara, which is also famous for its hiking trails, hot springs (onsen) and Japanese sake.
Mt. Nasu (那須) is an active volcano at 1,917m and an area of famous hot springs (onsen) - the so-called "Seven Spas of Nasu." Mt. Nasu is also a favorite among hikers with a number of trails on its slopes. A ropeway goes up to near the summit of Mt. Nasu.
The remote Kirifuri Highland area of Tochigi Prefecture boasts the idyllic Kawaji and Kinugawa hot springs and is known for soba buckwheat noodles as the region is too high to grow rice.
The 35 km-long Cedar Avenue of Nikko near the town of Imaichi, is listed in the Guinness Book of World Records as the longest tree-lined avenue in the world.
Mashiko is known for its production of ceramics, whereas Utsunomiya is the gyoza (fried dumpling) capital of Japan.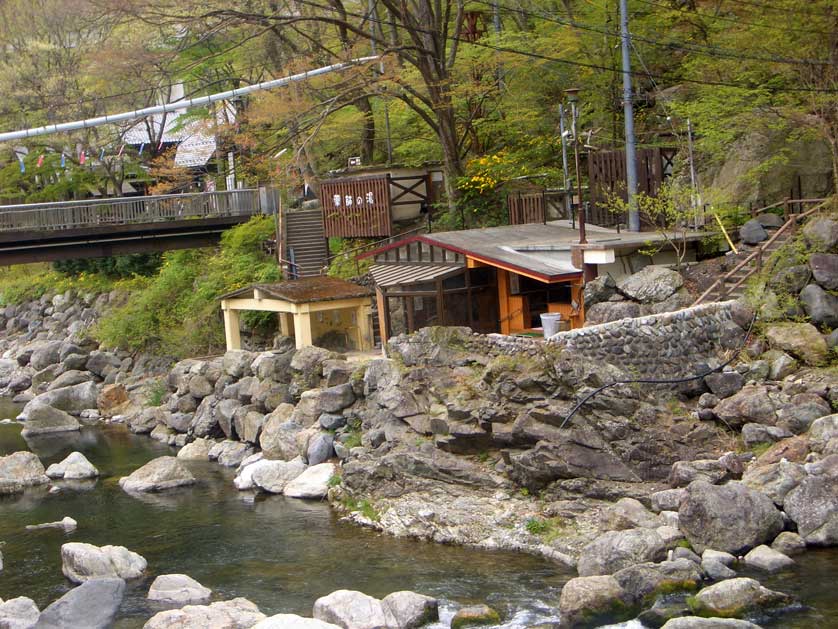 Hot spring baths by the river in Kawaji Onsen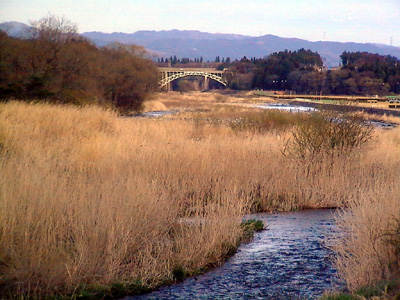 Mt. Nasu Tochigi Prefecture, Japan.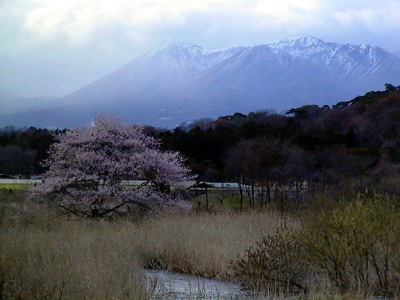 Mt. Nasu Tochigi Prefecture, Japan.
Tochigi History
The early history of what is now Tochigi Prefecture saw the area known as Shimotsuke Province.
During the Edo Period the region came to the attention of the rest of the country with the building of the mausoleum of Tokugawa Ieyasu in Nikko in 1617. The Nikko kaido highway was developed to bring people from Edo (Tokyo) to pay their respects to the founder of the ruling Tokugawa dynasty.
Access
Train
From Tokyo, Nikko is accessible via the Tobu-Nikko Line (aka Tobu Skytree Line) from Asakusa station. The tokkyu (Limited Express train) takes 1 hour 50 mins, and the kaisoku (Rapid) takes 2 hours.
Utsunomiya is on the Tohoku Shinkansen from Tokyo Station, Ueno Station and Omiya Station. Journey time is 54 minutes. Slower trains run on the JR Utsunomiya Line from Ueno Station via Koganei. The journey is about 2 hours.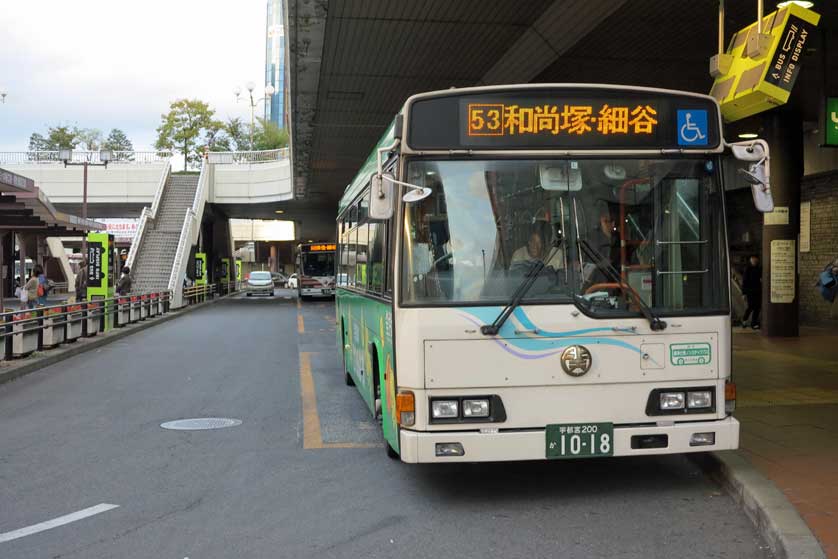 Local Kanto bus outside Utsunomiya Station
Bus
There are highway buses running on the Tohoku Expressway to Shinjuku Station in Tokyo (2 hours, 30 minutes) from Utsunomiya Station.
There are also highway buses from Utsunomiya to Narita Airport, Haneda Airport, Kyoto, Osaka, Okazaki, Toyota, Nagoya, Mito and Hachinaka.
Local Kanto buses run from just outside the station and connect with Tobu-Utsunomiya, the Tochigi Prefectural Office, Utsunomiya Bunka Kaikan, Utsunomiya Castle Park, the Oya History Museum and Oyaji Temple in nearby Oya as well as many other local destinations.
These include the Utsunomiya campus of Teikyo University, Suzumenomiya Station, Ishibashi Station, Tsuruta Station, Okamoto Station and Ujiie Station.
See here for the full routes of Kanto buses from the station (in Japanese).
The highway bus stop and waiting room is just outside the Chisun Hotel.
Highway buses from Shinjuku to Shiobara Onsen take 3 hours, 30 minutes and to Nasu Onsen, 3 hours, 45 minutes.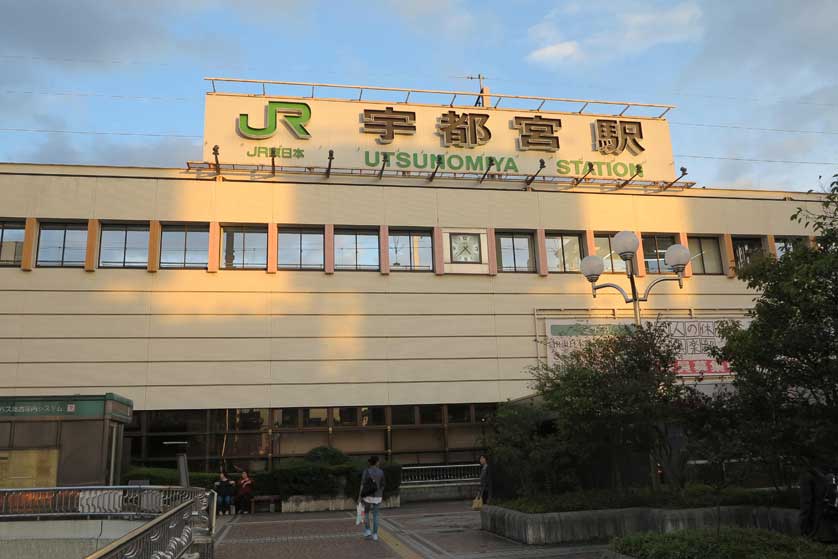 Utsunomiya Station, Tochigi Prefecture
Book Hotel Accommodation in Tochigi Prefecture
Much of the hotel accommodation in Utsunomiya is clustered around Utsunomiya Station. Recommended places to stay in Utsunomiya include the Richmond Hotel Utsunomiya-ekimae, Richmond Hotel Utsunomiya-ekimae Annex, Hotel Mystays Utsunomiya, Chisun Hotel Utsunomiya and Hotel Sunshine Utsunomiya. See here for a full listing of over 20 hotels in Utsunomiya.
All the themes of the city