Byobu Folding Screens
Byobu folding screens divide rooms and protect privacy in traditional Japanese spaces. They serve as a backdrop for other Japanese arts.
Japanese Culture: Byobu Folding Screens 屏風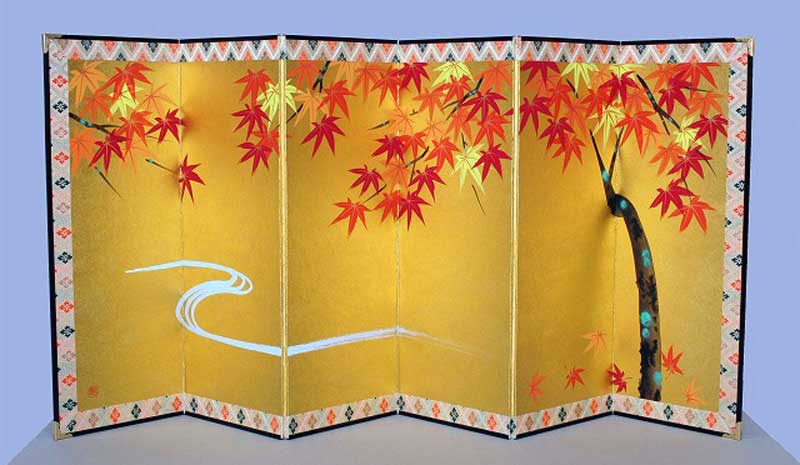 Japanese byobu folding screen showing a fall scene with autumn momiji (maple) leaves
Byobu folding screens come in a variety of sizes and were made to divide rooms and protect privacy in traditional Japanese interiors. They also serve as a backdrop for other Japanese arts.
Decorative screens have a long and distinguished history in Japan. This art form reached its apogee in the Momoyama and Edo periods when byobu were an essential part of the tea ceremony and ikebana (flower arranging).
Larger screens were also commissioned by the Imperial court, the shogunate, feudal lords and important temples.
They could be used as room dividers and to impart a seasonal feeling to a room.
The designs are usually representative of a season. Thus in summer an important person may have used a byobu showing snow-capped mountains and pine trees to impart a cooling feel to a room. In winter, the opposite held true as a form of psychological central heating. Byobu with scenes of summer flowers, koi carp and cooling water would have been displayed.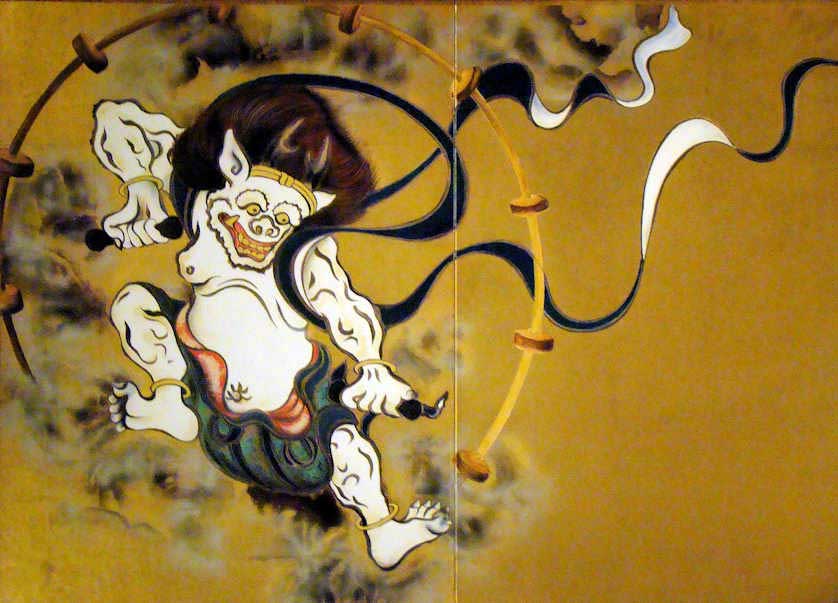 Raijin (雷神), the god of thunder, depicted on a screen at Kenninji Temple, Kyoto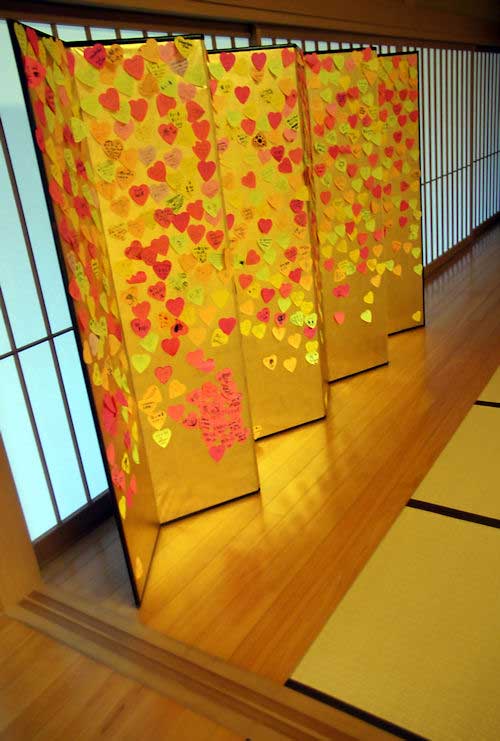 A contemporary folding screen exhibited in the huge second floor gallery of Saga Arashiyama Museum of Arts & Culture
Byobu are traditionally hand painted with Chinese ink on quality washi (Japanese parchment), utilizing gold leaf and fine wood for the frames.
Some of the finest byobu screens produced during the Edo Period were painted by the Kano school of painters, who were originally from Kyoto.
The Kano school were patronized by the Tokugawa shoguns and wealthy temples. They produced many Chinese style masterpieces in both byobu and fusuma (sliding door) formats.
Kano Tanyu (1602-1674) was one of the foremost painters of the Kyoto-based Kano School of artists and the grandson of the Kano Eitoku (1543-1590), who himself was a direct descendant of the founder of the Kano School, Kano Masanobu. It was Eitoku who was sponsored by the warlords Oda Nobunaga and Toyotomi Hideyoshi to decorate their castles in Azuchi and Osaka.
Characteristic motifs were tigers and lions to portray strength, peacocks for grandeur and wealth as well as pine trees representing longevity.
Many of these masterpieces are now on display in Japan's temples, museums and castles.
Commissioned by the Tokugawa shogunate as well as rich merchant and clerical patrons, the work of the Kano School, in both ink-on-silk landscapes and paintings on sliding doors, walls and byobu screens in temples, shrines, castles and wealthy patrons' homes, meant that the Kano School of art dominated Japanese painting until the end of the Edo Period and the coming of Western techniques at the beginning of the Meiji Period.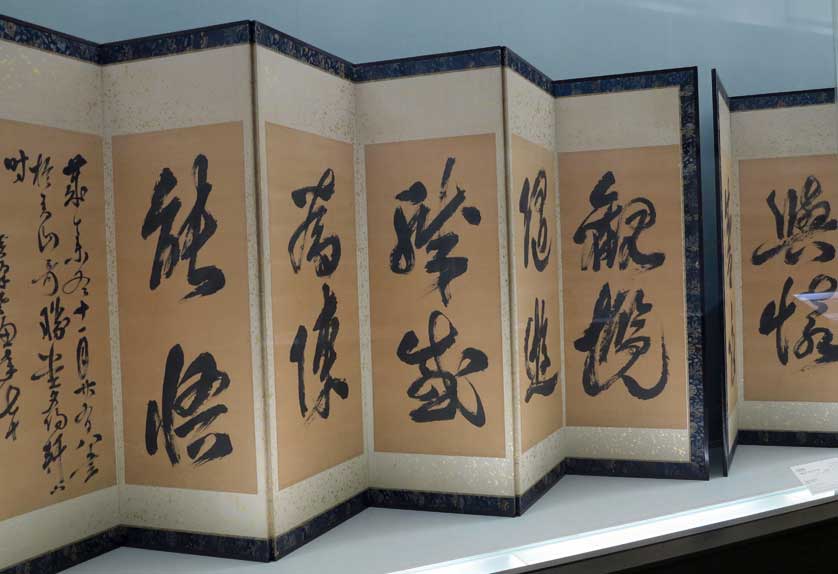 Byobu folding screen with calligraphy at the Tokyo National Museum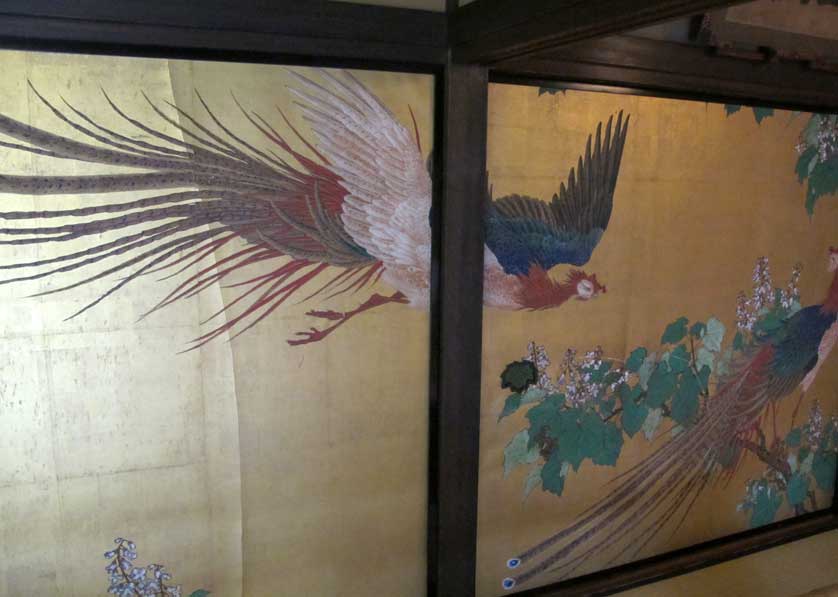 A painted sliding door or fusuma-e at Sumiya, Shimabara, Kyoto
Related Japan Articles
Japan House & HomeJapan SeasonsJapan WeatherJapan's Natural History
About JapanUrban & Rural Japan
All the themes of the city