Kannon Goddess of Mercy
Kannon, the Goddess of Mercy (Avalokiteshvara), is an extremely popular deity in Japan and is represented in many forms such as Senju Kannon and Juichimen Kannon.
Kannon, Goddess of Mercy, Lord of Compassion 観音
Jake Davies
If you, like me, grew up with the notion that Buddhism concerns itself with a single historical figure called Buddha who preached a philosophy of dealing with life in the here and now, a visit to a Buddhist temple in Japan can be somewhat bewildering.
There are often a vast array of figures and statues on display, some, like the threatening Nio guardians, towering over visitors entering through a temple gate, or the demonic looking Fudo Myo-O, painted black, holding a sword, with fangs and surrounded by flames, would seem to be the antithesis of a religion focused on inner peace and contemplation.
The forms of Buddhism dominant in East Asia, though, are Mahayana, and have a vast array of deities and beings including multiple Buddhas.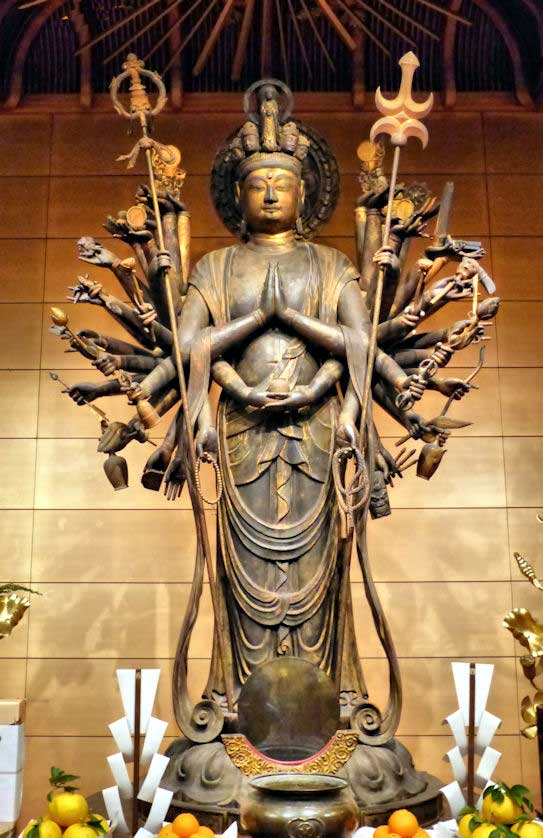 Heian Period Senju Kannon, a National Treasure, at Dojoji Temple in Gobo, Wakayama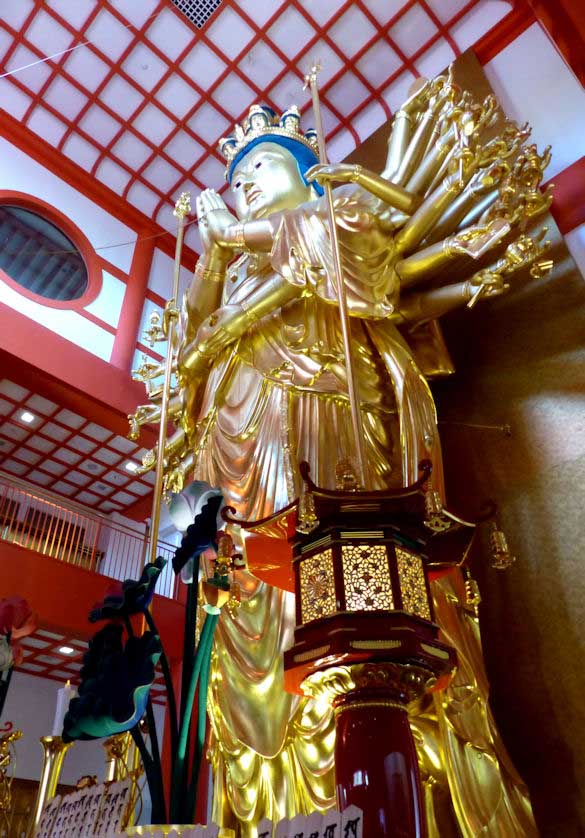 Made in 2008, the largest wooden statue of a standing Kannon, a Senju Kannon, at Kiimidera Temple in Wakayama City, Wakayama
Kanzeon Bosatsu
One of the most common figures encountered around Japan, especially at temples, will be a slender figure either distinctly female, or somewhat androgynous, known popularly as Kannon-sama, but the proper Japanese name is Kanzeon Bosatsu, in English often called a goddess of compassion and mercy.
Kannon is not a Buddha, but a Bodhisattva, a being who is able to achieve Nirvana but delays doing so through compassion for suffering beings, but many in Japan do not make that distinction.
Another extremely popular bosatsu, the Japanese word for Bodhisattva, is Jizo, whose often childlike statues are also very popular and can be found everywhere in Japan.
Kannon is extremely popular in Japan, mostly because of her efficacy at answering prayers and the many miracles attributed to her, and many temples are named after her, Kannon-ji, as well as many temples having a Kannon Hall enshrining her along with whatever main deities are enshrined there.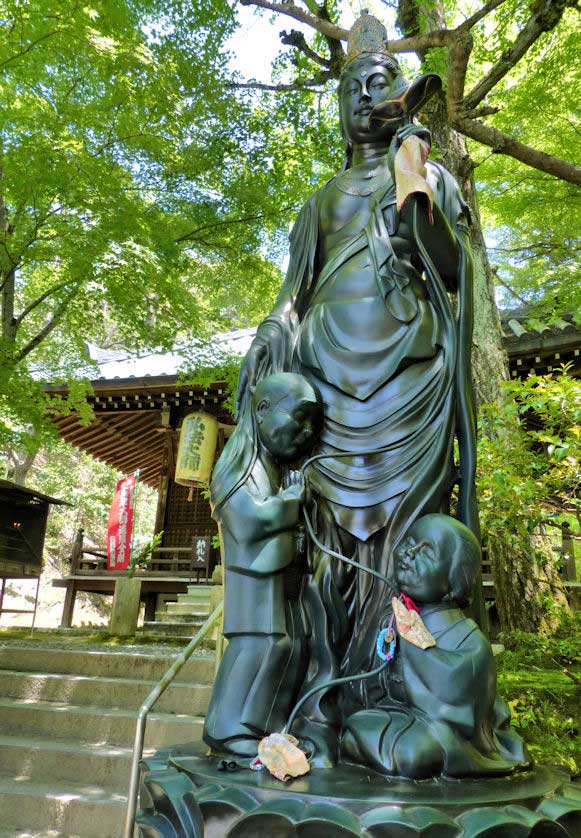 A Bokefuji Kannon, prayed to for protection against dementia and senility, at Imakumano Kannonji Temple in Kyoto.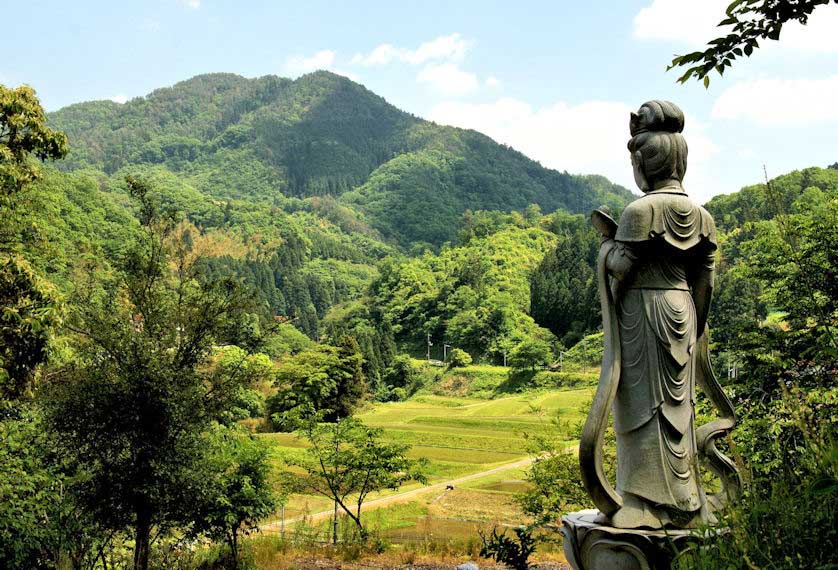 A Sho Kannon at a small temple in rural Shimane, part of the Izumo 33 Kannon Pilgrimage.
Origin of Kannon
Her statues are in the grounds of many temples as well as other sacred sites. The origin of Kannon is, like Buddhism itself, in India, with the deity Avalokiteshvara, and in India, Tibet, and South East Asia, Avalokiteshvara is represented as male.
When Buddhism spread into China, it was probably mixed with local Taoist goddesses and took the name Guanyin, from which the Japanese word kannon is derived, and from the middle ages on, is often, though not always, represented as female in China, Korea, and  Japan.
Statues of Kannon have been made in Japan since the very early days after the introduction of Buddhism during the Asuka Period, and many are now registered as National Treasures.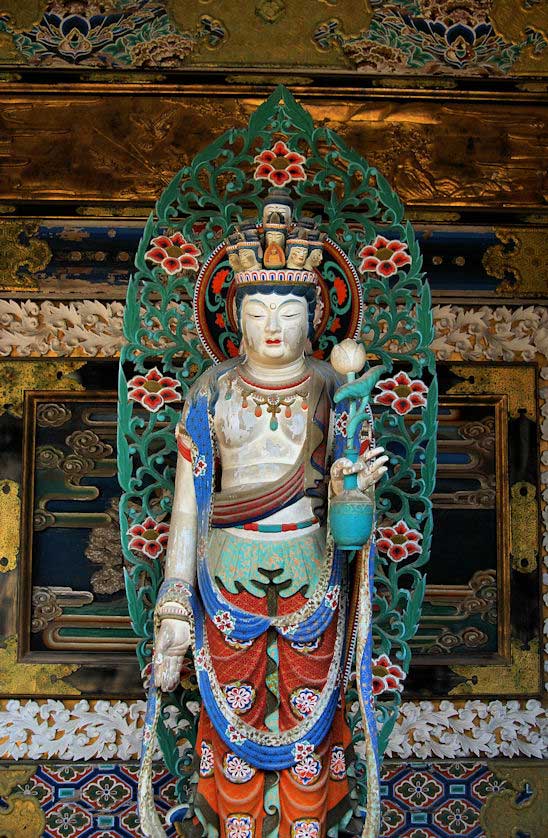 An 11-faced Kannon at Kosanji Temple on Ikuchijima Island in Hiroshima.
Types of Kannon
In outward form there are many types of Kannon, probably the most common being Senju Kannon, the Thousand Armed Kannon, a few which actually do have a full 1,000 arms, but most have fewer.
Juichimen Kannon, the 11-faced Kannon is also fairly common, sometimes combined with the Senju Kannon. Jibo Kannon most often are visualized wearing white robes and holding a baby, and Bato Kannon wears a horse head on top of her head. She is less popular nowadays but was formerly very popular with farmers and samurai.
Sho Kannon has a Lotus bud in one hand with the other hand outstretched and open. As well as these different outward manifestations, Kannon has many forms based on providing answers to prayers for specific benefits or protections.
Byakue Kannon prevents disasters and aids in fertility, childbirth, and the raising of children, in fact many forms of Kannon exhibit motherly attributes.
In recent years, with the aging of Japanese society, Bokefuji Kannon has gained in popularity as a deity to pray to for protection from senility and dementia, and Mizuko Kannon, like the Mizuko Jizo, is prayed to for the souls of deceased babies, still births, and abortions. Throughout history Kannon has taken on many forms and functions in response to the needs of the people, and in this regard Maria Kannon is worth mentioning.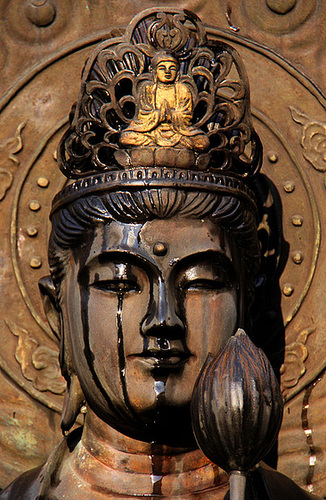 A Sho Kannon statue at a small rural Zen temple in Iwami, Shimane.
Maria Kannon
When Christianity was outlawed and repressed in Japan in the early 17th century during the Edo Period, many Japanese Christians, mostly in Kyushu, substituted a statue of Kannon with child for the Virgin Mary and Jesus, and were therefore able to publicly continue to practice their faith.
62 meters tall, a Dai Kannon statue of Guze Jibo Kannon at Daihonzan Naritasan Temple in Kurume, Fukuoka.
Pilgrimages
The popularity of Kannon led to the creation of pilgrimages to Kannon temples, mostly in groups of 33 temples as a sutra mentions that Kannon takes on 33 different manifestations.
The oldest such pilgrimage, and possibly the oldest circuit pilgrimage in Japan is the Saigoku which covers 1,100 kilometers in what is now Wakayama, Osaka, Kyoto, Shiga, Hyogo, and Gifu prefectures.
Later copies of the pilgrimage were made in different areas around Japan, some over a thousand kilometers long, other regional ones only a couple of hundred kilometers or less.
There are now hundreds of them all over Japan, the smallest being ones of 33 Kannon statues, usually representing the Kannons on one of the major pilgrimages, within the grounds of a single temple. Why spend weeks on a pilgrimage when it can be done in minutes.
A relatively modern development are enormous statues of Kannon known as Daikannon. More often than not built with tourism in mind they are springing up all over. The largest, at 100 meters in height, is in Sendai, and when built in 1991 was the tallest statue in the world.
Other notable examples include the one at Kamaishi in Iwate Prefecture at 48.5 meters, a 50 meter tall Kannon on Shodoshima in the Seto Inland Sea, and a 63 meter tall statue in Kurume, Fukuoka.
More often than not it is possible to climb up, or take an elevator, inside the giant statues to viewing platforms. Kannon cuts across all sectarian boundaries and has become one of the most beloved deities in Japan of any religion, and as she has for the past 1,500 years will continue to respond to the changing spiritual needs of the Japanese through the 21st century.
All the themes of the city